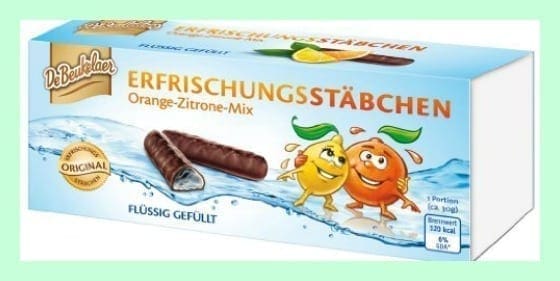 Debeukelaer Refreshment Sticks (Erfrischungsstaebchen) 75g (1pcs)
One of my favorite candy treats is Erfrischungsstäbchen, Orange Filled Chocolates. They aren't as well known as many German Chocolates, but I always made it a point to bring home a few boxes when I went to Germany. Luckily, the world keeps getting smaller, and now Erfrischungsstaebchen are available in America!
For those of you who've never tried them, Erfrischungsstäbchen are dark chocolate sticks filled with a citrus flavored liquid… supposedly Orange or Lemon, but they kind of taste similar to me. The chocolate is lined on the inside with a crunchy sugar shell… and when you bite into them, your mouth fills with that yummy flavor.
My aunt used to always keep a box of these on her sideboard. These aren't like M&Ms, you don't plow through the whole box in one sitting… these are yummy fresh tasting chocolates to savor.
Just don't keep them around too long…. like all liquid filled chocolates, eventually, the liquid just sort of vanishes… (Maybe that's the Angel's share?) All I know is that I've been caught, more than once, setting them aside for "good", and then forgetting them until it's too late!
And… so you know… the very BEST way to eat them is COLD. Store them in the refrigerator for a blast of fresh flavor when you bite into the chocolate. (Yes, I know, my Aunt keeps hers in the sideboard… but she lives in Germany, and it's a little colder there…)
You can find Erfrischungsstabchen on Amazon!!!!
Delicious!
Debeukelaer Refreshment Sticks (Erfrischungsstaebchen) 75g (1pcs)