Frigeo Ahoj Brause COLA Bonbons candy -1 bag –
We all know about German Chocolate, and of course, we've all tried Gummi Bears, but there is a lot more German Candy from Germany that you must Taste! Brause, Mamba, Nimm 2, und more Haribo sorts than you can imagine. And the best part is? Today, thanks to the internet, we don't have to wait for packages to arrive at Christmas… we can get these candies and chocolates in the United States YEAR ROUND.
Take a look at this list of favorite German Candies… see how many you remember… and see if there are any you want to try again.
German Candy From Germany
I know, you can get a lot of German candy here in the US… but is it really GERMAN candy? Or is it made here under a German name? Keep in mind, the Germany has different regulations about ingredients… you won't find things like Corn Syrup in a German Candy. Read the labels! Know what you are eating.
Hanuta
Crisp Wafers, smooth Chocolate and crunchy Hazelnuts
Ferrero Hanuta Wafers with Hazelnut Cream, 18x 2pcs (36pcs)
Hanuta is as much a snack as it is a candy. The chocolate filled wafer sandwiches are delicious and filling. Each little gold square pack has 2 "sandwiches"… perfect for your break. Now you can even get the minis! Which means you can justify eating more in one sitting!
Hanuta – Pack of 10 Wafers (220 gram)

Ferrero Hanuta Chocolate Hazelnut Candy Wafers 36 count

Ferrero HANUTA Mini Hazelnut cream wafers -1 pack-

Nimm2  (Take Two)
"Vitamine und Naschen"

A bag of Nimm2 was always in my mom's glove compartment… and when my kids were little, I kept a bag in my car too. These citrus flavored hard candies have a deliciously gooey soft center. You can even get them now as soft chews! Since they have VITAMINS in them, you might even consider these candies to be GOOD for you. (Just ignore the sugar). I love that they give a kick of sweetness without filling you up, and they don't melt in a hot car.
Nimm2 Multivitamin Hard Candy ( 145 g )
Nimm 2 Soft – 1.76 lbs
Brause
"Lass prinkeln Baby!"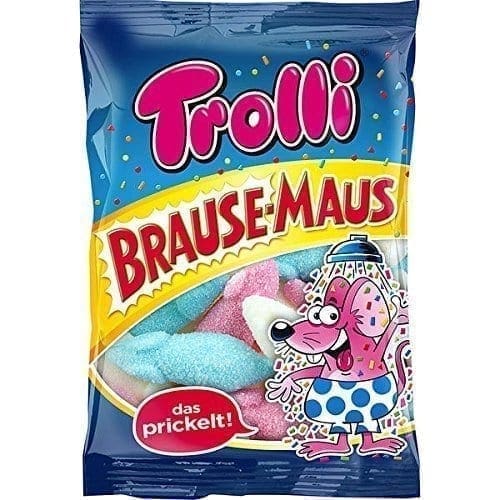 That PRICKLES! Brause is a funky sort of candy… a bit like pop-rocks, only fizzy instead of poppy. Brause comes in a few different forms. You can get it as a shaped candy (Bonbon), like these mice, chewy and fizzy. Or you can get a candy (Broken) that is hard powder, sort of like a fizzy Sweet Tart. You can even get powder that you can add to drinks (or just eat by dipping a wet finger into the bag). This fizzy stuff comes in flavors like orange, cola or raspberry, and has been a kid's favorite in Germany since my mom was a kid.
ONE box of Ahoj Brause Boxed candy –
Frigeo Ahoj Brause St?bchen 125g (Brause Sticks 4.4oz)
Frigeo Ahoj-Brause Herzen 200 g
Frigeo Ahoj Brause Bonbons fizzy candy, 1000 pcs
Frigeo Ahoj Brause COLA Bonbons candy -1 bag –
Frigeo Ahoj Brause Sour Gummies Herzen 200g (5-pack)
Haribo
"Haribo macht Kinder Froh und Erwachsene Eben So" (Haribo makes kids and adults happy!)
Happy Kids eat Haribo! Haribo is the first and last word in German Gummy Candy.They come in loads of flavors and hundreds of shapes. But despite the Worms, Cola Bottles, Peach Rings, Wine Gums, Sharks, Mice, Berries and even TEETH, the most famous (and all time favorite) Haribo product has to be the Gummi Bar. Since the 1920s, Haribo (an abbreviation of Hans Riegel Bonn) has made Billions of these yummy bears.Today you can even get them in massive sizes! Be aware though! Not all Haribo Gummi Bears are alike! The bears made in the US contain Corn Syrup… which is not allowed in the German Made products!
Haribo Goldbaren
Haribo Baerchen Paerchen Sour and Sweet 6.17oz – NEW 2014
Haribo Mini Goldbaren ( Haribo mini Gold Bears ) , 100x minibags, 980g Tub
Haribo Riesen Erdbeeren ( Haribo giant Strawberries ) Tub -150 pcs
Haribo Perl-Eier – Easter Basket Stuffer – Gummies from GERMANY – 200g
Haribo Weinland Gummi Candy / 200g / 7.1oz.
Haribo Saure Apfelringe ( Sour Apple Rings ) Tub -150 pcs
Haribo Freche Fuchse Nughty Fox- Cola and Soda Gummies from GERMANY – 200g- New for 2016
Haribo Smurfs Gummi Candy 4oz
Toffifee
"It's too good for kids"
How do you know you are getting the real German Candy… look at the label… you want TOFFIFEE not Toffifay. These amazing treats were favorites of mine as a child, and I always hoped my Opa would include a few packages in the box. You knew they were special because they came came in special trays. A shell of caramel was filled with a soft nougat cream, then topped with a dollop of chocolate… Bliss… Sure, there was a whole hazelnut in the center, but I was an expert at sucking off every bit of candy, and then spitting that nut across the yard. No wonder the advertising jingle said "Toffifee, it's too good for kids!".
&
Storck Toffifee 48 pcs
Storck Toffifee (100g) – Pack of 2
&
Kinder Schokolade
Chocolate for a Kid's palate!
I just have to love a country that creates chocolates specifically for a child's palate… Kinder Schokolade is a sweet milk chocolate (it may actually be too sweet for many adults). Often the chocolates are fortified or filled with a creamy milk filling … there are those vitamins! This chocolate is GOOD for you!! Kinder makes chocolates in different shapes, little finger sized bars, Schoko-bons, and even the famous Kinder Eier (Kinder Eggs). Sadly, due to FDA regulations preventing the sale of candy that contains a toy, Kinder Eier are not permitted in the US. You can, however, get Kinder JOY eggs (The candy is packaged separately from the toy) These are different though, as it is a creamy egg you eat with an enclosed spoon. I loved the bars as a child, and still get a craving for them from time to time. And the Schoko bons? Perfect for a quick bite of chocolate!
And my newest obsession that I can't get enough of? Hippos. Honestly, cookie filled with Kinder chocolate … swoon!
Kinder Friends 34 Assorted Chocolates 7.05 Ounce
Ferrero Kinder Chocolate, 8 bars
Kinder Chocolate 100g/3.52oz (Pack of 3)
Kinder Country Milk Chocolate with Rich Milk Filling ( 9's )
Kinder
Kinder Schoko-Bons 125g
Mamba
Yummy Fruit Chews

As much as I adore chocolate, I really like a nice chewy candy, and I always have some in my purse or car. Mamba, which are similar to American Starburst candies, are one of my favorites to keep on hand. It may be interesting to know that Mamba was intentionally developed to be an inexpensive, but value-for-your-money candy. Which is why they were so popular with kids. They come in bars with 4 packages with 6 chews in each… Strawberry, Raspberry, Lemon and Orange. Or you can get bags for your family to share. If you are Vegan, you may be happy to learn that Mamba is made entirely without animal products or bi-products (like gelatin). I like the simple, not to sweet taste.
&
Mamba Fruit Chews, 2.65-Ounce Packages (Pack of 24)
Mamba Fruit Chews, 0.88-Ounce Packages (Pack of 96)
Mamba Fruit Chews, 3.95-Ounce (Pack of 12)
&
Lakritz /Black Licorice
Intense Licorice Flavor!
Love it or hate it, you can find Lakritz all over Northern Germany. It is a taste I never acquired (but, it turns out that this is a genetic thing…) But those who love it are in luck, because now you can get REAL German Lakritz here in the United States (and not that stuff that Red Vines claims is licorice). Lakritz comes in different shapes like cats and coins, different texture, and even mixed with other flavors (I have to say, Lakritz Toffee is just a dirty trick!). I'll just let you have mine…
Katjes Lakritz Intense / Intense Licorice
Haribo Lakritz Schnecken 2 Bags (Each 200g)
4x Katjes Lakritz Batzen (German Import)
Haribo Lakritz Konfekt 200g/7.05oz
Jahnke Kautoffees Lakritz-Sahne / Licorice-cream Toffee Taffy 5.3 Oz – 150g
Schoko Strolche / Schaumkusse
"Knackig, schaumig, knusprig"

In a less enlightened age, these delightful Chocolate Covered Marshmallows had a different name… luckily, today we call them Schaumkusse (foam kisses) or Schoko Strolche (Chocolate Rascals … like the Little Rascals). Schoko Strolche aren't like stiff American chocolate covered marshmallows, they are more foamy or soft. Foamy marshmallow rests on a waffle cookie, so so the bottom is flat. The thin layer of chocolate can be dark, milk or even white chocolate… and the candies come in a regular (large) size, and even minis. For a super treat, stick a few into a warm broetchen… total BLISS!
Super Dickmann's 250g
Dickmann Schoko Strolche – 1 x 200 g
Marzipan
Sweet Almond paste
Marzipan, that sweet almond confection, is made by combining Almond Meal and Honey. This candy  is a huge favorite for so many people (like my younger sister). You can get it covered in chocolate, in loaves, and shaped like fruits or piggies. Marzipan Pigs are considered a lucky gift at during the Christmas and New Year holidays. It's also baked into cakes, like Stollen, or rolled thin and used to cover cakes. You can even get Marzipan Potatoes! The best marzipan in Germany comes from Luebeck.
Bergen Marzipan – Assorted Fruit Shapes (18pcs.) by Bergen Marzipan [Foods]
Milka (Germany) Marzipan-Crème (Smooth Marzipan) 3-Pack
Niederegger Marzipanerie – 270g/9.65 oz
Köstritzer Dark Beer Marzipan Pralines 250g
Niederegger Marzipan delicacies 112g
Box of German Candy
Can't Decide?? Get a whole BOX of German Candies! A big box of memories
German Sweets and Chocolate Box Mini
Bocandy – International Candy and Snack Box
German Sweets and Chocolate Box #3
German Reunion Candy Box
East Germany Sweets Box GDR