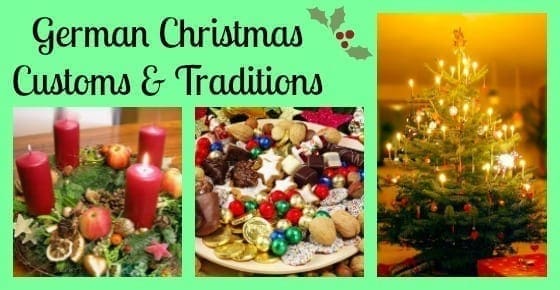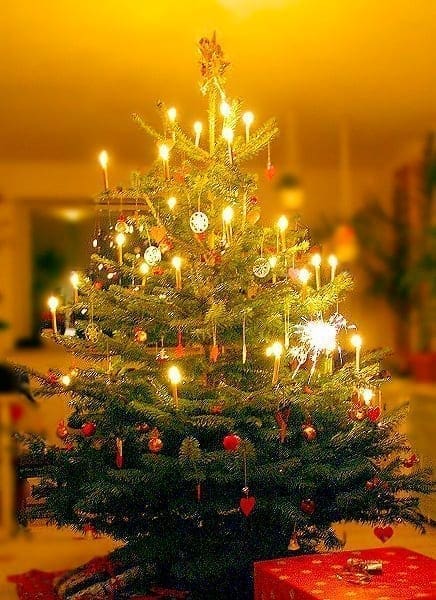 German Christmas customs traditions and practices can be celebrated here in America. There really is something special about this time of year that makes me look back to my childhood. The candle light, the smell of chocolate and cookies, the wonder of the Christmas Tree.
German Christmas Eve Tradition
There was a special feeling on Christmas Eve. We would come in from Church Services, and we girls would have to wait outside while my parents went to see if der Weinachtsman (Santa) had arrived. Then we would be brought in to the living room, the only lights would come from the Christmas Tree and candles that were lit around the room. Under the tree were presents. The pyramids would be spinning. My father would have put German Christmas music on the record player, and we would all sing. My sister and I would be vibrating just a bit with anticipation.
Finally, we would sing "Stille Nacht, Heilige Nacht", and as the song ended, there was a moment of calm. We would all kiss and wish each other a Frohe Weinachten… and then there were presents, warm drinks, treats and laughter.
I try to carry on this tradition for my kids. It's not always easy, being so different from what their friends are doing. But, I want them to have that same feeling of wonder. Of being led into a candle-lit room… of singing… of being together.
German Holidays Traditions For Your Home
Traditional German Christmas Recipes for Cookies and Treats can be made and served. Homes are adorned with traditional Christmas Decorations like Wooden Angels, Hand Carved Santas, Pyramids that Spin with lit Candles, Glass Ornaments, Advent Wreaths, Nutcrackers and Smokers. Ornaments might be simple or elaborate… but often they are hand made, and are destined to become family heirlooms, passed from generation to generation.
Other decorations for a German Household might include embroidered Tablecloths, Table Toppers and special Holiday Dishes. Windows are hung with Fenster Bilder (window pictures), or glass balls. Electric Candles are placed on Windowsills to welcome people in from the Darkness.
Because that's what Christmas in Germany is about… Light in the Darkness.
And food…. Plaetzchen (cookies), Schokolade (chocolate), and so many other delicious treats….
Let me share my German Christmas favorites with you!
Just click on the photo… and the article will open up for you!
Celebrating Advent-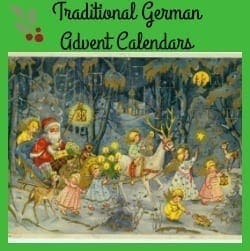 Christmas Markets
St Nicholas Day

German Christmas Foods and Recipes
 
German Christmas Music
German Christmas Church Services
German Holiday Decorations
Christmas Memories- A German Girl in America
What is the Epiphany – January 6