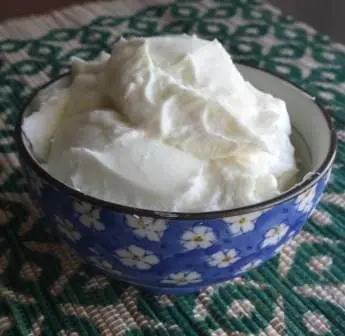 Quark is a delicious and very versatile creamy dairy product from Germany. For those of you not familiar with it, it's almost like a very thick yogurt, or a looser whipped cream cheese. It doesn't have the tang of a yogurt though. Because it's not sweet or salt, quark can be used in a number of ways; spread on bread, served with fruit for a healthy dessert, baked into delicious cheesecakes, or even mixed with savory herbs for a wonderful dip.
A recent post about Quark on the Facebook page got a lot of comments…. mostly from people who miss having it easily available here in the United States. Strangely, although we have what seems like thousands of different yogurts in the dairy aisle, something as basic as Quark seldom appears. And if you do find it, it can be costly.
A few people let me know that they make Quark themselves. I've found a few sites that explain different methods of making quark. None seem particularly difficult… some seem quite simple even. Take a look at them, and decide which works for you.
I'm looking forward to giving some of these a try.
How to Make Quark
Make Quark at Home
This one seems to be the easiest method. All you need is milk, lemon juice, cheesecloth and time. I don't know how it would work in different places where there are wildly different room temperatures… but it might be a good recipe to start with.
How to Make German Quark- http://www.food.com/recipe/how-to-make-german-quark-476124
And Jutta Hornbeck sent me these instructions-
Use full butter butter milk. Pour into an oven proof dish. ( such as corning) .
Turn your oven on the lowest setting about 175, place the dish into the oven over night. In the morning strain through cheese cloth.
Using a Cheesemaking Method to Make Quark
Gudrun Hommel sent me to this site for information about making Quark using a cheesemaking method. She says she's had success, and that it's easy to do. You need to order buttermilk culture from the company to make it work. The company is reputable, I've used another of their products, and there are lots of step-by-step instructions.
A Recipe for Making Quark– http://www.cheesemaking.com/Quark.html
Using a Yogurt Maker to Make Quark
Keith Frederick says he makes his Quark in a Yogurt Maker using Buttermilk, and that it's better than what he can get in the store. This method looks like a good thing for someone who likes instructions and gadgets…. but if you make your own yogurt anyway, there is no reason you can't try to make Quark. I've found two different methods…
The first comes from Nadia Hassani, our friend from "Spoonfuls of Germany", and it looks straight forward. Just buttermilk and a yogurt maker-
Curds and Whey for Quick Quark Cheese– http://electricyogurtmakerguide.com/curds-and-whey-for-quick-and-easy-quark-cheese/
The second seems more involved since this method uses rennet.
Make Fresh Quark at Home with a Yogurt Maker– http://rsl.eng.usf.edu/Pages/Quark.html
Euro Cuisine YM80 Yogurt Maker
Euro Cuisine YM260 Yogurt and Greek Yogurt Maker, 2-Quart
Don't want to Make Your Own Quark?
Quark is available from Wisconsin Made—> click this link