Playmobil 4450 Bunny Spring Workshop

When filling Easter Baskets for kids, it's nice to include something that they can enjoy playing with for a long time. Why not add a set from Playmobil for Easter? I've written before about my love for the high quality Playmobil toys that encourage children to use their imagination–>Playmobil Toys. Not only are they well made, and will last through generations of play, these Bunny sets are really cute! They stand alone, or they will blend in well with any other Playmobil sets your child might already have. Don't want to go with the bunny theme? Why not add a Playmobil Egg to the Easter Basket? These re-usable plastic eggs are filled with all sorts of different Playmobil toys, from farmers to spacemen! There are lots of Playmobil Easter toys to choose from… and they will last far longer in the sun than a chocolate rabbit ever could! (Although, you should probably add a chocolate bunny too…)
Note- Playmobil toys are made for children over the age of 3… small parts could be a hazard for younger kids. For the littlest ones in your world, take a look at these toys instead–>Haba for Easter
Playmobil for Easter
There are lots of choices to make when it comes to Playmobil for Easter. Farm sets have farmers or children with little bunnies… but you can also get Easter Bunny sets that have Easter Bunny People painting eggs. You can even find sets that help count the days to Easter…
Playmobil Easter Calendar
Build up the excitement leading up to Easter with a Playmobil Easter Calendar! Designed similar to the Playmobil Advent Calendars, these little sets count down the 10 days before Easter. Each day, a window is opened to reveal a part of an Easter play set. (And unlike the Advent Calendar, there is no assembly required for parents).  The set comes with 36 pieces including Bunny People (presumably the Easter Bunny's family), eggs, paint pots, and chickens who lay the eggs. Some of these pieces can't be found with any other Playmobil sets.
The Osterkalender can be purchased alone, or as a bundle with a Gund Peter Rabbit….
Playmobil 4169 Easter Advent Calendar

Playmobil Easter Advent Calendar 4169 & Gund Peter Rabbit Plush Bundle

Playmobil Easter Bunny Sets
The Playmobil Easter Bunny sets are little scenes into the world of the Easter Bunny! See the Easter Bunny at work, or in school teaching future Easter Bunnies to decorate eggs, Gardening or Hiking… You can even get an Easter Bunny hidden in a bar of soap! What child wouldn't want to wash up with one of these?
Playmobil Easter Bunny School

PLAYMOBIL® 6863 Easter Bunny Workshop

Playmobil 4453 Bunny With Wagon

Playmobil Bunny with Backpack

Playmobil Bunnies' First Day of School

Playmobil 4451 Bunny with Wheelbarrow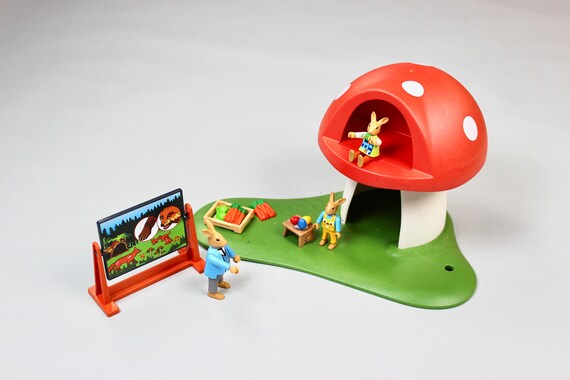 Playmobil Häschenschule, hare, fly mushroom, Easter, children's toys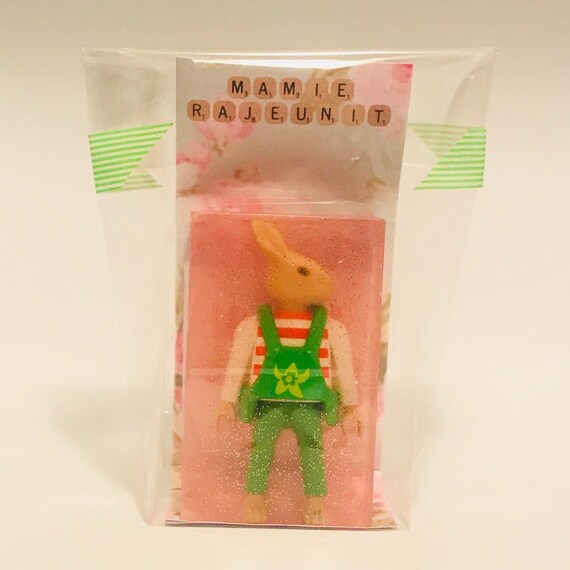 Playmobil Surprise Soap

Playmobil Bunnies
Bunnies on farms, bunnies in hutches… bunnies GALORE! If you have a child who loves bunnies, they will LOVE these Playmobil Bunnies! I think my favorite is the Bunny Barn with Carrying Case… I always love a toy that comes with its own storage! (Perfect for taking along to restaurants or gatherings, where children are expected to sit for a while)
PLAYMOBIL Bunny Barn Carry Case

Rabbit Pen with Hutch

PLAYMOBIL Bunny Hutch

Girl w/ Bunnies Playmobil Pals Figure # 4529

Playmobil Girl With Pets

PLAYMOBIL Petting Zoo

Playmobil Easter Eggs
Not that excited about bunnies, but still want to stay with an Easter theme? The Playmobil Easter Eggs are fun "Easter Eggs" filled with all sorts of different Playmobil figures! Even better, it's not a surprise, the package lets you know exactly what you are getting. Since you get to choose the figures you don't have to worry about doubles. To keep the surprise for the kids, just take the plastic egg out of the cardboard. And Surprise!! Choose from Farmers, Spacemen, a Queen, a Tightrope Walker and MORE… Plus, the egg can be used again and again….
There are loads of choices, for boys and girls… The prices start at around $10, with most under $20. There are some rarer Playmos that may run a bit more. Still, there are plenty to choose from…
PLAYMOBIL Robo Gang Spy with Glider Playset

PLAYMOBIL Zookeeper with Alpaca

Queen Moonbeam with Baby Pegas

Pink Egg – Fairy with Swan Pond

Playmobil Mini Playground

Tightrope Walker

Dragon Warrior

PLAYMOBIL 9416 Space agent with robot – NEW 2018

PLAYMOBIL 9208 Fairies with Magic Cauldron

Playmobil 4920 Red Tournament Knight

Playmobil Princess with Vanity Egg

PLAYMOBIL 9207 Vet with Foals

Playmobil 4923 – Easter Egg – Moto Cross Biker

PLAYMOBIL Native American Girl with Forest Animals Playset

Playmobil Boy with Children's Tractor Egg

Playmobil Pirate with Rowboat Egg

Playmobil Armored Falcon Knight with Cannon 4933

Playmobil has been entertaining children with their well made toys since the 1970s… and their world just keeps growing! 
Find those Hard to Get Playmobil toys on Ebay!



Happy Easter and Frohe Ostern!