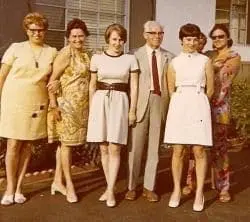 When I was growing up, Sunday was Kaffee Klatsch day. Our family would get together with some other German families that we knew, either in our house, or in their homes. There would always be coffee… there would always be cake. The table would be set with a nice tablecloth and the good china. Then the moms would sit in one room and talk. Rapid fire German punctuated by LOUD laughter. So fun to hear. Dads would sit around a table playing cards. Beer and maybe schnapps or cognac would be poured. They would talk, tell jokes, laugh and play. Sometimes they would come outside and play a game of soccer.
We kids would play together… and we always spoke English. Funny. At home many of us spoke German, but somehow we never did together, even though all of us could.
You Can't Have a Kaffee Klatsch without Kuchen (Cake)
Every house had a specialty. Some had Apple Cake, some a cherry cake. My mom was known for her Mon Kuchen ( poppy seed cake) during the holidays, and she would make a cheesecake covered with cherries in the summer, another woman was lauded for her Frankfurter Kranz. One of the dads was a trained baker from Germany, but in the US he worked as a police officer. Luckily, he baked on weekends…. real German Torte, Sahne, mmmmmmm.
Women and men would come together around the table, to drink coffee, eat cake, and talk together. They became a surrogate family, since all of us had extended family so far away. I called these people my Tantes and Onkels (aunts and uncles), because that's how I saw them, and still see them. They are part of my family.
As I got older, I learned that inviting families for Coffee on weekends was not an American way. It's a shame really. There is something really special about coming together with other families, friends, and sharing a coffee, conversation, and a piece of cake on a Sunday afternoon.
Follow this link to find Traditional German Cake Recipes
Order German Baking Books 
Classic German Baking: The Very Best Recipes for Traditional Favorites, from Pfeffernüsse to Streuselkuchen
German Baking Today
Festive Baking: Holiday Classics in the Swiss, German, and Austrian Traditions
Best Recipes: German Cooking And Baking
Austrian Desserts and Pastries: Over 100 Classic Recipes
Top 30 Easy To Understand German Dessert Recipes
&