A Family Trip to Germany- Westphalia, Mosel River, Fast Cars and Black Forest
It is possible to take a Family trip to Germany, and not lose your mind. The key is simple: balance what you want to see with fun things the kids like to do. You will get to see castles and enjoy grown up meals…. but you will also get to see the country through the eyes of locals, and maybe go on a roller coaster.
Our family trip to Germany, lasted 4 weeks with 3 kids. My plan was to visit family, but we also wanted to see some new things. And we all enjoyed ourselves (and no one got left behind.)
Some Basic Tips for Taking Kids to Germany
We traveled the country, but stayed in each place for more than a few days. This gave us all a chance to really see things. Added bonus, once the tourists got back on their busses, our family got to act like locals! A few days gives everyone a chance to find the best Eis Diele, play in the park, and enjoy a glass of wine on the balcony without stressing about travel.
Hotels are fine, but apartments or cottages are better. Having a sitting area separate from the sleeping area is best with kids… you aren't crowded all in one space, plus, mom and dad can sit up for a while after bedtime (maybe on the balcony with a glass of wine). Most of all… togetherness can be taxing. A little time apart helps.
Make some of your own food. Eating in restaurants for every meal is a drag for kids. And you certainly don't want to always have to eat french fries. Find a store or a farmers market… pick up bread, sausage, fruit or pasta… and everyone is happy. We made a game of trying new things, and it was a lot of fun.
Rent a car. Train travel is fun, but not as cheap as you might think. Plus, the train drops you at the train station… everything is a walk, bus or taxi from there. Juggle luggage, kids and assorted stuff on a train just once, and you will understand. Remember, you don't NEED the biggest car (roads can be narrow, and parking a pain… not to mention the cost of gas), but you do need enough room for suitcases, kids and that stroller….
 Be on the look out for flyers advertising Fairs and festivals … generally these are open to all. Food, drink, music… plus, most festivals have kid areas or rides that kids love!
Trip Advisor Has Rental Properties All Over Germany

For more tips, read Flying with Baby ,  Travel to Germany with Kids , and my Favorite things to do in Germany.
Our Family Trip to Germany with Kids
Let me share our trip with you…. we balanced visiting Family with seeing amazing sights.
Westphalia- My Other Home
North Rhine Westphalia is farm country. Flat, slower paced (except for the Autobahn), perfect for bike rides, and not overcrowded by tourists. We stayed near the city of Münster, a mid-sized city, that has a fantastic pedestrian zone for shopping, and sight seeing, a lake called the Aa See where you can rent boats, and lots and lots and lots and lots of bicycles. This is where my family is, so we spent time visiting. The kids got to play with local kids, visit family, and they even got to play in a local soccer tournament!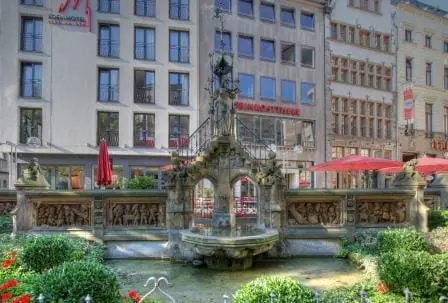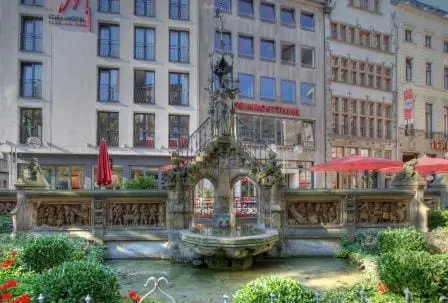 We did leave the car one day, to take a train into Cologne (Koln). If you (or the kids) can only stand one Cathedral, this is the one. You come out of the train station next to and beneath it, so the Cathedral just appears suddenly. It's HUGE. Take the stairs to the top… our then 4 year old made it with help from daddy. The view is amazing. You can also see the box where they keep the bones of the 3 wise men. Cologne is also the home of the Chocolate Museum (can you say samples?) YUM! Ride the Bimmel Bahn and see the Heinzelmannchen. For more of what to see read… Things to do in Cologne
Mosel River Valley
From there we spent a time on the Mosel River. The Rhine is lovely, but we had seen it before, and the Mosel is much slower paced. My cousin's family joined us, and we stayed in a vacation village run by a Dutch company called Landal. It was perfect for families. Our little cottage sat on a hillside overlooking the Mosel. The property had a huge playground for the kids, and a swimming pool. There were tours of local vineyards, that included meals and generous pours. We were centrally located, so it was easy to get to the attractions in the area. We took a cruise along Mosel, went to Cochem to see the castle, and go swimming in the giant swim park. For culture, we took a day trip to Trier to see the old Roman ruins.
It was easy to make our own breakfast and many of our dinners with items we got in the property's Lebensmittel store. The vacation village had entertainment some nights, and the kids loved staying up playing with the other kids. We adults enjoyed sitting together in the evening, chatting and drinking wine purchased from the wineries we visited.
On the way out of the Mosel area, we stopped at Berg Eltz. A fantastic old castle that is hidden in a valley. There is a shuttle from the parking lot, but we didn't see it until we took the long (LONG) hike down. The castle is still lived in by the family, and we girls were delighted to see the young man of the house (a very cute prince!). It's a great tour, and you can take it in English. My favorite part was in the treasure chamber, someone had decorated a coconut with silver, 500 years ago. Coconuts must have been amazing objects to them.
Frankfurt and the Surrounding Area
After this we went to the area around Frankfurt for a few days to visit my Aunt and Uncle. Bad Homburg is a Kur city, which means that it is a city of spas. Nice for mommy. Also, the big green park areas are great for kids to run around. We found Kletterpark Taunus, a Forest adventure climbing park, in a town called Friedrichsdorf. The kids LOVED climbing the high structures and zip lining around. One thing I found most interesting about Germany… you are expected to be responsible for your own safely. The instructors taught the kids to hook up, but there were no nets or elaborate features to keep them safe. And you know what? When the kids know they have to be careful, they are!
We spent a day in Frankfurt. First the Staedl Museum where we saw works by Botecelli, Cezanne, Duerer, and my favorite, Vermeer. After the museum, we found a festival along the Main RIver, and the kids were able to play, jump and paint.
Black Forest- Like a Fairy Tale
South now. We spent a week in the Black Forest town of Gengenbach. It was straight out of a fairy tale, a walled Medieval city with lots of cobblestoned streets and narrow alleys. Using an online source we found an apartment in the old town. My 11 year old loved going out in the morning to "shop for breakfast". She doesn't speak german, but she could buy rolls, butter, sausage and jam at the local baker and deli. The whole family enjoyed bike rides through the region.
We drove to Triberg, and saw the House of 1000 clocks, and hiked the Waterfall. Gengenbach was a tourist mecca by day, but at night, the town was ours. Wednesday they have a lantern tour of the town. On the thursday, it was Ladies Night! Shops stayed open late, there was an outdoor fashion show, and lots of music, drink and sausage. And the kids loved the FlammKuchen, sort of a pizza on a cracker crust. One day we went for culture, so we went to an open air museum. Houses and farms were recreated in old Bavarian style. But most of all, the kids, ok and I, LOVED the Rodel Bahn. An Alpine self controlled roller coaster. You control your own car, and your own speed. What a rush!!
Then a few days in Stuttgart. My cousin lives there, so he showed us around. The boys really enjoyed going to the BMW museum, and the Porsche Museum has since opened. The girls chose to spend the time in the Wilhelma zoo. One evening we all went to a professional soccer game! (It was a replay of a World Cup Match between Germany and Italy… 25 years later! Honestly, those guys could still play, and the Stadium was FULL). Transportation on the city train was FREE, and took us right to the stadium. We also took a day trip to Tuebingen, a college town that had a bit of a Berkeley vibe.
Phew! All in all, we had a great time, saw loads of new things, paced ourselves so that we weren't worn out by the end. The kids and I spent a few more days in Westphalia with family. Leaving was hard… but I know we will go back again soon.
Prepare Your Kids for Travel
One way to get kids excited about the trip is to spend time reading and talking about where you are going… And let them do a little planning too! Look for interesting sights, public swimming pools, and parks.
Germany Amazing Pictures & Fun Facts (Kid Kongo Travel The World Series ) (Volume 8)
My Travel Journal (Lonely Planet Kids)
Amazing Pictures and Facts About Germany: The Most Amazing Fact Book for Kids About Germany
Children's book about Germany (kids books age 3 to 6)Illustrated kids eBooks 3-8: (Early learning ) Kurious Kids Funny german Bedtime kids story … / Beginner Readers Non-Fiction about Germany
Germany For Kids: People, Places and Cultures – Children Explore The World Books
Children's Book about Germany: Germania and the Roman Empire – Children's Ancient History Books