German Candy Box- A Monthly Subscription from Candy German!
I alwyas loved getting packages from Germany, especially from my Opa, but sadly, that hasn't happened in years. So, imagine my delight when I came home to find a German Candy Box on my doorstep! SWEET!! And that's exactly what happened this week… Natascha from CandyGerman.com sent me a sample box full of REAL GERMAN CANDY to try out. And wow, am I glad she did! Their monthly service is reasonably priced, and LOADED with delightful candies and cookies that you can't necessarily find here in the US.
Have I convinced you already? Click the link to head straight to the Candy German Site
Our German Candy Box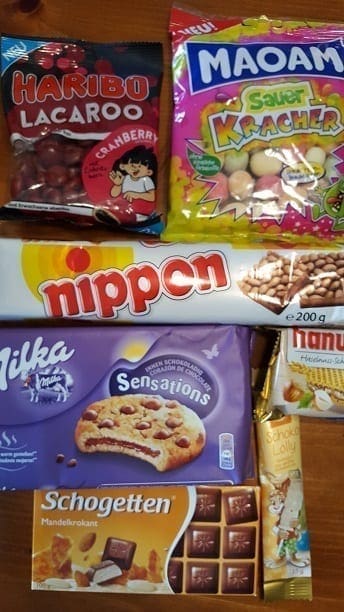 We opened the shoe box sized treasure chest after dinner.  My daughter couldn't resist sticking her face into the box a big sniff…. "it even SMELLS like Germany"! Our box was a mixed up version of the more seasonal boxes that are normally sent out, so there was no "theme", but that doesn't matter, because we got a delightful mix of treats. Schogetten, Maoam Brause bonbons, a Hanuta square, Nippon, special Milka Cookies and Cranberry Licorice drops from Haribo.
Because I haven't had one in ages, we opened up the Nippon package immediately. For those of you who don't know it, think Rice Krispie treat, but held together with Milk Chocolate instead of Marshmallow. And I don't know why, but the puffed rice in Germany has a sturdier texture than the stuff "Snap Krackle and Pop" want us to eat. The candy/cookie is light and crunchy…. and sadly, the package was devoured in no time (Tech Guy couldn't STOP eating them!)
My daughter had never tried Brause before, so I encouraged her to eat one. For those of you who don't know about Brause, it's a fizzy candy that activates in your mouth…like pop rocks, only not as strong. The Maoam Brause candy is hard, but chewy, has a powdering of Brause on the outside, and a soft brause center. Since she really didn't know what to expect, the first expression on her face was priceless… sour?sweet? tickles the tongue…. but then she went back for another, and another (she likes yellow the best!)
The Milka Cookies are something new to me. These chocolate filled, chocolate "drop" cookies are made to be warmed up, says so, right on the package. (I presume they mean the Microwave, and not the car seat on a hot day). Is there ANYTHING more indulgent than a warm chocolate chip cookie? How about a warm chocolate chip cookie with a Nutella-like filling. Swoon….
And of course, Schogetten. The bar that's actually a tray of individual chocolate squares, in this case filled with Almond Krokant. Because they are individual, I can tell myself to only eat one…. of course, I seldom listen to myself.
The Cranberry Licorice drops are a new candy on the German Market. Now, black licorice is a Geschmacksache ie. some love it, others hate it… and you seldom find middle ground. Supposedly the cranberry gives the licorice a sweet tang, but I'm not taking any chances, so this bag goes to my mom (who loves Licorice).
Along with the bigger packs were little fillers…. A Chocolate Bunny Lollipop, and a Hanuta Square. I'm saving the Hanuta for this weekend's soccer game, and my daughter has already inhaled the lolli!
How Can I Order the Candy German Subscription?
Ordering is simple, go to their website, and choose a one Month, 3 Month or 6 Month plan.. then wait. The Cost starts at 30 Euros a month, about $32 and change. (Note-  You get a slightly better deal for signing up for more than a month.) Postage is included in the cost of the box (so there are no sneaky additional charges!) They will ship your box on the 15th, and it should arrive in around a week ( a list of what's inside your box goes live on the 20th of each month, so it can be a surprise).
The box will always contain 6 to 8 German Candies, Cookies and/or Chocolates, and weigh in at 1 KG (just over 2 pounds). The sweets are fresh and good… not leftovers or off-brands that have been lying on warehouse shelves for years. And you get a nice mix that changes every month of old favorites new surprises. Take a look at their blog to see what you will get in each month's box– Candy German Blog
Best of all, the value is good! I did a quick search online at German Deli and Amazon to see how much these candies would cost here in the US, and the box we received would have cost around $26.83 …BEFORE SHIPPING. And a few of these items weren't in stock anywhere….
Click the link below to –
 Candy German Company
Want to know a little more about who is sending out your yummy candies? Natascha and Mark live in Cologne, Germany… and they LOVE German Candy. Best of all, they appreciate how difficult it can be to get real German Candy (not the Americanized stuff) anywhere else in the world, so, they decided to spread the love. Every month they scour grocery and specialty stores to find 6-8 delicious treats not available outside Germany. The 1 kg boxes are neatly packed, and sent all over the world on the 15th of the month.
The treats are often Seasonal… the Christmas and Easter boxes look phenomenal! But care is also taken to insure that your candy looks and tastes as fresh and delicious as it did when they bought it. (Chocolate is not sent during the Summer months… because of melting concerns).
The boxes all contain a nice mix of sweets. The price for all of the candy together is good, especially since shipping is included. CandyGerman.com makes a nice monthly gift for yourself, or someone you love. It's the next best thing to having a German Opa or Oma….