German Wooden Easter Bunnies from the Erzgebirge
Easter Rabbits bringing Eggs are a very German tradition. The Erzebirge Mountains in Germany are famous for their beautiful seasonal Wood Carvings, so Easter Time, the carvings are of der Osterhase… the Easter Bunny!. The Hand Carved German Wooden Easter Bunnies are made into ornaments, smokers, figurines, candles and pyramids. You will bind the all sorts of beautiful German decorations for your home!
German Wooden Easter Rabbits
Like the Christmas Carvings, these German Erzgebirge Easter Rabbit decorations are sure to become a family heirloom. I was lucky enough to inherit a sweet bunny couple… and I plan to pass them on to my children. (With 3 kids, I definitely will have to get a few more bunnies …. luckily Rabbit multiply so easily….)
It's fun to decorate your home at Easter with these hand crafted Easter Rabbits from Germany.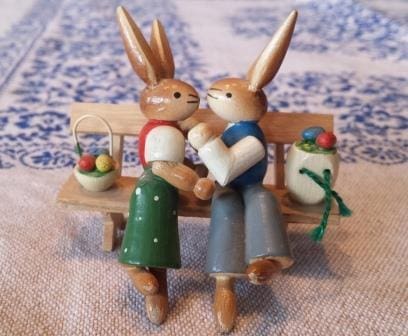 Brief History of Wood Carving in the Erzgebirge Mountains
The Erzgebirge Mountains (Ore Mountains) in South Eastern Germany (once a part of the German Democratic Republic or DDR) were a center for silver and tin mining. Because Miners needed to be familiar with tools and woodwork to help shore up the tunnels. In their off-time, the miners would carve figures and toys,
Woodcarving in the Erzgebirge– photo courtesy of Wikipedia
As time passed, and the mines stopped producing, the people of the Erzgebirge needed another way to make money. Their land was not ideal for farming… but the talent for woodcarving was famous. They began producing toys and religious figures to sell to tradesmen, who would take their wares all over Germany.
Today, there are several main Workshops or Collectives of families that maintain the old traditions of hand carved and hand painted figures. These Pyramids, Incense Smokers, Music Boxes and Figurines are destined to become family heirlooms.
Easter Rabbit History… Where Does der Osterhase Come From?
Why does the Easter Rabbit Bring Eggs?
Since well before the time of Christianity, Eggs have been a symbol of Fertility and Spring. People would give a gift of eggs in the springtime as a sign of good fortune. Somewhere along the way, folks started dying the eggs with dye made from Spring Flowers…. in order to bring the colors of spring into the home.
And what about the Rabbit?
Rabbits have also had a long association with Spring and Fertility. And interestingly enough, they are also associated with the Church… some thought that the female Hare could become pregnant without losing virginity, much like Mary, the mother of Jesus. Click the link to read more about the Easter Bunny –>Easter Bunny History
And the eggs? In Catholic Tradition, Eggs were forbidden to be eaten during Lent… this means there was a surplus of Eggs on Easter Sunday. They would be dyed and eaten in celebration. But German Protestant families didn't practice fasting during Lent… so they came up with the story of an Easter Rabbit or Hare that would bring colored Eggs to good children (much like Santa Claus). This tradition traveled to the United States in the 18th Century with German Immigrants. And so… we have a rabbit bringing colored eggs. Read the Easter Nest story here–>Easter Nest
Find German Wooden Easter Bunnies Here
German Wooden Easter Bunny Figurines
Here a few cute German Wooden Easter Bunnies to decorate your home. These are a bit more modern than the ones I have… find the vintage ones below.
Easter bunny group of height of 18cm Seiffen Christmas Easter Easter bunny Erzgebirge NEW

Hare height of 18cm Seiffen Christmas Easter Easter bunny Erzgebirge NEW

Christian Ulbricht Bunny with Easter Nest – 8,5 cm / 3.3 inch

Müller Easter bunny, 2 bunnies, children, height 6 cm / 2 inch, original Erzgebirge by Mueller Seiffen

Müller Easter bunny, male with wind wheel, height 11 cm / 4 inch, original Erzgebirge by Mueller Seiffen

Müller Easter bunny, male, father with child on carriage, height 11 cm / 4 inch, coloured, original Erzgebirge by Mueller Seiffen

Find Vintage German Wooden Easter Bunnies on Etsy
These Vintage Rabbits look more like mine… and there are some FABULOUS deals here!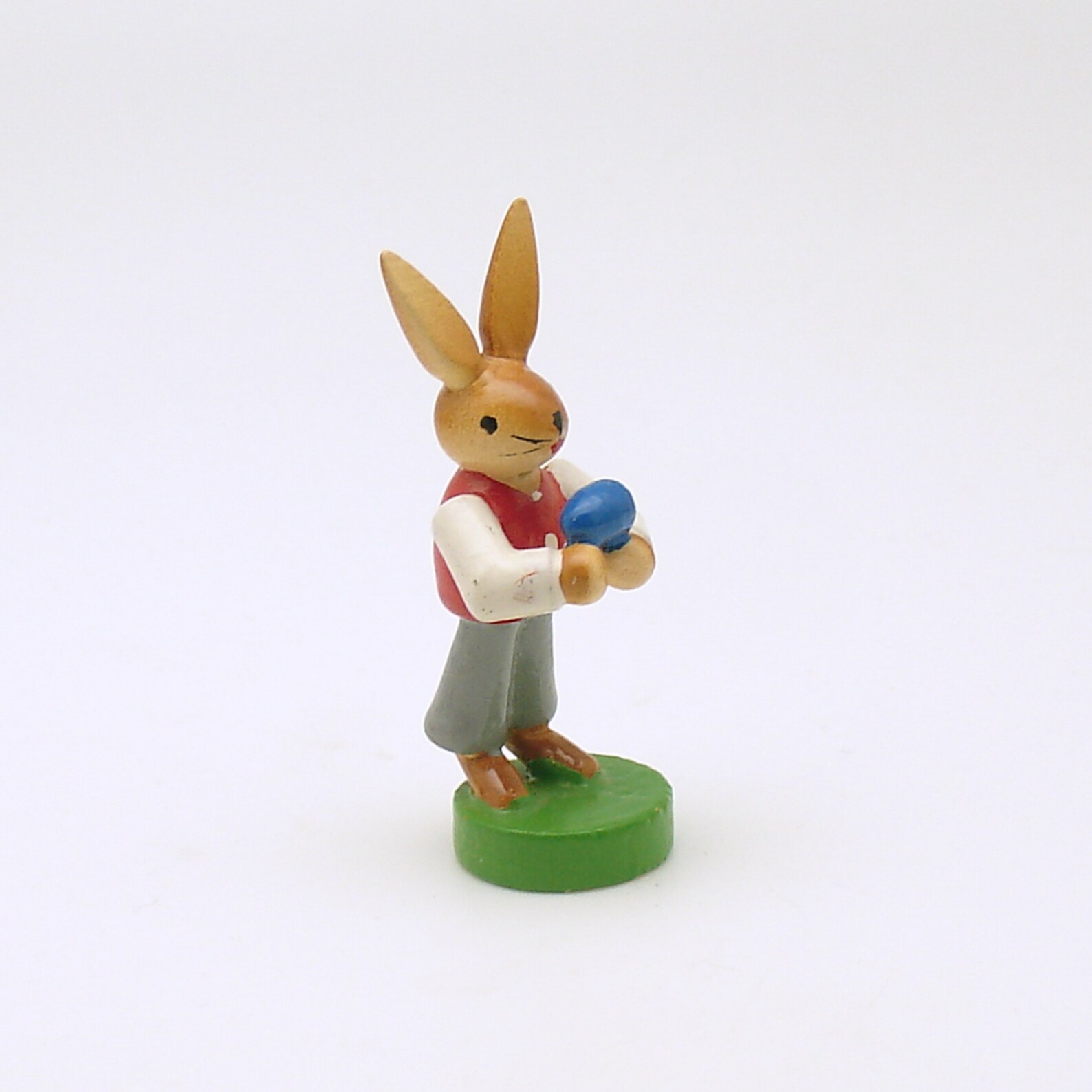 Vintage Easter Decoration Miniature Wood Bunny Rabbit Germany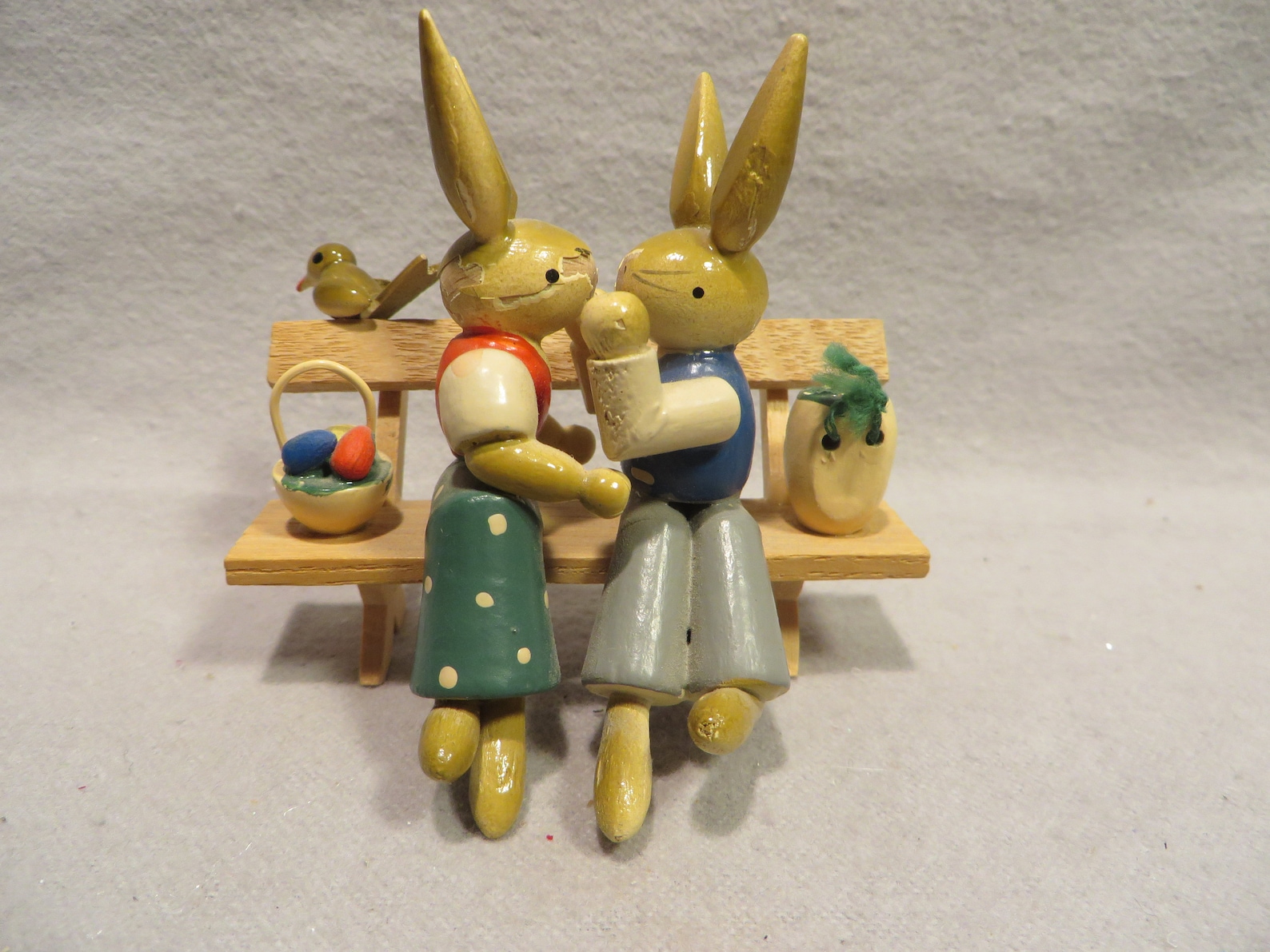 Vintage Wood Erzgebirge Rabbit Couple Sitting and Kissing on a Park Bench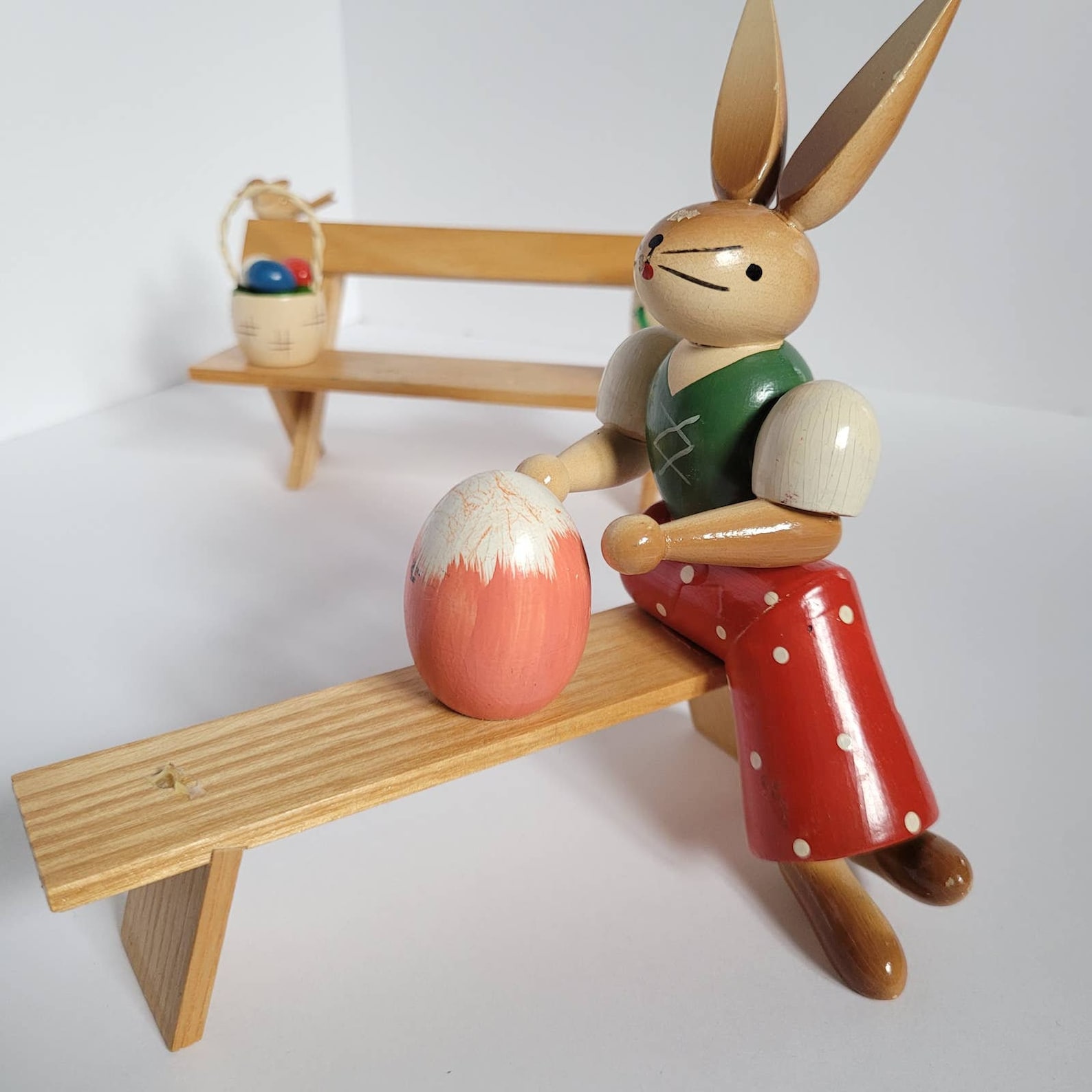 Vintage carved wood Erzgebirge Rabbit and Egg Baskets on Bench (with missing parts)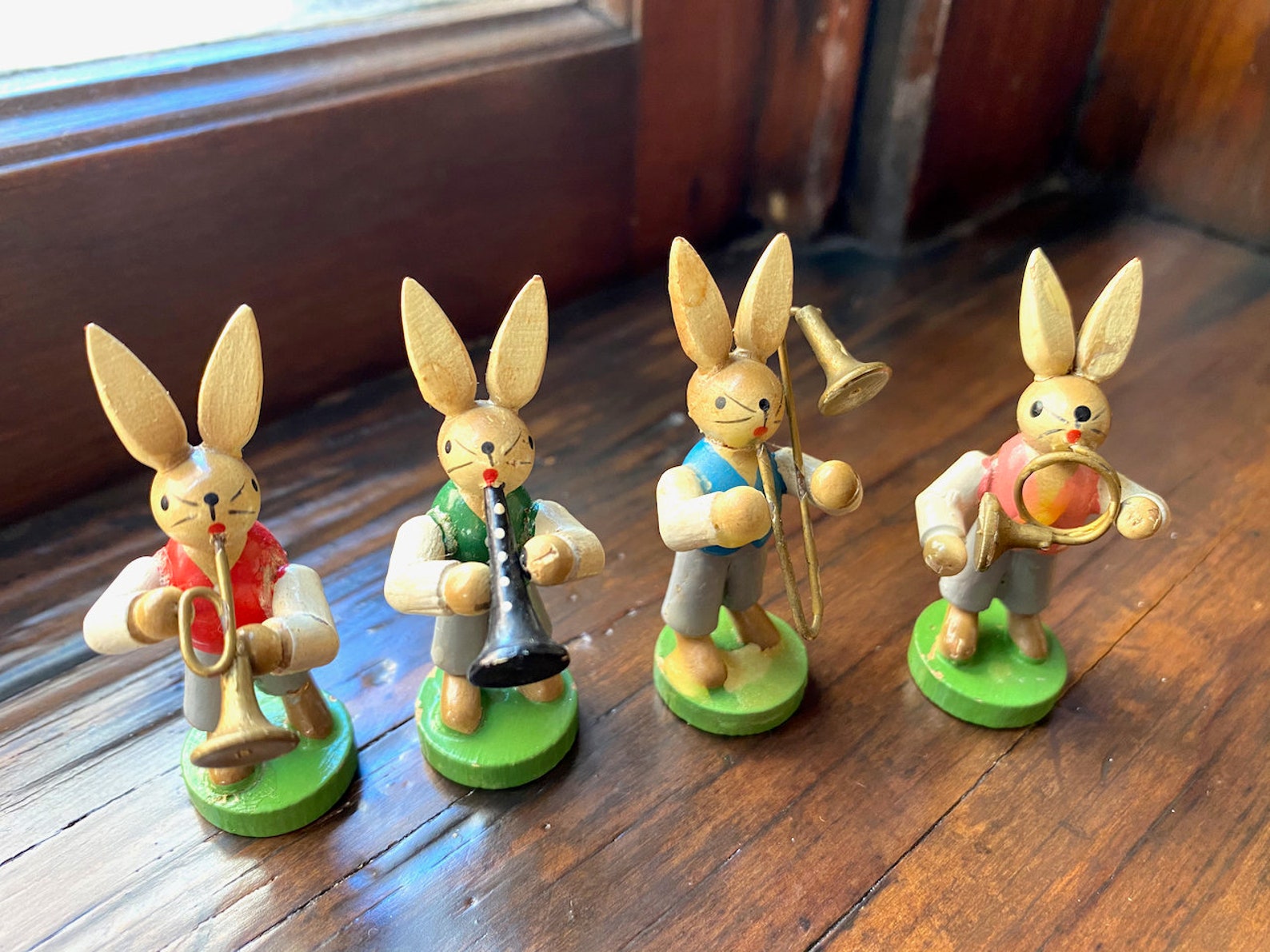 Vtg 4-pc Esco Erzgebirge handpainted wooden bunny band orchestra, anthropomorphic, rabbits instruments, Easter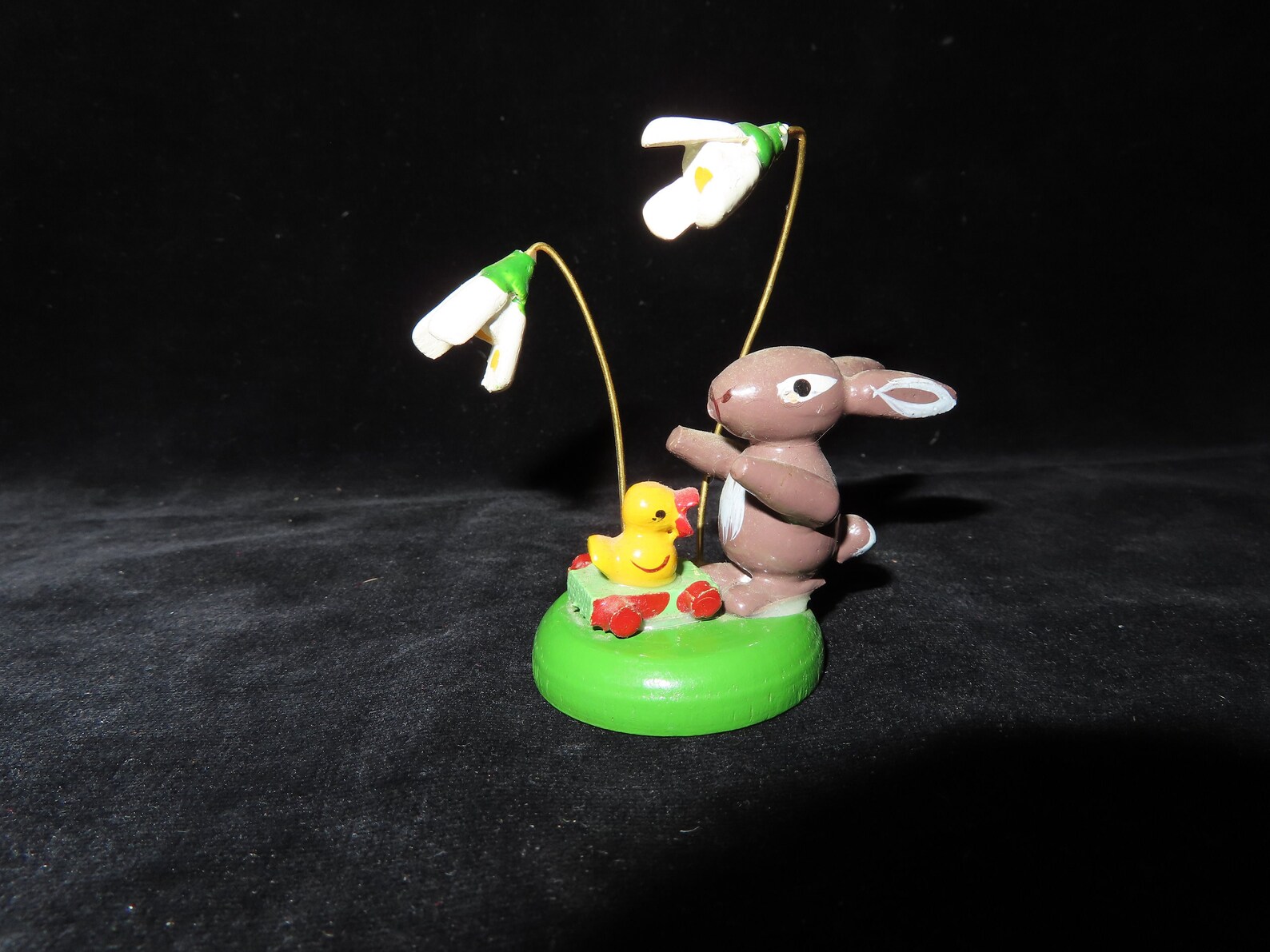 Vintage Erzgebirge Germany, Easter bunny, blossom, figurine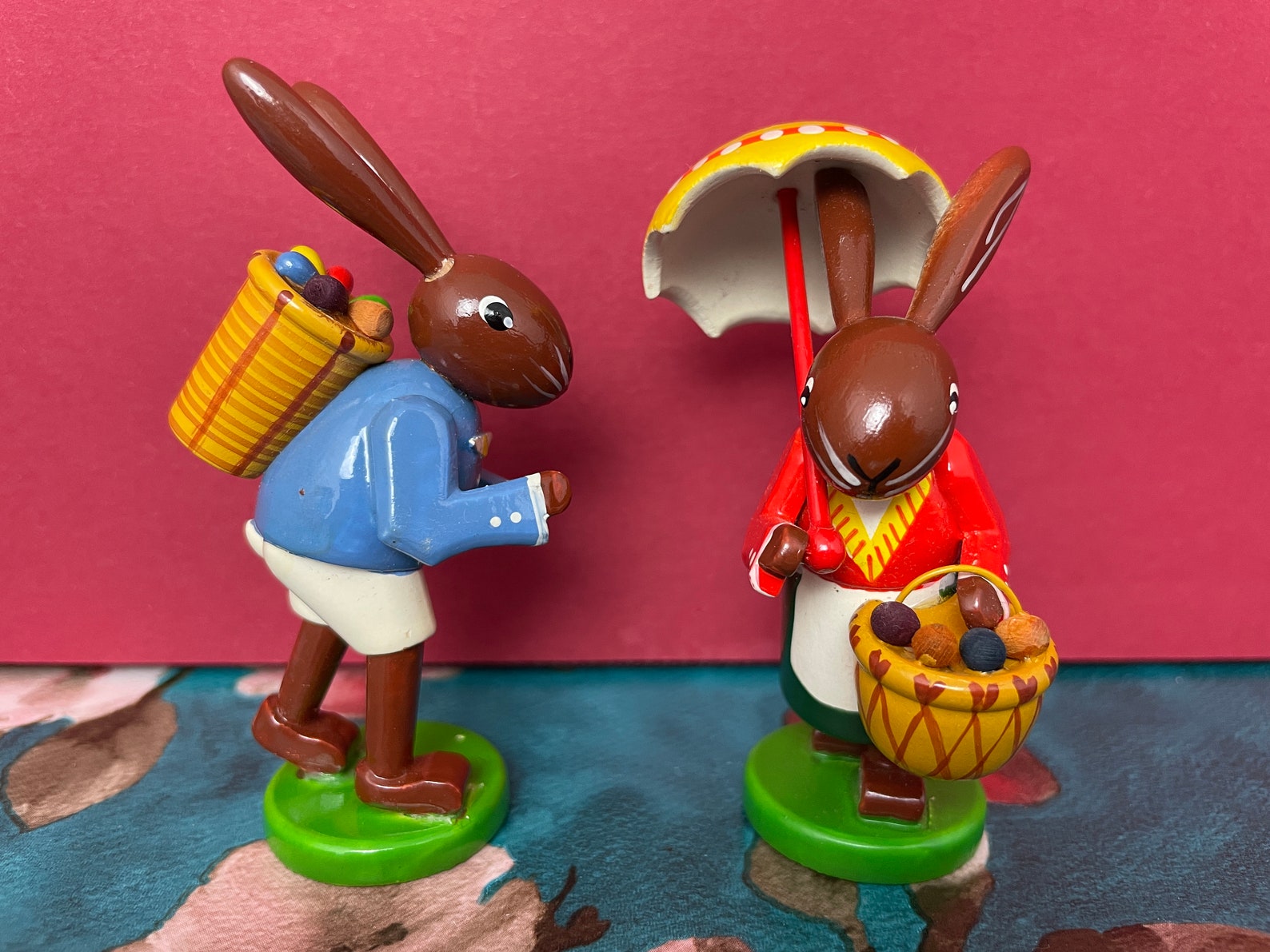 Vintage Erzgebirge Easter Bunny Figurines Set 2 Handmade Wood Rabbits from Germany Gift Under 50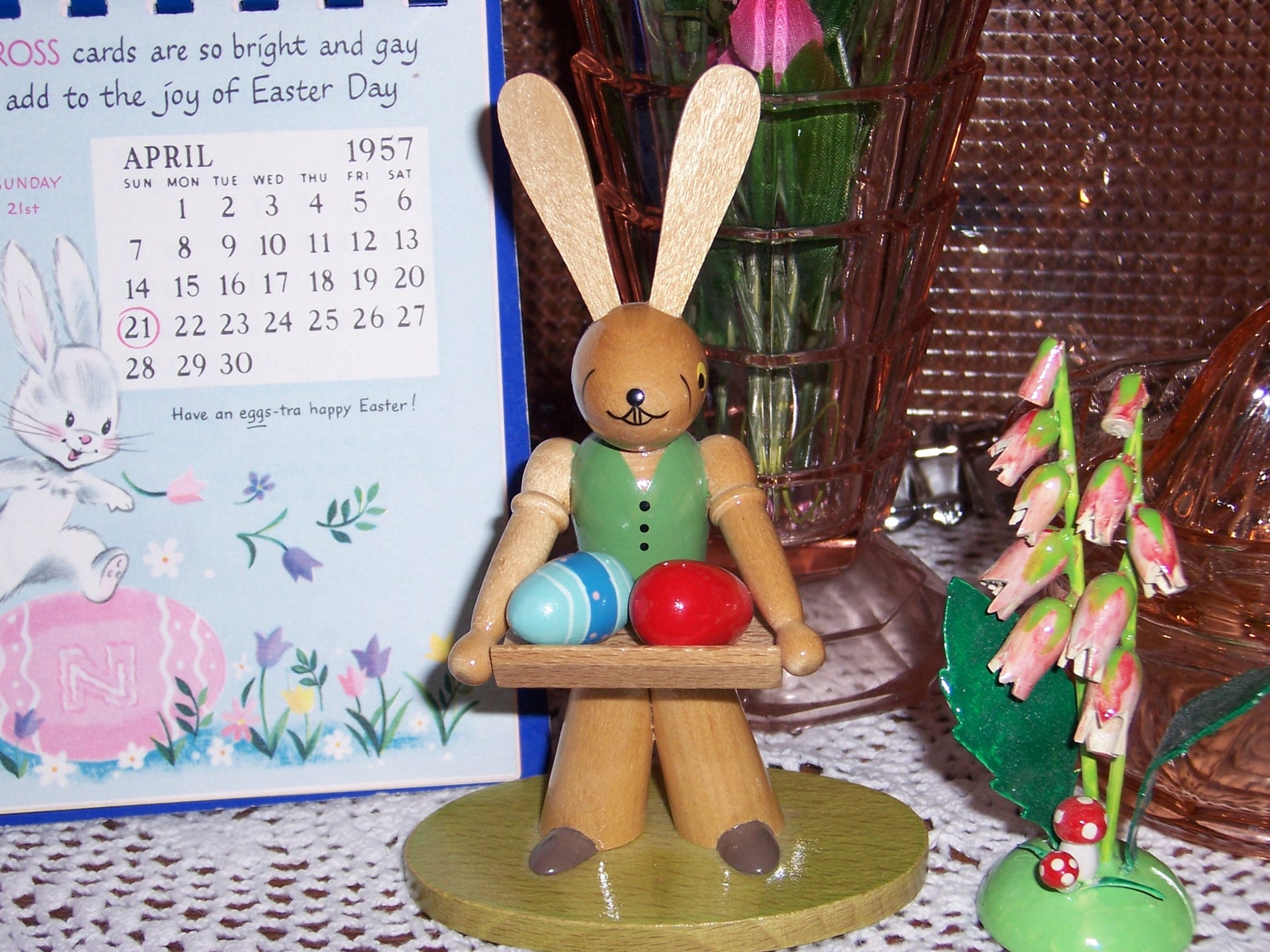 Vintage German Easter Rabbit Wooden Erzgebirge Expertic Bunny GDR Germany 1960's 1970's Easter Eggs 5 Inches High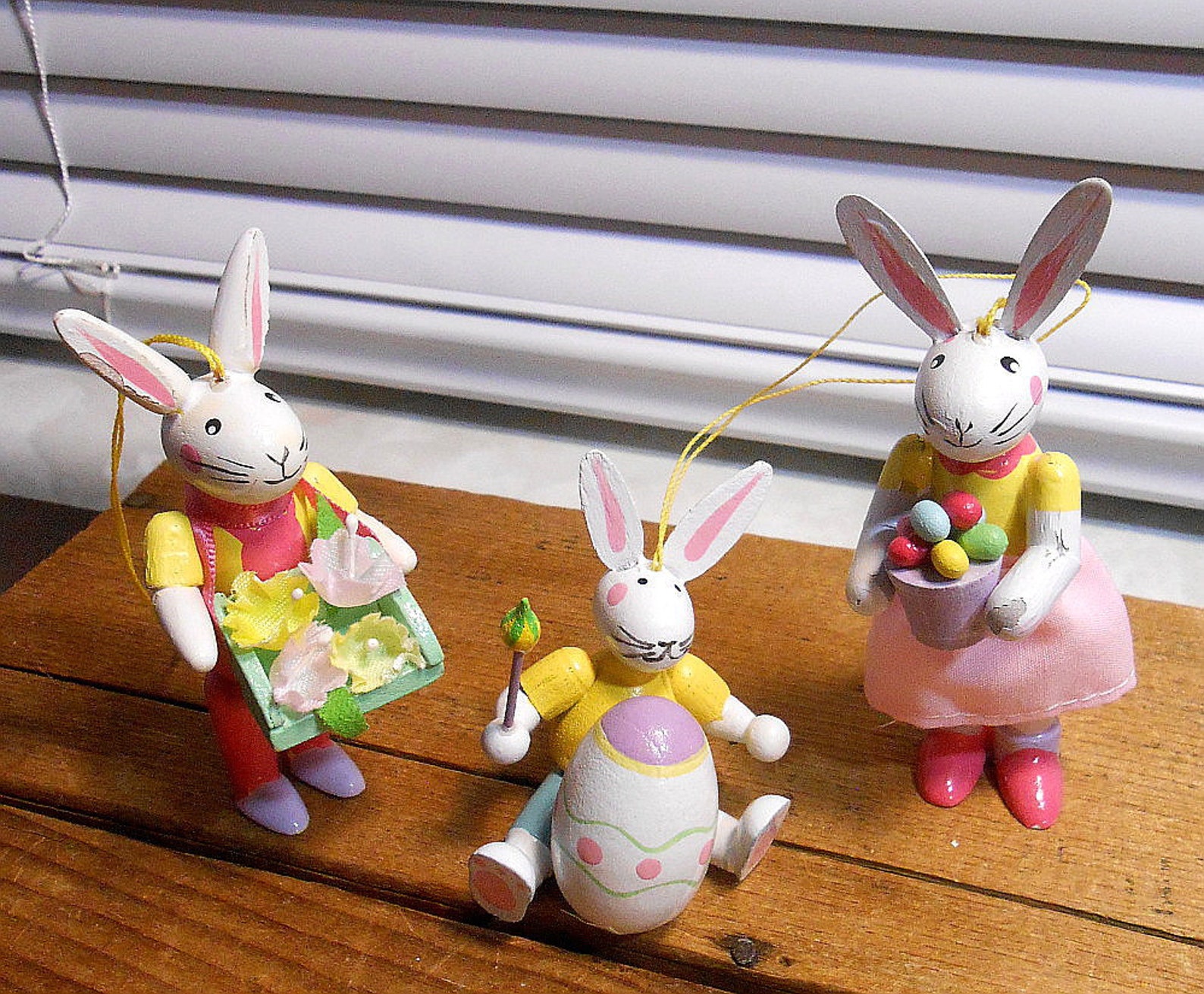 Easter Bunny Rabbit Family – Wood-Erzgebirge- Lot of 3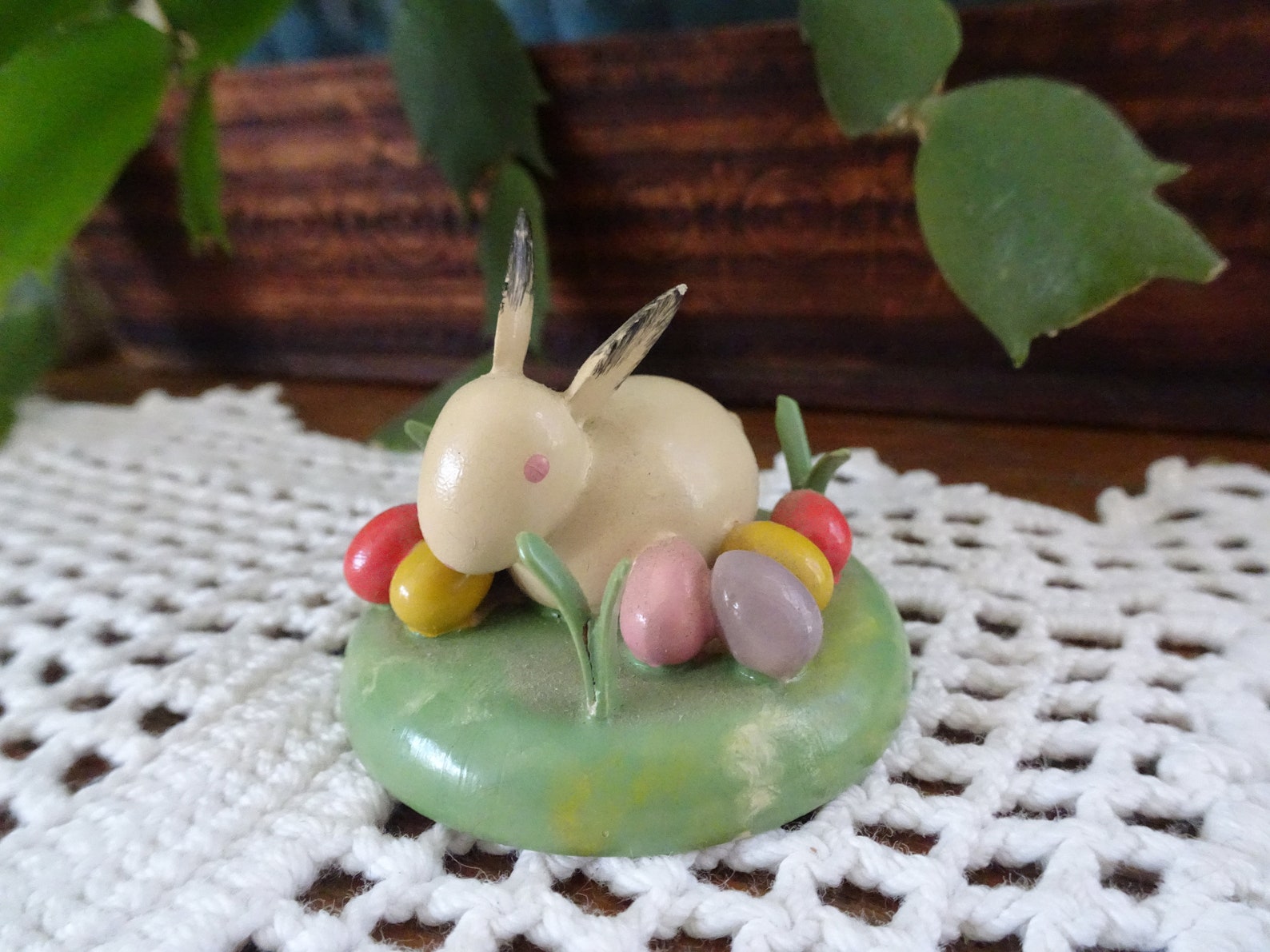 Very Cute, Vintage Wendt and Kuhn Rabbit Figurine- Erzgebirge- Made in West Germany- Wooden- White Rabbit, Easter Eggs- Spring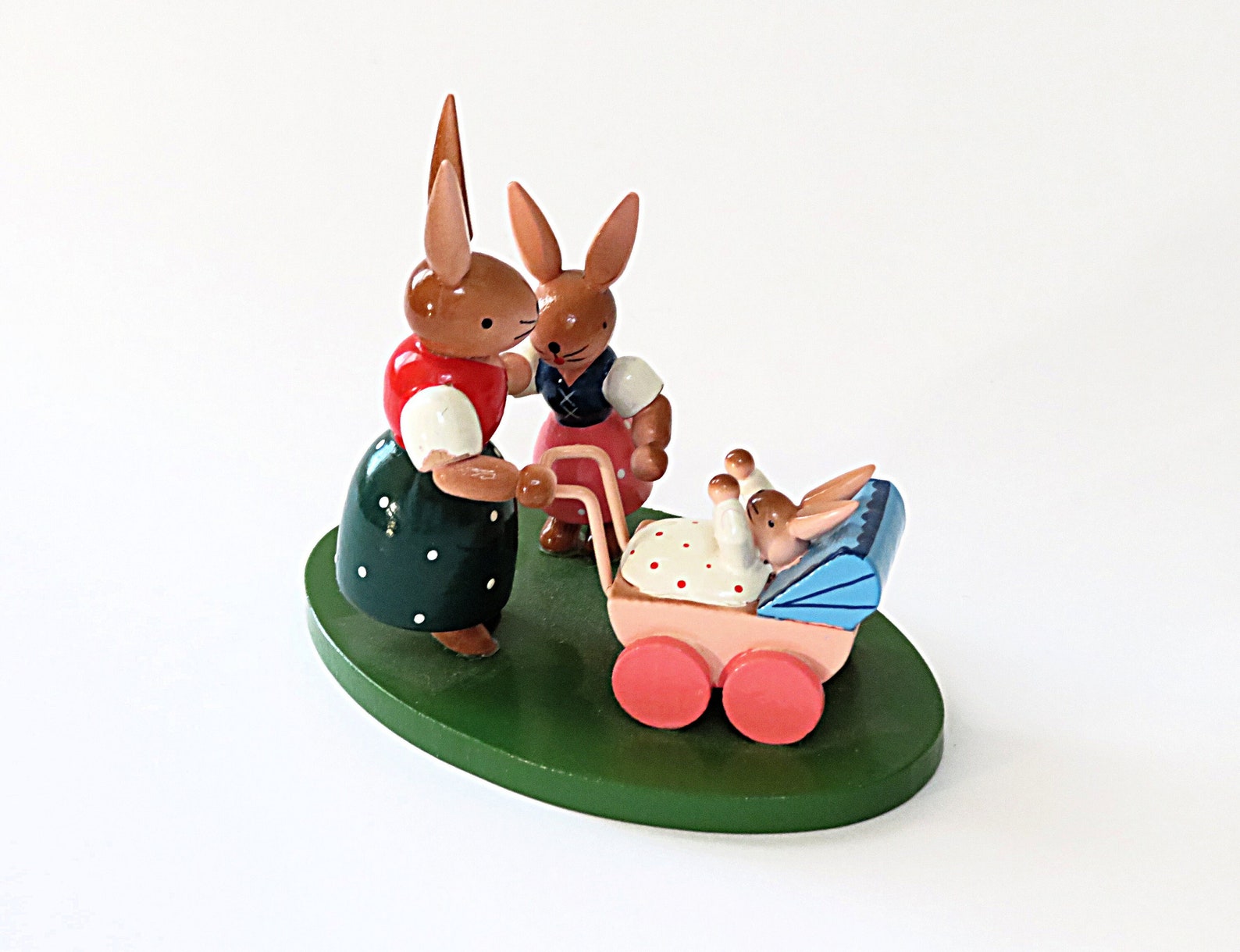 vintage wooden Easter bunnies, Erzgebirge Germany, bunny figurines, mother child baby in stroller, Easter decor, collectibles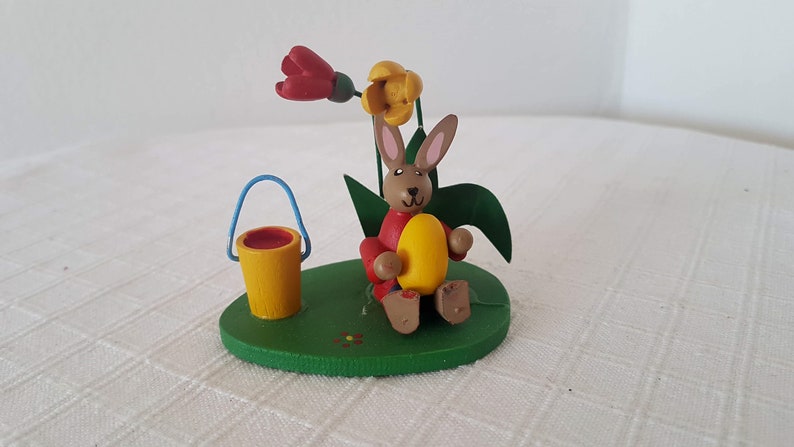 Vintage Erzgebirge Easter bunny Folk art hand painted made in East Germany German Easter Wooden decoration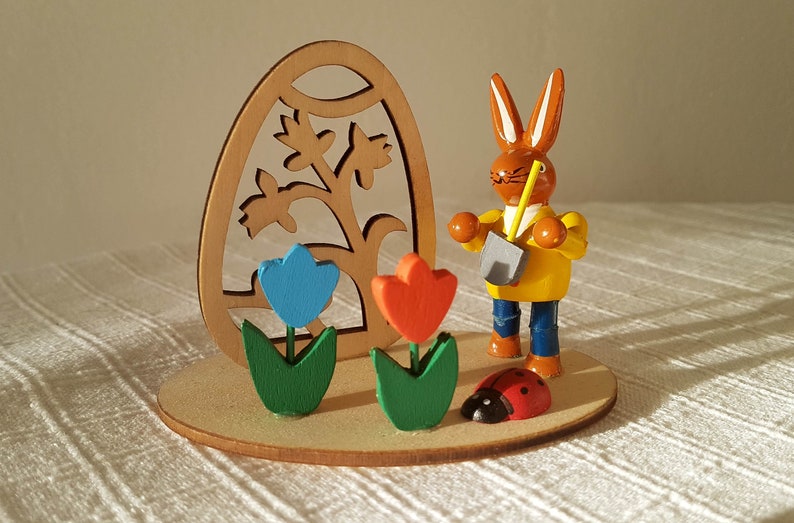 art hand painted made in East Germany German Easter Wooden decoration

German Wooden Easter Bunnies are cute Candle Holders and Pyramids!
Candles and Pyramids are another German Wooden ornament that isn't just for Christmas anymore! The colors and styles are different, more "Spring" oriented… so they are perfect for your sideboard or Easter Table!
Easter pyramid of unpainted 28cm table pyramid ore mountains wood

Easter pyramid pyramid with Easter bunny 35,5cm table pyramid of spring pyramid ore mountains

Easter Rabbits Pyramid Erzgebirge Germany

Rudolphs Schatzkiste Easter pyramid more unpainted with flower children 28cm table pyramid ore mountains wood

Easter pyramid of unpainted 28cm table pyramid ore mountains wood

Easter Bunny Smokers
Incense smokers aren't just for Christmas! These cute smokers are rabbits, or rabbit houses… fun at Easter time! Just add a cone of incense, light it, and smoke will come out of the chimney or cigar.
German incense smoker Easter bunny, height 19 cm / 7 inch, original Erzgebirge by Mueller Seiffen
German incense smoker Easter bunny Bavarian, height 18 cm / 7 inch, original Erzgebirge by Mueller Seiffen
Müller German incense smoker Easter bunny, height 19 cm / 7 inch, original Erzgebirge by Mueller Seiffen
Müller German incense smoker Easter bunny cook, height 19 cm / 7 inch, original Erzgebirge by Mueller Seiffen
KWO Chubby Bunny Rabbit Breeder German Wood Christmas Incense Smoker Germany