German Dishes Perfect for Thanksgiving Day- German Thanksgiving Food
(My daughter Katy has taken over my blog again….this time, it's all about German Thanksgiving food. Thanksgiving never really caught on in our household. Germans don't celebrate it… their Harvest festival is Erntedankfest. Thanks Katy for taking this on!)
Growing up with German grandparents meant that Thanksgiving looked a tad different for me and my siblings than it did for other kids at our school.  Most of the dishes my friends raved about were things I never even heard of (marshmallows on sweet potatoes?). But there really isn't traditional German Thanksgiving food (since Thanksgiving is an American Holiday). Prepping for dinner with my boyfriend's family was a journey into the interweb, attempting to memorize the names these classic American Thanksgiving dishes that I didn't grow up with. And while I can now say I am an avid lover of Pecan pie, I still hold a really large place in my heart for the dishes my Oma prepared for holiday meals. So whether you are like me, and love the feeling of family these German dishes provide, or if you are just looking for some new dishes to try out this Thanksgiving, hopefully this article has got you covered.
Main Dish:
I know some of you have read this header and though "what on earth could you have besides Turkey (or maybe some ham) on Thanksgiving". Well listen, might I recommend goose? Perhaps this was more of a taste preference, I'm pretty sure my Oma only liked turkey for the day after sandwiches, but regardless, most years we had a goose instead. As a kid I remember not truly understanding the difference and not thinking much of having goose instead of turkey. Plus, why would I when it is so tasty. I mean like 'fight my brother for the last piece' delicious. In my opinion, goose meat tends to have a bit more flavor and often gets less dry than turkey. It stands better on it's own and doesn't have to rely on the symphony of sides (not that I am in anyway challenging the wonder that is the endless side dish options.) All I am saying is that goose is delicious, and definitely worth the try.
Side Dishes:
Knoedl with Gravy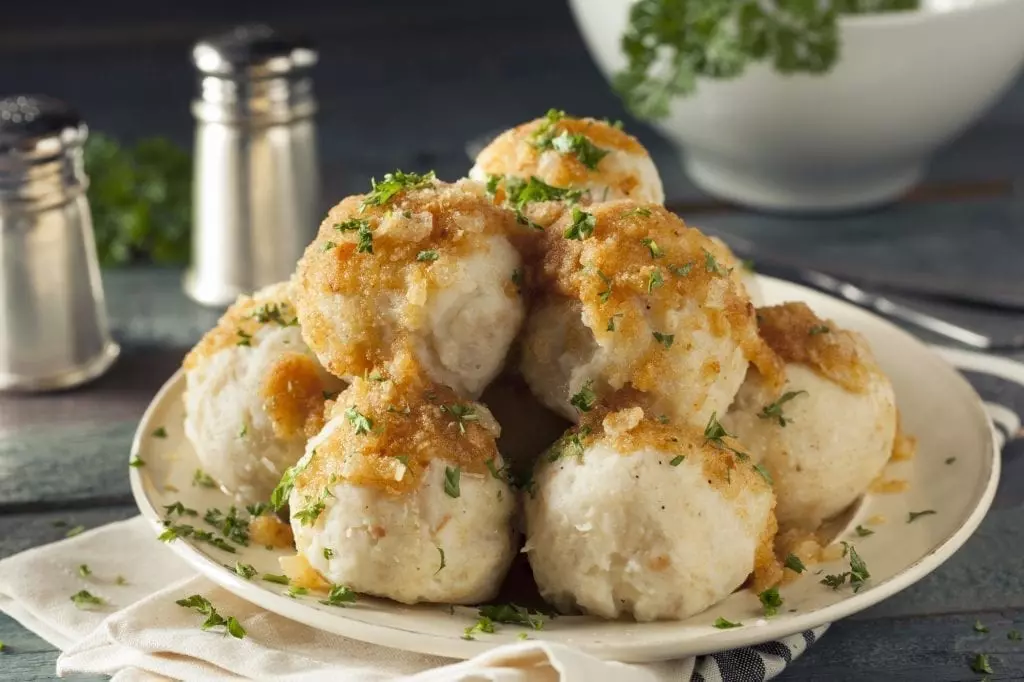 If 10 year old Katy could have eaten one thing for the rest of her life, it would probably have been knoedl, or German potato dumplings. These incredible balls of fluffy, sticky, starchy potato have the consistency of giant gnocchi but the fervor of a thousand slices of bread meant to mop up endless gravy. They are delicious and one of the most quintessential comfort foods I know. One could easily use them as a replacement (or an addition) to mashed potatoes. Also, while potato dumplings are the common version in the North, in the South many Germans make them with bread. (And really, what is stuffing, if not deconstructed knoedl?)  Personally, I believe the potato versions reign supreme but don't take my word for it, make both and you can decide for yourself.
Sauerkraut

While this may not have always been my favorite thing as a kid, as an adult I have learned to appreciate the wonder that is sauerkraut more and more. My grandmother adjusted the stuff that came in a jar to her own specifications. First she'd rinse off some of the salt, then she'd add it to the pot with  big pours of white wine, a few whole cloves and some bay leaves. Naturally it was served steaming hot. Of course as a kid we liked to giggle about the odor of sauerkraut, but honestly the taste is just sublime. The perfect blend of tangy, salty goodness. My favorite is when it is mixed with a starch. My cafeteria in Germany mixed it with pan fried noodles or small fried potato dumplings and the taste always took me back to the holiday table. Sauerkraut should never be a main dish, in my personal opinion, but beyond the sentimental value it has for me it also is an excellent dish to bring a variation to the palate and introduce contrast to the general plain salty or sweet flavors that dominate the Thanksgiving table.
Red Cabbage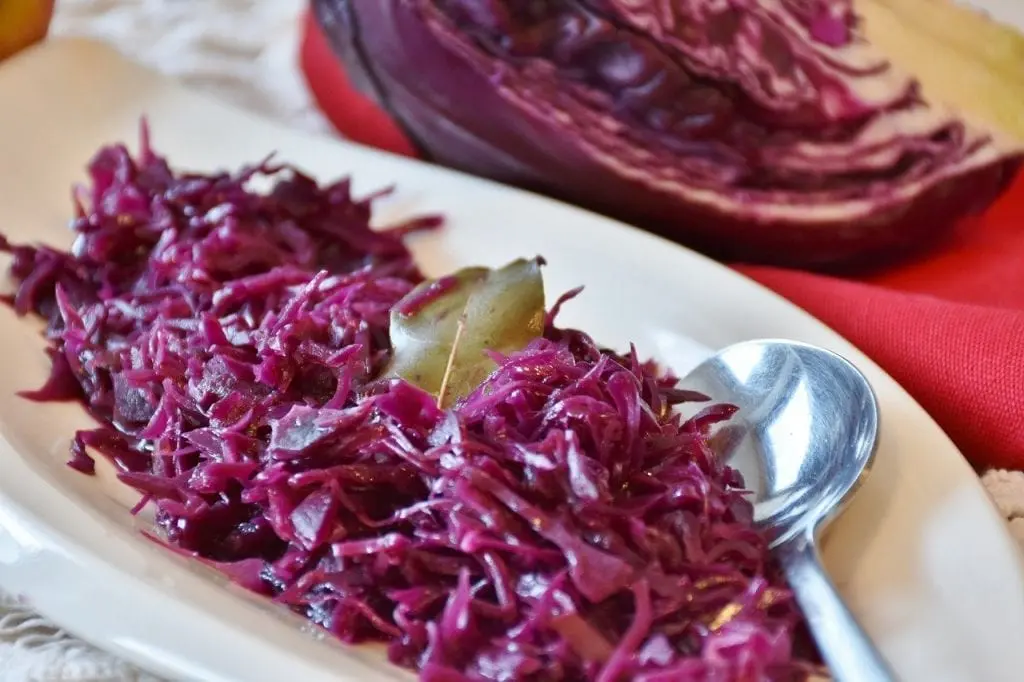 While Red Cabbage or Rotkohl is not my favorite, in fact, I can go most of the rest of my life without eating it, my Oma LOVES it, so it always turns up on the Holiday table. As far as I can tell, the use of liberal amounts of red wine is what makes it edible. For some reason Rotkohl is called Blau Kraut (Blue Cabbage) in parts of Germany. Makes you wonder, doesn't it?
Brussels Sprouts  Rosenkohl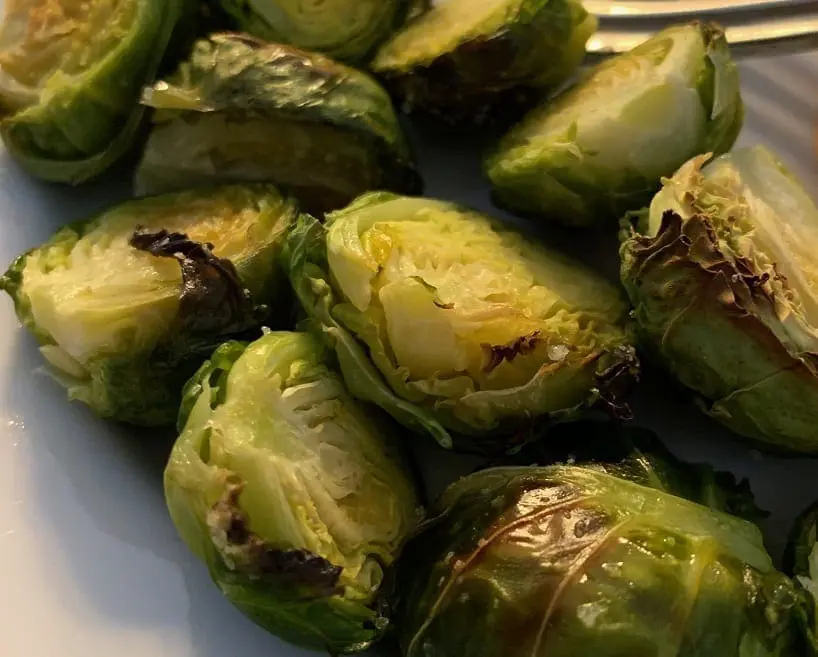 My mother is pretty sure I've lost my mind, but I firmly agree with my Oma that Brussels Sprouts or Rosenkohl, belong on the holiday table. OK sure, when they are boiled and overcooked, the taste can be a bit… umm…. yucky. BUT if you just steam them, or better yet, roast them, so that the edges caramelize….mmmmm. Maybe add a bit of bacon, and they are perfect.
Desserts:
Cherries
One thing that made our German holiday table so different from what I saw on TV or at a friend's house was the dessert. We didn't finish the meal with a selection of pies. In fact… when the dinner dishes were cleared away, Oma would bring out a big bowl of Cherry compote. And we were all ordered NOT to spit the pits at each other. (Oma knew us all too well). Fruit was a good way end to a rich meal.
Then we would all stagger off to the kitchen to clean up… maybe have a nap… until it was time for CAKE.
And not just one cake… not for the Holidays… Listen I love pie as much as the next gal but Germans rule the cake game.
Mokka Torte

One of my favorites is Mokka Torte, basically Mocha Cake.  This cake is made with thin layers of chocolate sponge cake between layers of Mocha Mousse and some Chocolate Ganache. It is decadent and thick and a small piece is more than enough, particularly after such a filling meal. But this simple to make, little-goes-a-long way cake is an excellent way to cap off the meal or even just break out for coffee time.
But there's more….
Apfel Kuchen 
No German Kaffee table is complete without Apfel Kuchen (Apple Cake). During the Holidays Oma makes one that is more apples than cake. We ignore the fact that she also sometimes snuck raisins into the cake…
Mohn Kuchen 
When I was little, I didn't know what Mohn was. It looked like icky black stuff. Now I know that it's Poppy Seeds. Oma's traditional Holiday cake comes from her Silesian background. It's a Poppy Seed roll up cake covered in streusel. The streusel is delicious. According to everyone else, so is the cake. I totally appreciate the fact that she makes a second one with Apricot filling.
 Thanks to my Oma for teaching me the BEST German Thanksgiving Food!! 
Some of Our Favorite Cookbooks
All of these books are on our shelves at home, and are written for the American Kitchen.
German Meals at Oma's: Traditional Dishes for the Home Cook

By Nadia Hassani – Spoonfuls of Germany: Culinary Delights of the German Regions in (2004-09-16) [Hardcover]

Classic German Baking: The Very Best Recipes for Traditional Favorites, from Pfeffernüsse to Streuselkuchen

The German Cookbook