Giant Cuckoo Clocks in Germany- That You Can Visit!
When it comes to Giant Cuckoo Clocks, Germany is the perfect place to see them. Growing up, we had a little Cuckoo clock in our hall. As a child, it fascinated me to watch the cuckoo pop out every hour! Even as an adult, I still get a kick out of these amazing time pieces. Simple ones like ours was… more elaborate ones with dancing figures… clocks with teeter-tottering figures marking off the seconds. So imagine my delight when I saw my first GIANT Cuckoo Clock!
Giant Cuckoo Clocks in Germany
Turns out, they are not as rare as you might think. Some are museums, but others are clock stores.  A few have been in the Guiness Book of World Records, if only for a year or two. All are fun to watch (and all have a gift shop near by!). Love traditional Black Forest Kuckucksuhren? Why not visit the biggest ones in Germany!!
Cuckoo Clocks Black Forest, Germany
Cuckoo Clocks have been produced in the Black Forest since the early 1800s. Originally, they were made with wooden gears and simple works… a small bellows controlled the cuckoos sounds and movement. They became enormously popular, and woodcarvers throughout the Black Forest were called up to carve more elaborate clocks that were fitted with metal gears so they would last longer. All over the world, these clocks were praised for their beauty and craftsmenship. New figures that moved or danced were added, but always, the cuckoo remained. Today, hundreds of thousands of Cuckoo Clocks, hand made in the Black Forest have been sold worldwide… and their popularity still remains high. It is no wonder that these GIANT Black Forest Cuckoo Clocks are such an attraction.
Höllsteig, Breitnau, Black Forest, Germany
Hofgut Sternen, the "Black Forest Village" is home to the largest Cuckoo Clock in the Bavarian Highlands. Every half hour, visitors are charmed by the cuckoo sounds and dancing figures.  Situated alongside a stream (with a working water wheel!) The Kuckucks Nest not only has a large Cuckoo clock on it's facade… you can shop for a special Cuckoo Clock souvenir inside! The building is right next to the Best Western Hotel Hofgut Sternen.
For More information- Hofgut Sternen
Niederwasser, Hornberg, Black Forest, Germany
In Niederwasser, you will find another giant Cuckoo Clock with 21 moving figures! The House of Black Forest Cuckoo Clocks is a family owned company that produces all of their own clocks, and sells them directly to the consumer. Adolf Herr, the current clockmaker is the latest decendant in a long line of clockmakers, and still carves in his workshop upstairs.
For more information- The House of Black Forest Clocks
Untertal, Schonach, Black Forest
The FIRST World's Largest Cuckoo clock can be found in Schonach, in the central Black Forest. This clock was designed to be admired from the inside as well as the outside. Sadly, it's no longer the "biggest", but it is an amazing Clock in a beautiful area.
For more information- Schonach, Black Forest
Eble Clock Park, Schoenachbach, Triberg, Black Forest, Germany
Claiming the status of world's LARGEST Cuckoo Clock is the Cuckoo Clock in the Eble Clock Park, Schoenachbach (Triberg). How big is it? The cuckoo alone measures 14 feet (and weighs over 300 pounds!!!) What makes this clock extra special is that you can go inside. A museum in the building allows you to see all the clockworks… pendulum, gears, bellows and all. You can even climb up to be level with the cuckoo when it strikes the hour or half hour. Don't feel like waiting? Walk around to the back of the building, where you will find a coin operated cuckoo…
For more information- Eble Clock Park
Giant Cuckoo Clocks outside the Black Forest
Believe it or not, you can find giant clocks in other parts of Germany
Gernrode, Harz
Outside of the Black Forest, the largest Cuckoo Clock is found at the Gernrode Harzer Uhrenfabrik (Clock Factory). Every 15 minutes you can see the cuckoo tell time. For around 2 Euros, you can look at displays of wood carvings and watch the craftsmen at work. You will also see a giant weather station. Until 1998, this clock was listed as the World's Largest, in the Guiness Book of World Records.
For More Information- Gernrode Harz
Wiesbaden, Hesse
In the early 1946 souvenir salesman Emil Kronberger decided his Kaiser-Friedrich-Square store could use something special to bring in more shoppers, so he added an enormous Cuckoo Clock to the facade of his shop. Measuring in at over 5 meters tall (to the tip of the antlers) and almost 3 meters wide.. this clock was in the Guiness Book of world records in the mid 1950s. The clock still chimes on the hour and the half hour.
For More Information- Wiesbaden Clock
St Goar along the Rhine
St Goar is home to the largest free-hanging cuckoo clock in the world. It's big and impressive, at 3 1/2 meters high and over 2 meters wide. There are spinning figures, and of course, a cuckoo…and what makes this clock exceptional? It has 2 faces!
For More information- St Goar Cuckoo Clock
Looking for Cuckoo Clocks Made in Germany?
They may not be GIANT, but they are still impressive, and a wonderful addition to any household.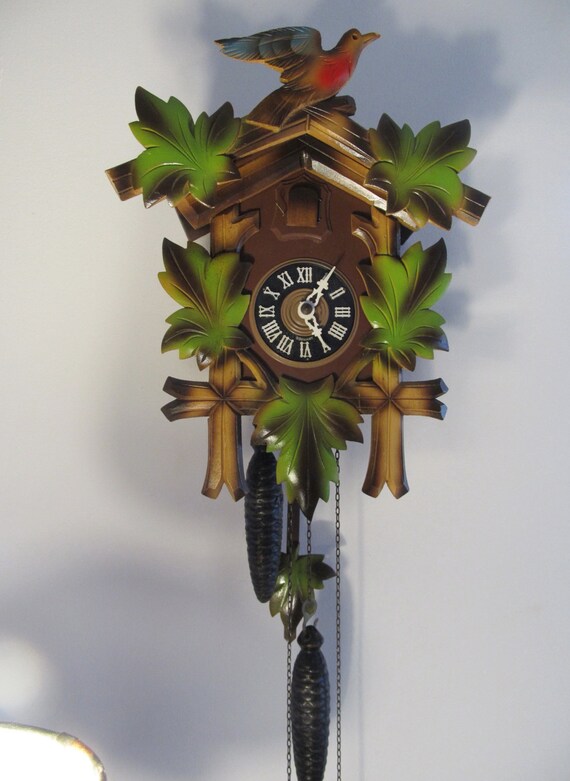 Vintage German Black Forest Cuckoo Clock Hand Carved Wooden Wall Clock Large size Wall Clock in Bright Green Red and Blue color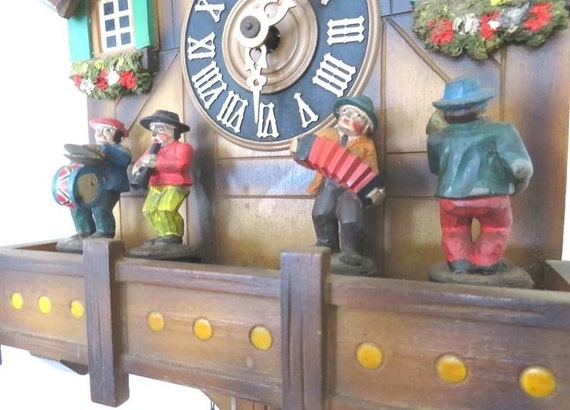 Vintage Cuckoo clock – Black Forest Germany – Chalet style clock – Schwarzwald – Swiss movement – Dancing Band – Hand carved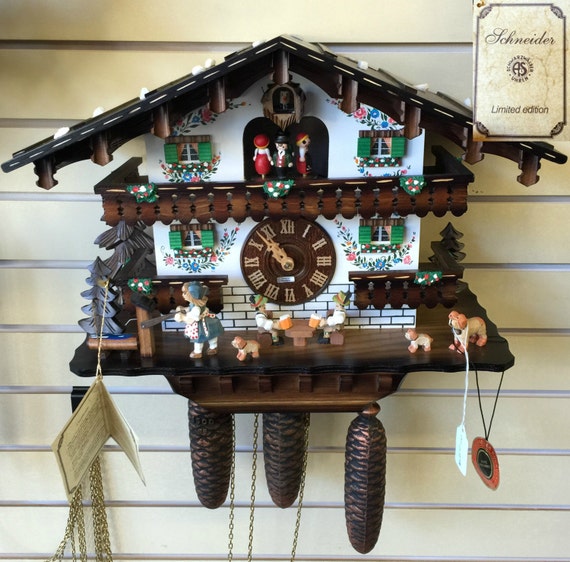 Anton Schneider Oringinal Black Forest Cuckoo Clock

&
German Cuckoo Clock 8-day-movement Chalet-Style 13 inch – Authentic black forest cuckoo clock by Hekas
German Cuckoo Clock 8-day-movement Chalet-Style 13 inch – Authentic black forest cuckoo clock by Hekas
Wall Cuckoo Clocks: Vmarketingsite Black Forest Wooden Cuckoo Clock. Black Forest Hand-carved Cuckoo Clock. Bright Cuckoo Bird Sounds On The Hour And Chime Has Automatic Shut-Off. Excellent Gift.
Cuckoo Clock Little black forest house 1.0260.01.C
Black Forest Cuckoo Clock with Wood Chopper
Traditional Cuckoo Clock Black Forest House with dancers [Kitchen & Home]
River City Clocks One Day Hand-Carved Cuckoo Clock with Five Maple Leaves & One Bird – 9 Inches Tall – Model # 11-09
&
How to Hang a Cuckoo Clock in Your Home