Lemon Blueberry Bundt Cake – Zitronen Blaubeer Guglehupf
Doesn't SOUND like a German recipe, does it? But I found this one years ago cut out from a German Cooking magazine in my Oma's drawer of recipes. Once I got it translated, and substituted yogurt for Quark, this Lemon Blueberry Bundt cake (or Zitronen Blaubeer Guglehupf) became a huge hit. (After trying it, my daughter's soccer coach insisted that I bring it along to every team gathering). It tastes fresh and fruity, making it the perfect cake for a warm afternoon. Plus, it's a Bundt (Guglehupf) so it transports well… whole or in slices. This is a great cake for your Kaffeeklasch table, and it's great to tuck a slice into a lunch box.
Lemon Blueberry Bundt Cake- Zitronen Blaubeer Guglehupf
Although I've given both the cup measurements AND the metric measurements, and both work… the metric does come out the same every time. A cup of flour is not always the same as a cup of flour. Investing in a scale is a good idea if you like to bake…-> Kitchen Scale
Go ahead and use Blackberries or Raspberries to mix things up!
Lemon Blueberry Bundt Cake - Zitronen Blaubeer Guglehupf
Lemon Blueberry Bundt Cake - Zitronen Blaubeer Guglehupf is loaded with blueberries, and topped with a lemony glaze. The cake makes a delicious addition to a Kaffeeklatsch, or tuck slices into the lunchbox.
Ingredients
Cake
1

cup

Butter- room temperature

220 gram

1 1/4

cup

Sugar

250 gram

1

teaspoon

Vanilla Extract

4

Eggs- room temperature

2 ½

cup

Flour

approx. 300 gram

1

tablespoon

Baking Powder

1/2

teaspoon

salt

1

cup

Plain Yogurt

approx. 245 gram

1

Lemon (for Zest and juice)

Use all of zest, you want 3-4 TBL. Juice

1 ¼

cup

Blueberries

Approx. 230 gram
Icing
2

cup

Powdered Sugar

125 gram

5

Tablespoon

Lemon Juice
Instructions
Grease and flour a Bundt or Guglehupf pan

Beat the Butter and Sugar until light and fluffy, 3-5 minutes. Scrape the sides and bottom of the bowl occasionally to make sure all of the butter is incorporated.

Add Vanilla

Add Eggs, one at a time, beating after each addition.

Add Lemon Zest and 3-4 Tablespoons Lemon Juice

Combine the Flour, Baking Powder, and salt, add half to the butter mixture, and mix in on low.

Add half of the Yogurt, mix to combine.

Add the rest of the flour mixture, then the rest of the yogurt.

Mix to combine completely.

Use a spatula to fold in the blueberries

Spread the batter into the prepared pan.

Bake for 50 minutes and check by poking with a toothpick, if it comes out with raw batter, bake a few more minutes

Cool on a rack for 10 minutes.

Hold your breath and flip the cake out of the pan... let cool completely

You can serve this cake just sprinkled with powdered sugar... or top with icing.
Icing
Mix the powdered sugar with lemon juice until smooth. (It should feel like thickish glue... )

Pour over the cake.
Notes
Be generous with the lemon zest in the cake. Adding more gives the cake a zippier flavor.
DO NOT take shortcuts when greasing and flouring the pan. Going through all the trouble to bake a cake, then having it STICK is just aggravating. (Use my Oma's method of rubbing the pan with the butter wrapper works well, and adds Oma magic)
Easy German Cookbook
Looking for more easy German Recipes? Try my Easy German Cookbook! It's packed with 80 traditional recipes made simple for the American Kitchen.
Order from Amazon… or order a signed copy from my online shop.
Easy German Cookbook: 80 Classic Recipes Made Simple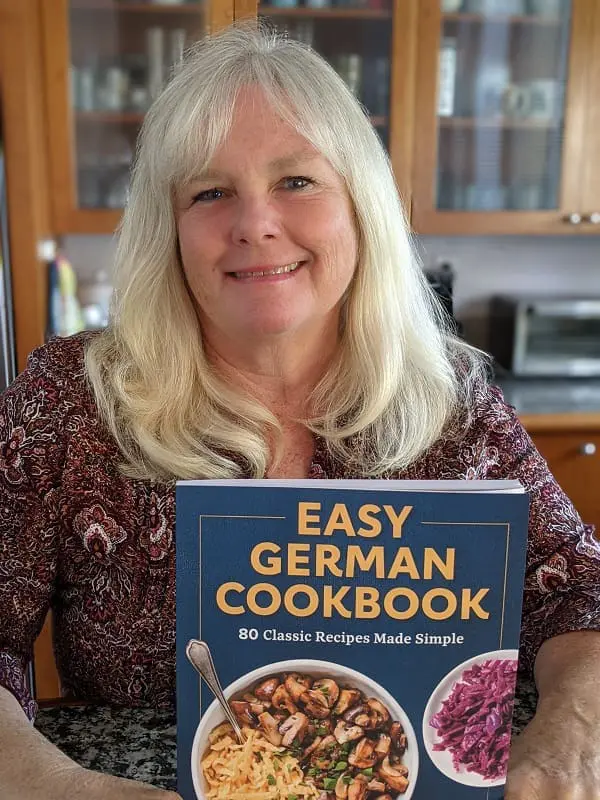 Easy German Cookbook SIGNEDGermanGirl Shop
Bake a Lemon Blueberry Bundt Cake / Zitronen-Blaubeer Guglehupf
After Mixing the ingredients… use a spatula to fold in the blueberries. This way they don't get squished.
Bake for 50 minutes. Use a Toothpick to insure that it's baked through. If batter comes up on your toothpick, add a few more minutes to the baking time.
Let cool in the pan for 5 to 10 minutes (on a rack). Then take a deep breath and flip the cake out.
Let cook completely before adding the Lemony Glaze.
When you mix it, it should be sort of thick. Thinner will work, it just won't look as nice.
You can also just sprinkle with powdered sugar, and call it a day.
Spoon the Glaze over and let it set.
I do this on the rack over a sheet pan covered in wax paper…. this way I can scoop up any glaze that runs off, and put it back on the cake (or in my mouth)
Serve and enjoy