Order German Foods Online from igourmet!
As many of you know, I'm always on the lookout for new places to order our favorite German Foods…. Quark, Sweets, Cheese … those familiar items that we grew up with or remember from Oma's house. It's not always easy. Happily, this week the igourmet.com company sent me a box of German goodies to try out! And they were good! Let me show you what I got… and what I did with it… and why you should order some of your favorite German foods online from igourmet.com.
To be completely upfront, they asked me to choose a set of items from their shop. I purposely chose things that would work together as simple meals… and also some Palmin for a Kalter Hund. The items were sent to me free of charge in exchange for a review, but I can assure you that my review will be honest.
igourmet.com is not JUST a German food importer. They have representatives with relationships all over Europe who do their best to source the best products for import. Their focus is on quality and freshness. And while you will not find EVERY item you remember from your local German grocery store, the items they do carry are quite good.
Some German Foods you will find…. Bratwurst, Rye Bread, Butter, Mustard, Essig, Sauerkraut, pickles, Cheese and more cheese…honey and jam.
Added bonus! They carry food items from all OVER Europe, so if your family came from an area that is now Poland or the East, you could find those special foods you miss. There are lots of Dutch products as well. And while there isn't much in the way of Aufschnitt, you will find a nice selection of hams, including a whole Black Forest Ham, assorted smoked hams and prosciutto, and of course, lots of different salamis (my favorite). Also, you will find lots of canned fish and cheese.
Recently I discovered that igourmet carries Raclette Cheese! Lots of Raclette Cheese! Big wheels and slices!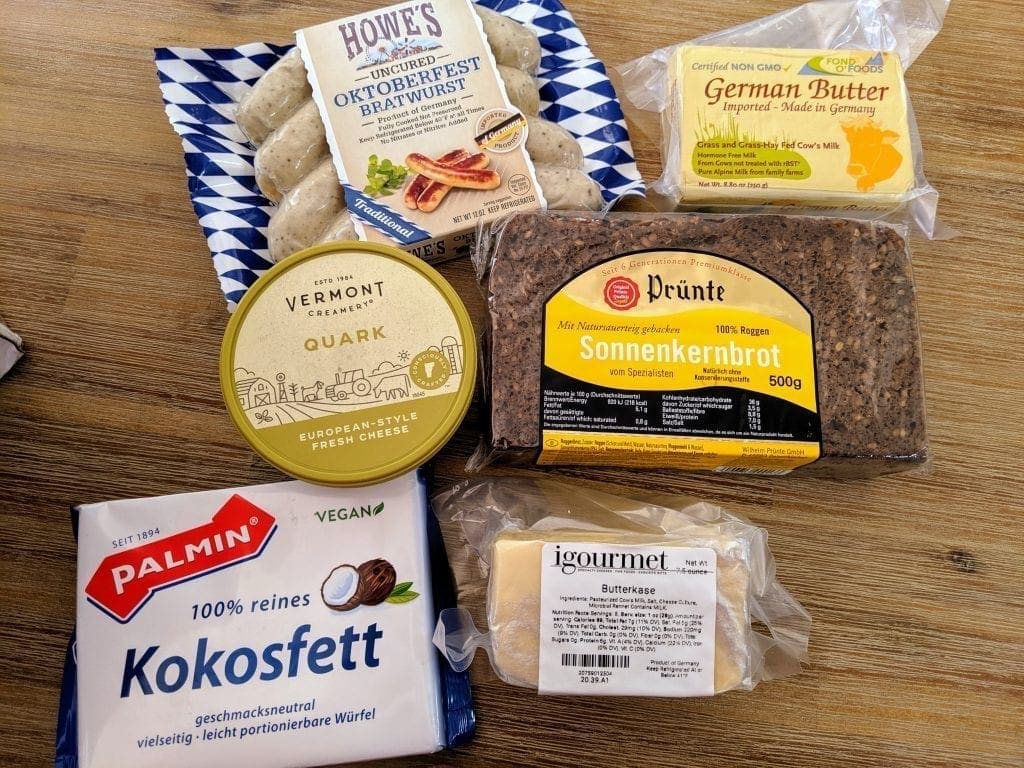 My Order from igourmet.com
I could tell from the items that I received that keeping items fresh until they get to your kitchen is important. Every item was carefully packaged… the cheese and butter were double wrapped to both insulate and keep smells from transferring to other items. The cardboard shipping box contained a Styrofoam box (perfect for bringing snacks on that next drive down to Oma's!). There was an ice pack keeping everything cold.
Orders are shipped out quickly… in fact, if you order it by Wednesday, you order will arrive in the SAME WEEK. My food arrived cold and ready to eat.
In my order was –
Quark
German Butter
Butterkase
Sunflowerseed Rye Bread (I do love sunflower seed bread of all kinds)
Howe's Bavarian Bratwurst
Palmin
What Did I Make?
I ended up making a breakfast with the Bread, butter, Cheese, and Quark. And it was delightful.
I LOVE the Allgau German Butter. It's not always available where I live, and I really MISS it. (Honestly, sometimes I think I could live on bread and butter). The bread was exactly how I remember from Oma's house nutty and strong, and a spread of Quark with chives over the top was perfect. The cheese was smooth, soft (but not too soft), and had a nice tang. And my guy is an official convert to Butterkase… sadly, he will have to wait for the next order, because the kids came along and WIPED OUT the rest of it.

I also mixed a spoonful of  Raspberry Jam into a bowl of Quark, sprinkled on some granola and YUM!
The Quark was a little looser than I expected, but the flavor was spot on! Because the container only holds 226 gr., you may have to order a few to make that Kasekuchen. But it is perfect for enjoying right from the package. The Quark is made by Vermont Creamery, and it's won several awards over the years.
At dinnertime I grilled up the Bratwurst and served them with a few Pommes and some Red Cabbage Slaw (the slaw was left over from the day before… and just right for a warm day). The Brats had a nice flavor and texture. Keep in mind that igourmet.com has 4 different types of Bratwurst, I ordered the Oktoberfest variety.
Dessert from igourmet
Click here to order Palmin from igourmet.com
There was some confusion about WHY I would want Palmin, but honestly, finding a consistent source has been tricky. The block that came wasn't melted or misshapen. Perfect. I immediately made a Kalter Hund… and my kids were DELIGHTED!! (BTW. That's already gone too…)
igourmet.com also carries sweets, chocolates and dessert items.
They have a big selection of Marzipan (my sister will be delighted), Weinbrandtkirschen, and other chocolates available right now…and they will carry Lebkuchen and Stollen, as well as other cakes, during the Holiday Season. They also have something called Schnee Flockchen German Winter Drink, which looks like the base for a Glühwein or Punsch.
Gifts from igourmet.com
Also, if you are looking for a gift for someone?  igourmet.com has put together some really nice packages of German food that are great for birthdays and holidays.
Click to Order A Little Bit of Germany
Looking for German Food Products? Check igourmet.com
There is a nice selection of German food products available now, and that will only continue to grow. Expect the items you purchase to be of very good quality. And then have a look around at the other wonderful items they have in their online shop. I'm sure you will be just as pleased as I was.