Traditional Foods at Oktoberfest- What To Eat in the Biertents
A great way to soak up all the German beer you drank out of those liter Steins at Oktoberfest, is to pair the beer up with some fantastic Oktoberfest FOOD. Yes, they serve food at Oktoberfest! The Traditional foods Oktoberfest tents serve are really good, and hearty enough to tackle any appetite! And don't think that it's only Bratwurst being served. You will find Pork dishes, Chicken, Fish, and even Vegetarian options! Most tents have both lunch and dinner Oktoberfest menu, and serve lighter fare mid-day. Some tents even have a children's menu.
Whichever Oktoberfest Tent you choose to drink in,  you are certain to find some great traditional Oktoberfest food to go with it.
German Oktoberfest Foods in the Biertents
Here's a list of some FAVORITE Traditional Oktoberfest Foods….
Brathendl (Roast Chicken)
Brathendl on a Spit
Brathendl isn't your average Roast Chicken… At Munich's Oktoberfest they use a special Brathähnchen Würzsalz (Chicken Seasoning Salt/mix) to give the bird flavor, and then the chickens are Spit Roasted on a Rotisserie. The skin is crispy, the meat is juicy, and it's oh sooo delicious. It's no wonder over half a MILLION Brathendl are sold at Oktoberfest each year.
Schweinshaxn (Ham Hock)
Schweinshaxn is a roasted ham hock, the part just above the ankle, but below the thicker ham part that you eat at Easter. That doesn't sound so interesting, does it? Well, this ham hock is a meaty portion that is marinated for a few days, then slow roasted for a few hours. The result is tender flavorful meat covered in a crisp layer of fat. Perfect for a big appetite!
Weißwurst (White Veal Sausage)
Tradition states that Weißwurst should not be eaten later than lunchtime. In days past, these sausages made with a mixture of veal, pork and seasonings, were made by butchers early in the morning, but since no preservatives are added, they would go bad by dinner… so you ate them early. Today, thanks to refrigeration, this is not longer a problem. The Weißwurst in Bavaria are boiled… just under 10 minutes, to the skin casing doesn't split, and brought to the table in the cooking water to keep warm. To eat, peel the skin off, and eat the filling.
Bratwurst/Wurstchen/Wurst
Speaking of Wurst, one thing you are CERTAIN to find at Oktoberfest is Wurst. Bratwurst (Grilled Sausage) or Wurstchen (little sausages) or Knackwurst (sausages with a crisp snap to the skin when you bite in). Served with a roll or sauerkraut… and of course a good German Mustard.
Steckerlfisch (Fish on a Stick)
Germans are very precise about naming things, and Steckerlfisch is the perfect example. In the Bayrisch dialect, a "Steckerl" is a stick… and of course, a Fisch is a fish. So, Steckerlfisch is Fish on a Stick, grilled over coals, like you would on a camping trip. There is no ONE kind of fish used, but usually they are local fish like Whitefish or Bream. In a funny twist, Steckerlfisch wasn't a very common dish, until a fisherman started serving it at Oktoberfest… now you find it at Fests all over Germany.
Schweinebraten mit Knödel (Pork Roast with Dumplings)
This is not your average Roast Pork. It's slow roasted with a nice layer of fat to self-baste the meat. Served in slices, with either Spätzle or Knödel (noodles or dumplings) and smothered with a rich gravy made from the pan drippings. Yes, it has enough calories to see you through a long cold winter… but the delicious flavor makes it worth every last bite!
Kässpätzle
Think of Kässpätzle as a sort of Macaroni and cheese… but with home-made thick noodles, and no powdered cheese food. Germans make this dish with either Emmentaler or Gruyere cheese… then top or mix it with sauteed onions. It's hearty and rich, and great for soaking up alcohol…
Obazda
Obazda is just a fun word for Cheese Spread. The standard recipe calls for a proportion of 2/3 aged soft Camembert with 1/3 butter. Then a proprietary blend of seasonings, including salt, pepper and paprika are mixed in. Some chefs add horseradish, caraway, onion, garlic or even cream cheese (everyone has a carefully guarded recipe…) And of course, a bit of beer goes in. Blend till smooth, then serve with pretzels or slices of rye bread. This is Biergarten food!
Pretzels
What can I say about Pretzels? They are EVERYWHERE at Oktoberfest… but not the hard crunchy things that come in a bag. Oktoberfest Pretzels are like rolls… a chewy crust and a soft bready inside. (In fact, they are treated like bread) They can be eater alone, or spread with Obazda… and they are great with a Maß of Oktoberfest Bier (or a Radler)
Bayrische Brotzeit Platte
This happens to be one of my FAVORITE things to eat in a Biergarten, and they serve it in the Oktoberfest Tents! A Brotzeit Platte is a board that is covered in all sorts of Aufschnitt (German Cold Cuts), Cheeses, and Spreads like Obazda. It comes with a bread and pretzels (usually in a little basket on the side). And of course, in a Bavarian Biergarten, you get a Radi! This is a sliced Bier Radish (similar to Daikon)… thought to aid in digestion. I LOVE that it's share-able, and everyone can pick and choose what they like.
Of Course, there are Sweets in the Oktoberfest Tents
You will find a variety of cakes and Tortes… but also…
Oktoberfest Gingerbread Hearts
The Oktoberfest Gingerbread Hearts are BIG! They come decorated with a hard sugar icing, and often have sweet sentiments on them. People gift them to each other, or buy them to wear as a decoration. The sweet treats can be eaten, or saved as a memory of a wonderful time at Oktoberfest!
Want to Make Some of these Traditional Oktoberfest Foods at Home?
These cookbooks are loaded with fantastic Oktoberfest Food Recipes, written for an American kitchen. Give them a try.. and experience Oktoberfest flavors year round. Don't forget the beer!!
Oktoberfest Cookbook

Easy Oktoberfest Recipes – Favorite Traditional German Food

Biergarten Cookbook

Want to Go to Oktoberfest? These Tours Will Get You Into the Tents
Yes, you can go it along, but these tours will get you in, get you a spot at the table, and get you your beer. You even get a tour! No stress or worries…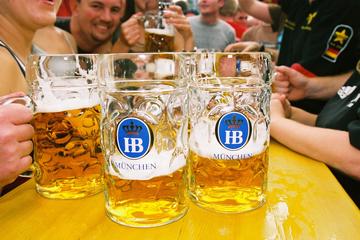 Guided Oktoberfest Tour and Evening at the Hofbräu Tent Including Beer and Oktoberfest Museum Tour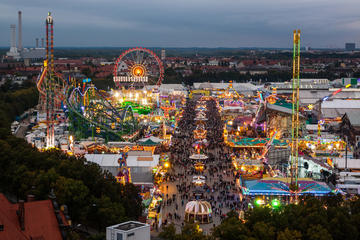 Small-Group Munich City and Oktoberfest Tour Including Reserved Oktoberfest Tent Table