What do you give the person who has everything? Or doesn't want a THING? FOOD…. German Food! These German Food Gifts will make anyone happy! Honestly, the older I get, the fewer "things" I need or want. But food, specialty foods, always get eaten up and enjoyed. During the holidays, those special treats like German Sausages, Cheeses, Chocolates, and even fancy Cookies mean a lot more. And yet, people generally don't buy them for themselves.
Buy sausages for that expat missing his German Butcher… or Cookies for your Opa who loves something sweet with his coffee. No one says no to Chocolates, so keep a few extra boxes on hand when you need a little "something" for hostess gifts, teachers and neighbors.
Want to go all out? Order a monthly subscription box that show up on the doorstep regularly! Some contain items for cooking, others just have treats and snacks.
German Food gifts won't be set into a corner… and they are definitely a one-size-fits all!
Save 10%  on the German Food Box with Coupon Code GERMANGIRL
German Christmas Chocolates
Special Christmas Chocolates, already packed up and ready to gift! Perfect for the sweets lover on your list! Keep a few extra on hand to grab as a last minute hostess gift or neighbor gift.
Ferrero MonCheri 30 pieces (pack of 1)

Ferrero Mon Cheri Hazelnut Chocolates 15 pieces (Single Pack) (1)

Ferrero Best Nut Edition Gift TubeGermanShop24
GRAND Ferrero Rocher!GermanShop24
CHocolate Boot GIftGermanShop24
Funny Christmas Heads- Loaded with ChocolatesGermanShop24
Milka PlushGermanShop24
Kinder Christmas BagGermanShop24
Christmas Treats in a Box
The whole family will love digging through the box to find their favorites. It's enough to fill up the Bunter Teller, share them out at a party, or just deeply enjoy the whole thing alone.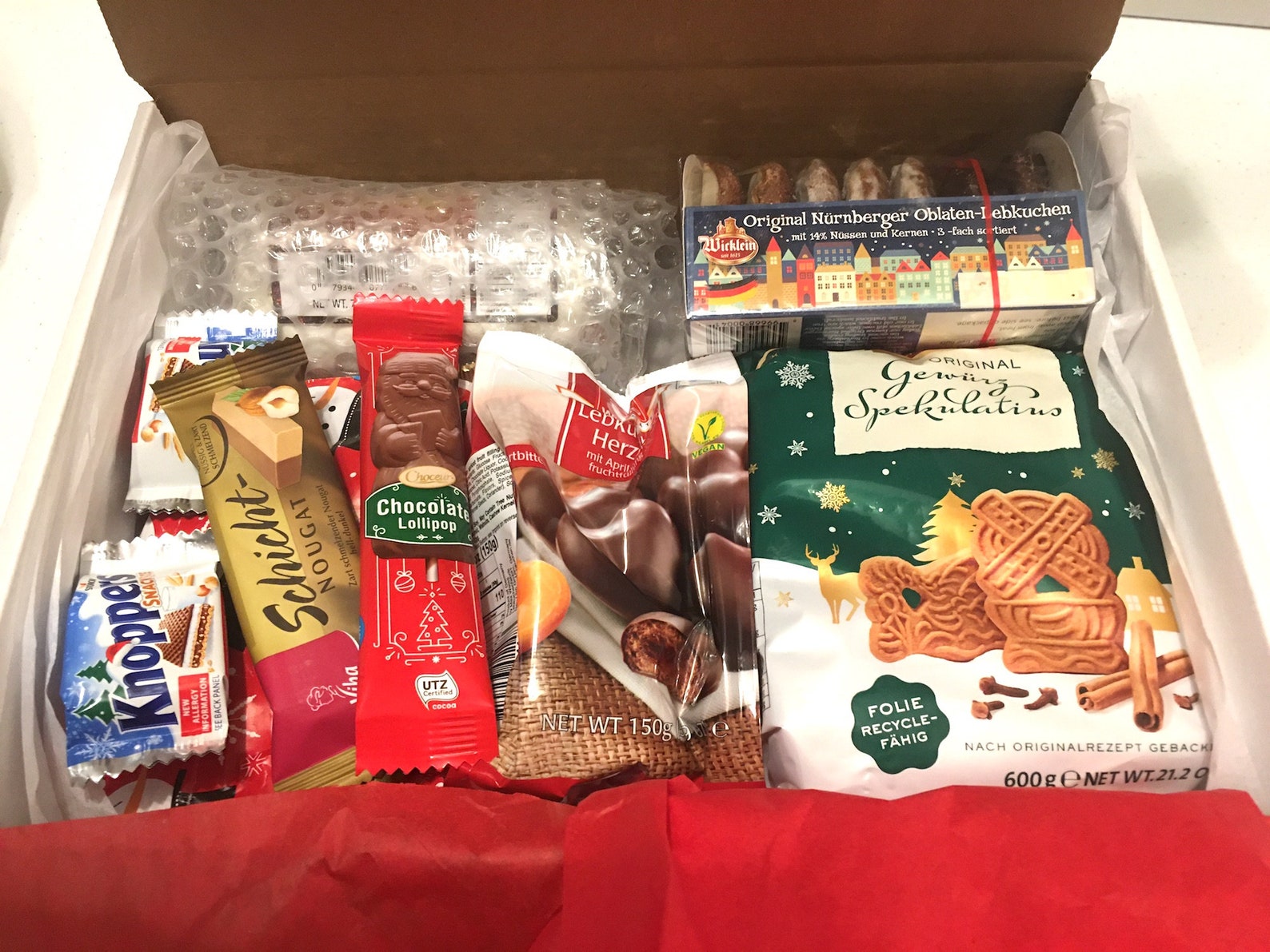 German Christmas Box – Filled with Authentic German Items

German Christmas Box with Authentic German Products – Limited EditionLove German Food
Mozart Kugeln
These special treats of marzipan and nougat robed in luscious chocolate are worth every last calorie. Since 1865, the Reber patisserie of Munich has been producing excellent specialties, and these Mozart treats might be their best known. Mozart Kugeln and gift boxes would be a welcome gift for anyone who loves fine chocolates.
Reber Mozart Kugel Chocolate Marzipan in Gift Box, 20 oz (20 Pcs)Yummy Bazaar
Reber Gold Cord Chocolate Marzipan Gift Box 18.5 oz (15 Pcs)Yummy Bazaar
Reber Mozart Kugel Hazelnut Pralines Constanze Raspberry White Chocolate, 4.2 oz (120g)Yummy Bazaar
Reber Mozart Kugel Chocolate Marzipan in Violin Gift Box, 4.9 oz (7 Pcs)Yummy Bazaar
Leckerlee Lebkuchen
Elisen Lebkuchen baked the old fashioned way using premium ingredients in the United States. Lekckerlee Lebkuchen really is a special treat. And it comes in a sweet collectible tin!
Lebkuchen in Winter Haus Tin LECKERLEE Origin: US Size: 1 poundigourmet
Lebkuchen in Snow Day Tin LECKERLEE Origin: US Size: 9.5 ounceigourmet
Festtags-Truhe 2021 A selection of gingerbread and biscuit specialities in a noble metal chestSchmidt Lebkuchen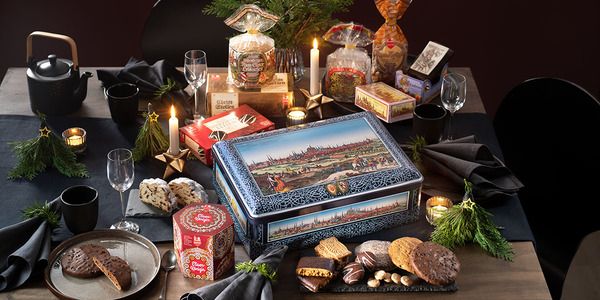 Nuremberg Gift Chest Delicious Elisen specialities and moreSchmidt Lebkuchen
The small festive package Small gingerbread package for big gourmetsSchmidt Lebkuchen
Boxes of German Foods
Cheeses, sausage, mustards… All you need to put together a meal or Brotzeit.
Schaller & Weber's Bavarian BoxGoldbelly
Currywurst ComboGoldbelly
Schaller & Weber's Summer Grill Pack for 6Goldbelly
Schaller & Weber Best Seller Sampler Pack including- Landjaeger, Bacon, Sausages, Pate, Salami, and SauerkrautGoldbelly
&
A Little Bit of Germany Gift Boxigourmet
A Little Bit of Germanyigourmet
Big Boxes of German Snacks and Treats
Sweet and Salty treats to make anyone happy.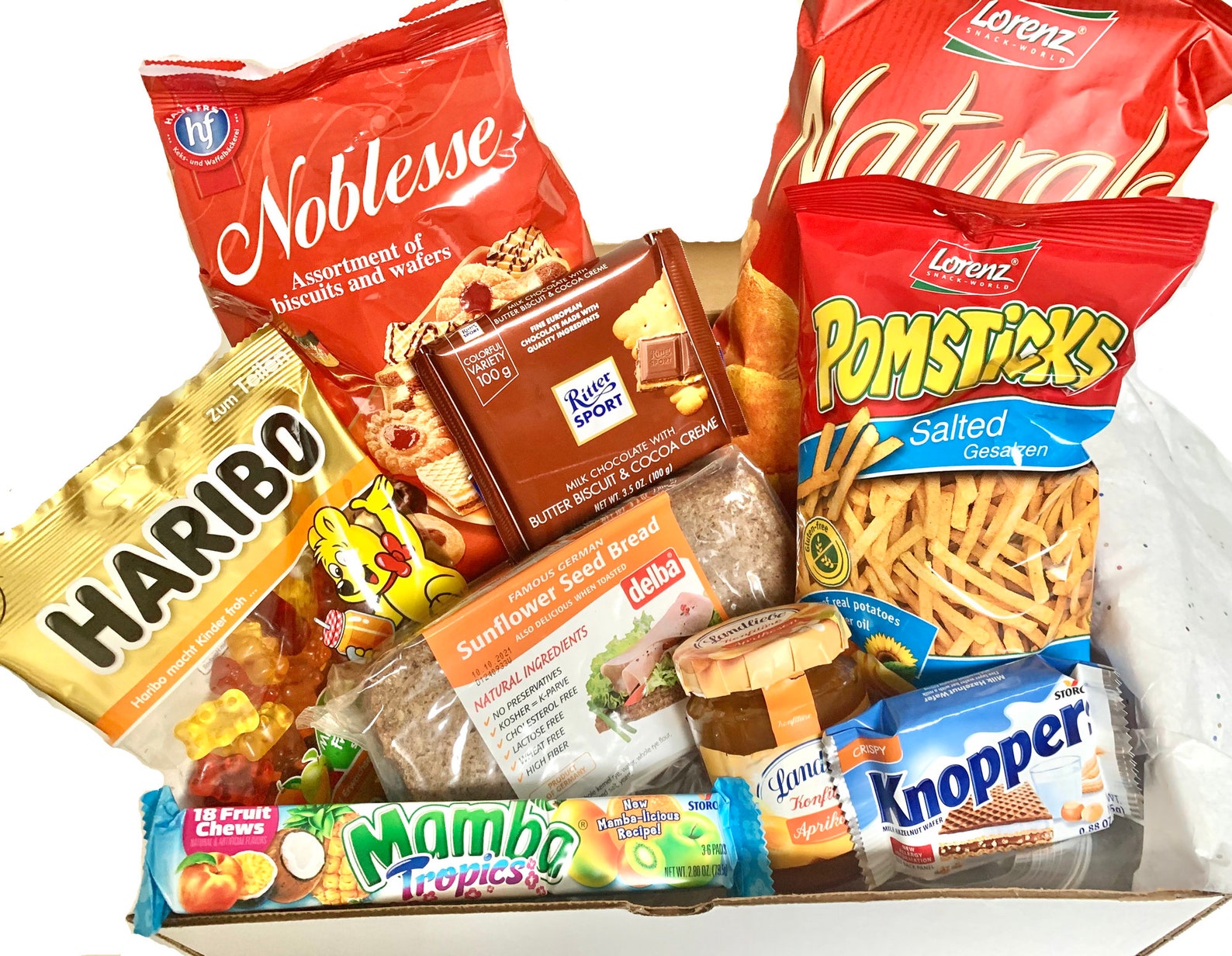 German Snack Box Filled with real German goodies – 9 count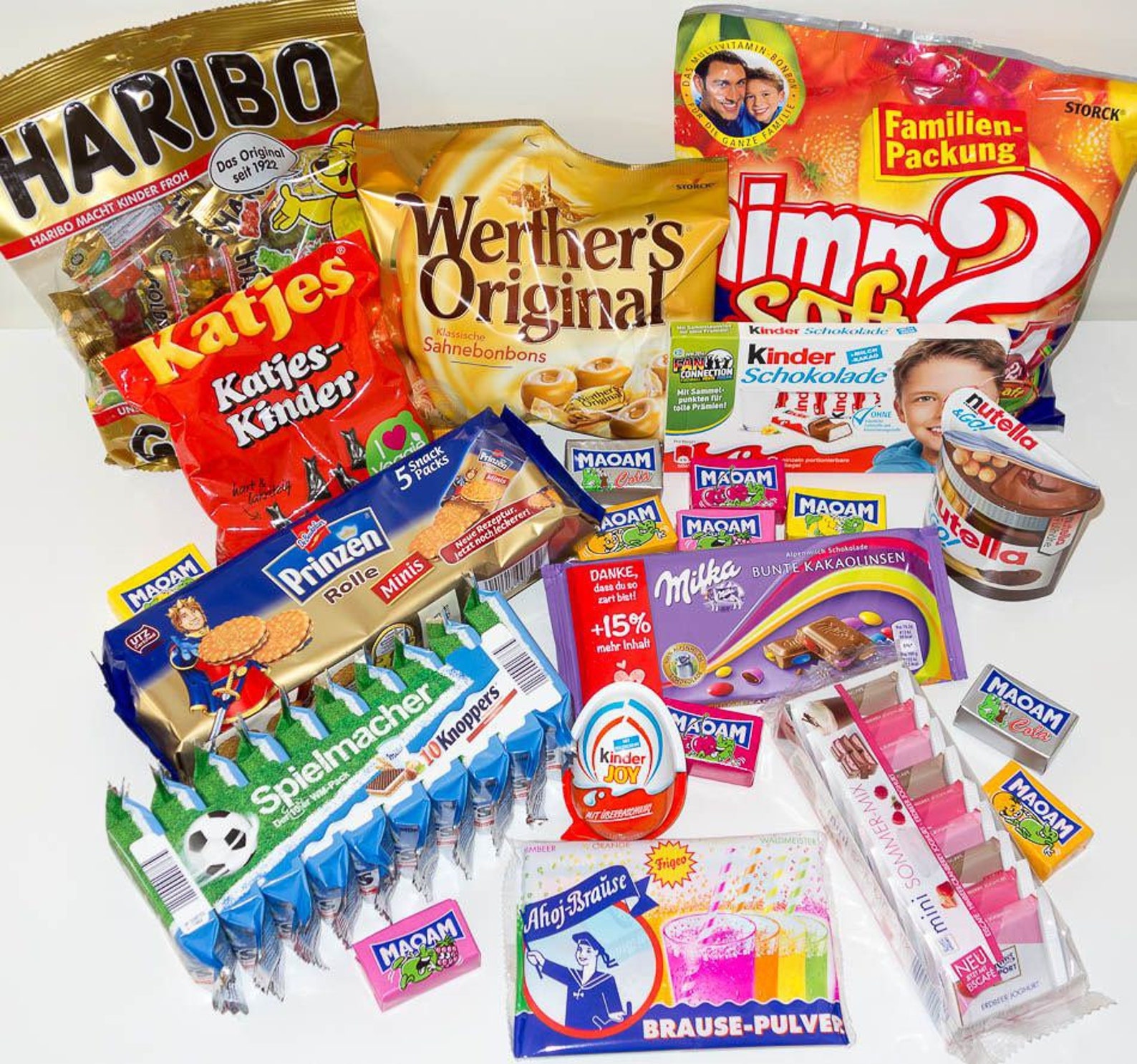 Candy Surprise Box from Germany in 3 Sizes!

Hermann the German Candy Old Fashioned Hard Candy Assortment German Candy from Germany Gift Basket Traditional & International Sweets Variety Pack with German Candy Box Hard Candies 3 x 5.29oz (150g)

Milka German Dessert Cookies GiftYummy Bazzar
A German Food Subscription Box can be a one time Deal… or a Monthly Gift for an ENTIRE YEAR!
German Goodies by German Goodies Great monthly hand picked german sweets and snacks in a mystery box straight to your doorCrate Joy
Specialty Treats and Foods
Imported Honey and Mustard… Coffee and Tea. Make your own Gift basket with these special German foods!
Forest Honey LANGNESEigourmet
Wild Lingonberry Fruit Spread LANDSBERGigourmet
Bavarian Sweet & Spicy Mustard SCHALLER & WEBERigourmet
Herring Fillets RUGEN FISCHigourmet
Allgau Grass Fed German Butterigourmet
German Delicatessen Picklesigourmet
Organic German Breadigourmet
Quark Cheeseigourmet
Rotkohl Red Cabbageigourmet
Jacob's German Coffee & Cappuccino GiftYummy Bazzar
Traditional Stollen
Christmastime you find Stollen in most German households. This rich, butter, fruit studded loaf tastes amazing with a cup of coffee. In our home it turns up on the Christmas Breakfast table… and at for afternoon coffee. Not a bread, not a cake, Stollen is in that middle space all by itself. Because baking it can be tricky, anyone would be delighted to receive one. They come in loaf form, or even as a wreath. For a bigger selection–> Stollen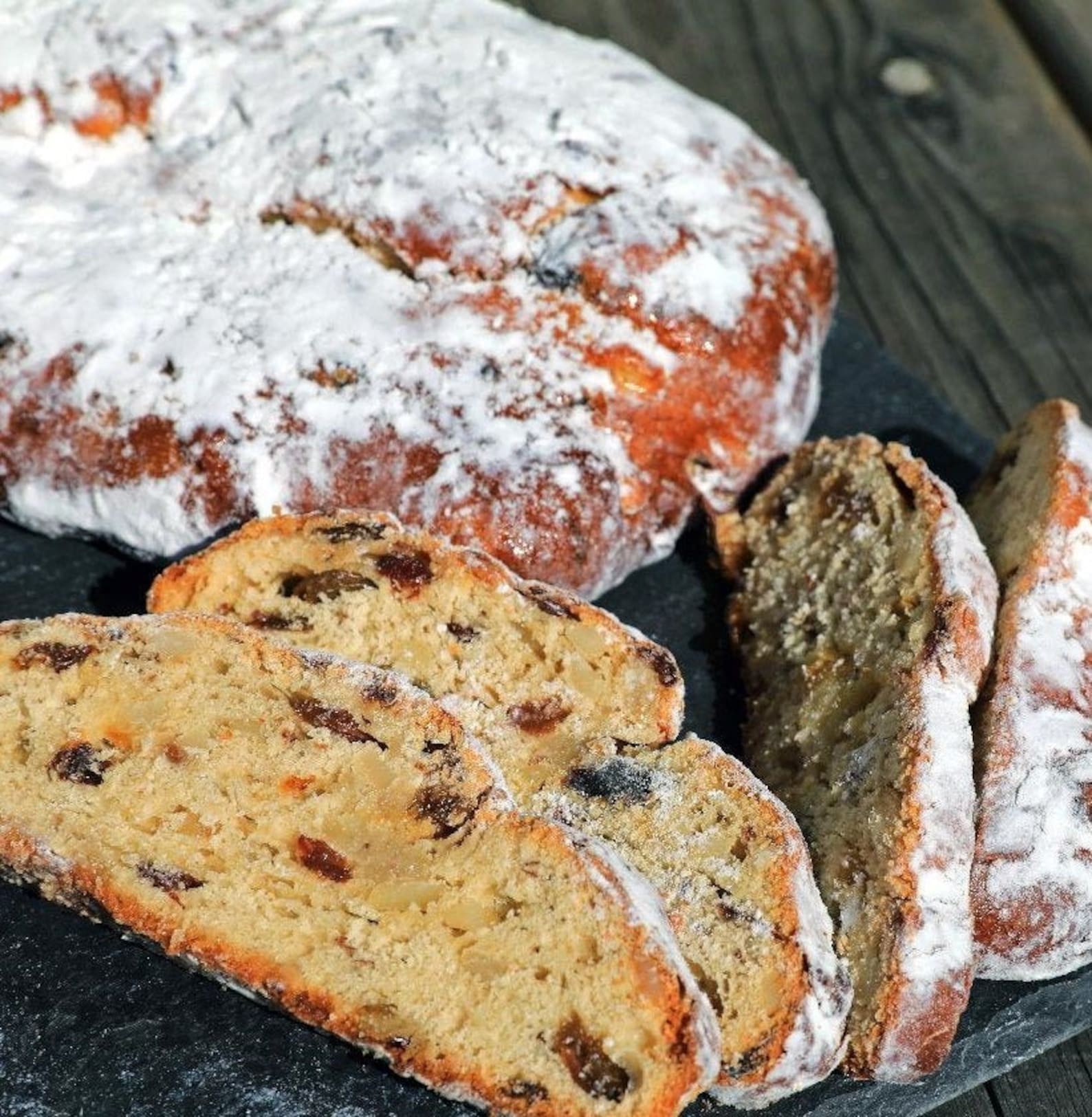 Magic Flavors German Stollen 16oz with Free Sample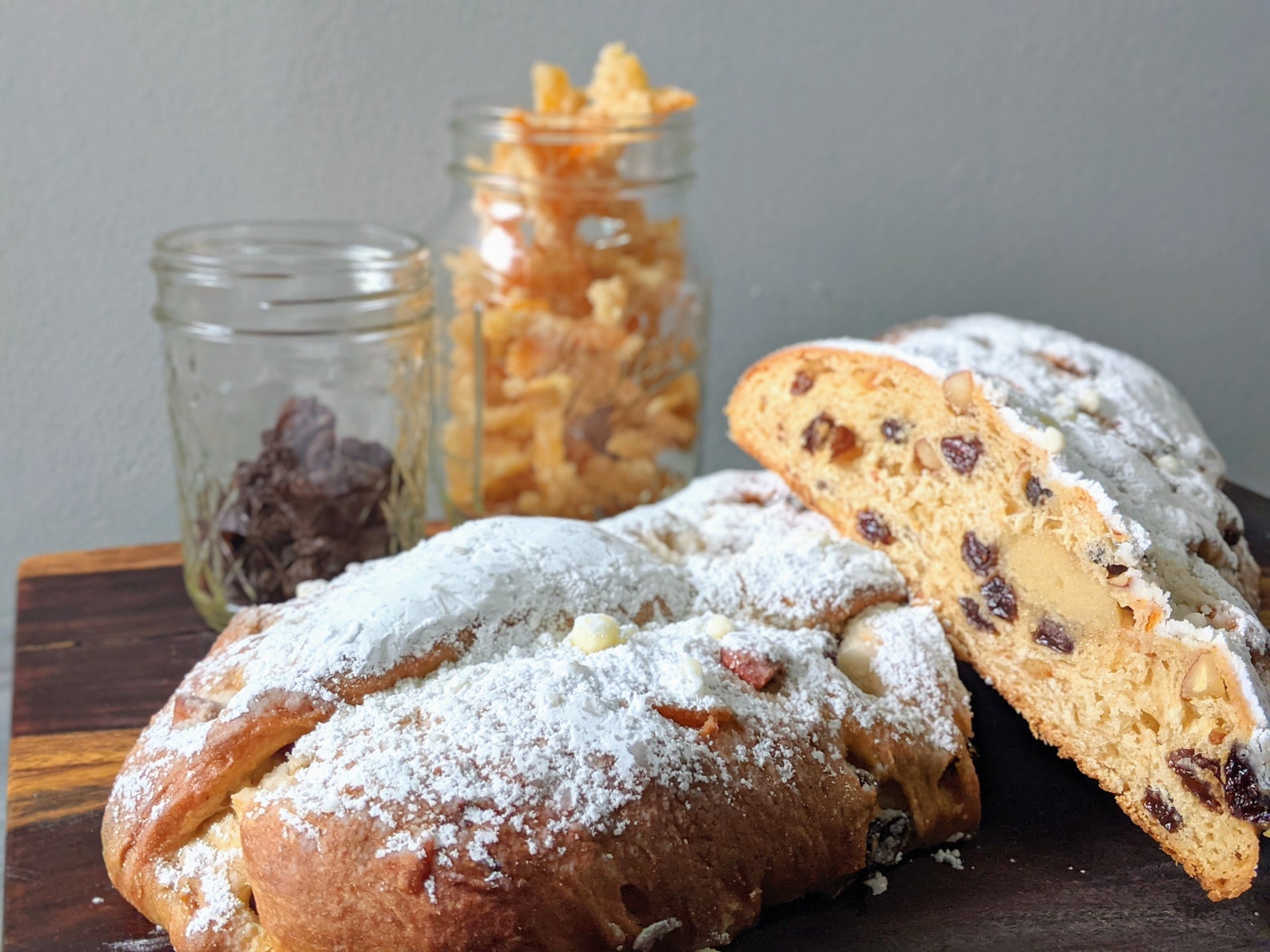 Authentic German Christmas Stollen Bread – Preorder Sale!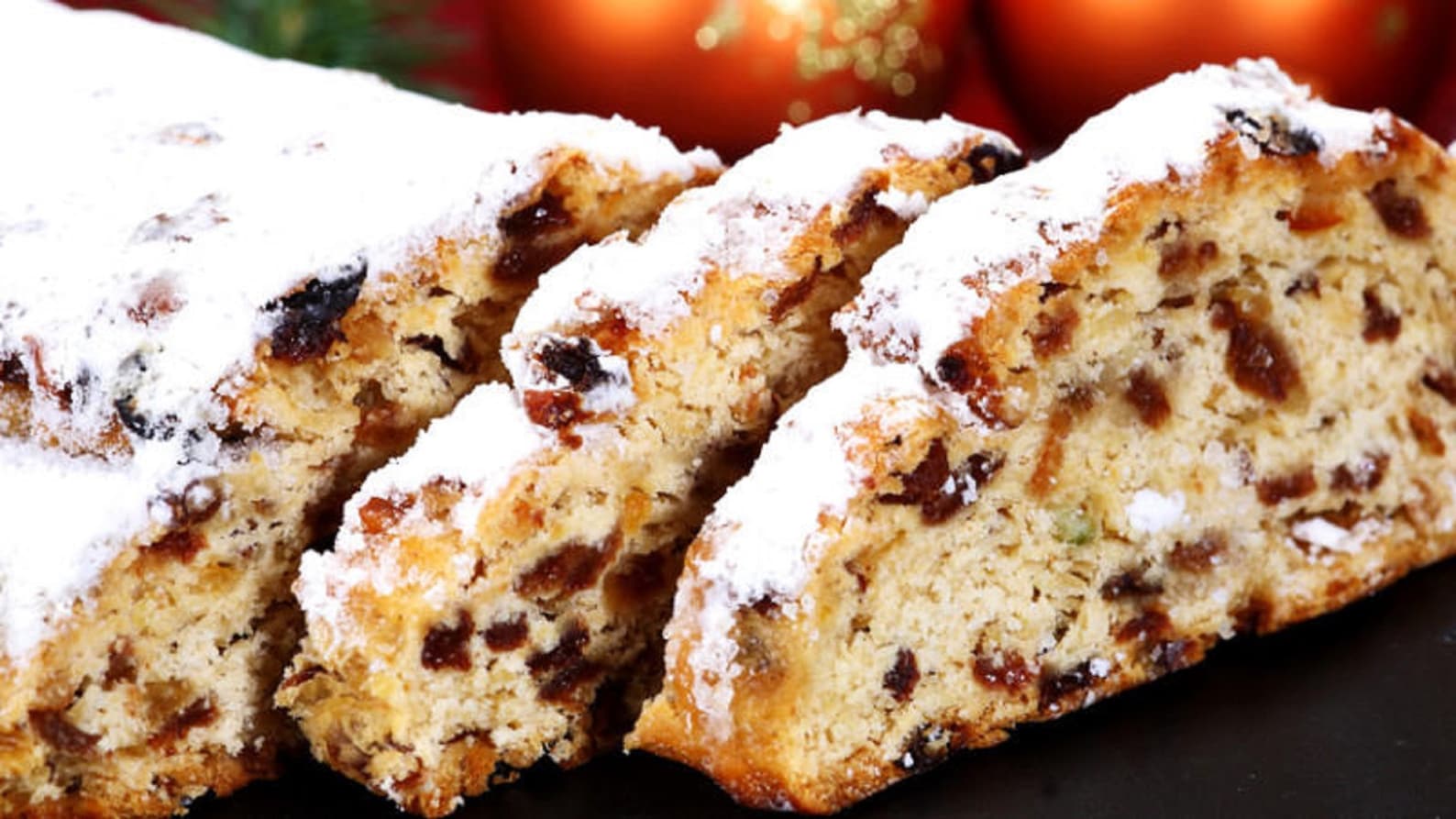 Organic Chritmas Stollen Bread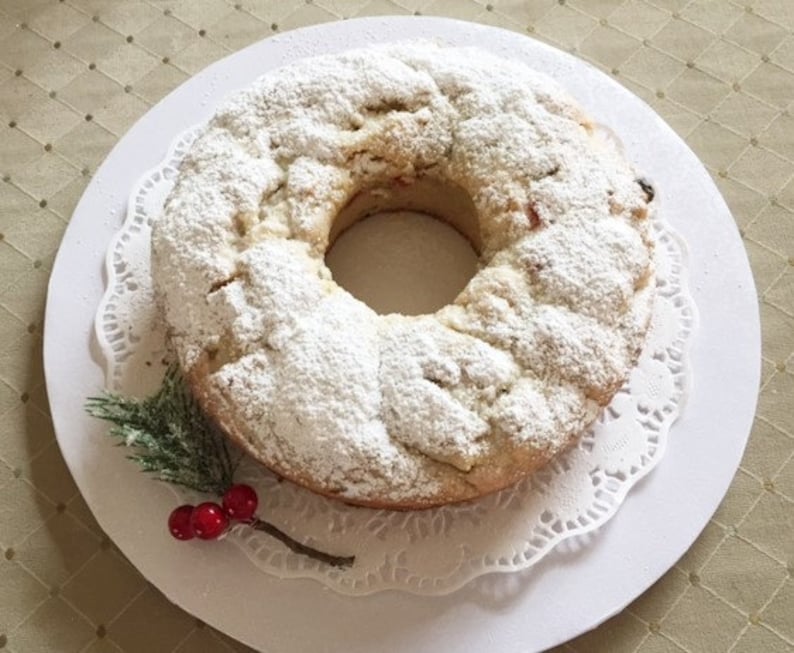 Christmas Stollen Wreath Bread

Luxury Stollen Bites in Gift Tin by Schlunder, 1 lb (480 g)Yummy Bazaar
German Christmas Cookies
Everyone loves cookies!
Lambertz Christmas Market Assortment Gift Tin, 17.6 oz (500 g)Yummy Bazaar
Lambertz Premium Assorted Cookies, 1.5 lb (520 g)Yummy Bazaar
Large Lambertz Gingerbread Chocolate in Luxury Vintage Truck, 1.7 lb (750 g)Yummy Bazaar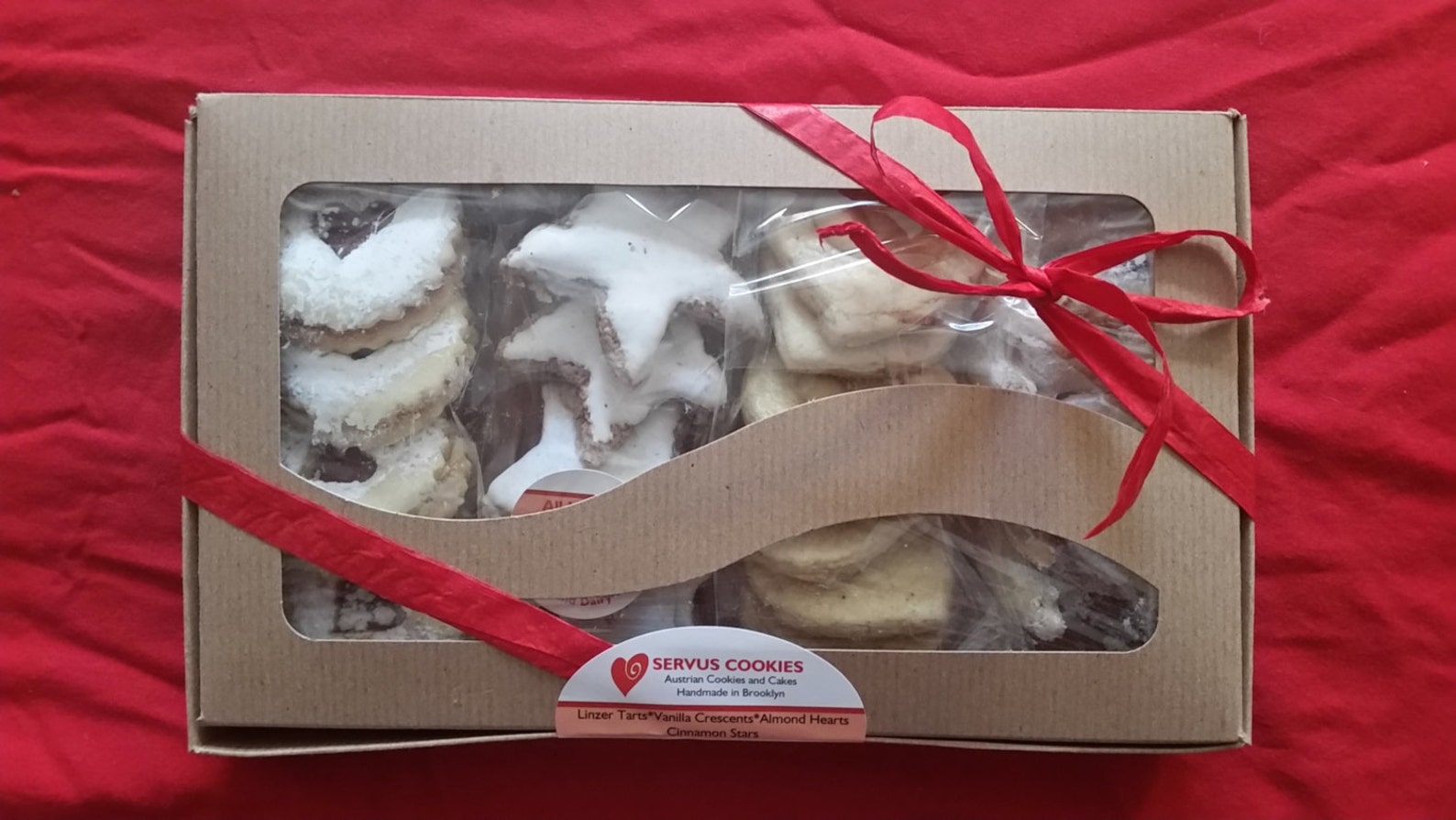 Austrian Cookies (Linzer Tarts, Cinnamon Stars, Vanilla Crescents, Almond Hearts)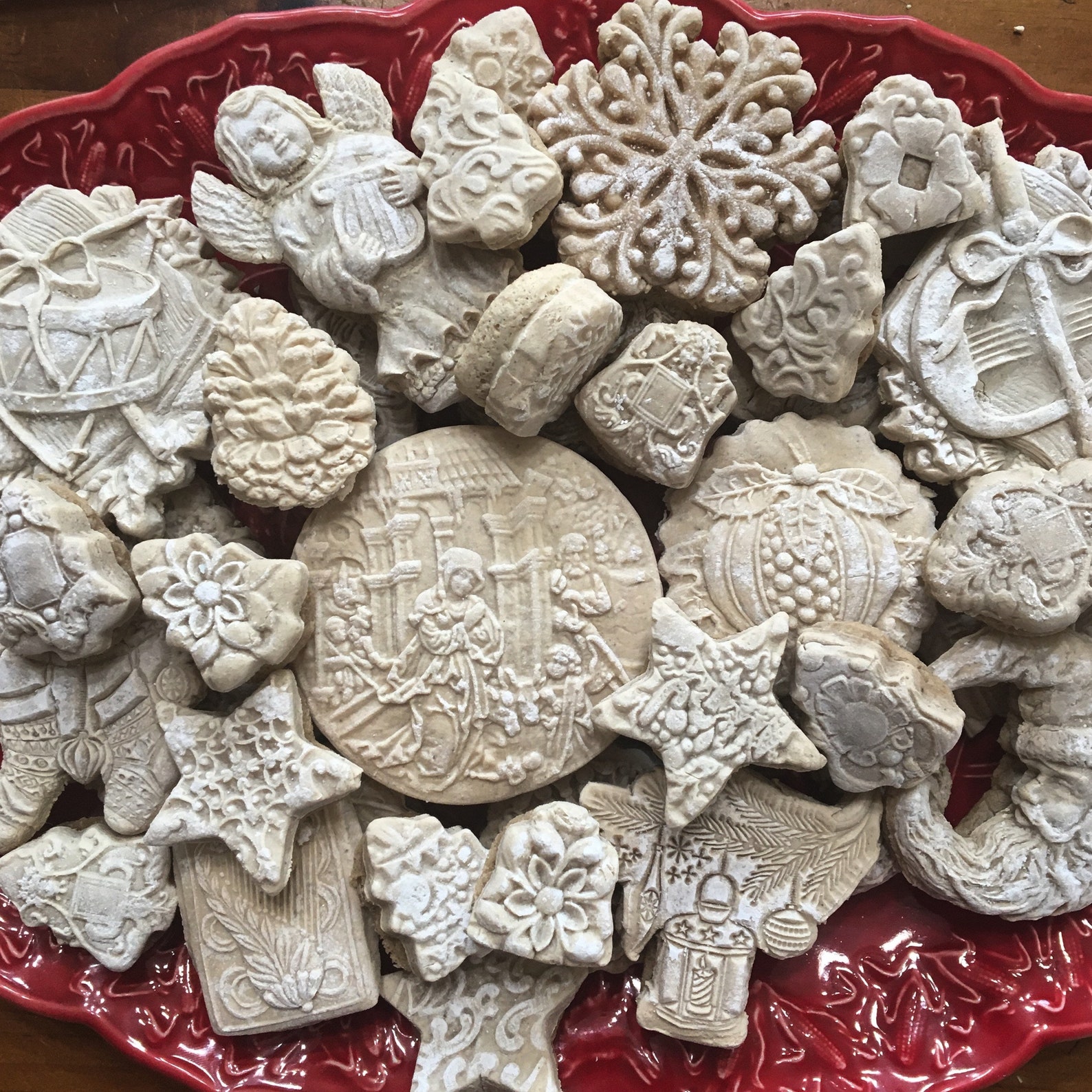 24 Vintage Christmas Tea Cake Cookies Victorian Egg Nog Springerle and Gingerbread, Speculaas,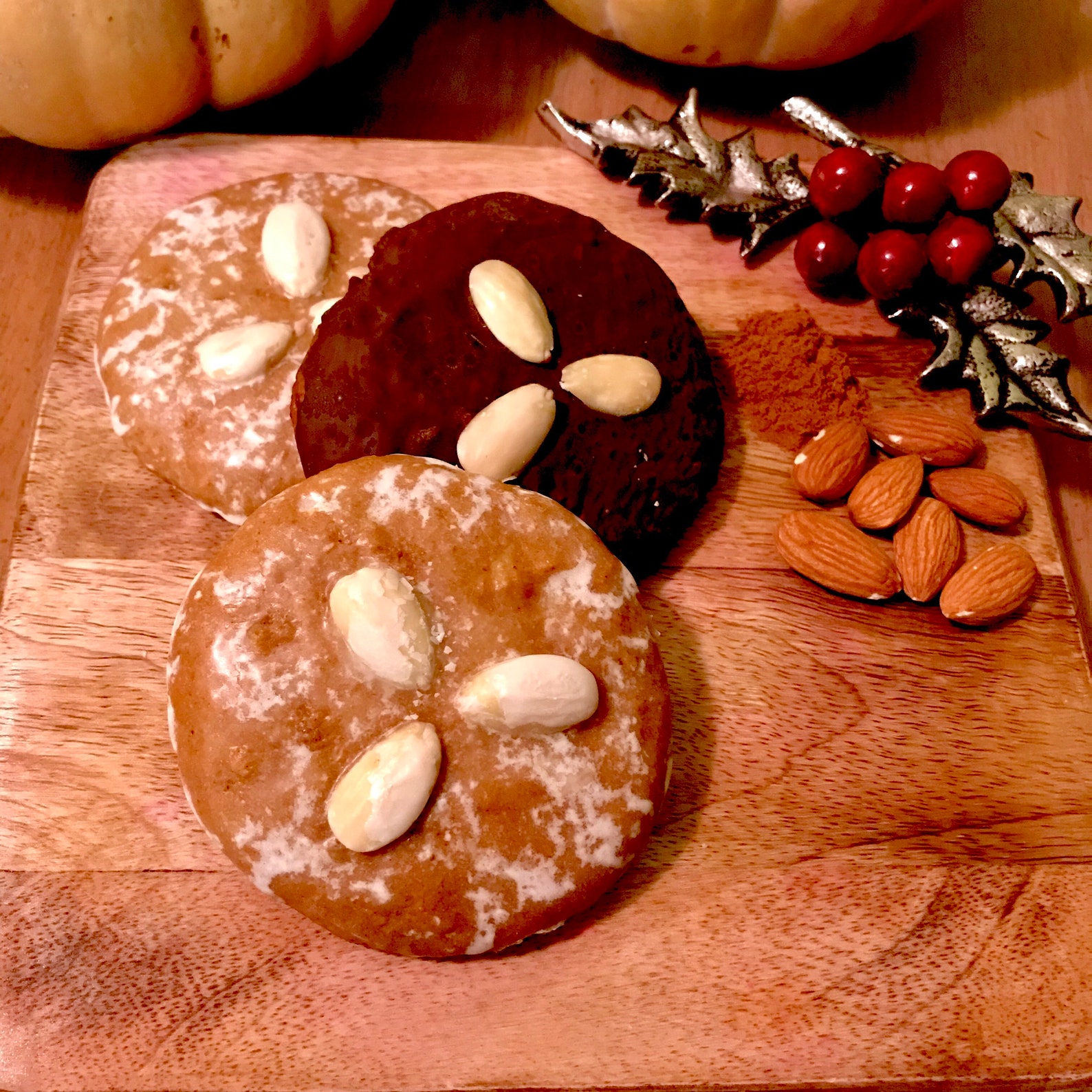 Mixed choc and glazed Lebkuchen, Nuremberg Elisenlebkuchen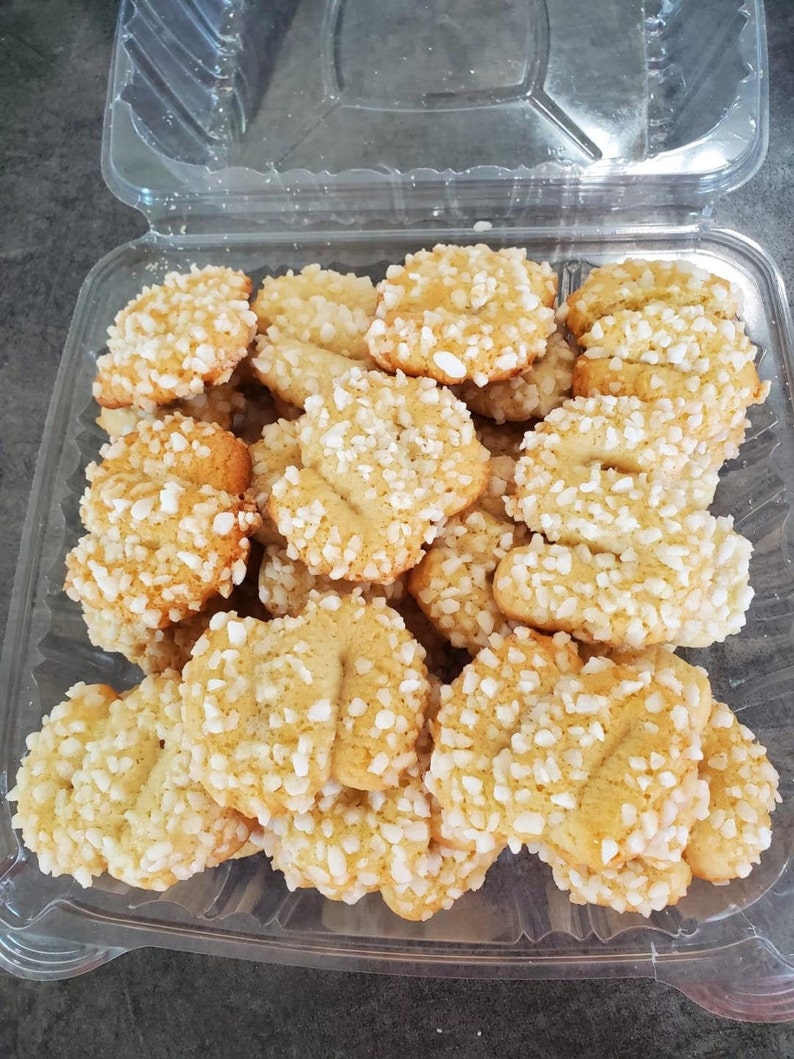 German Homemade cookies, 2 big boxes Butter S with Sugar crystals "Hagelzucker"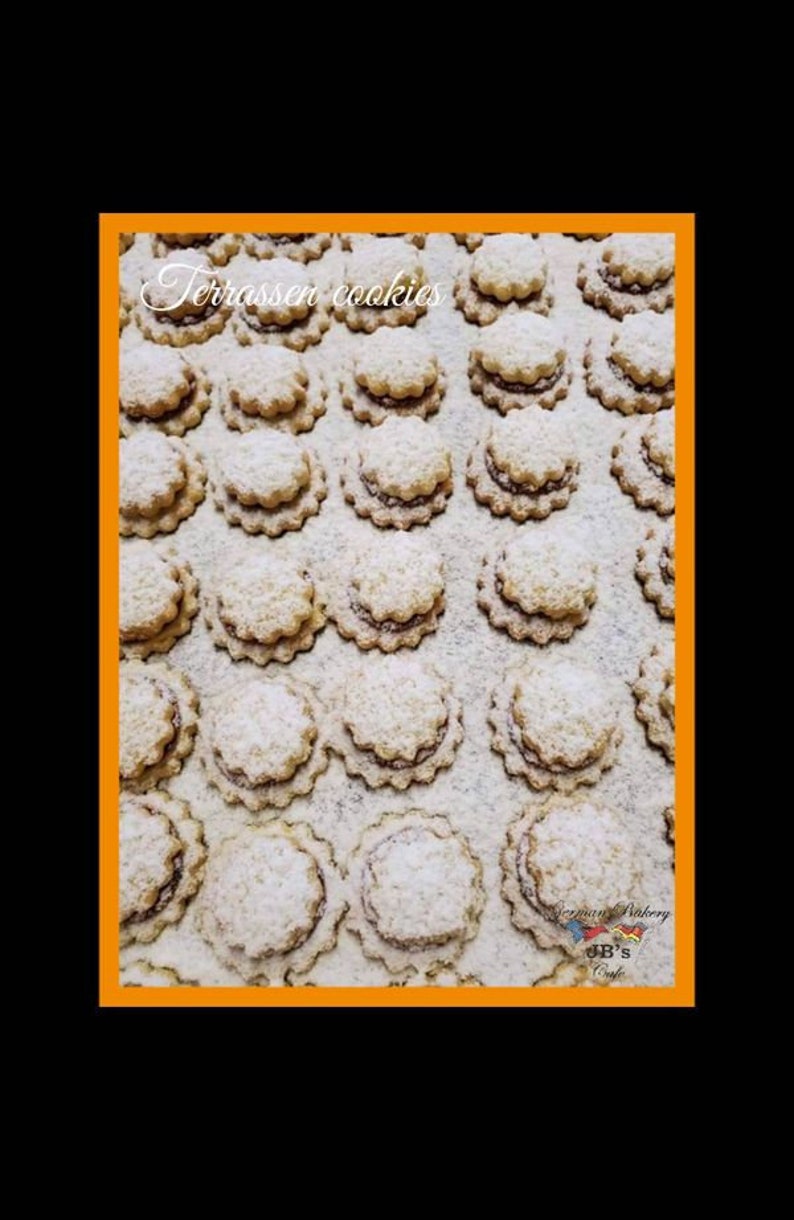 German Terassen cookies, 2 big boxes with authentic German Terassen cookies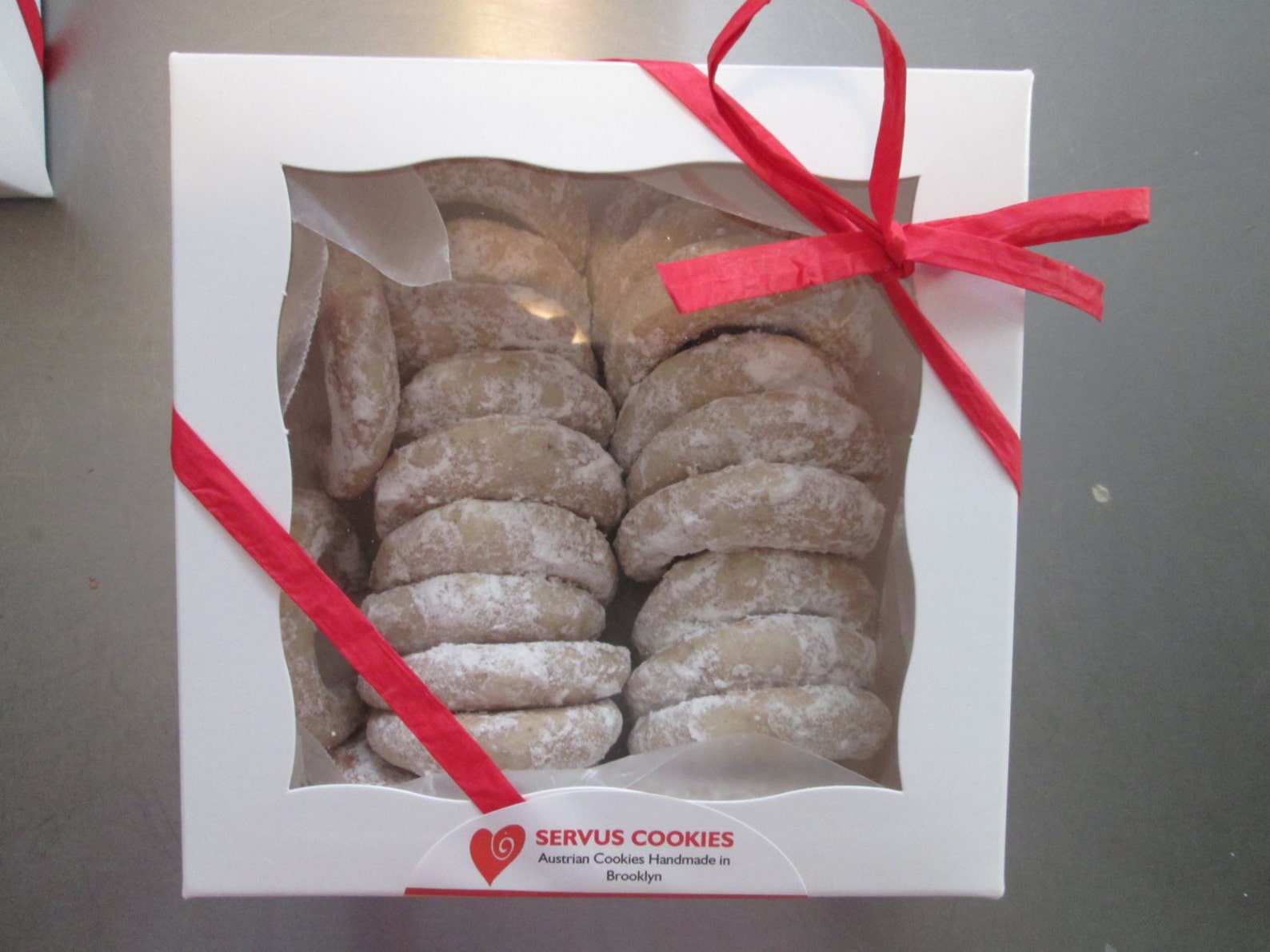 Original Austrian Vanillekipferl (Vanilla Hazelnut Crescents) – 14 oz