Kinder Schokolade… Kinder Chocolate…. 
Smooth milk chocolate surrounding a milky white cream filling. Kinder makes this chocolate for the sweet tooth kid in all of us. 
Created by Ferrero, it is produced in Germany for the German Market. The idea was to create a candy of high quality that mothers would be happy to give their children; small sizes, quality ingredients, and a trusted name. Individually wrapped bars are the perfect size for a child!
The Milk chocolate Riegel (or little bars) are the perfect size for a delicious little pick me up… but during the Holidays, you can go all out! Kinder Advent Calendars! Kinder Santas! Kinder Stuffed Animals! Kinder minis!
Kinder Mix gift BagGermanShop24
Kinder Schokolade for Christmas
" —it's a simple gesture that sweetens daily life and creates happy moments together".
Kinder Plushie!
Kinder Mix with Plushie!GermanShop24
Chocolate Santas!
No St Nicholas Boot is complete without one! And of course one goes in the Christmas stocking.
I love hanging an ornament chocolate from the present too!
Kinder Santa 5.6 ozGermanShop24
Kinder Santa 1.9 ozGermanShop24
Kinder Mix with SantaGermanShop24
Small Hanging SantaGermanShop24
Kinder Advent Calendars
Kinder Christmas Advent Calendar, Assorted Chocolates, 127 g, 24 Count

Kinder Mini Santa Advent Calendar 135g (Pack of 2)

Ferrero Kinder Mix Table Advent Calendar 127g

Kinder Mini Mix Advent Calendar, 152g

kinder advent Calendar, 182g (Brown)

Ferrero Kinder Mix Advent Calendar 3D House – 234g

Kinder Holiday Mixed Chocolates, 24 Day Advent Countdown Calendar, Pack of 1

Kinder Joy Christmas Advent Calendar, Chocolate Candy Treats Inside, Perfect Holiday Gift for Kids, White, 24 Count, Pack of 2

Kinder Bueno Advent CalendarYummy Bazaar
Personilized Advent Calendar for Kinder Eggs
Eggs not included, but you can order them here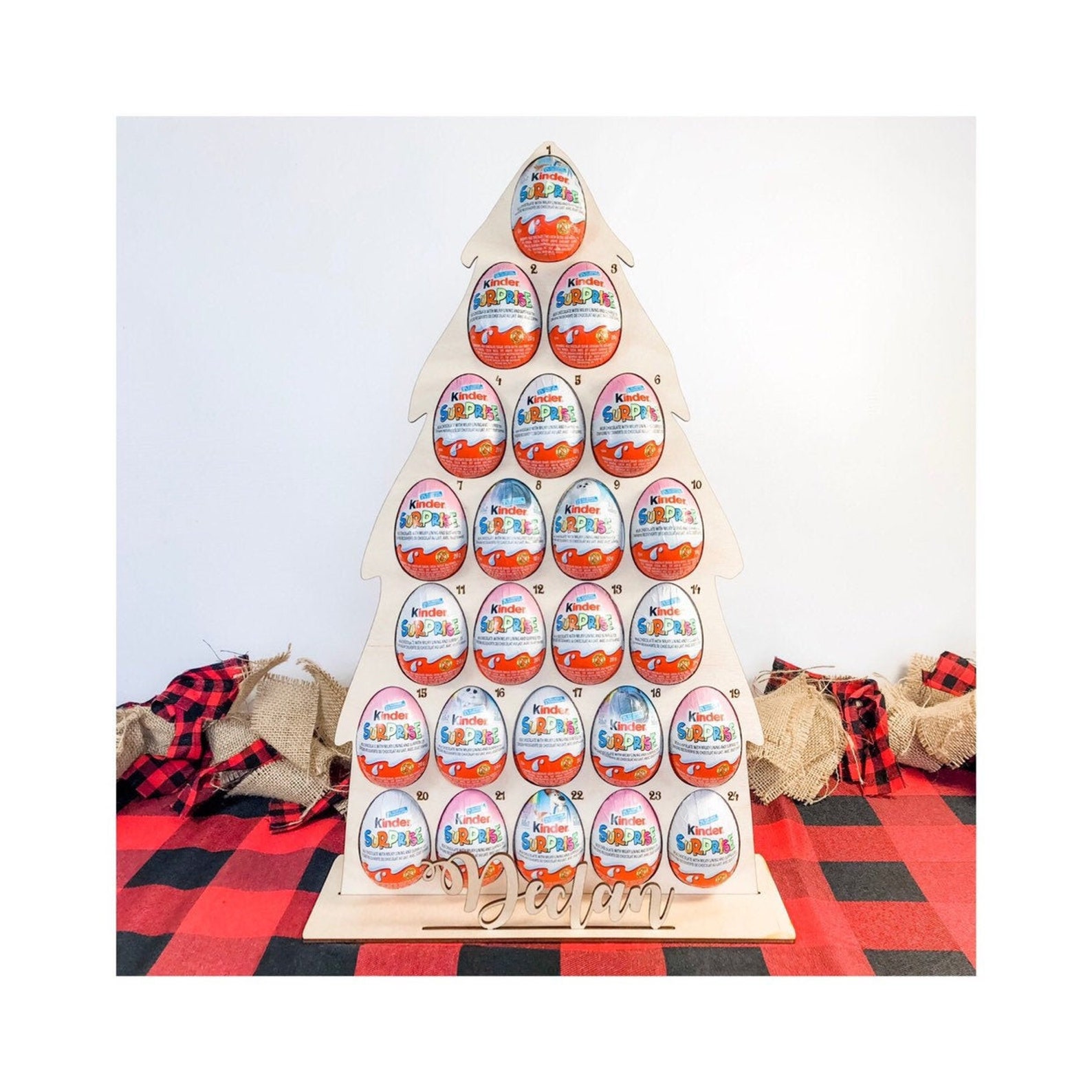 Kinder Egg Advent Calendar- EGGS NOT INCLUDED

Delicious Kinder Schokolade for Christmas
Bags and Boxes!
Mix Christmas Gift BagGermanShop24
Mini eggs MIx 8ozGermanShop24
Christmas MinisGermanShop24
Wafer Eggs Milk and ChocolateGermanShop24
Wafer Eggs HazelnutGermanShop24
Maxi Mix BoxGermanShop24
Kinder Mini EggsGermanShop24
Kinder Chocolate Gift Box
A BOX Loaded with a delicious mix Kinder Chocolates will wow any kid!
Kinder JOY Eggs
(Remember, Kinder Surprise are still not allowed in the US… Kinder Joy are. Click For more information)
These make cute stocking stuffers!
Kinder JOY Eggs, 15 Count Individually Wrapped Chocolate Candy Eggs With Toys Inside, Christmas Stocking Stuffer Surprise for Kids, 10.5 oz; PACKAGING MAY VARY