German Kinder Eggs- The Delicious Chocolate Eggs with a Toy Inside
Seldom has a candy caused so much joy, and so much frustration at the same time. German Kinder Eggs were such a HUGE part of my childhood. We loved getting those fabulous eggs made from smooth and sweet Kinder Chocolate… and added bonus! there was a capsule inside containing a cute little toy that we could put together! But that toy was the problem. That toy is the reason that Kinder Surprise Eggs are banned in the US. I've done a bit of research into German Kinder Eggs, and have eaten quite a few (it was a hardship, but somehow I managed), and now I want to share with you all about Kinder Candy eggs, including where you can buy Kinder Eggs online, and what the difference is between Kinder Surprise Eggs and Kinder Joy Eggs… and I answer the question are Kinder Eggs illegal in the US?
 
(note- These photos were taken while I was in Berlin. I would never blatantly break the law by importing Kinder Eggs and then flaunt it on my website. And since we ate the evidence, there is no proof anyway)
What are Kinder Eggs? And Why are they a Big Deal?
Kinder Eggs History
Let's start at the beginning… with a little history. Although Kinder Schokolade is WILDLY popular in Germany, Kinder Chocolate is actually made by Ferrero (the same company who makes Rocher), an Italian Company. The founder of Ferrero, Michael Ferrero, thought it would be a wonderful idea to develop a small egg with a toy inside similar to the ones given out at Easter in Italian families. It took a bit to catch on (and make the molds) but in 1974, the first Kinder Surprise Eggs landed on the market. They were a hit…. especially in Germany. And since they were marketed as being special chocolate with extra milk, the eggs appealed to mothers, and were sold year round.
What are Kinder Surprise Eggs
A Kinder Surprise Egg (in German- Kinder Überraschungs-Ei) is a hollow chocolate egg… about the size of a large hens egg. Inside the chocolate layer is a milky layer (it looks like white chocolate). In the hollow of the Kinder Surprise Eggs you will find a yellow plastic capsule (resembling the yolk)  that contains a small toy. The TOY is where the fun really gets started. Most require a bit of assembly, and with thousands available, kids and adults love collecting these treasures.
Kinder Surpise Eggs Come in Different Series
Some Kinder Eggs come marked so that you can pick what sort of prize you want to get. Eggs might have a pink girl label, a blue boy label. You can find Disney Kinder Joy Eggs or Mattel Kinder Joy Eggs.  Kinder Surprise Eggs come in Series, to make the toys easier to collect (like Teenage Mutant Ninja Turtles). They even have special event eggs, currently the Safiras and Wilde Katzen eggs that have 2 toys in each egg!!
There are 3 Kinder Surprise Egg Sizes!
I was delighted as can be when I found that Kinder Surprise Eggs come in BIGGER sizes. The largest is about the size of an Ostrich Egg!! The middle size is right in the middle of big and little. Like their little cousins, the Bigger eggs have toys inside (so they are banned in the US). But the toys are bigger and maybe more impressive? In the middle size we've found painting sets and markers… as well as figures who do the coloring. I've only opened one big one (it was 14€, so I only bought one) and it had a Hello Kitty play set inside.
Buy Kinder Surprise Eggs Online
I found these Kinder Surprise Eggs and gift boxes online!  Some are through Russia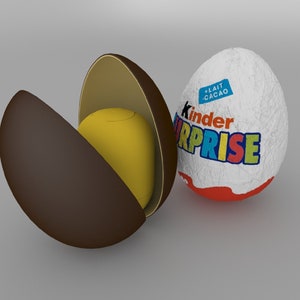 10 Chocolate eggs KINDER SURPRISE, 200 g Chocolate eggs with a toy inside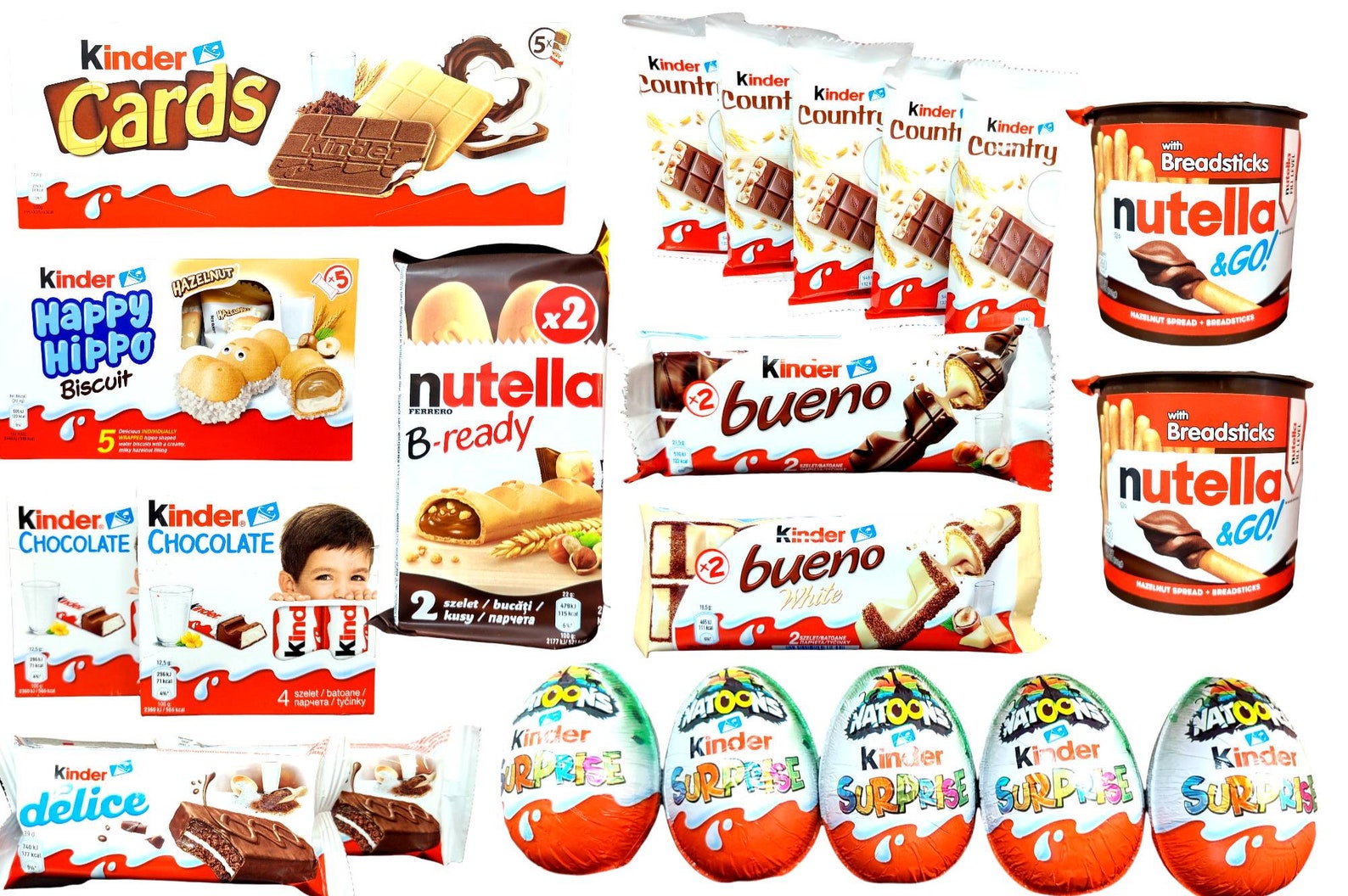 Kinder Chocolate Gift Box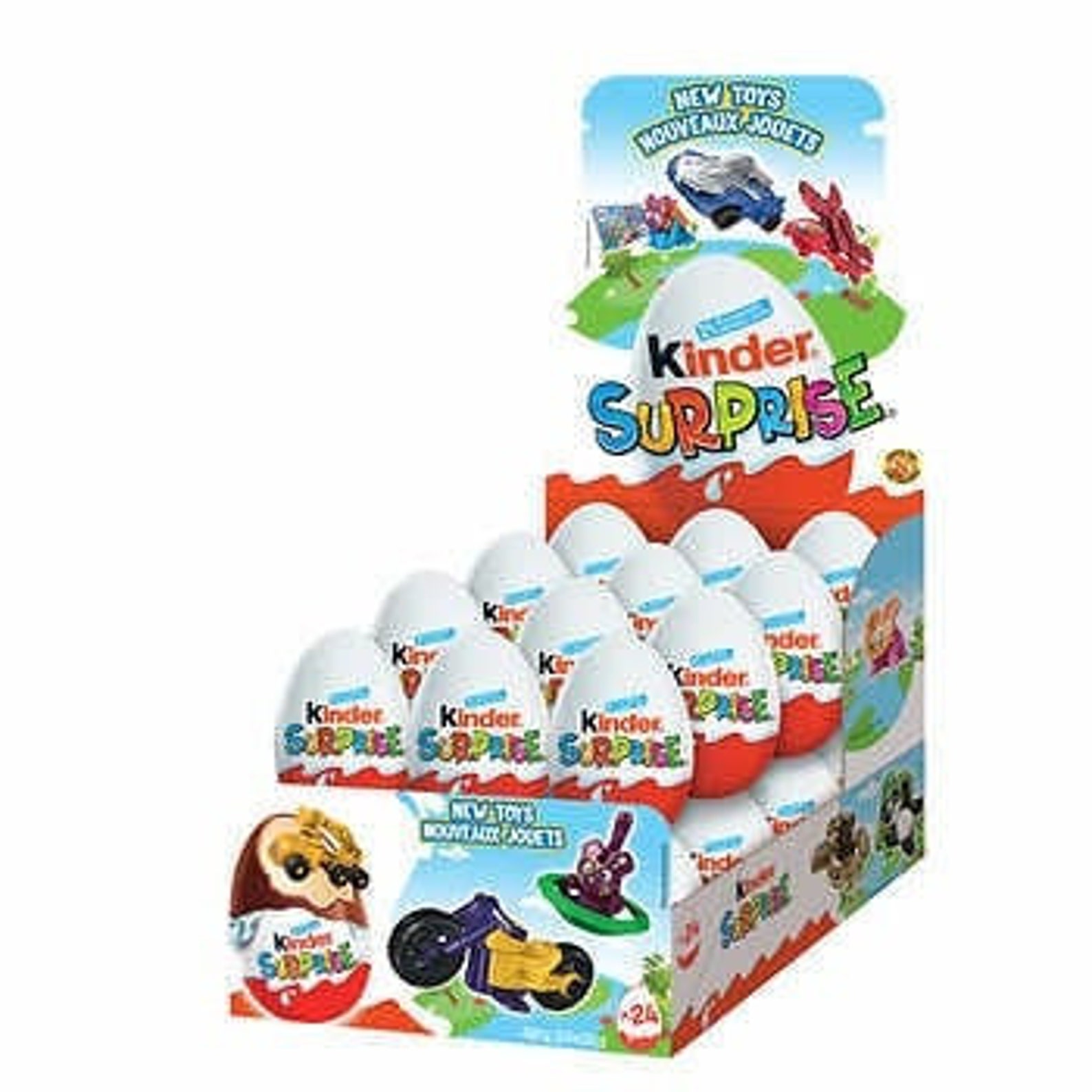 12 Chocolate KINDER SURPRISE 20g /Chocolate with a toy inside /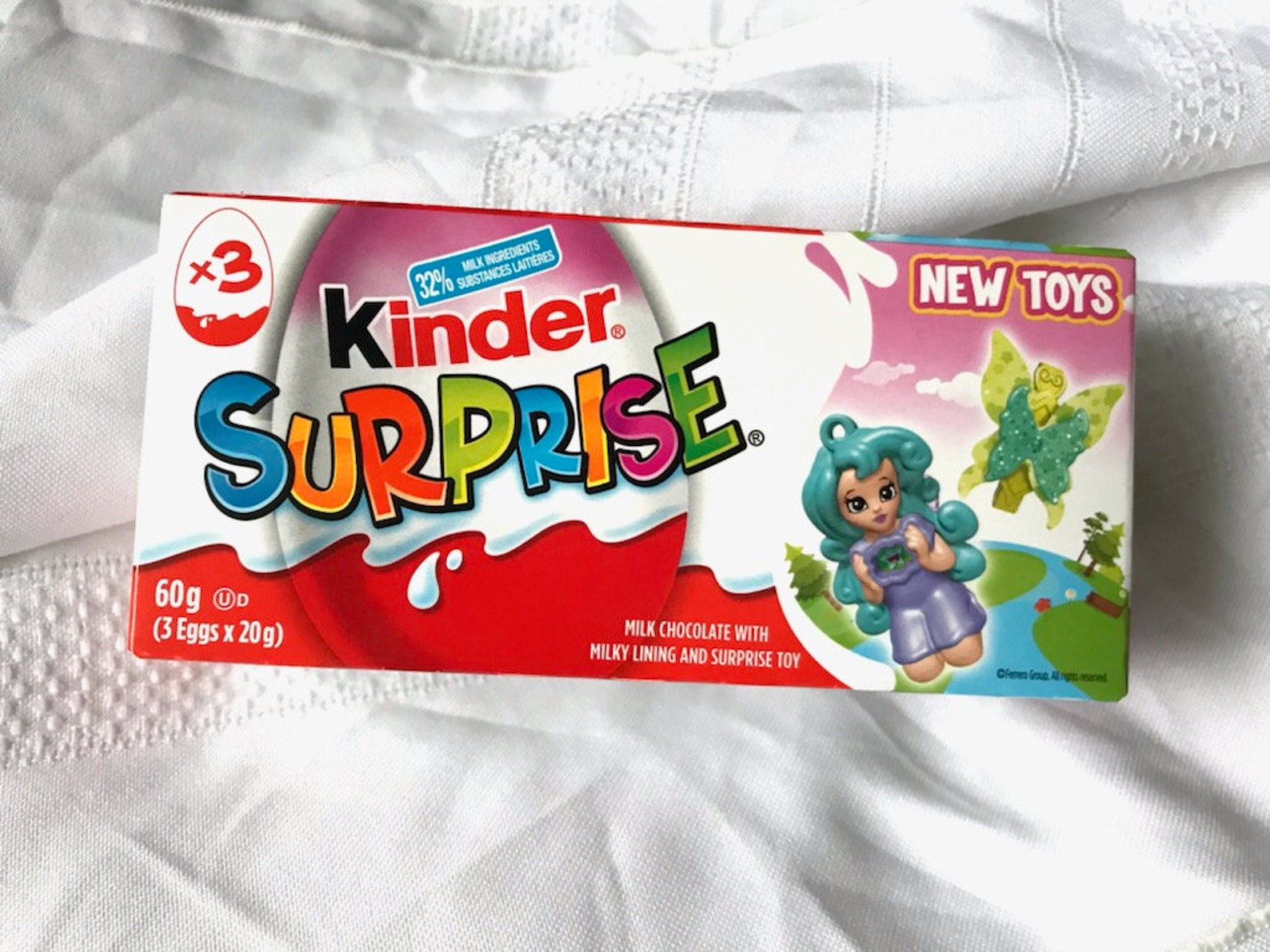 Limited Quantity….CANADIAN Kinder Surprise Chocolate & Toy..pack of 3 (FREE SHIPPING) for any occasion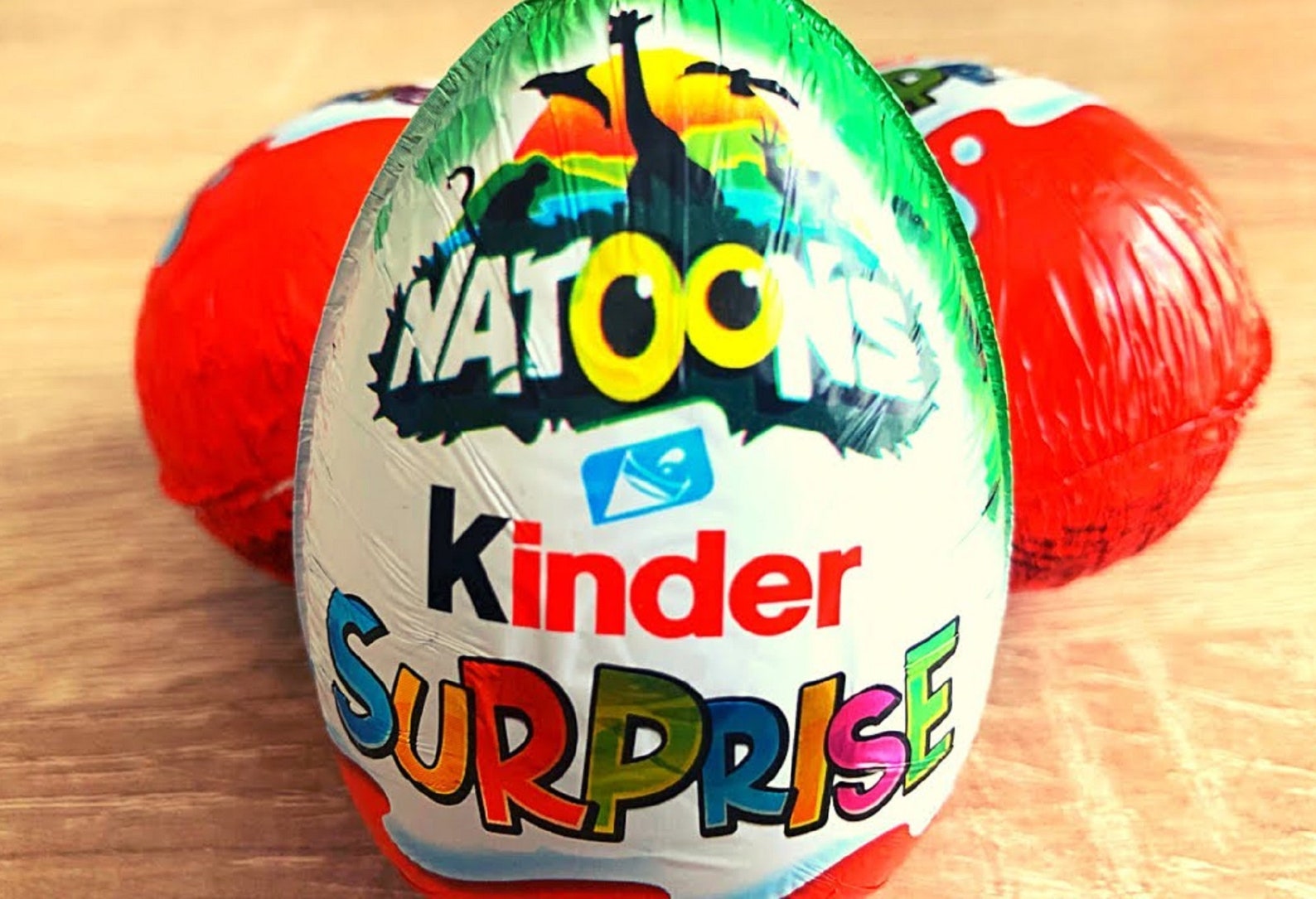 10x KINDER SURPRISE Natoons Chocolate Eggs 10×20 g TOY inside, milk chocolate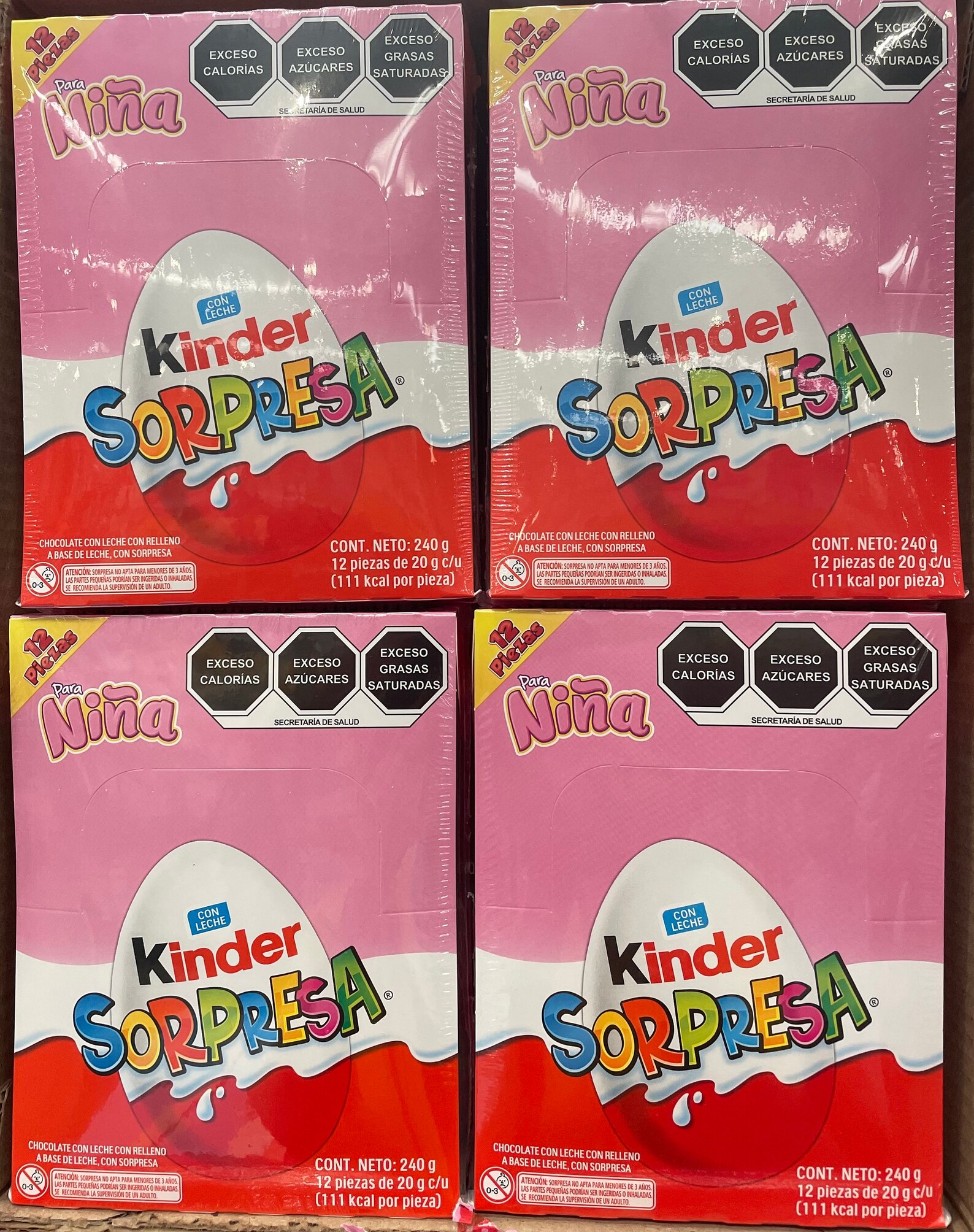 Kinder surprise chocolate eggs for girl 12 pc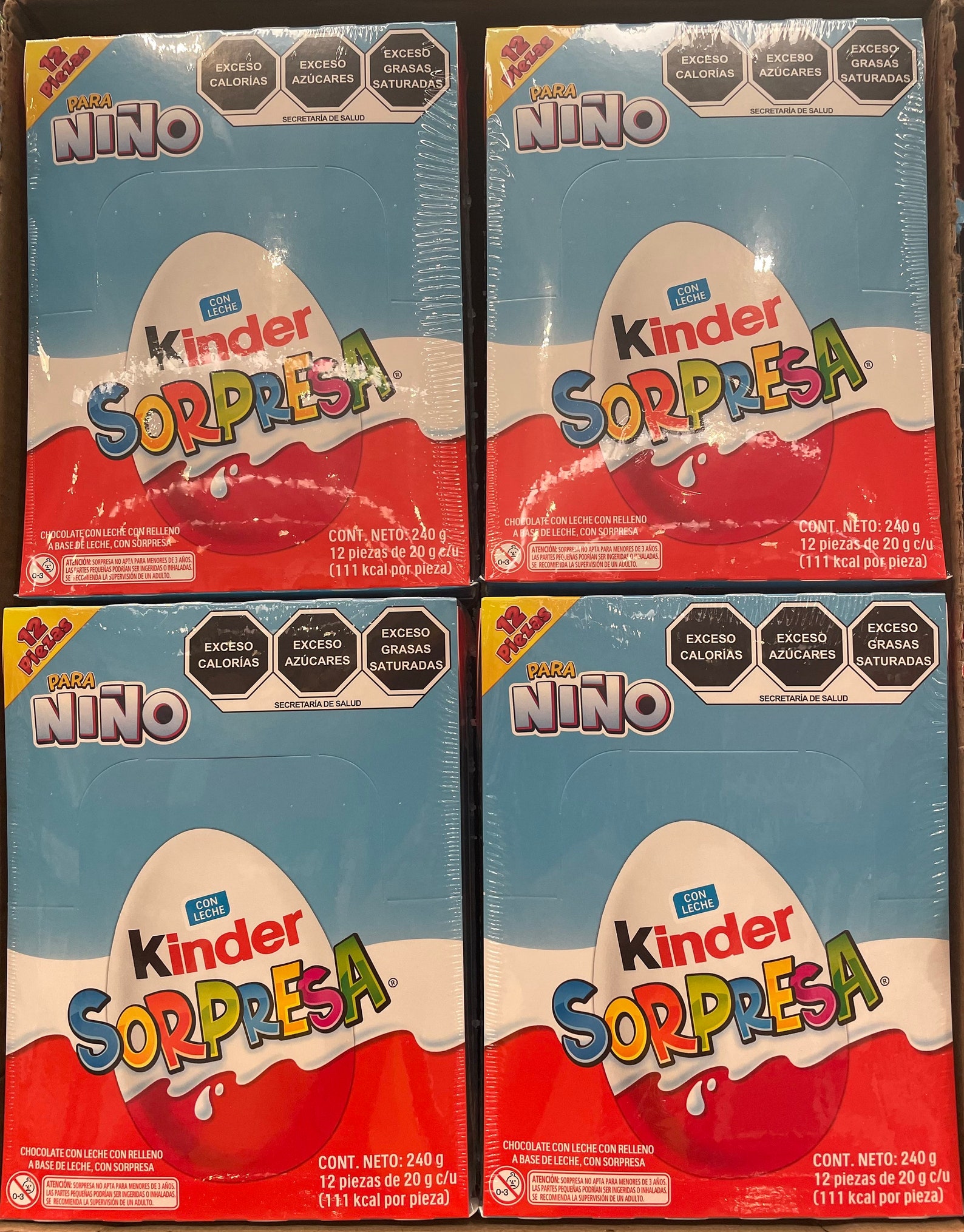 kinder surprise chocolate eggs for boys 12 pc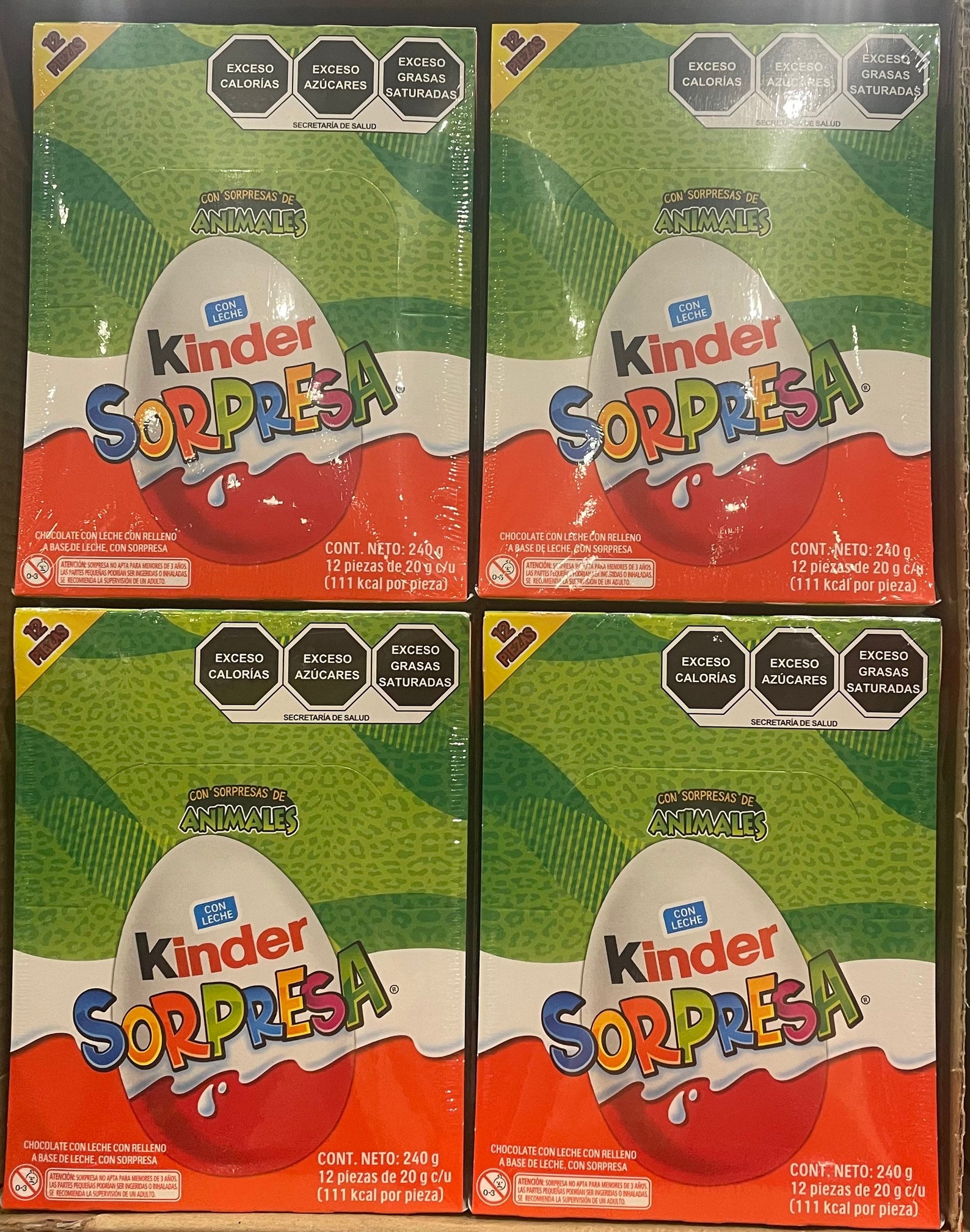 Kinder surprise chocolate eggs animals theme 12 pc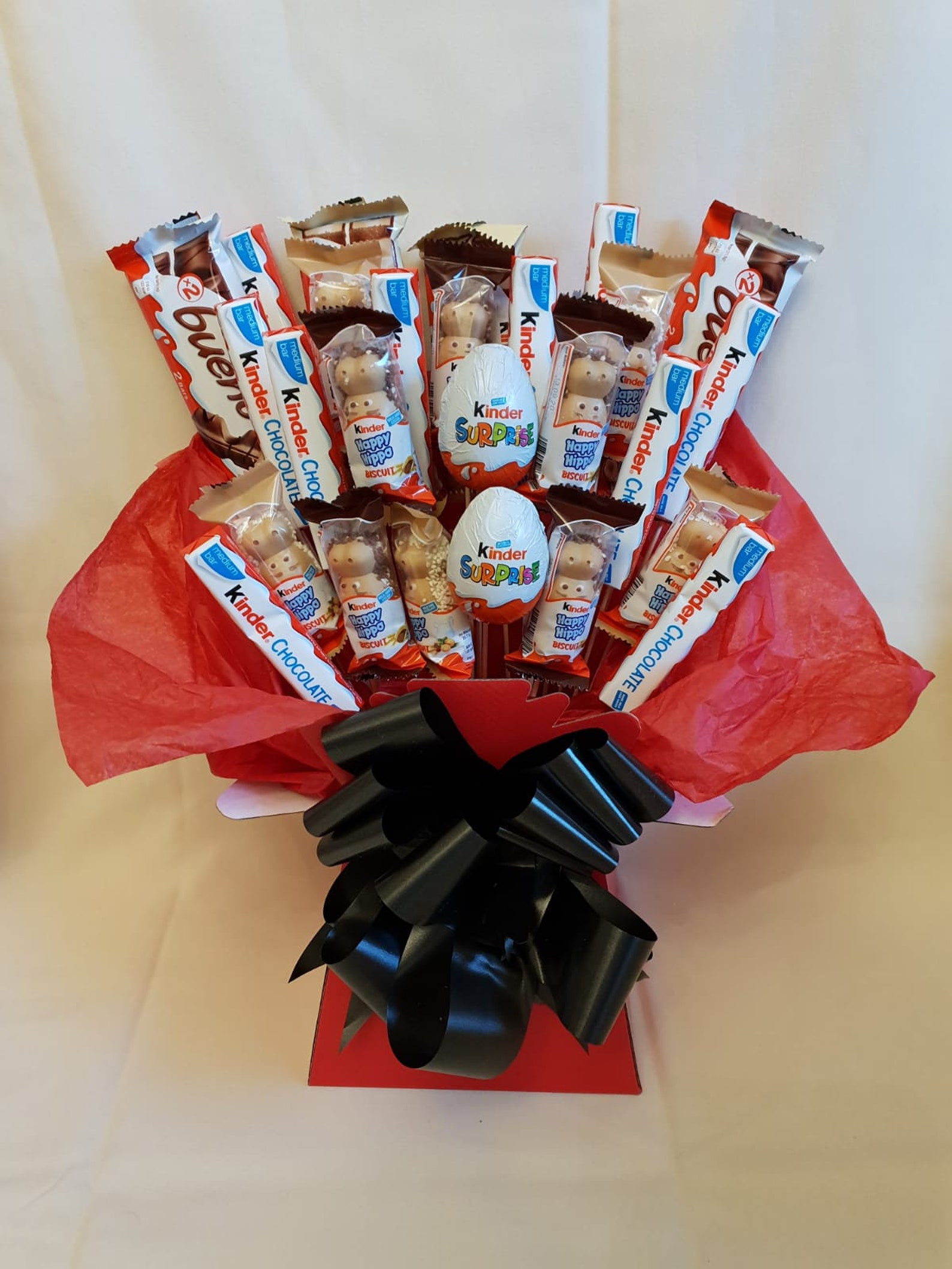 Deluxe Large Kinder Bueno Surprise Hippo Explosion Bouquet Gift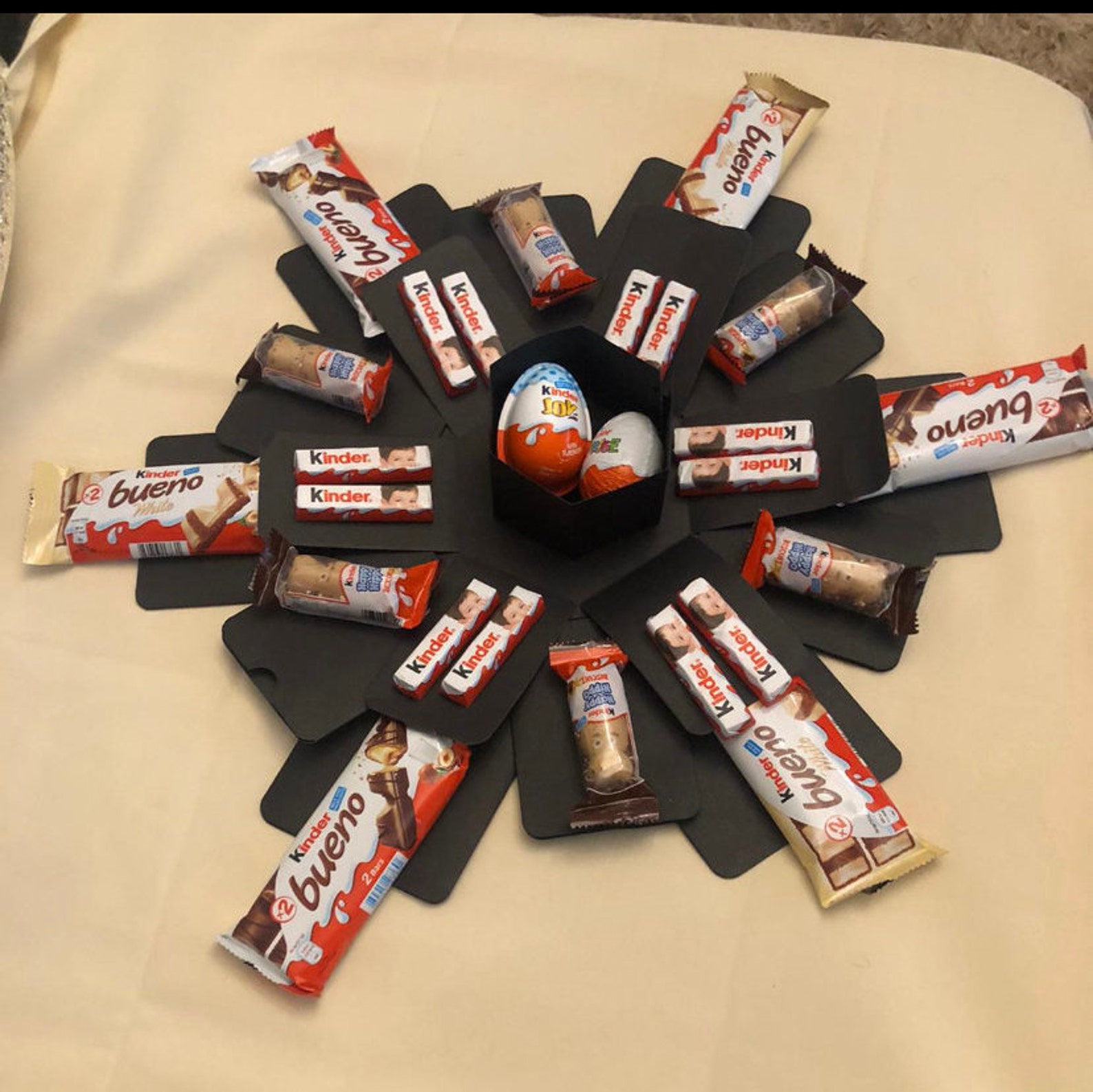 Kinder Bueno Surprise Chocolate Explosion Box Gift Hamper Birthday Graduation

You CAN Buy Kinder Surprise Eggs Toys
Not so surprising, Kinder Surprise Eggs Toys are popular with Adults, Teens as well as Children. (One of my favorite Berlin memories was watching a couple of Teens on the U-Bahn comparing the toys they found in their eggs!). The toys are perfectly legal to have here in the USA… and many people collect them (I saw the biggest collection at the Chocolate Museum in Cologne). You can buy opened and vintage toys, as well as closed capsules… These would make a great gift for a collector.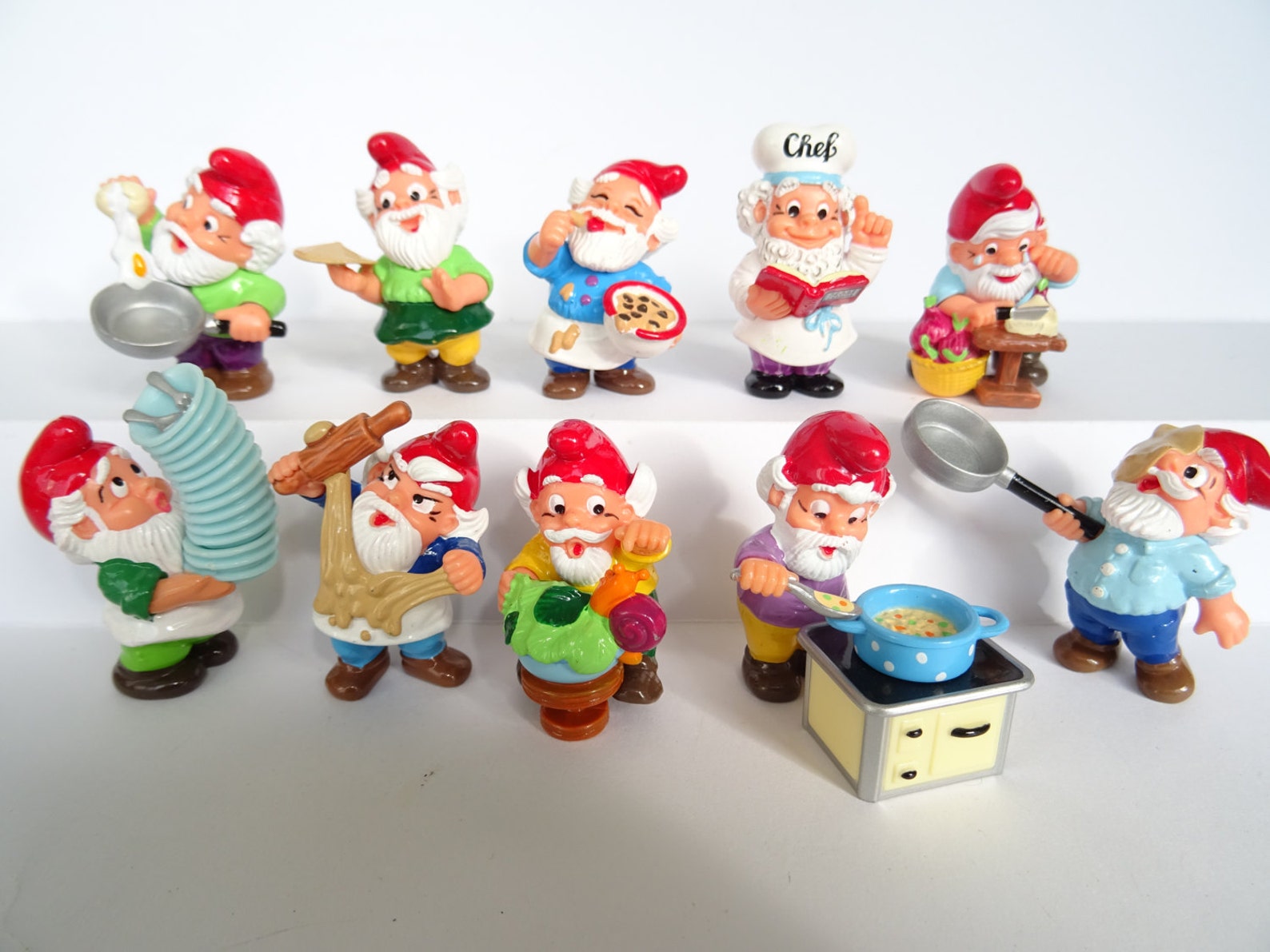 Kinder Surprise Collectible 10 Figures Set Garden Dwarfs Gnomes 1992 in the kitchen Figure Miniature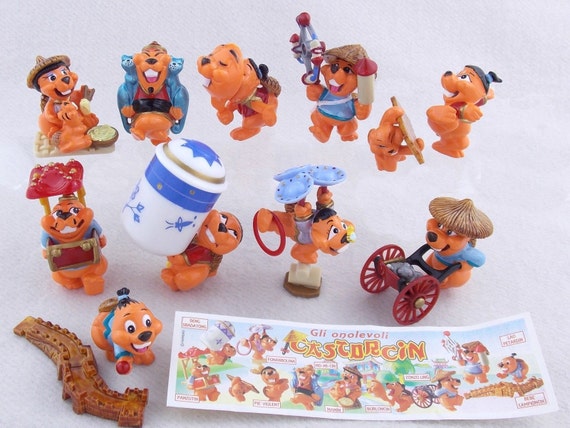 Complete 10 Miniatures Set Beaver Comic Kinder surprise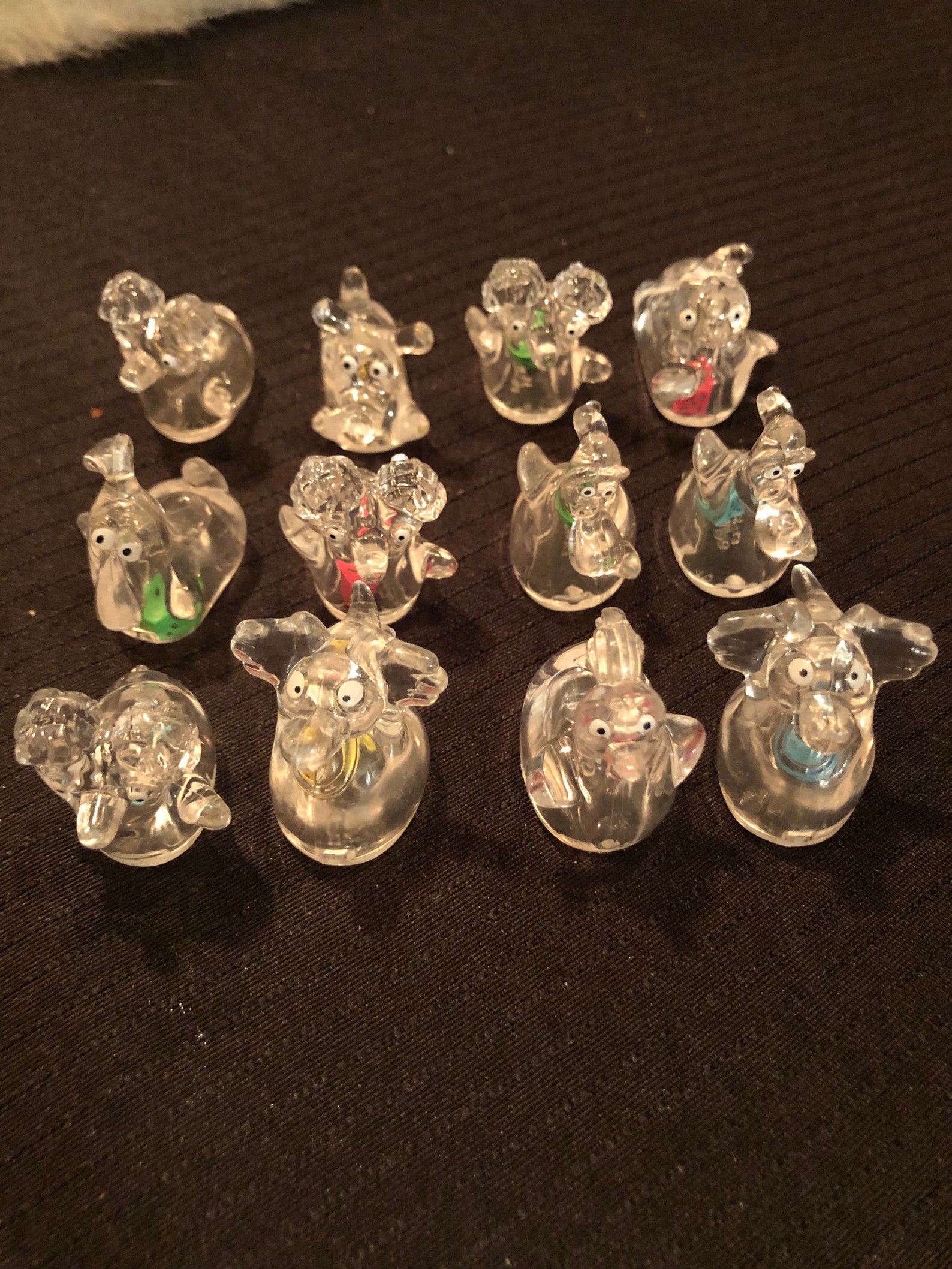 Set of 12 CHAMPIONGHOST from Kinder Surprise collectable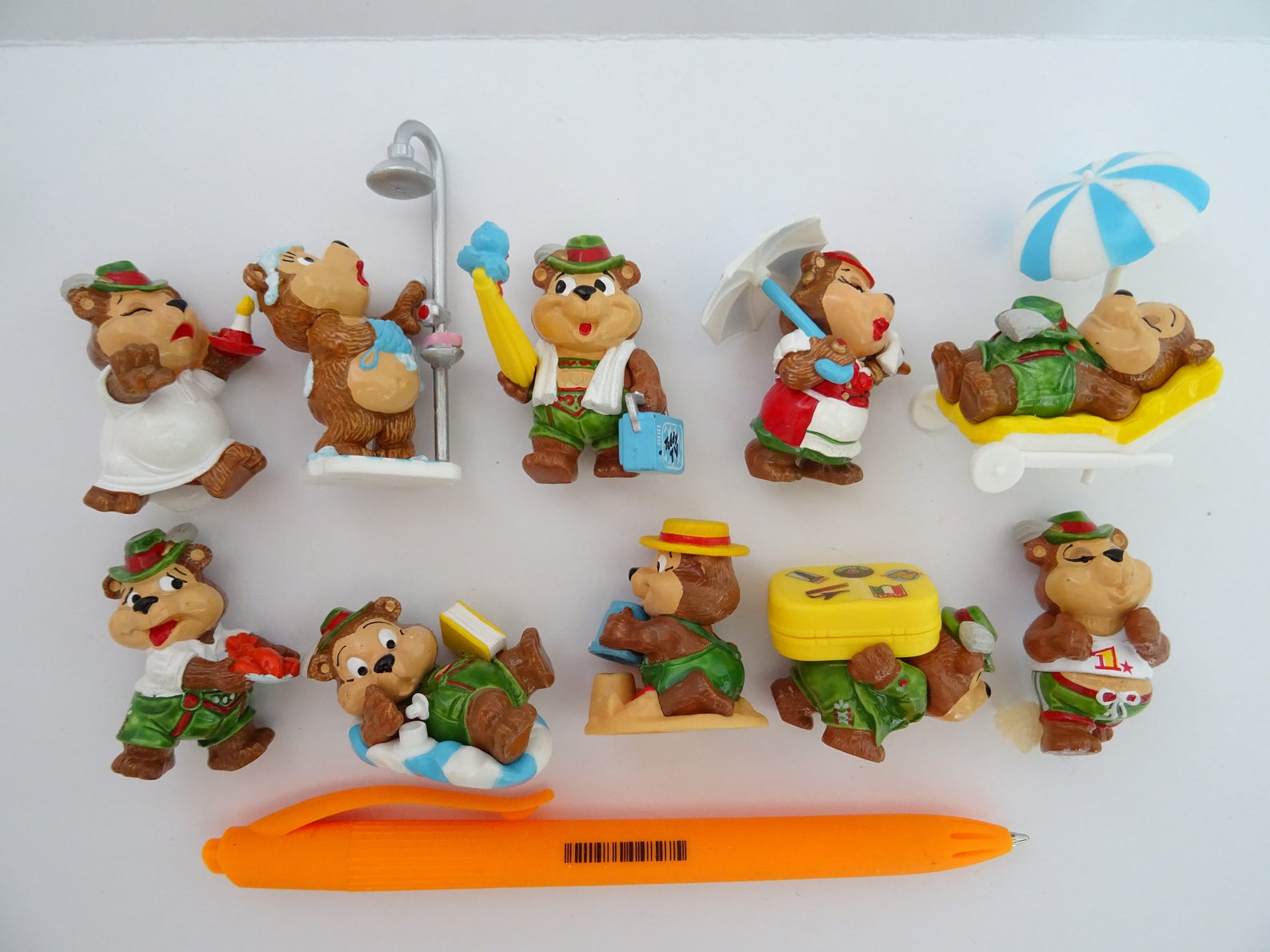 Kinder Surprise Vintage Toys Complete Collectible 10 Figures Set + 1 paper Serie BEARS VACATION TEDDY Top Ten Teddies Figurines

What are Kinder Surprise Egg Toys?
In the name of science (and curiosity) we opened up the three different sizes of eggs, just to see what you find inside (and they were delicious)
This is the Regular-sized Kinder Surprise Egg
This is the egg we all know and love… It's about the size of a hen's egg.
The Middle Sized Kinder Surprise Egg
This egg was produced at Christmastime (it's been bunkered) I'm not sure if you could get it year round. It's about 5 inches long.
The Kinder Easter Egg LARGE!
Sold at Easter, the Kinder Easter Egg is a much bigger than the others (about the size of an Ostrich egg!).
What are Kinder JOY Eggs?
The Kinder JOY Eggs are a newer development. Instead of a plastic capsule inside a hollow egg, the chocolate egg is packaged to come apart in 2 halves. One side contains a chocolate shell filled with milky chocolately cream and two wafer balls. (You get a little spoon to eat the cream) The OTHER side has a toy. Purists are less thrilled with this version… but it exists for safety reasons.
Kinder Joy – FOUR pack 20g Chocolate Cream Eggs with Toy – Imported from Germany

In all honesty, my kids were less thrilled with Kinder Joy (not exactly overjoyed, so to say). They like the chocolate in Kinder Surprise… but every kid is different.
See them in action HERE
Want Kinder Joy Eggs? Buy Online!
I know, I know, Kinder Joy Eggs aren't the same as Kinder Surprise Eggs, but, you CAN buy them legally here in the US. Buy Kinder Joy Eggs online. Get singles, multiple packs, Kinder Joy eggs for girls or boys, even Disney and Minion related Kinder Joy Eggs.
Chocolate Kinder Joy for Boys with Surprise Inside (6-Pack)

Kinder Joy Chocolate Surprise Egg with Toy Inside ~ Case of 12

6 PACK – Kinder Joy, Treat and Toy, Sweet Cream Topped with Cocoa Wafer Bites, Surprise Toy Inside, 0.7 oz (20g)

Kinder Egg Holders!
Want to Gift Kinder Eggs in a Special Way? These absolutely ADORABLE Kinder Egg Holders make the Kinder Surprise Eggs AND the Kinder Joy Eggs even more fun!
Cute Digital Downloads
Just download the file, print and cut out your own paper egg holder!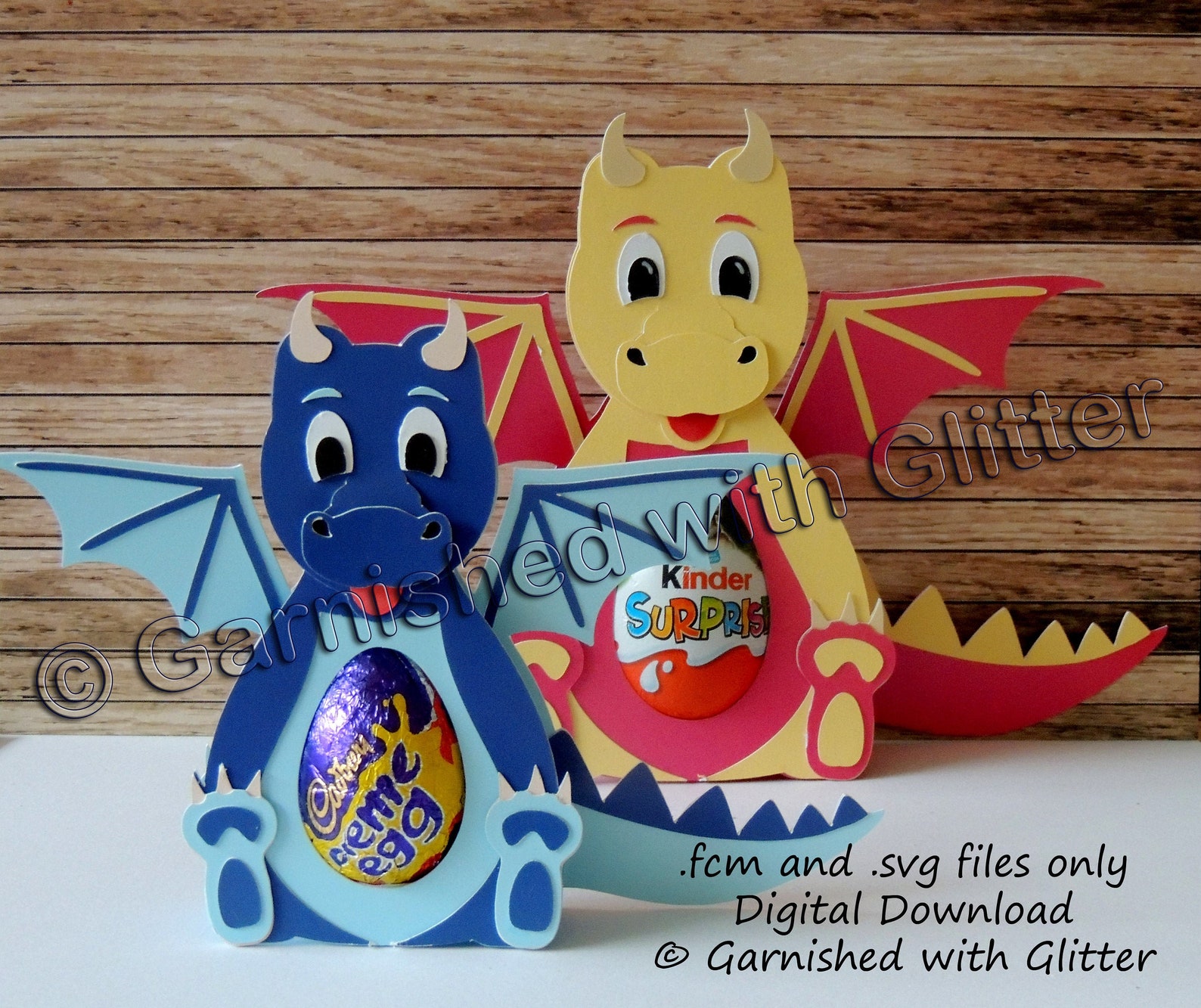 Dragon. Digital Download Cutting Files – fcm and svg. (Suitable for Kinder Surprise, Kinder JOY and Creme Egg – not included!)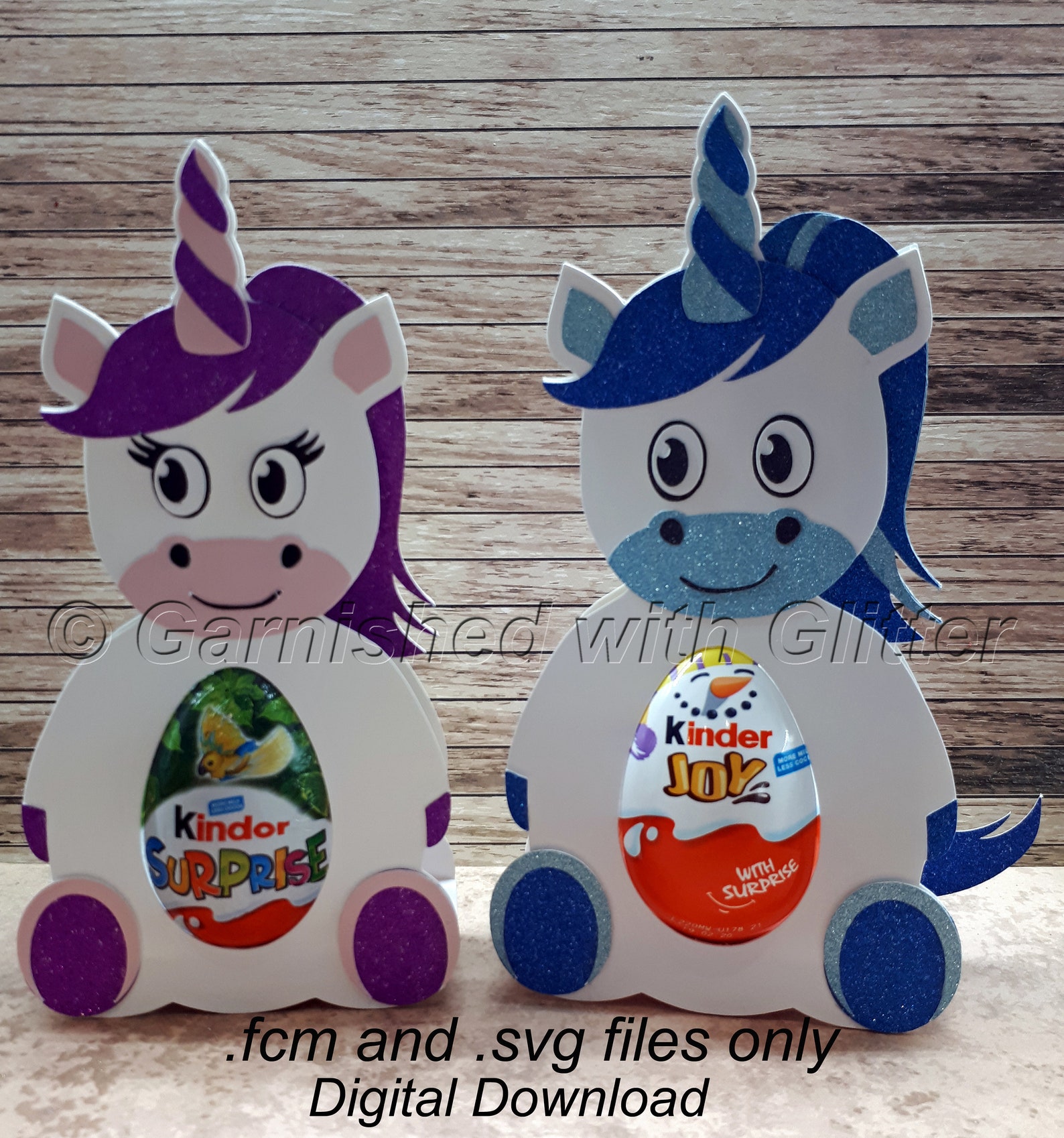 Unicorn Digital Download Cutting Files. fcm and svg. Suitable for Kinder JOY, Kinder Surprise and Creme Egg Sized confectionery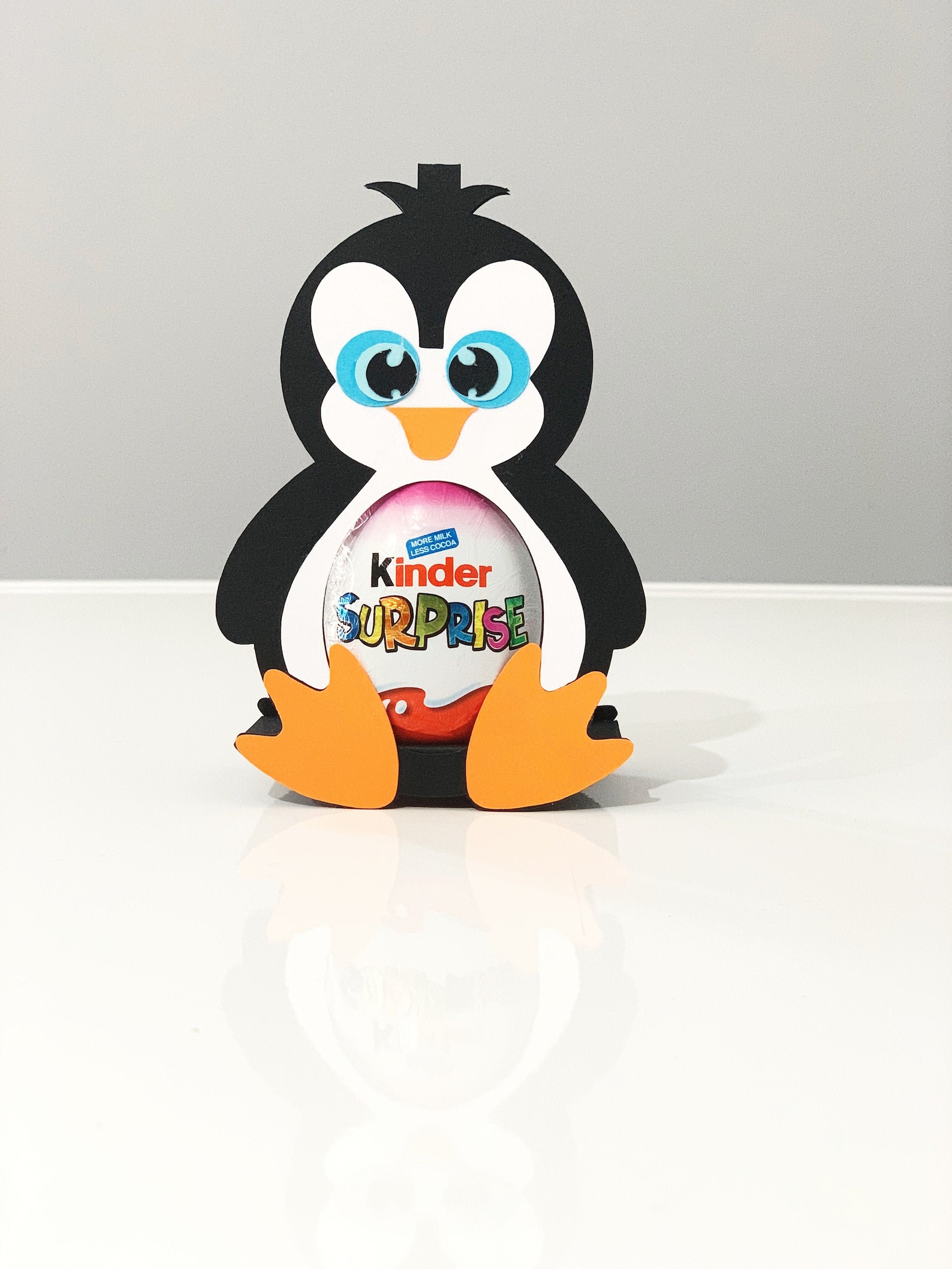 Penguin Kinder surprise chocolate holder with shut eyes and open eyes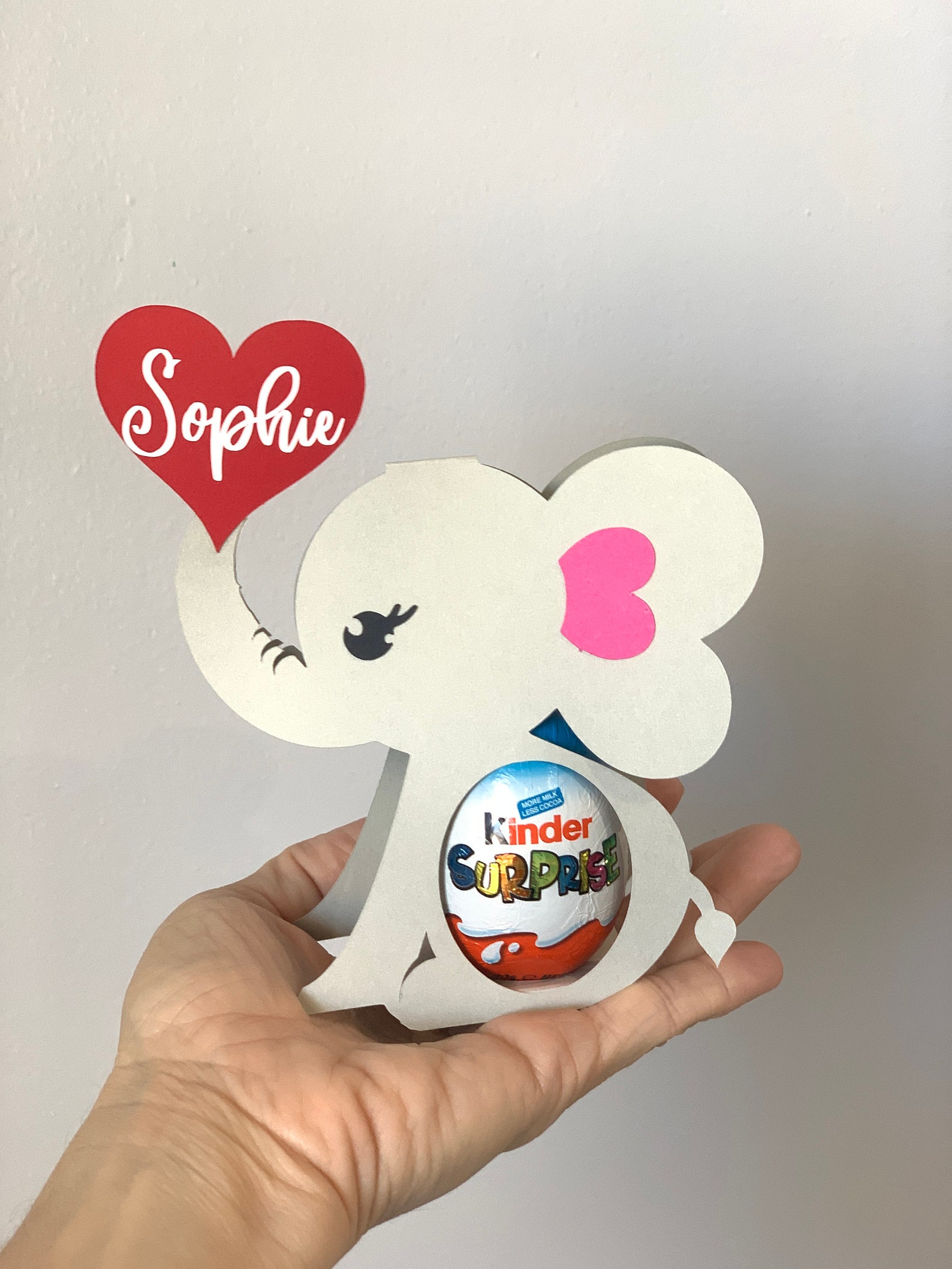 Elephant Kinder Surprise chocolate holders

Wooden Holders
Bring these out every year and fill up with eggs!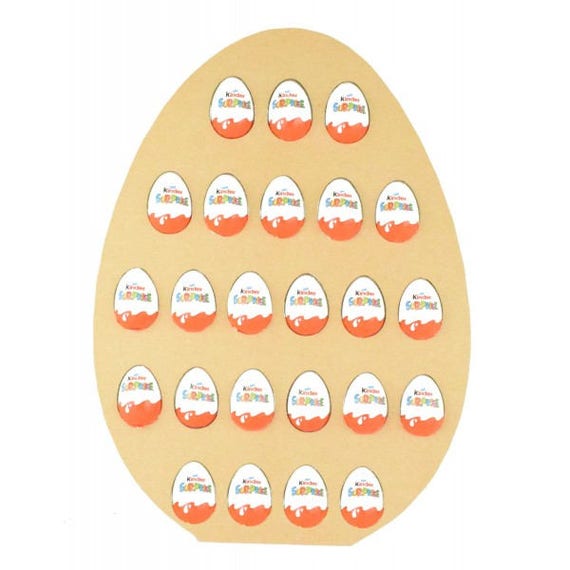 Freestanding Easter Egg Kinder Egg Holder

Are Kinder Eggs Illegal in the USA?
I wish I had a nickel for every time someone asked why Kinder Eggs are illegal in the USA… The truth is, Kinder SURPRISE Eggs are banned from US markets. (This leads to all sorts of interesting comparisons about guns… but I'm not going there) Let me explain. In the 1930's the Food and Drug Administration passed a law that "prohibits confectionery products which contain a 'non-nutritive object', unless the non-nutritive object has functional value. Essentially, the Act bans "the sale of any candy that has embedded in it a toy or trinket". Too many kids were choking on toys in food apparently. Because the chocolate contains a capsule that is a potential hazard, the surprise eggs are a no-no. Yes they are legal in Canada and Mexico. Yes you will occasionally find them in shops here in the USA … probably imported by people who either don't know (or care about) the law. I will not tell you not to buy them or smuggle them home to the US from Germany (or Canada)… but be aware that there is a heavy fine if you happen to run into a Customs official who does not approve (I've read the fine runs from $300 to $2500 per egg).
Kinder JOY Eggs were recently introduced, and are quite legal, since the candy and toy are completely separate.
The fact that all of the Kinder Egg toys have small parts means that they probably shouldn't be given to children under 3 years old. But as the  the UK Department of Trade and Industry which said after investigating the choking death of an English child, "The child's tragic death was caused by the ingestion of a small part of the egg's contents. Many other products and toys with small parts are available in the market place. If we were to start banning every product that could be swallowed by a child, there would be very few toys left in the market".
So, there you are…. everything you need to know about the legality of Kinder Eggs. 
Now go out… and enjoy some Kinder EGGS!