My Week in Berlin- Museums, Currywurst, and a LOT of Cake!
My daughter spent a semester as an Exchange Student in Berlin, and I decided it would be a good time to visit. Let me begin by saying… A Week in Berlin is not enough time to see/do/experience and EAT everything I wanted to. But! I'm proud to say that we did give it a try, and we managed to squeeze in an astonishing number of experiences.
Almost TOO many.
And in the end, I felt like I had gotten to know this massive, unruly and wonderfully vibrant city, and  discovered that it is more than just the shadow of a Wall and list of museums.
All photos taken by Karen Lodder. Do not use without permission
You see…. before I arrived, I had this mistaken impression that Berlin was a city defined by a Wall. A Wall designed to keep people out, or keep people in. But that's no the case at all! Berlin is one of the most open cities I've ever been to. And truly, it's the most diverse of all German cities (in fact, if it wasn't for the street signs, sometimes I wasn't even clear I was in Germany…). It's a reflection of the whole world!
The Berlin Bar… is EVERYWHERE
My Week In Berlin
I arrived in Berlin midday on a Sunday, feeling exhausted and excited at the same time. My daughter found me at the airport (worried, because as usual, mine was the last bag to emerge, so, as usual,  I was the last to pass through the gate) and together we took the bus to our home for the week . Because she is in a home-stay, and living out by the Olympic Stadium, I rented a small apartment in a more central area near Kurfürstendamm and the Kaiser Wilhelm Memorial church.  When we got there, I was ready to collapse on the bed, but she had other plans! So we dropped the bags… and off we went!
Our first stop the Flohmarkt at Mauerpark (Flea Market at Mauerpark). Why? Because it was Sunday, the sun was shining, and it was a great way to dive headfirst into the Berlin scene. Thousands of people were there! Bargain shopping, listening to music and eating (my first meal in Berlin was a Bratwurst in a Brötchen I ate standing up… it was GOOD).
Berlin Flohmarkt am Mauerpark… open every Sunday. This little boy was OVERWHELMED by the Lego Man selection!
Then it was time to see the Stadt Mitte … the Brandenburg Gate (it looked different from the east side)
Then the Reichstag, a walk in the Tiergarten.. over to Museum Island to see the Dom and the Museums.
Käthe Kollwitz Mother and Son
By this point I was DRAGGING my feet, so we caught the train home. At 9, she let me go to bed. Total exhaustion is one way to fight jet lag!
In Front of the Berlin Dom… Sun was out, but it was chilly!
Things didn't really slow down from there. Mornings I explored on my own a bit, and took care of shopping…. afternoons we took the U Bahn or S Bahn from one end of Berlin to the other. We visited Museums- The Deutsches Historisches Museum, the Altes Museum, the DDR Museum, The Checkpoint Charlie Museum…
(and even the Ritter Sport museum, which isn't so much a museum, as a giant chocolate store… mmmm).
And we played with Lego…
We enjoyed outdoor exhibits like the East Side Gallery… the longest bit of standing Wall, and the Berlin Airlift Memorial at Tempelhof Airport.
East Side Wall Gallery
Tempelhof Airlift Monument
Everywhere we saw Stolpersteine. Small raised cubes covered in bronze, naming the people who lost their lives to Nazi terror. They mark the person's last known address.
Before leaving home, I purchased the Berlin Welcome Card which got us on all transportation without having to buy an extra ticket… and gave us discounted entry to many attractions. It was WELL worth the investment.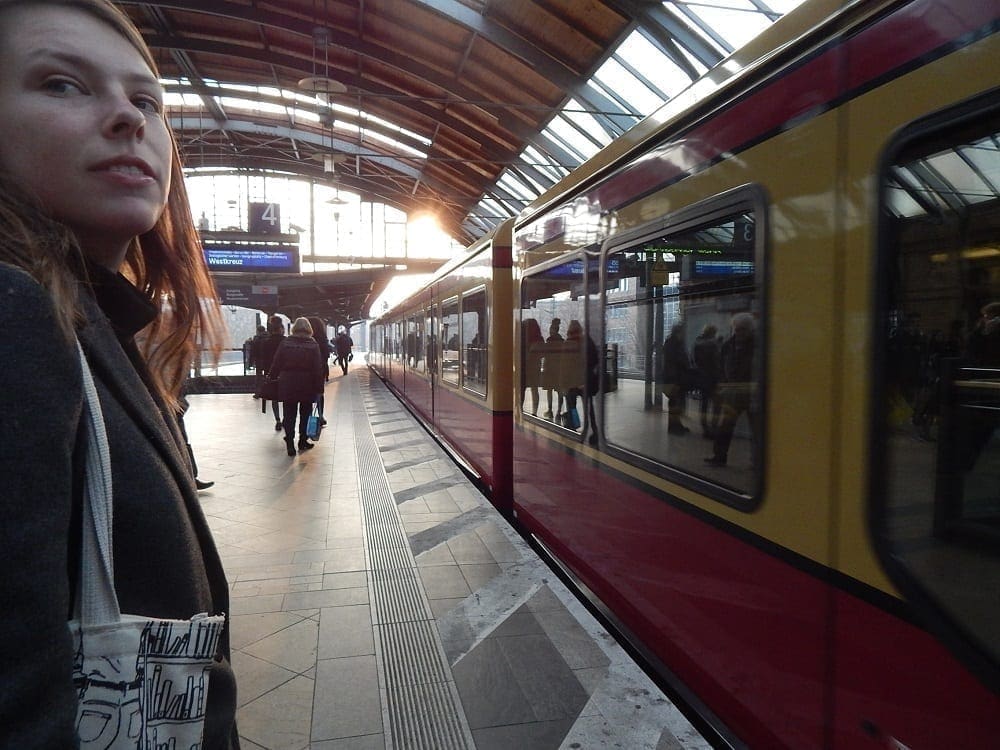 We traveled EVERYWHERE by U Bahn, S Bahn, Bus… and on foot.
And everywhere we went… we walked and walked… in fact, you could call this trip "Berlin in over 20,000 Steps a day".
The Kaiserdom
We shopped! Ka De We  (Kaufhaus des Westens) was overwhelming and crowded, but a cup of coffee and piece of fruit tart helped… I visited grocery stores, Kitchen stores, the Lego store, and checked out those German Jerseys at Adidas (and to me, they are more teal than green… but I don't want to start another argument!) There were Markets almost every day, from the Turkish Market in Kreuzberg, to the Book Market in front of Humbolt University, and the Easter Market near the Kaiser Wilhelm Memorial Church.
Shop windows were full of Easter Things… the Käthe Wohlfahrt Window was real eye candy!
There were also a few side trips. We had a delightful afternoon drinking coffee and eating Käsekuchen with her host family near Grunewald.
And one day we went to Potsdam and toured the New Palace (hard to believe, it was actually colder INSIDE the palace than outside…) and saw Sanssouci  from the outside (it was closed the day we arrived).
Neues Palais – Potsdam
Best of all… the FOOD! Every meal was fantastic! Because I was on a mission to see how German food was changing in Germany, and so we ate in quite a few "German" restaurants. Schnitzel, Königsberger Klopse, Flammkuchen and Rabbit in an fantastic brown gravy. Of course, since it's Berlin, we sampled various Currywurst stands.  But we also took advantage of the amazing variety of foods in Berlin. Greek, Lebanese, and her favorite Falafel place.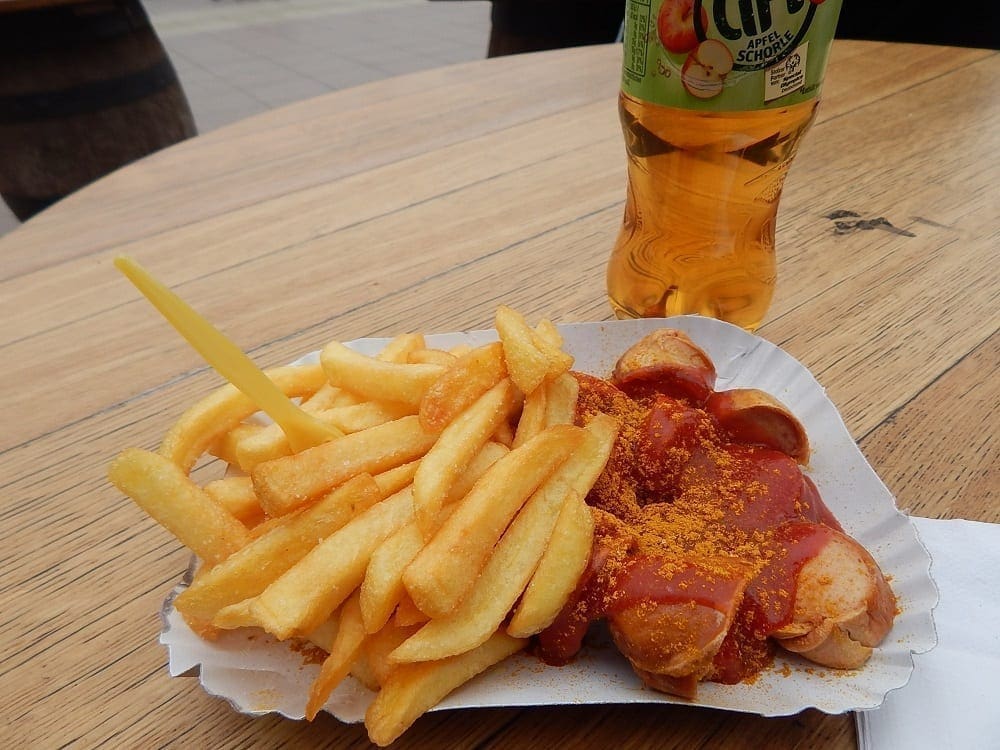 Currywurst in Berlin… with an Apfelschorle
And you can always grab food on the go, from a guy on the go! Yes, he has a grill attached to his waist!!
I'm delighted with my new impression of the city. Berlin is not a city defined by a Wall…. it's a city that reflects the whole world….. yet still maintains a distinct German character. Berlin is a grade school class riding the U-Bahn, and a group of little girls, some white, some brown and some black, all holding hands and chattering in German. Berlin is a pair of teenagers wearing headscarves, comparing the toys they got from their Kinder Eggs. Berlin is double-decker tourist buses. Berlin is Stolper-Steine. Berlin is expensive and exclusive stores. Berlin is street art and buskers.  Berlin is bookstores and Kaffee Kulture. Berlin is a line 30 people long to get a Curry Wurst at the train station. Berlin is marvelously energetic city full of people coming together with one clear guideline… to obey the Ampelman!
Berliner Ampelmann
I feel I got to see Berlin backwards and forwards, but there is still more to see. One day I will go back to this magnificent city, and I'm sure much of  it will have changed again, but the most important thing won't…. There will always be time for Kaffee and Kuchen.
Kase Obst Kuchen and Milch Kaffee
And of course… as soon as the sun came out…
Don't Go to Berlin without a  BERLIN WELCOME CARD
The Berlin Welcome Card was the best purchase I made before traveling. You can choose how many days you want to use it… and get unlimited rides on all city public transportation, as well as special discounts on museums and restaurants. And there are even special cards that give you unlimited entry to museums!
Honestly, this program is fantastic!
My Daughter Was My Guide…. But I Also Used these Books….
Berlin is VAST, do a little planning ahead to get an idea of what you want to see and do. These books were a great help.
DK Eyewitness Top 10 Berlin (2020) (Pocket Travel Guide)

Moon Berlin Walks (Travel Guide)

The 500 Hidden Secrets of Berlin

Plan Fun Tours and Adventures for Your Visit to Berlin