A Visit to Bunte Schokowelt! Land of Ritter Sport Chocolate Bars!
"Quadratisch Praktisch Gut"…. Square Practical Good… I can't think of a more German slogan for a company than the one used for Ritter Sport Chocolate bars. Ritter Sport bars are famously square, so it's the perfect size for your pocket (practical!) And good… That might be a vast understatement. Now, you don't find Ritter Sport chocolates in every grocery store in the US (and that's a dang shame), and if you DO find them, they cost the EARTH! So as a self-diagnosed chocoholic, there was no way I was going to pass up my chance to visit the Ritter Sport Store in Berlin – Bunte Schokowelt to see what flavors I've been missing. What I discovered there was pure magic! It turns out there is a lot more to Ritter Sport than the flavors I've gotten to know over the years. There's a whole RAINBOW of flavors! As for sizes… yes, the pocket sized square reigns supreme… but now there are BIGGER bars…. and divine little cubes….
I left with a tummy full of chocolate and two shopping bags filled with purchases (research, don't you know).
Even better… since I got home I found a few places where you can order Ritter Sport Chocolate Bars ONLINE! Even the more unusual flavors like Tortilla Chip. (Although I'm still not convinced that Tortilla Chip Ritter Sport needs to exist).
A Little Bit of Ritter Sport History
Alfred and Clara Ritter started a little chocolate company in 1912, naming it AlRiKa (what is it about Germans and naming this by combining first letters of multiple names… see HaNuTa and Adidas). In 1932 Clara came up with the idea for Ritter Sport. This square bar was designed to fit PERFECTLY into the chest pocket of a man's sports coat without breaking, but still had the same 100 gr of chocolate as other chocolate bars (This is probably why my Opa always had chocolate or other candies in his pockets).
Until the 1960s, the company still made holiday chocolates and boxes of chocolate candies, but slowly they began to phase those items out of production, to focus on the square. 1974 was a revolutionary time for Ritter… the RAINBOW packaging that gave each variety or flavor of chocolate a different colored wrapper was launched in a nationwide push! The idea was… you could now see the world in color on your TV, you should be able to eat in colors too… (as a marketing idea, it wasn't bad). From there, other innovations were launched by the people at Ritter… the snap open package, recyclable packaging, support of small cocoa farmers with an aim at saving the environment, the invention of the BIG BAR, and (my favorite) the opening of the Bunte Schokowelt (Colorful Chocolateworld!) in Berlin.
Bunte Schokowelt
If you happen to be in Berlin, and you are feeling a bit weary of touring Museums, Churches and Monuments, I suggest you take a break at Bunte Schokowelt. It's sort of a museum (there is an exhibit explaining how a cocoa bean becomes chocolate)… and it's a shop (every known variety of Ritter Chocolate can be purchased… and BIG BAGS of small squares can be scooped up)…. It's hands on for the kids (and the kid-like) since you can also MAKE your own CUSTOM Ritter Bar! (There is a station where you choose the fillings, and someone mixes it all up for you). Nice souvenir!
Or just do what I did. Wander around a bit, then settle in for a cup of cocoa made with Ritter Chocolate
Cocoa made with Ritter Chocolate
(you can also have cake)
One hour and 2 shopping bags full later, I was ready to take on Berlin again!
You can find Bunte Schokowelt at Französische Straße 24, 10117 Berlin
Ritter Sport Chocolate Bars
There are over 30 varieties of Ritter Sport Chocolate bars (one for every day of the month, and 2 for Sunday). Milk chocolate, Dark chocolate, and even White Chocolate filled with Marzipan, Nougat, Fruit fillings, crispy additions like corn flakes or puffed rice, coconut and nuts. In addition, 3 Seasonal Varieties are released each quarter. (There is a complicated algorithm to decide which ones are repeated, and which are doomed to live in memory). All 100 gr, all 4 by 4 squares.
The new Ritter Big Block is 250 gr … and comes in fewer varieties, but at that size, you might be more willing to share. (Maybe)
And of course, many of you are familiar with the minis. These little blocks are a great size for a quick chocolate pick-me-up… perfect for Lunch Boxes or Advent Calendars.
But my new favorite was a complete surprise. Ritter is now making soft squares called Choco Cubes. The Praline flavored one is my favorite….But the Jamaica Rum… oh my that's good.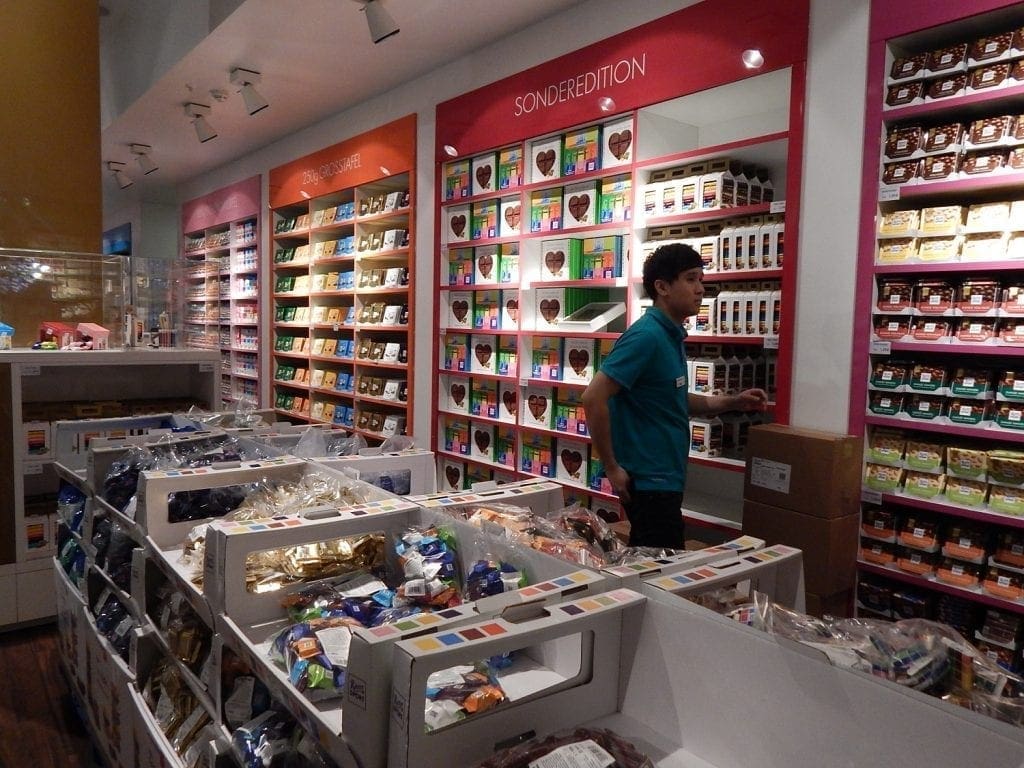 Now, that's all fine and good… but it's no help to just READ about chocolate. Chocolate is meant to be eaten and enjoyed. Luckily, it's possible to find all of these wonderful Ritter Sport flavors online. So, order a few of your favorites, add a few new ones that sound intriguing…and enjoy the taste of Ritter Sport chocolate at home!
More to do in Berlin
Ritter Sport QuadrettisGermanShop24
Buy Ritter Sport Online
Some flavors of Ritter Sport are only available in Bulk (but is it really a hardship to buy 10 bars at once?) Others come individually… I will try to sort them by type so they are easier to find…
Just Chocolate-
Fine Milk ChocolateGermanShop24
Gold edition 8.8 ozGermanShop24
Dark ChocolateGermanShop24
Chocolate with Nuts-
HazelnutGermanShop24
Honey Salted AlmondGermanShop24
Whole NutsGermanShop24
Dark Whole NutGermanShop24
whole almondGermanShop24
White with Whole HazelnutsGermanShop24
Chocolate with Nuts and other things-
Tech Guy can not be left alone in the room with the Rum, Raisin, Nut variety…
Rum Raisin HazelnutGermanShop24
Raisin HazelnutGermanShop24
Cranberry HazelnutGermanShop24
Hazelnut cornflakeGermanShop24
Special Flavors!
Buenos Dias Mango Passion FruitGermanShop24
Hula Hula Coconut WaferGermanShop24
Marhaba Yogurt Honey NutGermanShop24
Soft Filled-
I LOVE the Nugat flavor…OH! And Peppermint… and Caramel Mousse…..
PeppermintGermanShop24
Strawberry YogurtGermanShop24
NogatGermanShop24
YogurtGermanShop24
CoconutGermanShop24
Cocoa MousseGermanShop24
MarzipanGermanShop24
Butter CookieGermanShop24
White and CrispGermanShop24
VEGAN and Lactose Free Ritter Sport!
Perfect for those on Special Diets!
Lactose Free Milk ChocolateGermanShop24
Vegan Dark Chocolate with Amaranth and NutsGermanShop24
Vegan Dark with Almonds and QuinoaGermanShop24
Ritter Minis-
I love the minis… mostly because when I eat a whole one I don't feel really guilty (honestly, can you open a Ritter Sport bar and just eat a PART of it???) Keep some in your purse, in case you or someone you love, needs a smile (I love the ones with sayings on them!). Buy boxes or bags.
QuadrettisGermanShop24
Ritter Minis with sayingsGermanShop24
MessagesGermanShop24
Bunter MixGermanShop24
Hazelnut MixGermanShop24
Ritter Choco Cubes
These Ritter chocolates are a delightful surprise. No, you don't get a whole bar… you get an individually wrapped perfect soft chocolate filled with something REALLY YUMMY. Fruit, Praline, Rum/Raisin…. swoon. These are so good, I save them for life's more trying moments. And then it all goes away.
RUM CRUNCH IS THE BOMB!!!
Ritter Cubes- Thank YOuGermanShop24
Rum CrunchGermanShop24
Ritter Sport Ritter Sport Choco Cubes, 5.1 OunceGermanShop24
Ritter Sport Chocolate Bars, Cubes and other tasty Treats….
With so many flavors to choose from, you can never get tired of Ritter Sport Chocolates!