Traditional German Advent Calendars- Count the Days until Christmas!
.
Having a 
Traditional German Advent Calendar
to count down the days to Christmas was as normal to me as breathing or putting on
House Shoes
…. It is just something we had in our home. Some years they were quite
simple… a double thick cardboard printed with Christmas scenes
, and pictures behind each door. Other years they were more elaborate, and we had
German chocolate Advent Calendars
with chocolates behind the doors. We even had a wonderful fabric Advent Calendar with pockets that mom filled with treats. It didn't matter what kind of calendar (well, not that much), it was a
wonderful way to build anticipation
up to the day when the biggest doors of all could be opened!
And it was also a good teaching moment when you realized that you could open extra doors… but that didn't make Christmas come one minute sooner!
Advent Calendar Origin
Like most holiday traditions, I assumed that Advent Calendars had been around for hundreds of years, but actually, they are relatively recent. In the 1880's, little Gerhard Lang, like all little boys, was very impatient for Christmas to come. His mother (the wife of a Protestant Pastor) , decided to make his waiting a little easier. She constructed a set of boxes, and filled each with a piece of Lebkuchen… Gerhard was allowed to open one box (and eat a cookie) every day leading up to Christmas. Flash forward a few years, and Gerhard Lang is now an adult working for Reichhold & Lang in Munich, and he began to print the first Advent Calendars for sale. These just had pictures, not even doors! (those came in the 1920's), the chocolate ones didn't arrive on the scene until 1958. And the tradition spread.
Traditional German Advent Calendars
Today, Advent Calendars have swept the world, and you find them all over the US. The German chocolate Advent Calendars are most common (there are stacks and crates full of them at my Trader Joes). I know, all of my kids still get excited… even the big ones… about opening the doors and finding a shaped piece of chocolate!
Not to be outdone, Toy companies are releasing Advent Calendars that create a scene made from Legos or Playmobil. Some have a holiday or religious scene… others are just for play.
European Advent Calendars
In our home we have a few European Advent Calendars (but primarily German).The kids have their chocolate ones (there is no escaping it). We also have a lovely wall hanging that my aunt made. I fill it every year with mini-chocolates  (Milka Naps are best!). Then there is a Wooden Advent House, and behind each door is a forest animal. And, somewhere along the line, a Playmobil Advent Calendar snuck into our home.
With all of these Advent Calendars, there is NO WAY we are ever going to miss Christmas!
Find Your Advent Calendars Here
There are so many kinds to choose from, Traditional Paper, German Chocolate Advent Calendars, Advent Calendars for kids and Advent Calendars that can be re-used year after year.
Neuschwanstein Castle in Winter German Advent Calendar | The German Fairy Tale Castle

Traditional German Advent Calendars
These Traditional German Advent Calendars are made from card stock. Each door opens to show a small picture or verse.
When placed in front of a light, there is  a glow through the open doors. You can re-use these Advent Calendars, just close the doors…. but they aren't really the same after use.
Still, the pictures on these Advent Calendars are quite beautiful. They even become collectors items!
Tall Christmas House German Advent Calendar Christmas Countdown Made in Germany

Angel Village German Christmas Advent Calendar

1958 Christkindlmarkt German Advent Calendar Christmas Countdown New Germany

3D Christmas Nativity German Advent Calendar

Panoramic Winter Village German Advent Calendar

Vintage German Advent Calendars
These old fashioned paper Advent Calendars are collectors items!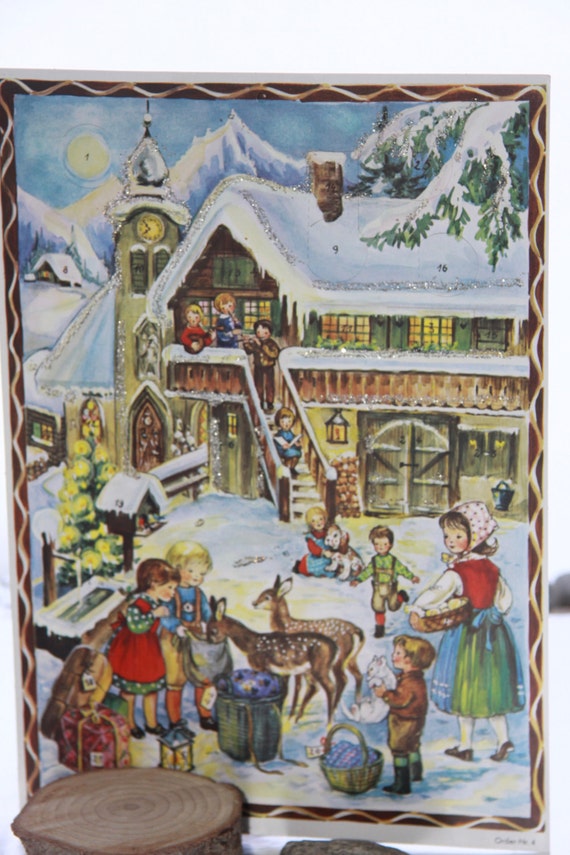 Advent Calendar wirh pictures / made in Germany/ pic#4 / magical / prepare for the holidays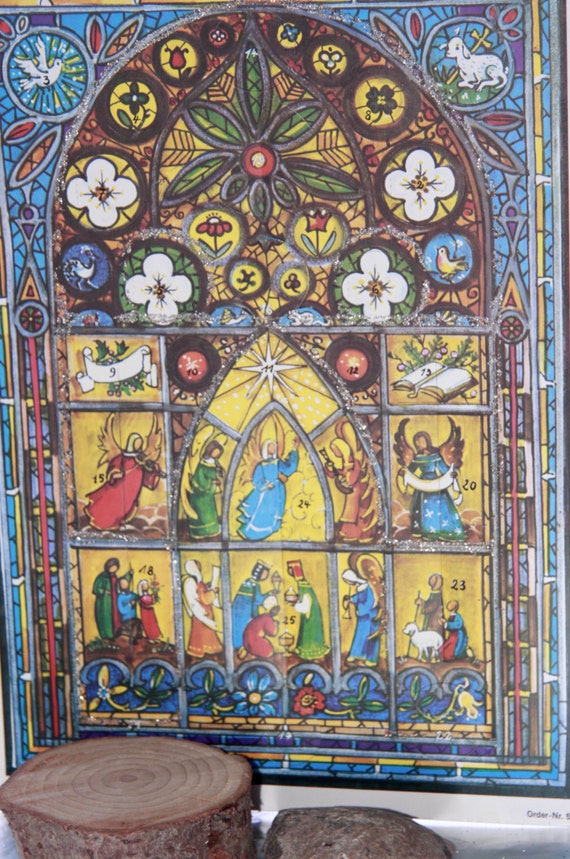 Advent Calendar, made in Germany, (pic#5), bible verse / religious / christmas spirit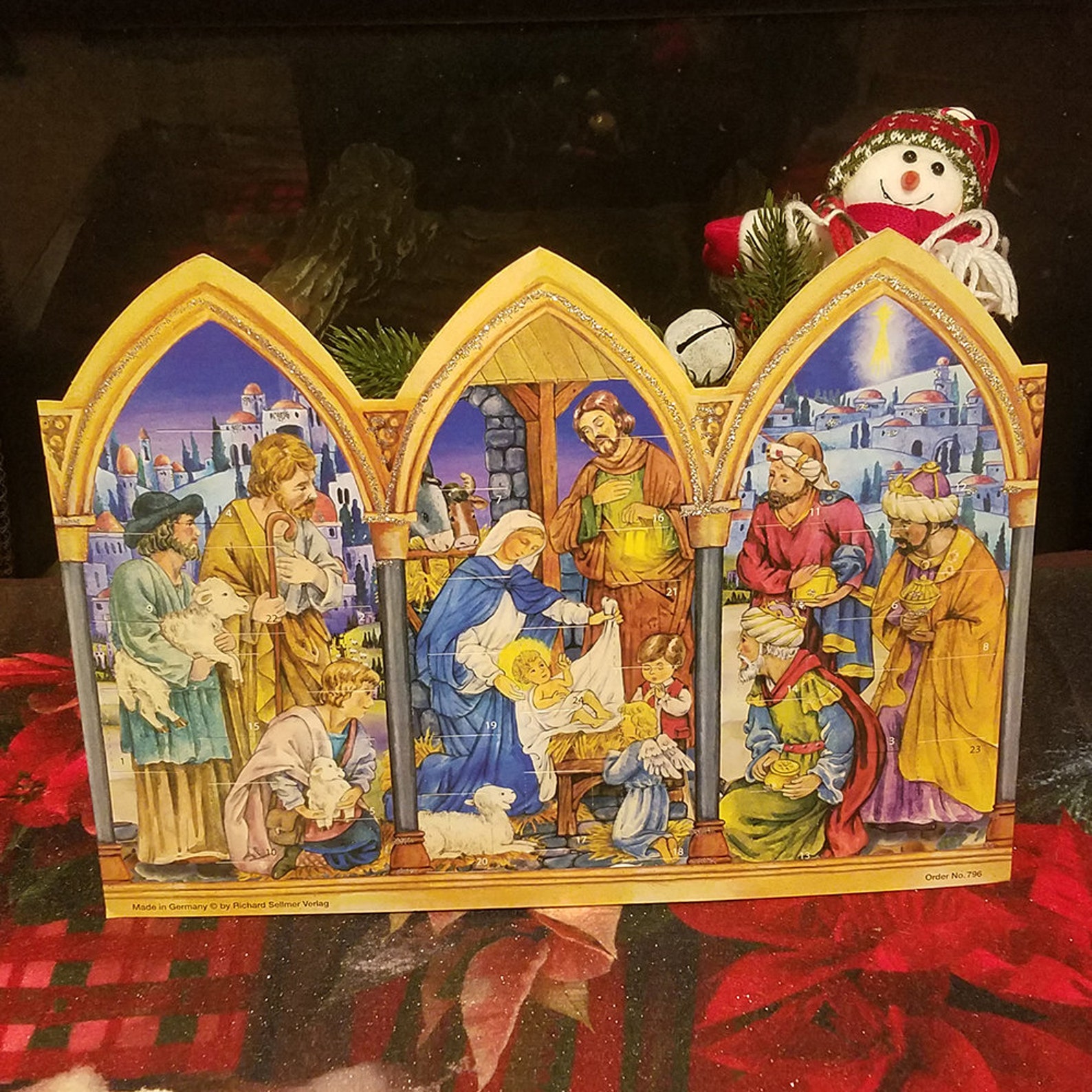 Nativity Scene German Advent Calendar Germany Advent Calendars Santa Crafts Advent Calendar Advent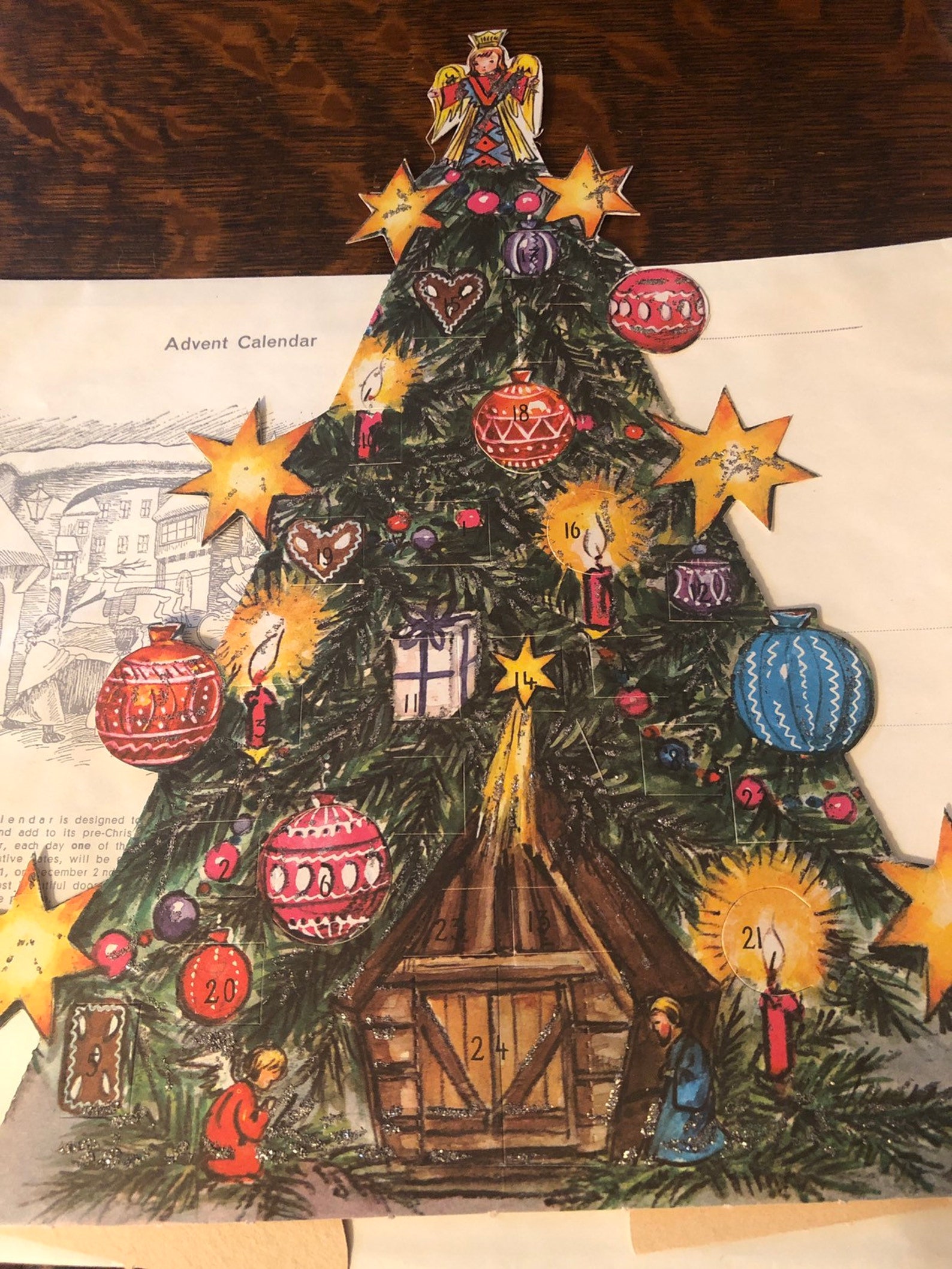 Vintage West Western Germany Paper Advent Calendar Christmas Tree Windows glitter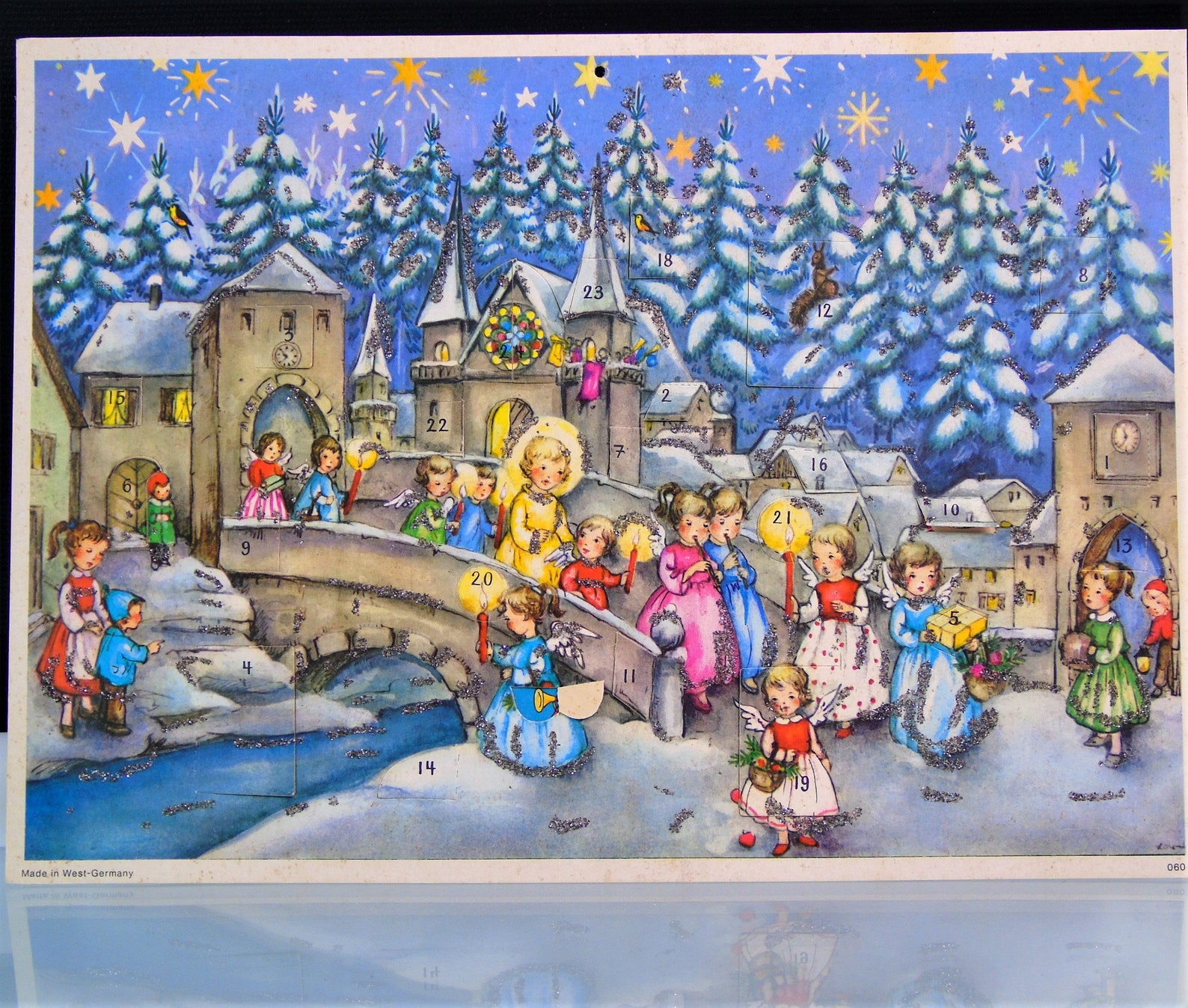 1980s Vintage Advent Calendar Children and Angels Sparkle Glitter Opening Doors Made In West Germany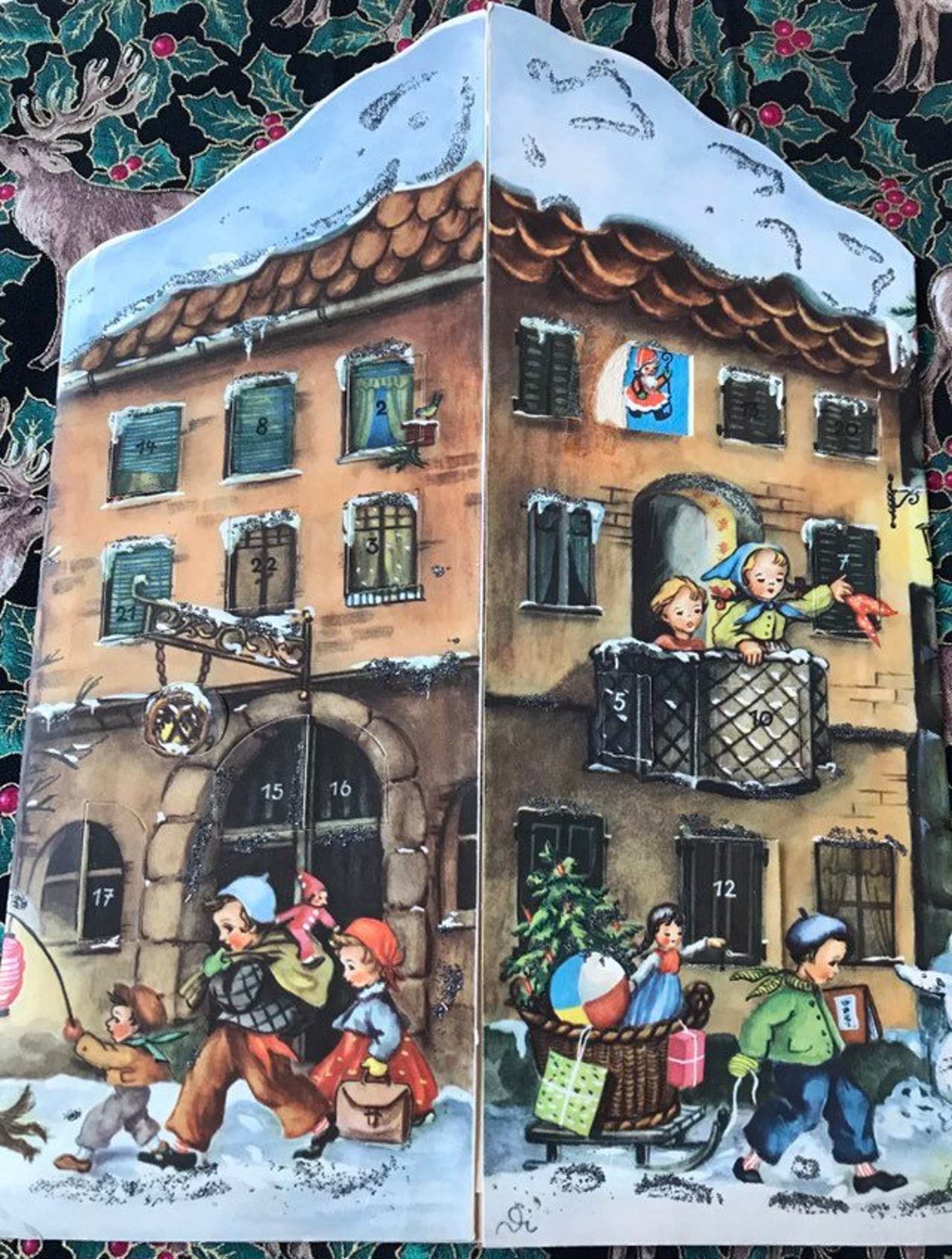 Advent Calendar Mid Century West Germany by Stuttgart-Rohr Glittered German Village & Children at Christmas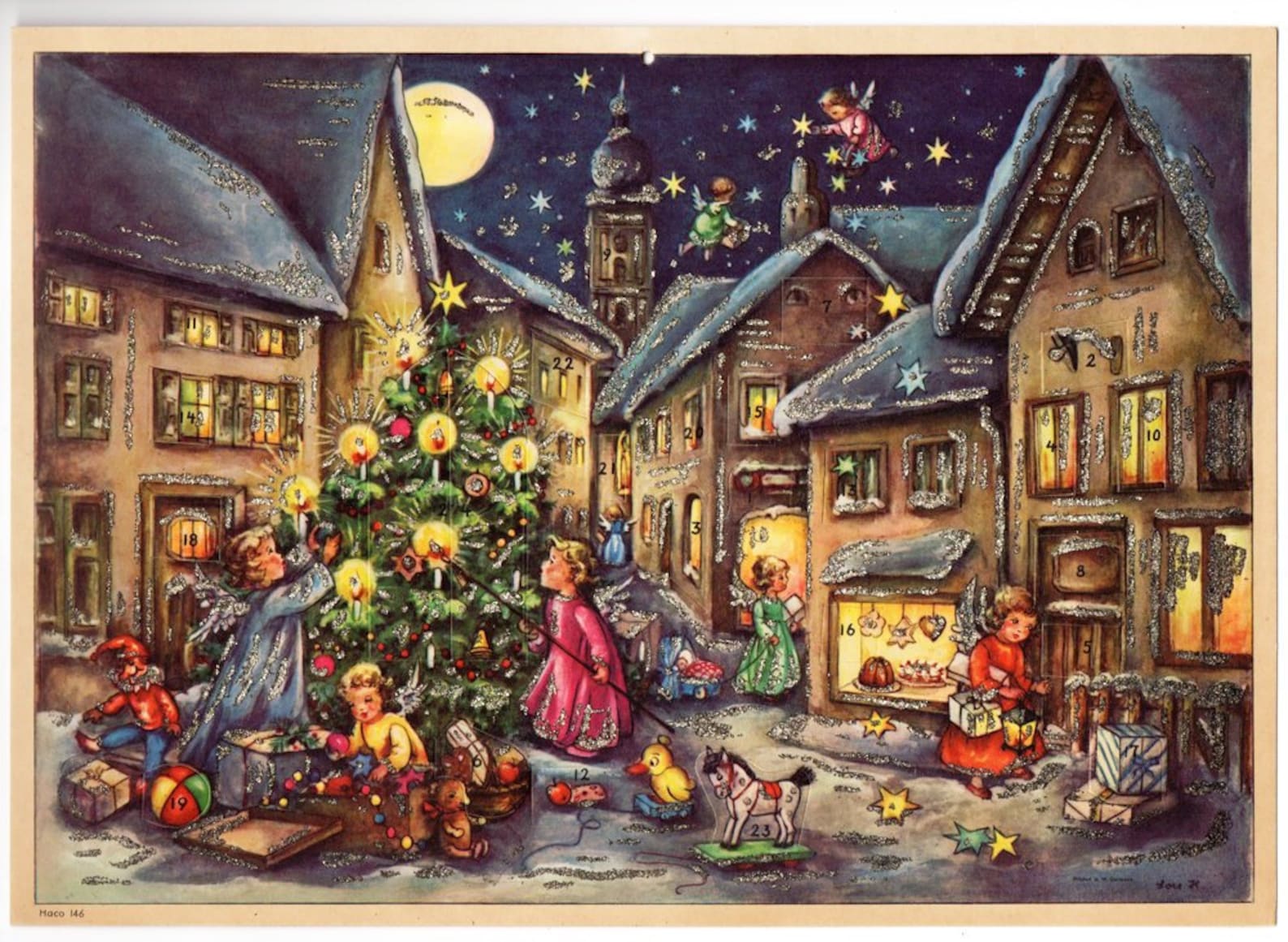 Vintage UNUSED German ADVENT CALENDAR Angels Christmas Tree Count Down Calendar, Mid Century German Christmas Decorations, 1950s Christmas

German Chocolate Advent Calendars
3D House German Chocolate Advent Calendar by Windel

Open a door the door of these German Chocolate Advent Calendar, and get a super special treat, a piece of chocolate (just one per day!).
But some are more than just simple chocolates… they are filled with Kinder Schololade, Lindt, and Ritter Sport!
There are even 3 D Advent Houses filled with Chocolate! What child (or adult) wouldn't be happy counting down the days until Christmas with such a wonderful Advent Calendar!
Most though are simple… a sort of thick cardboard that holds pockets of chocolates. Perfect to satisfy the sweet tooth just a little bit each day, until the magical time when you open the last doors and Christmas is HERE!
For more Chocolate Advent Calendars–> German Chocolate Advent Calendars
Lindt Gold Pieces Advent Calendar 2018 156g

Lindt Holiday Assorted Chocolate Advent Calendar, 10.2 Ounce

Kinder Chocolate- Advent Calendar with 1 piece for each day-Christmas Countdown-IMPORTED from GERMANY

Advent Calendars With Haribo!
Loaded with Gummis of all flavors! fruit and cola flavor chewy gummies, marshmallows, liqorice and gums.
Traditional German Advent Calendars to Use Year After Year
These are special Traditional German Advent Calendars that you can use year after year. They can even become special family heirlooms to pass down for generations. Fill them with chocolates or small trinkets.
Luxury Wooden Advent Calendar
Made in the Erzgebirge of Germany, a special luxury wooden Advent Calendar will delight anyone who sees it! This type of wooden Advent calendar will definitely become an heirloom loaded with memories.
For a bigger selection of Wooden Advent Calenders–>German Wooden Advent Calendars
Kurt Adler LED Wooden Advent Calendar Decoration, 13-Inch

Candle arch Advent calendar electric light arch Seiffen 48cm Ore Mountains NEW

&
Wooden Christmas Advent Calendars
Sturdy enough for the Kids, but beautiful enough to display with pride!
Christmas calendar XL tree calendar Erzgebirge Seiffen Advent calendar NEW

Kurt Adler J3767 Wooden Nativity Advent Calendar with 24 Magnetic Piece

Kurt Adler C6300 Wooden Santa House Advent Calendar W/O Ornaments, 16-Inch

Kurt Adler Wooden Snowman with Tree Advent Calendar

Fun Advent Calendars for Kids From Playmobil and Schleich
These are great because they can either be packed up again for next year… or the toys can be incorporated into the ones already in the toy box.
To see a bigger selection of  Playmobil Advent Calendars–>Playmobil Advent
PLAYMOBIL Advent Calendar – Santa's Workshop

PLAYMOBIL® Advent Calendar – Horse Farm

PLAYMOBIL 1.2.3 Advent Calendar – Christmas on the Farm

Schleich Horse Club Advent Calendar 2017 Toy Figure

Schleich Christmas on The Farm Advent Calendar Set