The German St Nicholas Tradition- What is St Nicholas Day?
My American friends will sometimes ask me What is St Nicholas Day? St. Nicholas (also spelled Nikolas and Nikolaus) is the Patron Saint of Children, and his Feast day is celebrated on December 6th.  The German St Nicholas Tradition is still very strong. Children put out their shoes, hoping they will be filled with goodies and presents.
True Story – Saint Nicholas
Nikolas was born into a wealthy family, but he chose to be a monk, and later a priest. When his parents died, he chose to give his inheritance away to the needy. He was known for his kindness, especially to children. Eventually, he became the Bishop of Myra, which is now a part of Turkey. He was arrested during the rule of the Roman Emperor Diocletian for his crime of being a Christian. (Ironically, at the time, the jails were so full of Priests and Bishops; there was no room for robbers and murderers.)  After his release he attended the Council of Nicaea. When he died on Dec. 6 325, AD, he was buried in the Cathedral in Myra. It is said that Manna (remember the story of Moses in the desert?) appeared on his grave… and this miracle qualified him for Sainthood.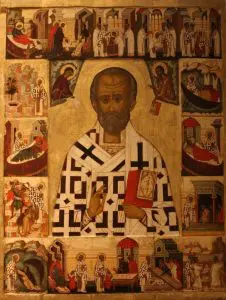 What is St Nicholas Day?
How to Celebrate St Nicholas Day
When I was a child I would find treats and small presents in my shoes when I woke up on the 6th. Sometimes there would be Chocolate in our Stockings (they were hung early, in anticipation of a visit by St. Nikolaus).
German St Nicholas Tradition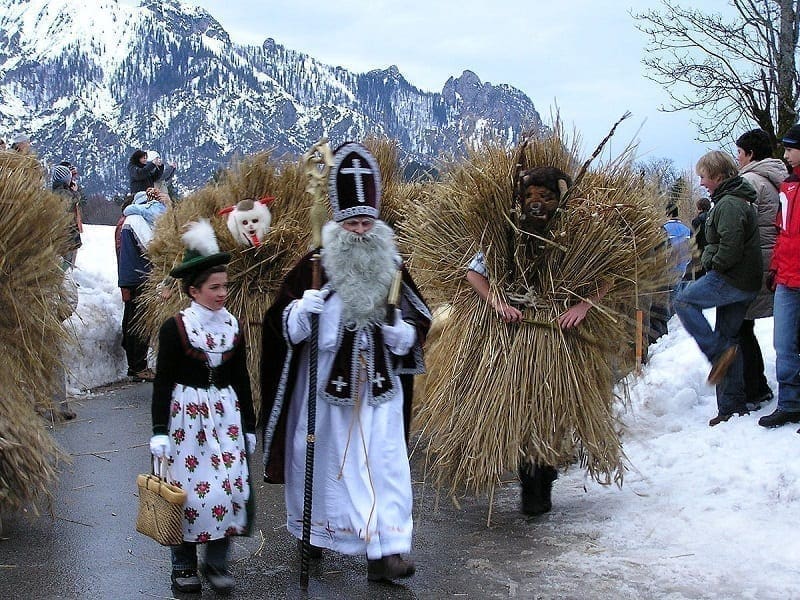 In Germany, St Nikolaus and his partner, Knecht Rubrecht, would visit homes on the evening of the 5th, and ask whether Children were behaving. St Nikolaus would be dressed in white robes, and carrying a book (to double check behavior) and his Bishop's Staff. Kids would be tested for their behavior, and asked to recite poems or sing a song. The child would get a gift for doing well. Knecht Ruprect is a more sinister figure, who carried a sack and a switch. Children who were bad could be given a switch, or taken away in the sack. YIKES!
To prepare for the visit, children would tidy their rooms and clean their toys. Shoes would be polished, and set out by the door or on a windowsill. Some kids even left a bit of hay or straw for St Nikolas's Donkey) Children still wake to find, candies, gold coins, and even small treats on December 6th.
In some communities, children dress as St Nicholas, and go door to door collecting treats.
Other St. Nicholas Companions
In the Netherlands (where he is called Sinterklaas), and areas of Germany near the Dutch border, St Nickolas is accompanied by Zwarte Pieten… or Schwartze Peter (Black Peter), a Moor who would put the bad children in a sack and take them back to Spain (remember, the Moors lived in Spain)
In Bavaria and Austria, St Nicholas travels with Krampus. Krampus is a scary, demonic BEAST who drags bad children back to his lair. Sometimes Krampus travels alone. He is in charge of giving out bundles of sticks (Ruten) for beatings, or coal.
CLICK to Learn More about St Nicholas's Companions HERE
 St Nicholas becomes Santa Claus
St. Nicholas Collectible Vinyl Figure
St Nicholas Day traditions gave birth to the characters of Santa Claus and Father Christmas. The Clement Clark Moore poem "A Visit from St Nicholas" set up the idea of St Nicholas being a jelly bellied, red suit wearing, jolly man who  his arrives in a sleigh loaded with toys for children on Christmas. Later in 1881 Thomas Nast, the political cartoonist, reinforced the image by drawing Santa Claus (the derivation of the Sankt niKLAUS) as a jolly looking fat man. Gone was Knecht Ruprecht, the stick, and the bag was now filled with toys!
&
&
Read More about St Nicholas in these Books!
The Miracle of St. Nicholas (Golden Key Books)
The Legend of St. Nicholas: A Story of Christmas Giving
The Real St. Nicholas: Tales of Generosity and Hope from around the World
Saint Nicholas: The Real Story of the Christmas Legend
A St. Nicholas Story: The Fiercest Little Animal In The Forest
The True Story of St. Nicholas
A Special St. Nicholas Day
&
Treats for St Nicholas to Hide in Shoes
Does St Nicholas need help finding the perfect sweet to hide in your child's shoes? Here are a few ideas…
PLAYMOBIL St. Nicholas & Christmas Angel Play Set
Chocolate St. Nicholas/Schokoladen Nikolaus (Pack of 28) – Made in Germany
Kathe Kruse – Nickibaby Angel Doll, Rose
Euro Chocolate Coins, Steenland Milk Chocolate, 2.5 Oz. Bags (Set of 2)
Schmidt Spiele 42188, Die Sendung mit der Maus (Programme with the Mouse), Plush Toy Mouse
Stabilo Point 88 Pen Sets rollerset set of 25
&
This is cute… a video of a child being visited by St Nicholaus, Krampus and the Angel