Top Oktoberfest Songs You WILL Hear at German Festivals
Music is almost as important to Oktoberfest as Beer. (I said ALMOST). So if you are headed to an Oktoberfest… or you are hosting your own Oktoberfest Party… you can be certain that music, singing and even dancing will be involved. But what sort of music will you hear? These are the TOP Oktoberfest Songs that you will most likely hear (often, several times). Get to know them BEFORE you go… and you can sing along!
I've attached video for each song… and most have the Lyrics included, so you can learn to sing like an Oktoberfest Pro!! Because the BEST Oktoberfest Music is music you can sing along to!
Top Oktoberfest Songs
Ein Prosit
"Ein Prosit" is the one song you are guaranteed to hear … over and over and over… (probably twice an hour). It's not a bad thing. Remember, the song is a toast, so raise your glass or stein, sing along, and drink after the counting…
Rosamunde
In English, this is the Beer Barrel Polka… but I grew up with Heino singing "Rosamunde".. Here he is singing the original with Andre Rieu.
Country Roads
Why the Bill Danoff song, made famous by John (Deutschendorf) Denver became an Oktoberfest hit, is a mystery. The most obvious reason? It's easy to sing along with, even when you are quite drunk. All I know is that it's fun…
So Ein Schoener Tag (Fliegerlied)
When the Fliegerlied plays, you can bet that everyone will be on their feet … flying, swimming and basically having a marvelous time.
Sweet Caroline
The fact that "Sweet Caroline" is an Oktoberfest favorite just tickles my daughter (she's a super Neil Diamond fan…we just aren't allowed to tell the other kids in Middle School). Why is it so popular? Well… we all know the words! And the Best Oktoberfest Music encourages you to get up and SING! "Bum bum bum… Good times never seemed so good!"
Rock Mi!
Made super popular by the group Voxx Club, Rock Mi has become a fun Oktoberfest standard. Be on the lookout for Flash Mobs!
Viva Colonia
Oh my… Viva Colonia gets people up on their feet dancing… I can't, however, understand much of what's being sung…
Living Next Door /Who the F is Alice?
Another song that calls for response from the crowd. Made popular by singer Smokey, this song is regularly enjoyed at fests. Maybe because it's a little naughty…
Cowboy und Indianer
Cowboys and Indians?? Why not! I think the Lasso might be the most important part… so practice it!
"In Munchen Steht Ein Hofbrauhaus"
This song is played over and over in the Oktoberfest tents…
Joana du Geile Sau
Want to make an Oktoberfest hit? Encourage audience participation. Joana seduces the singer, and breaks his heart. Ouch! But in the chorus, everyone gets to participate in calling Joana names…
Bayern Des samma mir
Any song about Bayern is certain to be a hit at Oktoberfest. I love that even Rammstein will play a version of "Bayern des samma mia".
Fürstenfeld
An Austrian song that hit the top of the charts in 1984… it's a catchy fun song about wanting to go home to Fürstenfeld. What could be more appropriate?
Du Du liegst mir am Herzen
Originally a folk song from Northern Germany, you will hear this song played at many festivals. It's a nice one to dance a waltz, or just link arms and sway.
O du lieber Augustin
This simple kid song works well as a round… or as group song for a lot of people who have had a lot of beer.
10 Meter Geh'
And what's going to be the next Super Oktoberfest hit??? My money is on Chris Boettcher and "10 Meter geh´"
Enjoy!
Ententanz/Chicken Dance
The Duck Dance… or Chicken Dance in English… is one of those songs you just can't escape. People will be on the dance floor, shaking their tail feathers (and maybe wearing funny hats). Go with it… it's all meant to be fun. Learn more about the history of the song here.
Oktoberfest Music
For the Oktoberfest Sound at Home!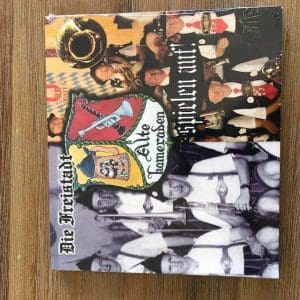 Die Freistadt Alte Kameraden- Spielen AufGermanGirl Shop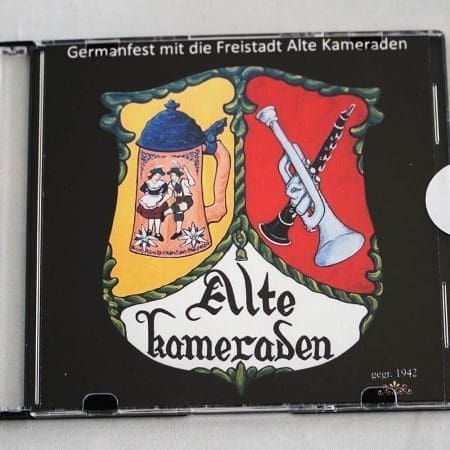 Germanfest mit die Freistadt Alte KameradenGermanGirl Shop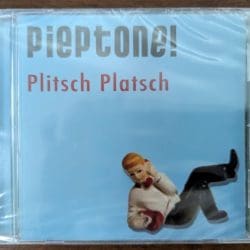 Pieptone! Plitsch PlatschGermanGirl Shop
The Music Of Oktoberfest!

Oktoberfest – German Beer Festival – Traditional Songs

Oktoberfest In München

Oktoberfest in Germany