Easy German Cookbook: 80 Classic Recipes Made Simple signed

Easy German Cookbook: 80 Classic Recipes Made Simple brings the world of German cooking to your kitchen in a simple, straight forward fashion so everyone can enjoy making German recipes. You will find classic entrees, desserts, breakfast and bread, appetizers and sides. These are German favorites made simple. Karen Lodder shares her recipes in a way that is easy to follow and accomplish.

Recipes include:

German Beer Cheese Spread (Obatzda)

German Fruit Cake (Stollen)

German Egg Noodles (Spatzle)

Pork Schnitzel with Bell Pepper sauce (Paprikaschnitzel)

and much more.

Have you had a craving for the food your Oma made when you were younger? Have you tried German food and wanted to learn how to do it yourself?

This simple to follow cookbook brings that your kitchen.

If you would like the book gift wrapped for Christmas scroll down and add it to your order and we will make it pretty and send to your loved ones ready to go for the holidays.

Ships with USPS PRIORITY MAIL
20 in stock (can be backordered)
Description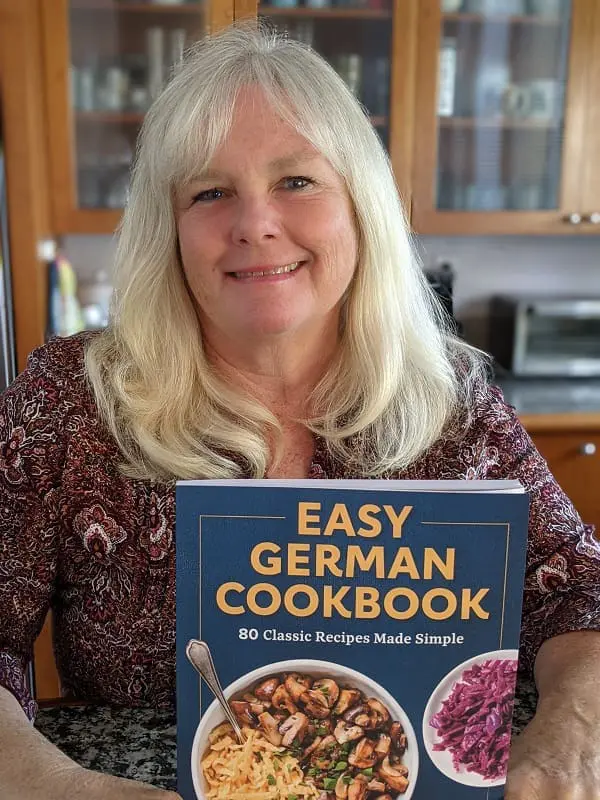 Easy German Cookbook was a labor of love. But sharing German culture and food is what I do online, so this book seemed like the next logical step. Between the covers you'll find 80 pages of food memories. Foods that we ate at home, foods we ate at festivals, foods for special occasions. Foods that nourish and remind us how much we are cared for. And of course, since it's me, the book also has some food history explaining why Germans eat what they do. For far too long, the world dismissed German foods as being heavy, just meat and potatoes… but I set out to prove that Germany contributed more to the culinary scene than pork and pretzels (although, you will find those recipes in the book too).
Copies of the book signed by author Karen Lodder
"I gave this cookbook to my mother for Christmas, and she absolutely loved it! Just reading through it gave her fond memories of her grandmother's cooking. She's already tried some of the recipes and told me she likes how simple they are, and that the ingredients are things easily found in any grocery store."- Gregory
"I absolutely love this cookbook. Bought this for myself. I was born and raised in Germany but struggle here buying some of the things I need to make a meal.
This book has everything you need here and everything is so easy. Absolutely love this book. I went and bought 2 more for my kids they will love this since it's all in English. Also so many Main German dishes. To the author Karen Lodder Thank you for making German cooking easier." -Steven
"Finally a book that includes my kind of staples like Labskaus, Heringssalat and Senfeier! Not all German food starts with Schwein and ends with Sauerkraut. The recipes in this book present a great variety of regional specialties with easy to follow directions. I made the "Plum cake with Streusel" already and it turned out great. My college son will receive a copy for Christmas, so he can make things he knows from his grandma's Lübeck kitchen for his friends."- Kerstin
"As ever so often, the way to a (wo)man's heart is through their stomach. Yet, not everybody knows how to relive German culinary experiences for lack of recipe sources. This can be helped now with Karen Lodder's brand-new, beautifully made cookbook, an excellent gift for anybody with a craving for German cuisine.
"Easy German Cookbook" by author Karen Lodder features 80 typical German recipes from all over the nation, sorted by ingredients but also by the size and type of meal. Therefore, you find a section each about breakfast, appetizers and sides, or desserts as well as sections about pork, beef, or seafood. What's especially attractive for Americans is that Karen uses U.S. measures and has quite a few kitchen hacks where the typical German ingredient is not at hand. As a native German, I was absolutely happy to find that Karen Lodder's recipes are sometimes absolutely identical to the way I myself cook. Yet, there are also recipes I've never made before and that I'm absolutely keen to try.
Each recipe tells you the number of servings, the prepping time and the cooking time. And the short introductive texts that explain each dish or tell you a little about the author's connections to it make the book a very enjoyable reading experience. Add a little culinary geography and Karen's personal story – she was born to German parents shortly after they immigrated to the U.S. – and it feels as if you were having a kitchen chat with a good friend."- Susanne
.
Additional information
| | |
| --- | --- |
| Weight | 8.0 oz |
| Dimensions | 12 × 10 × .5 in |
Only logged in customers who have purchased this product may leave a review.