A German Feather Christmas Tree- Christmas Nostalgia
Cover Tree- a2gemma, flickr, CC BY 2.0, via Wikimedia Commons
Dale recently asked me if we ever set up a Federbaum or German Feather Christmas Tree in our home while I was growing up. No, my father was a nurseryman, and it was a point of pride to have a real Noble Fir standing in the corner of the living room (never a Douglas fir… the ornaments just don't hang right). But it turns out, Feather trees, played an important part of German Christmas history. Immigrants even carried them to America, tucked carefully into their limited baggage. Gansfederbaume (Goose Feather Trees) were an important reminder of home to many Germans who came over from the mid-1800s until the early 1900s. These artificial Christmas trees weren't kitsch, they were a necessity because of shortages. Today, thanks to nostalgia, love for these feathery marvels is bringing them back!
What is a Feather Christmas Tree?
My literal mind flashed to a tree covered in feathers, like a bird, top to bottom… but that didn't seem right. Did the feathers come out from the center stem? No. A Feather Christmas tree looks more like those 1950s aluminum Christmas Trees, like the one Lucy suggested they use in the Charlie Brown Christmas Special (and to be fair, they are kind of groovy looking).
A center pole supports branches that are wrapped in feathers supported by wires. When the feather is wrapped, the individual parts of the feather (called Barbs) will splay out to resemble needles. Red balls get attached to the ends of the branches. They look like berries, and on larger Federbaume, act as candleholders. Originally the Feather Christmas trees were white (goose color), but people started dying the feathers green to make them look more realistic. The tree sits in a square or round block of wood to keep it upright.
And the spacing between branches makes them ideal for showing off beautiful ornaments.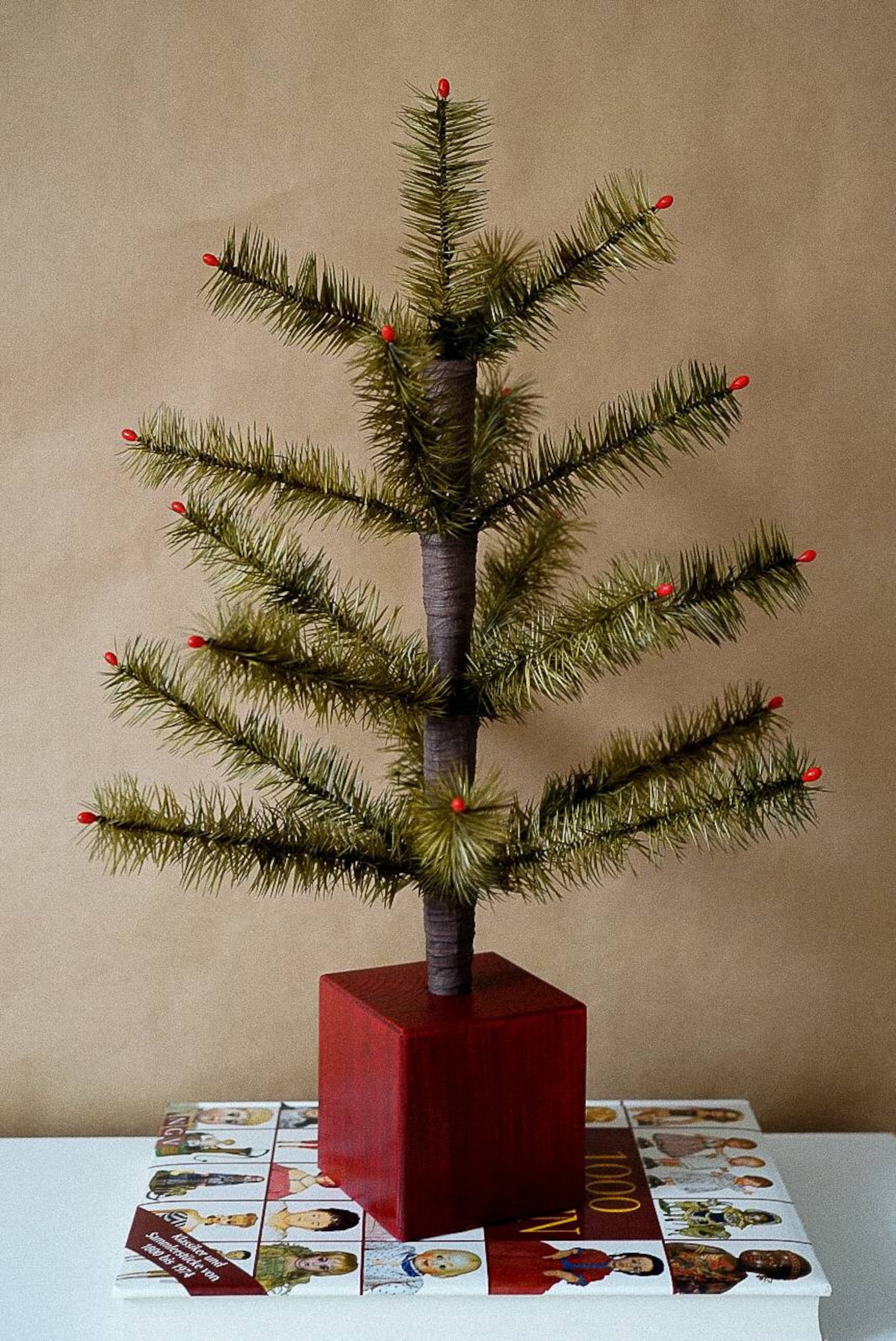 Authentic German Goose Feather Tree 50 cm

Feather Tree History
So WHY did Germans invent the Feather Christmas Tree? Simple, deforestation. By the mid 1800s, the forests in Germany were being depleted. Every year at Christmas time, people cut tens of thousands of trees to take home and decorate. Worse, the best looking Christmas trees were made from the tops of trees, so the top was chopped off, and the stunted remains of the tree were left behind. This part never finished growing properly, so the lumber industry found them useless. Local governments reacted by limiting families to one tree each, and in some places they were banned altogether.
Tree scarcity meant people looked for artificial replacements. The Christmas Pyramid worked as a stand-in in some cases in the eastern part of Germany, but it really wasn't the same, so crafty people turned to feathers. The leap makes sense if you remember that most German farmers raised Geese (feather beds, Christmas dinner), and feathers were plentiful. Wire, a few twigs, some dyed feathers, and you end up with a remarkable imitation Christmas Tree. The artificial trees had the benefit of perfectly spaced symmetrical branches for showing off ornaments, and no needle mess on the ground around the tree.  Before long, making these fuzzy trees became a cottage industry. And for thrifty Germans, buying or making the tree one time, then packing it away for the next year to use again, seemed logical.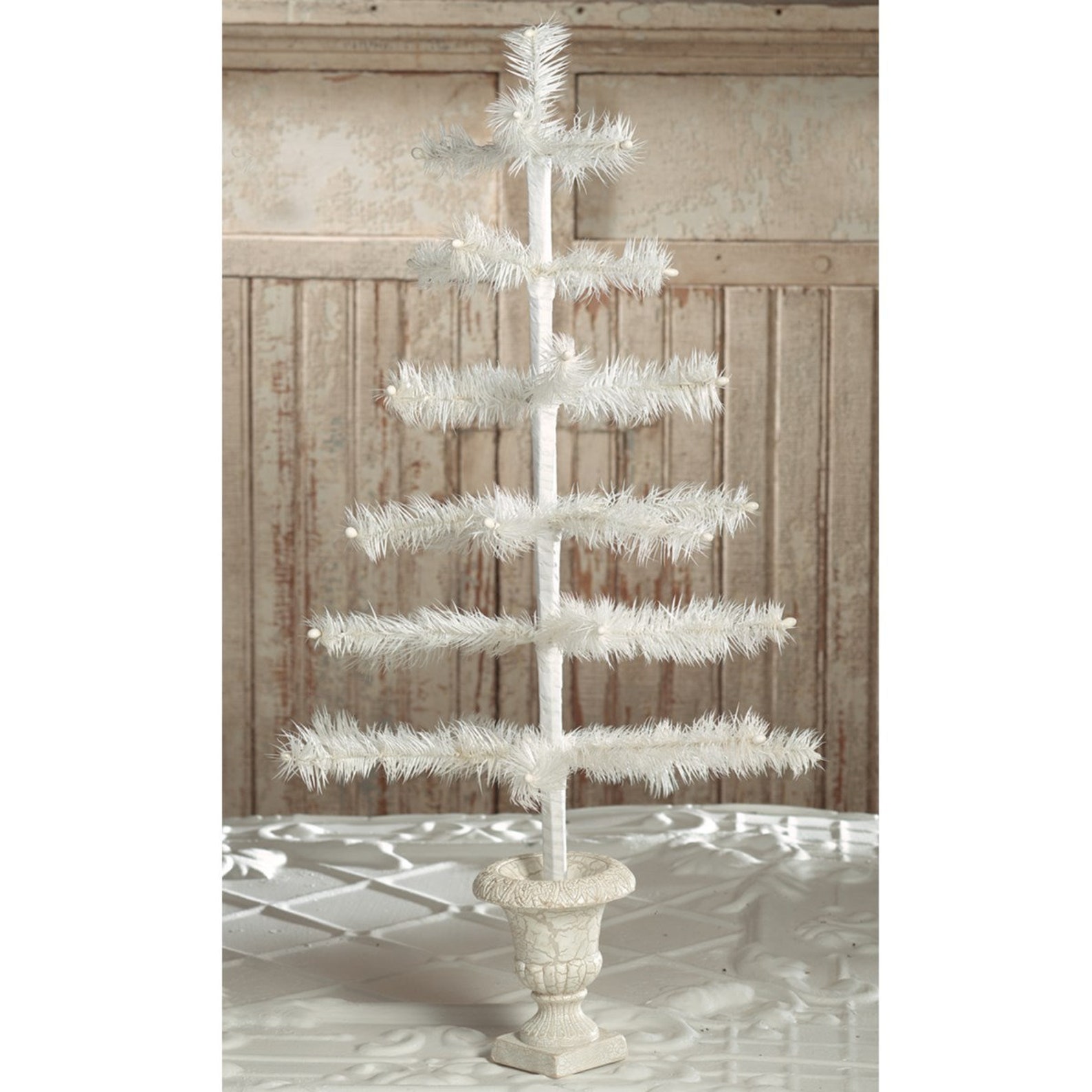 Hand tied Bethany Lowe German Style 26″ Ivory Goose Feather Tree in Urn Base Free Shipping

Feather Trees come to America
When Germans emigrated to America, especially Texas and Pennsylvania, these special trees came along wrapped and secured in their baggage. A piece of home, a reminder of Christmas's in Germany. But Germans also brought the custom of cutting a Fir Christmas tree for the home, a practice that caught on in the early 20th century across the United States.
Teddy Roosevelt and the Christmas Tree
(I found this story in every historic account of the feather tree… and apparently, it even shows up in Drunk History, so I decided to add it here with an updated explanation).
According to legend, when Teddy Roosevelt was President (1901-1909) he banned the cutting of Christmas Tees because of tree shortages and fears of deforestation. And to set a good example, he declared that there would be no live trees in the White House. But because his son Archie set up a secret tree in the children's room, the president caved in, and allowed a Feather tree to be set up. While this is a cute story, it's not entirely true. According to the Forest History Society, at the turn of the century, the White House didn't yet have a regular Christmas Tree tradition. Sometimes one would be put on the lawn. What is true is that in 1891 Congress had passed the Forest Reserve Act, and followed with Forest Management Act in 1897, which put the federal government in charge of national forests carved from public lands. But they certainly didn't want people to wander into their forests to cut down infant trees. ("arboreal infanticide"). Newspaper editorials called for Artificial Trees, and by 1907, Chief Forester Gifford Pinchot encouraged the development of Christmas Tree Farms. So, it's entirely possible that Feather Trees DID make an appearance in the White House, and in homes across the United States before this. 

The Feather Tree Fad
In 1920, the Sears Catalog featured Feather Christmas Trees, imported from Germany, available in sizes from 3 to 30 inches, and the fad exploded. For 10 years, people ordered Feather trees in sizes up to 8 ft tall! Then in 1930, Montgomery Ward decided to get into the Feather tree business, but with a twist. COLORS! Lavender, pink, yellow!  Sadly, by this time sales were down. And then World War II rolled around, putting a damper on German imports. The feather trees were eventually replaced in American homes by Lucy's Aluminum tree.
Today Federbaume are making a comeback. And why not? To some people they are a memory of Oma, to others they are quirky fun. Feather trees come in all sizes, and fit into all sorts of spaces… like a colorful piece of nostalgia.
And after Christmas, like the early immigrants, you can carefully wrap the trees and pack them away for next year.
How to MAKE a Feather Tree
You can MAKE your own Federbaum with a few supplies (and a lot of patience).
Buy Your Own Feather Tree
Perfect for Christmas!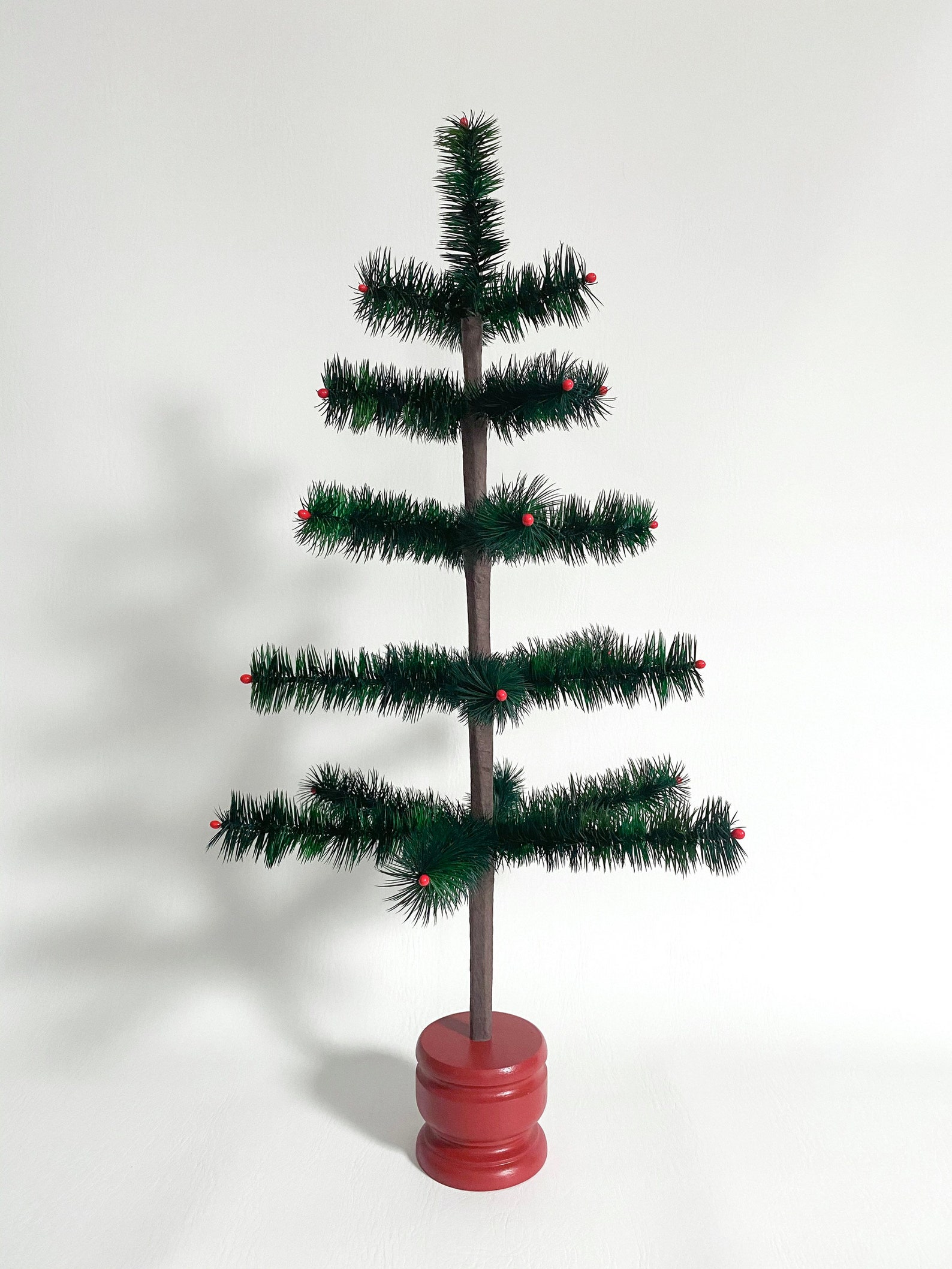 25" Authentic Goose Feather Tree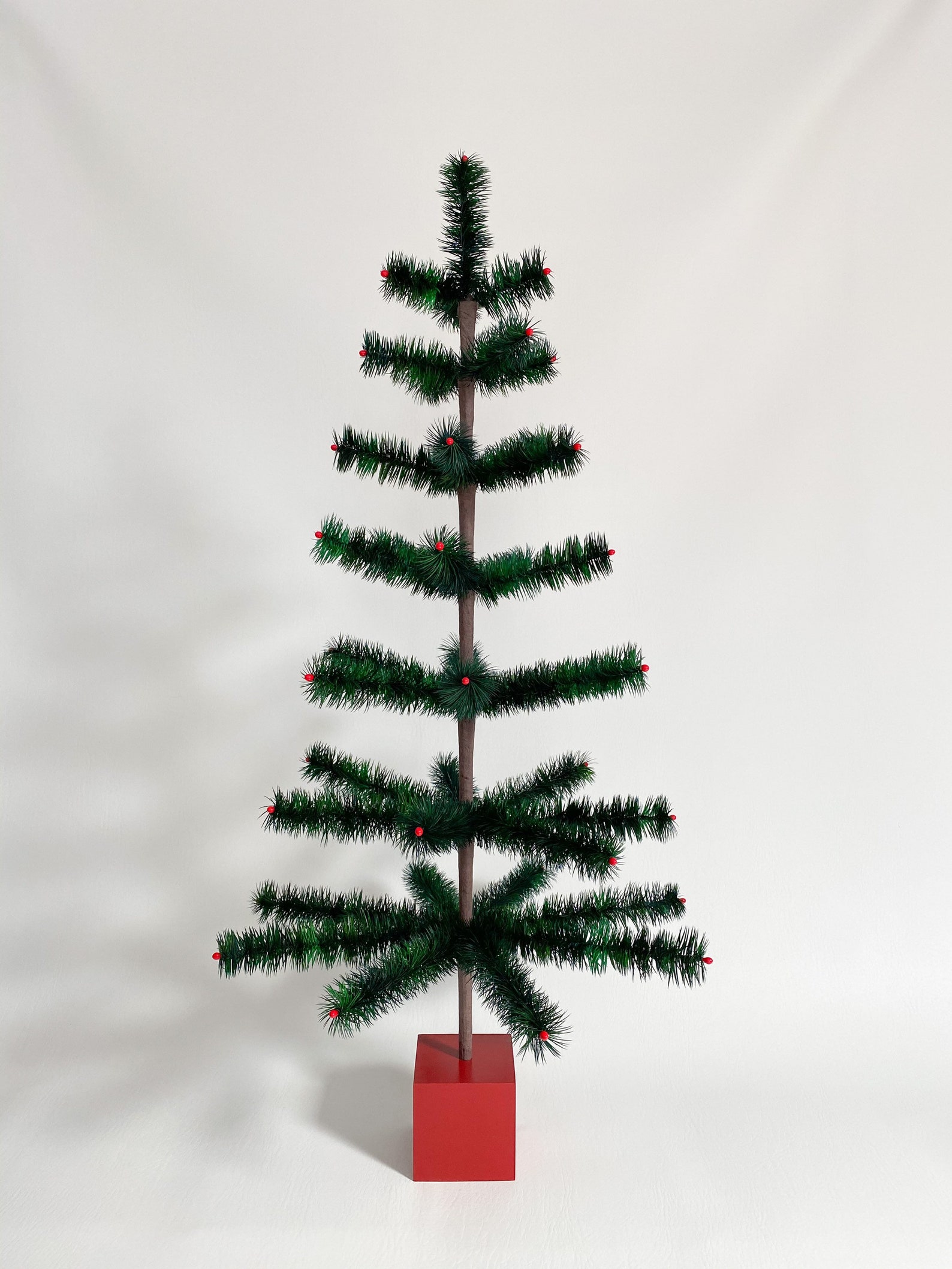 34" Authentic Goose Feather Tree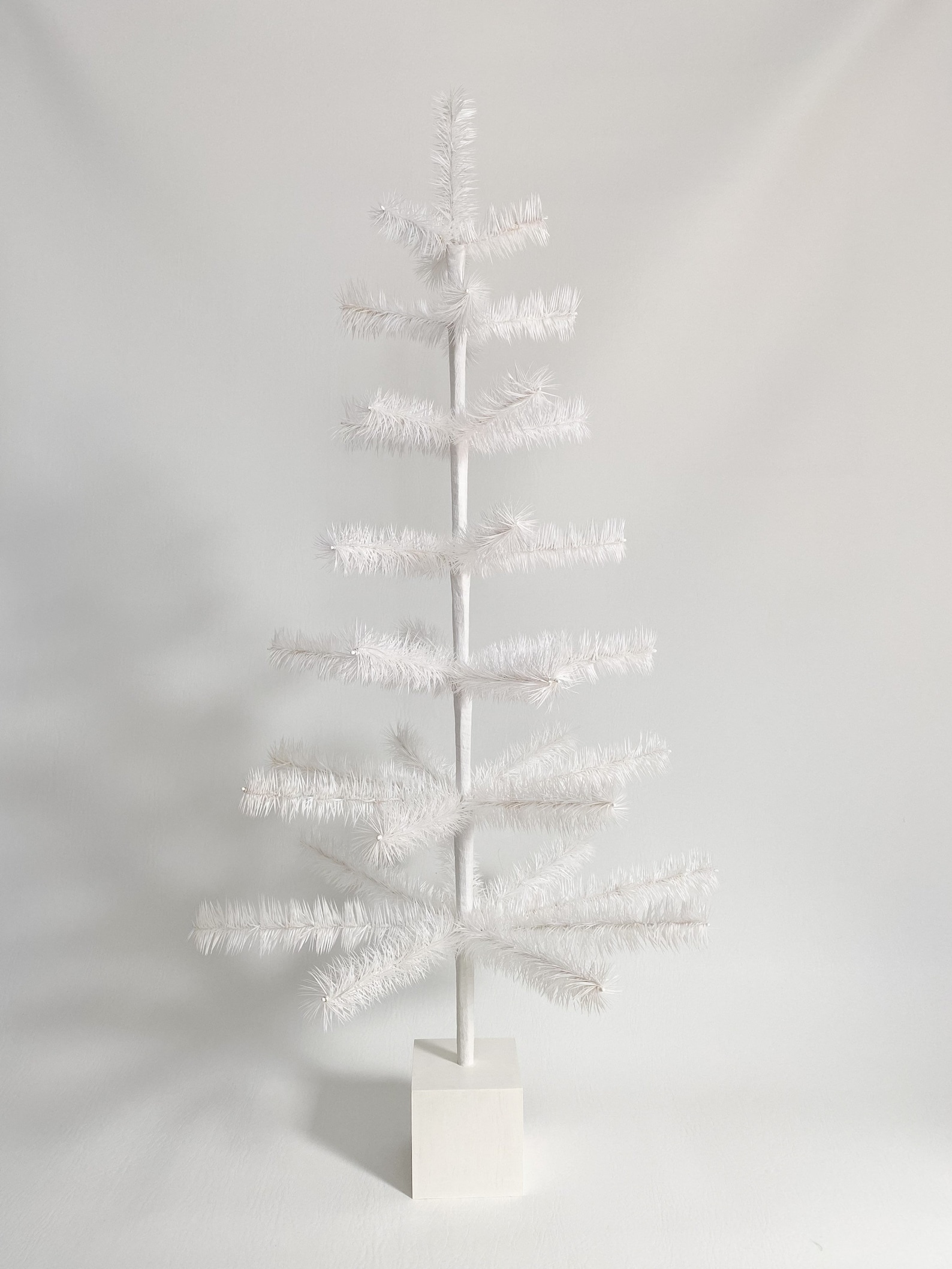 34" Authentic German Goose White Feather Tree

Vintage German Feather Christmas Trees
A memory of Christmas Past…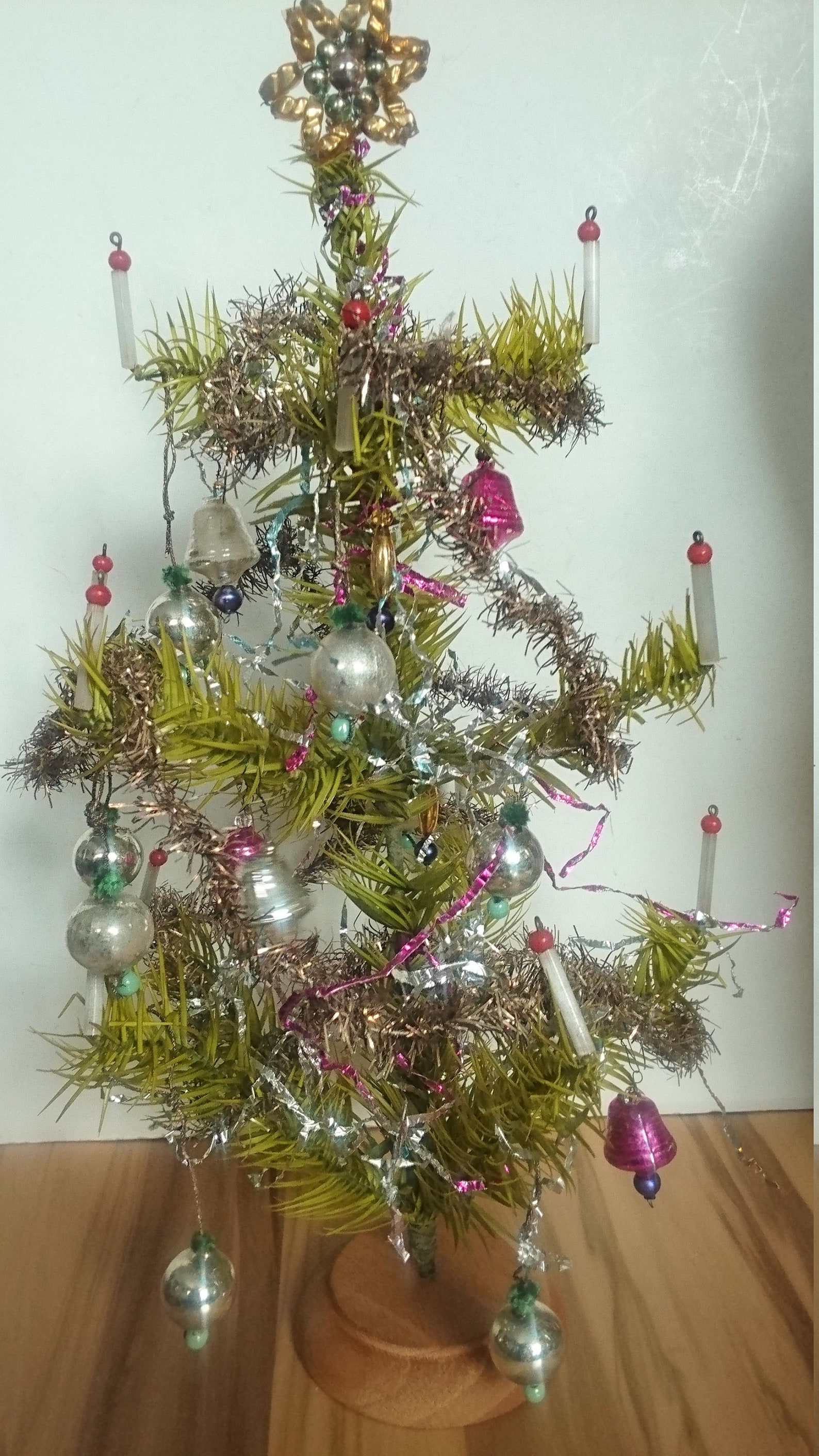 Antique feather tree, Christmas tree made of real goose feathers, Antique Christmas tree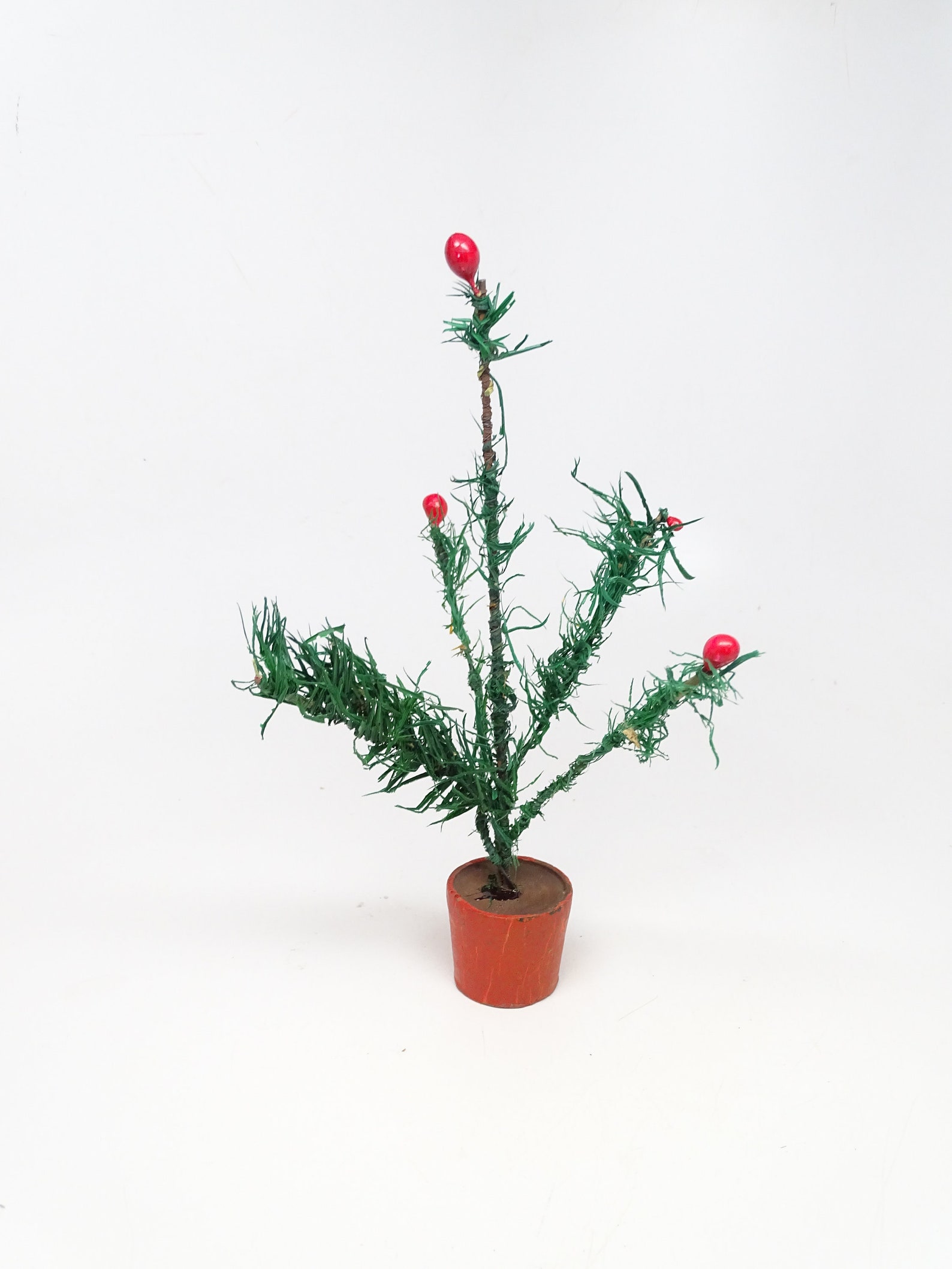 Small Antique 8 Inch German Feather Christmas Tree, Vintage Goose Feathers with Wooden Base, Red Berries

Information for the post came from-
https://www.feathertreekits.com/history.htm
http://www.victoriana.com/christmas/featherchristmastree.htm