German Christmas Pyramids – Let Light and Movement Brighten Your Holidays
1- tier Pyramid Three Wisemen – blue – 11 inch – 27 cm – Authentic German Erzgebirge Christmas Pyramids – Richard Glässer

In our home everyone is excited when the German Wooden Christmas Pyramids come out of their boxes. We have two in my home… one depicting the Nativity, the other is a band of sweet Angels.
A German Christmas Pyramid Carousel is generally made of wood. They have fins or paddles on the top that attach to a central pin. Candles around the sides send hot air up to the paddles, causing them to spin, and this makes the central scene spin. It's fantastically low-tech! Kids are mesmerized, even adults will stop and watch.
Some Pyramids are large and wildly intricate, depicting multiple scenes on multiple levels. Others are small, simple, and have only a few carved figures. All are beautiful in their own way.
These German Wooden Christmas Pyramids are the type of decoration that will become a family heirloom…. brought out and enjoyed every year for many Christmases to come.
In our house, the kids take turns lighting the candles to send the Pyramid rotating.
&
History of the German Christmas Pyramid
German Wooden Christmas Pyramids are said to come from the Erzebirge (Ore Mountains) of Germany. Miners needed to understand how to engineer simple machines with wood for the mines. Capstans, is a vertical axeled rotating machine that were used in the mines, and these principles were used to add movement to the pyramids. First they build larger  "Lichtergestelle", or Light Stands that began as wooden beams topped by Pine Boughs and candles. In time they shrunk them down so they to smaller sizes. These simple constructions brought light and cheer into homes during the dark winter.
Carved figures were added, depicting everyday life, but also depicting Christian motifs like angels and the Nativity. Today, Holiday scenes are very common on Christmas Pyramids, you will find Santa and Penguins, Children and Snowmen, as well as familiar Manger Scenes.
Christmas Markets in Germany, especially in the Southern parts of Germany, will often display Giant Christmas Pyramids for all to see. They are truly spectacular.
Most common though, are the smaller Christmas Pyramids that you can have in your home. Like the early versions, they add light and joy to the home.
My Favorite German Christmas Pyramids have Angels 
Richard Glasser Christmas Wooden Pyramids
German christmas pyramid Nativity scene, 2-tier, height 31 cm / 12 inch, natural, original Erzgebirge by Richard Glaesser Seiffen

A long history of quality wood carvings
In 1934 Richard Glasser began carving and selling wooden figurines in the city of Seiffen, in the Erzeberg Mountains of Germany. He wanted to be sure to use the best quality woods, carve friendly figures, but keep them affordable for everyone. He sold the figurines individually, but the best were put into Nativity Scenes or onto Christmas Pyramids.
Today, 130 Employees produce over 800 different items at their workshop in Seiffen. Their Pyramids are probably the most famous, but they also produce Smokers, Nativity Sets and Music Boxes using designs and motifs that have been in use for centuries. The "RG" logo is on every Richard Glaesser product and is a sign for highest quality from the German Erzgebirge.
1-tier Pyramid German Christmas Angel natural wood – 11 inch – 28 cm – Richard Glässer

1-tier German Christmas Pyramid winter children, for tea candles – 29cm / 11.4inch – Richard Glässer

German christmas pyramid Nativity scene, 3-tier, height 42 cm / 17 inch, natural, original Erzgebirge by Richard Glaesser Seiffen

2- tier Pyramid Nativity Scene – 13 inch – 32 cm – Richard Glässer

German christmas pyramid Nativity scene, 3-tier, height 54 cm / 21 inch, natural, original Erzgebirge by Richard Glaesser Seiffen

&
&
Colorful Wooden Pyramids from KWO
KWO is a collective of Erzgebirge wood carving families that produce authentic German Christmas Pyramids and other wooden ornaments.
1-tier Pyramid – Nativity – 23 cm / 8 inch – KWO

1-tier Christmas Pyramid – German Christmas Angel music blue – 21 cm / 8 inch – KWO

1-tier Pyramid – German Christmas Angel music white – 21 cm / 8 inch – KWO

New MODERN Christmas Pyramids
For those who prefer a minimalist look, but still want the light and movement.
1-tier German Christmas Pyramid – Modern natural oak blank – 19cm / 7 inch – KWO

Graupner Christmas Pyramids
These German Wooden Christmas Pyramids are super colorful and fun to watch… especially for children.
163 – Graupner Pyramid – Holy Family Scene – 5

162 – Graupner Pyramid – Angel Scene – 5

This German Pyramid House Is Sweet
Advent house small pyramid Pyramid house handcrafted Seiffen 53cm Ore Mountains NEW

This lovely German Pyramid House is 21 inches tall. There are so many cute details… singing Angels peek out of upstairs windows. A beautifully carved Nativity scene fills the bottom of the pyramid, surrounded by a spinning scene of Shepherds, Sheep and Wise Men. The detail is incredible.
This is a very special German Nativity Pyramid. With its fantastic and intricate craftsmanship, it is sure to become a family heirloom, passed from generation to generation, delighting your family for years to come.
Wouldn't this be amazing in your home?
Natural Wooden Pyramids from Christian Ulbricht
The base of most of these natural Pyramids don't spin around like the others. Instead, you have a smiling Woodsman, or a Happy Snowman Standing in a forest while the pinwheel moves above them. They are a bit smaller, and only require tea lights, so it's easy to replace the candles. I love the simply painted ones almost as much as the bare natural wood. And aren't those little Angels flying over St Nicholas's head adorable?
These German Christmas Pyramids are certain to delight the whole family.
33-303 – Christian Ulbricht Pyramid – Santa with Angels – 10.5

33-202 – Christian Ulbricht Pyramid – Snowman – 7.5

33-201 – Christian Ulbricht Pyramid – Santa with Tree – 7.5

Alexander Taron Importer 33-206 Christian Ulbricht Decorative Pyramid with Holy Family Scene in Natural Wood Finish, 7.5

Christian Ulbricht Christmas Pyramid – Angel Natural

Pyramid Miners – 32,0 cm / 13 inch – Christian Ulbricht

German Christmas Pyramids… there really are TOO many to Choose from…
I love all the different sizes and styles. Whether you like a colorful pyramid, or natural, modern or old fashioned…. simple or multi-tiered, there is a pyramid for you! Many of these are Vintage.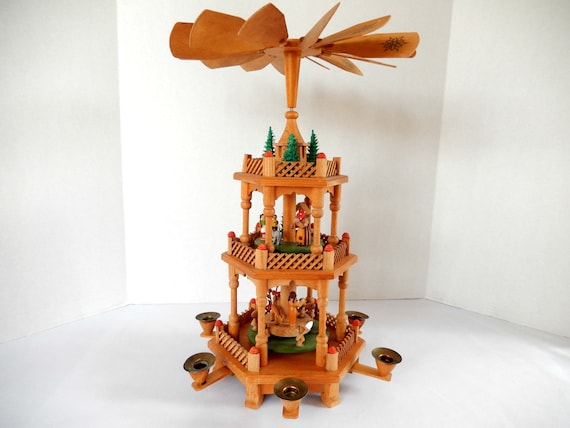 German candle carousel, Christmas pyramid, Erzgebirge, vintage 1950s, Hansel and Gretel, Snow White and 7 dwarfs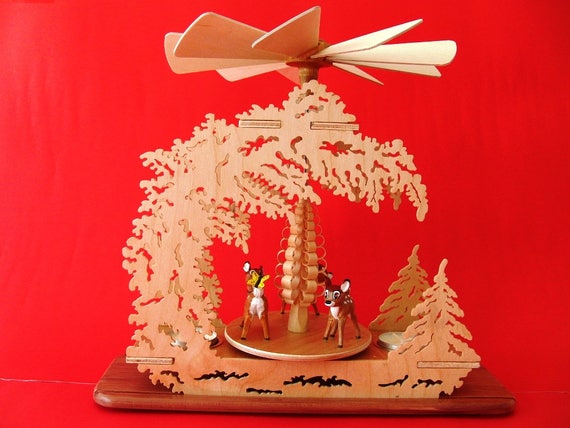 GERMAN HANDMADE Tea Light Pyramid Carved Walt Disney Bambi Figurines Fawn Woodcarving Fretwork Centerpiece Table Decoration Christmas Gift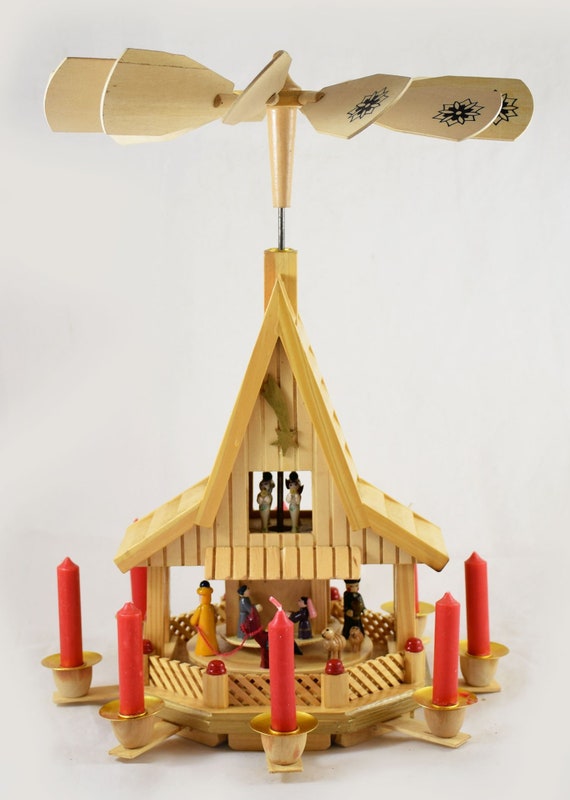 Vintage German Christmas Advent carrousel house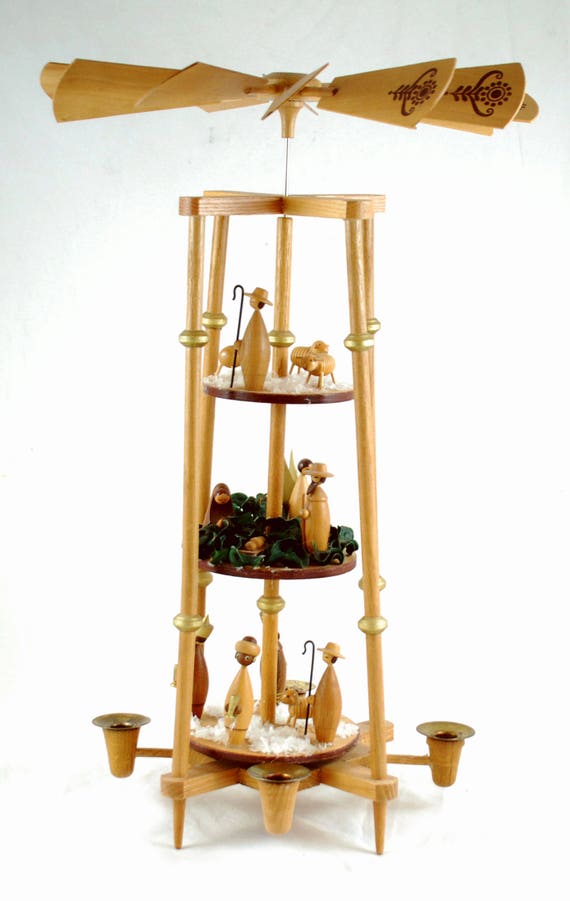 Vintage German Erzgebirge Christmas Nativity Pyramid Carrousel – 3 Tier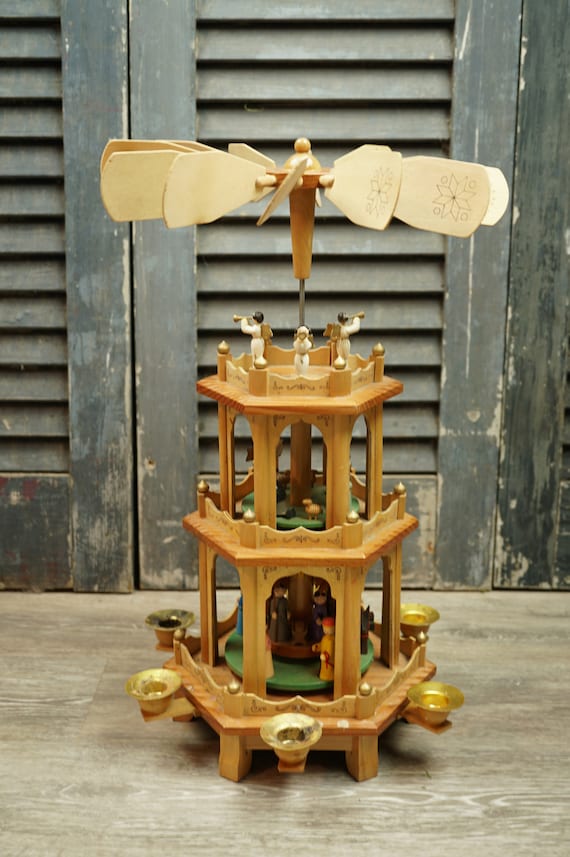 Vintage Christmas Wooden Pyramid, 3 Tiered Wooden Carousel, Hesse Design Bad Aibling, Oberbayern, Germany / Nativity / Holiday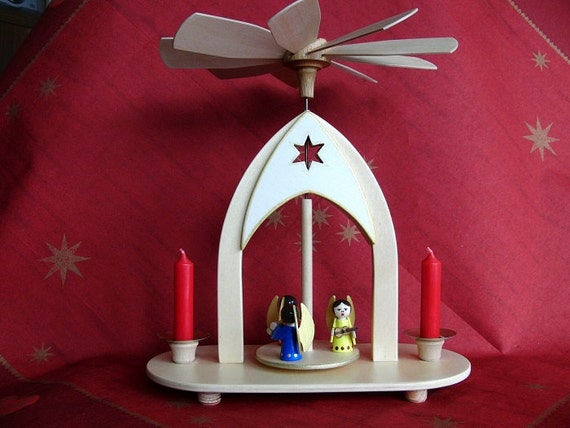 UNIQUE GERMAN CHRISTMAS pyramid, hand made, musician angels, very traditional


German Christmas Pyramid Candles
It can be tough to find the right sized candles for the Pyramids… you don't generally find them in American Stores. Don't forget to order extra, you will use more than you realize, especially if you have kids.
Eika 20 Pieces Christmas Tree Candle Set Made in Germany High 10.5 Cms Red

Jeka Kerzen Christmas Pyramid Carousel Candles, Medium 14mm – White

Eika Christmas Tree Candle Set 20 Pieces Made in Germany – Champagne

Small Nativity Pyramid Candles

German Christmas Tree Candles WHITE

Jeka Red 14mm Diameter Pyramidenkerzen German Christmas Candles, 2 Sets of 50 (100)

Biedermann 4-Inch Pyramid Candles, Red, Box of 12

German Christmas Pyramids