Berg Pedal Karts – German Pedal Cars for ALL Ages!
Berg Pedal Karts are so much fun! When we were in Germany a few years ago our family was introduced to these large Pedal Cars that can be used by people of all ages. Kids in the area we visited were riding them on walking paths, sidewalks and bike trails. Adults were even using them pick up groceries and to give kids a ride to school!
Berg Pedal Go Kart
Recently we discovered that there are Berg Pedal Go Karts for Sale in the United States on Amazon,  so we ordered one. This Kart is great for the whole family. They are big enough for adults to ride on, but are easy enough for young kids to use. The seat is adjustable, so you can set it for all leg lengths. Ours even came with an extra back seat so little kids can get rides! Big rubber wheels mean they can go off-road, and are smooth on the road or sidewalk. They are easy to pedal, in fact, much easier than riding a bicycle (no danger of tipping over). Some models even come with gears!
Best of all… these are cars you have to pedal. It's exercise, but you barely notice because you are having such a good time.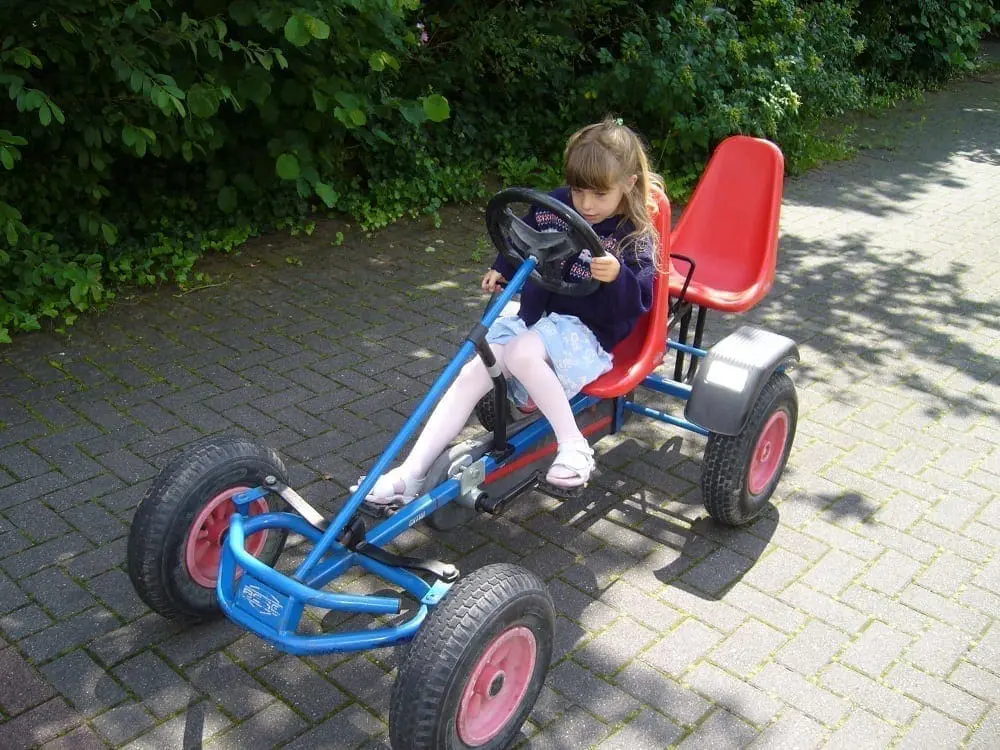 What makes the Berg Toys Go Kart So Great?
Heavy Duty Inflatable Tires
These tires are just like the wheels on a car or a bicycle. They make the ride smooth! Some Berg Pedal Karts have all terrain tires for going off road!
Very Maneuverable 
Smooth responsive steering means that you can turn easily.
Big and Sturdy Enough for Adults
The frame of the Berg Pedal car is large and strong enough or adults… yet can be easily adjusted for kids!
The Seat is easy to Adjust
Move it Forward or Backward along the center bar…it locks with a pin
 The Extra Seat Fits into the Attachment Space making the pedal car fun for two…
It's easy to attach behind the axle
It slides in to place, then you can lock it in place with a cotter pin.
The Extra Seat Makes It Fun To Give Rides!
On my little daughter's 8th birthday, my teens took turns riding the party guests around the neighborhood. The girlies LOVED sitting on the jump seat in the back. It's safe, and loads of fun.
Berg Pedal Go Karts for Sale
Check it out… I'll bet there's a perfect BERG Pedal Go Kart, for you!
Berg Pedal Go Kart- Basic BFR
The Berg Basic BFR is the Pedal Go Kart my kids "discovered" while we were in Germany. They rode it all over from neighborhood streets to unpaved paths around a lake. Super easy to drive, and those pneumatic tires meant they could travel on any surface. It's simple and streamlined, but built to last. You can pedal forward or backward… but you also get to freewheel. A hand brake brings you to a safe stop.
Comes in Red or Blue… The BFR Extra includes mudflaps (a good idea to keep mud from flying, and to keep away from the wheels)
Berg Pedal Go Kart – Basic BFR

BERG EXTRA RED BFR PEDAL GO KART

Berg Pedal Go Kart -Sport BFR
This is a great basic all-around Berg Pedal Car. Large enough for an adult, but easy for a child to ride…. smooth inflatable wheels make it easy to pedal on all sorts of terrains. The swing axle means you can steer easily. A handle allows you to shift from freewheel (which allows you to coast while the pedals are still) to engaged, which means you can pedal forward and backward.
Pneumatic wheels and a bucket seat makes this a comfortable ride… even across bumpy roads. And mud guards keep you sort of clean when riding in the muck.
This sturdy, basic pedal car will last for years and years… and since the seat is adjustable, it will grow with your child. The Berg Sport BFR comes in 2 sizes…. and holds up to 300 pounds.
Berg Toys – Kart Extra Bfr Sport
Berg Pedal Go Kart – Compact Sport BFR
The Buddy Jr.
BERG Toys Junior Buddy – Orange

This Berg Pedal Car is perfect for your younger child age 3 to 8. The seat still adjusts as legs get longer. This car is not as big as the standard Pedal Karts, so it's more easily managed by a smaller person.
This bright orange Kart will be clearly visible when out and about on roads… a nice safety feature.
Still, despite being for smaller people, this cart is as sturdy as other Berg Karts. The rubber wheels make travel smooth, regardless of the terrain, so it can be driven on a sidewalk as well as a dirt path. Sealed bearings mean you won't be getting clogged up with dirt if your kid goes off road.The Kart is 44 inches long, 26 inches wide, and 25 inches tall. It weighs in at 42 pounds… so it's a sturdy toy that will last for years, and through several kids.
&
Berg Pedal Go Kart – Compact Pink BFR
Berg Pedal Go Kart – Compact Pink BFR
A Little More Girlie.. but Just as Tough
Weighing in at 75 pounds, the Roxy is a study but stylish Pedal Kart for kids 5 and up. The pink and black paint job makes it PERFECT for the glamour girl in your world.
Don't let the pink fool you… this Berg Kart is just as sturdy as the other Karts….It's made from Tubular Steel, so if your princess decides to go off road… you're good to go. The swing axle and pneumatic tires make it easy to drive on all terrain.
The Compact Pink BFR  is 53 inches long, 30 inches wide and 32 inches tall. It can be stored up on its back to use less storage space. (and believe me… it makes a difference in the garage!)
&
Jeep Wrangler Pedal Car
Berg Pedal Go Kart – Jeep Revolution BFR

Going Off Road?
Got some rough terrain you want to cover? This Jeep Pedal Kart by Berg is perfect. It comes with all terrain pneumatic tires, and it even has a spare on the back. The pedals can be go forward and backward, or coast in freewheel mode. It is made of Tubular Steel for strength, and there is a roll bar to keep you safe if you go the wrong way down a mountain. The handbrakes stop both tires at once.
The Jeep Kart weighs in at 130 pounds… but is easy to drive. It's 71 inches long and 49 inches tall because of the roll bar.
A man actually rode one of these Jeep Karts the length of Africa to get to the World Cup! (He had a trailer hooked to the back with his gear)
You can take this Berg Kart anywhere you would take a mountain bike.
&
BERG Toys 03.55.84 Racing Automatic Freewheel
A Sleek Racing Pedal Car
This Sleek Berg Kart is a bit more expensive, but it comes with some great features! It has 3 Speeds to allow you to shift up and down for extra speed. Pneumatic tires provide great traction. Pedal backwards or forwards… or stop pedaling to stop. They are set on a swing axle make it easy to control and fun to handle. The double hand brake stops both tires at once….It even has an on board computer.
And the Roll Bar makes sure you are safe …. just in case you take those curves too fast!
A super slick racing Pedal Kart, great for any racer age 5 to 99 (so get Grandpa out on the track!)
&
John Deere Pedal Go Kart
These sturdy John Deere Berg Karts are perfect for kids of all ages who play HARD. The Tires are solid rubber, so they won't go flat. And they have grip, to go across mud and all types of terrain. It has a solid steel frame, and all of the John Deere colors and logos. You can pedal forward and backward, or coast.
John Deere Karts come in 3 styles… a Buddy for your little guys age 3-8, the John Deere Bfr Kart for bigger kids and adults (which includes a smokestack) and the John Deere BF-3 Pedal Tractor that comes with three gears and a roll bar.
BERG Toys Berg Pedal Go Kart-Buddy John Deere

BERG Toys Berg Buzzy Kids Pedal Go Kart – John Deere

Berg Toys – John Deere Bfr Kart À Pédales

Ferrari FXX Exclusive
Top of the Line Berg Kart
It's a pedal racer's dream! An officially licensed Ferrari! This is a fantastic race car for racers of all ages!
The Top of the line Ferrari Kart costs over $2500, comes with an onboard computer that measures speed, distance and time traveled. And is only available through Ferrari….
But you can get the basic version (minus the computer… ) .
The seats are extra wide and padded for extra comfort. Equipped with a 7 speed gearshift… this car is built for speed, complete with racing tires!
It weighs 152 pounds… which keeps it on the ground… and is aerodynamic which makes it go forward fast.The Kart is designed for speed, but still as sturdy as the other Karts. How cool would it be to have your own Ferrari?
Berg Toys Racing Ferrari FXX Exclusive

The Extra Seats For Your Berg Kart
Fun for Two People!
The extra seats slide in and out of the stem in the back… and can easily be lifted out and adjusted.
Berg 15.37.00.00 Passenger seat Extra

Berg 15.37.02.00 Passenger seat John Deere

Berg 15.37.08.00 Passenger seat X-Cross

Berg Trailer!
Trailers are the perfect way to pull along supplies… or maybe even an extra kid….
Berg Toys Junior Trailer Junior

BERG Toys Junior Towbar for Trailer Junior

BERG BUZZY TRAILER

BERG Toys Steel Trailer – Suitable for all full size Pedal Karts.

Pedal Trailer John Deere with John Deere Graphics

Berg 18.14.11 Large Excavator Multi-Purpose Trailer

&
How Far Can You Take A Berg Pedal Go Kart and Trailer
Pedal Joe Went 17,000 Kilometers!
In order to get to the World Cup in South Africa, Pedal Joe traveled across Europe, and down the coast of Africa… all on a Berg Pedal Kart… Pulling a Covered Tipper Trailer!
Looking for more Berg Accessories for your Berg Toys Pedal Kart?
Trailers, diggers, lights, flags and other fun attachments…