German Easter Traditions, Facts and Customs- All About Easter in Germany!
Celebrating Easter in Germany is much more than a trip to church, an Easter Egg hunt, brunch and a nice hat. Easter is a major holiday in Germany…  and the events go beyond home and church. Preparations start well before Easter Sunday! and don't end there. And many Easter Traditions that we follow here in the US and elsewhere stem from German customs. Take a look at this list of fun and interesting German Easter Traditions to see how Easter is celebrated in Germany… and how you can incorporate some of these lovely traditions into your home.
German Easter Traditions
German Easter Vocabulary
Frohe Ostern– Happy Easter
der Osterhase– Easter Rabbit
das Osterei– Easter Egg
Ostereier suchen- Search for Easter Egg
der Ostersonntag– Easter Sunday
die Ostermesse– Easter Church Service
die Osterglocke– (literally Easter Bell) Daffodil
das Schokoladenei– Chocolate Easter Egg
Osterspaziergang- Easter Walk
For more Easter Vocabulary-  Ostervokabeln
Decorated your home with beautiful Easter Decorations from KätheWohlfahrt
When is Easter? German Easter Holidays
In Germany, the Easter Holiday is a four day event, beginning on Good Friday, and ending on Easter Monday. Both Friday and Monday are National Holidays. (Generally, schools give the students 2 weeks off around this weekend, so if you are traveling in Germany, prepare for more traffic on the roads!)
The actual date for Easter Sunday is different every year, established in 325AD by the Council of Nicea (the same people who gave us the Nicene Creed) – Easter is the First Sunday, after the first Full Moon, after the Vernal Equinox. Since the lunar cycle and the calendar don't match up, Easter moves around.
Easter Sunday dates-
In 2023, Easter Sunday falls on April 9
Good Friday (Karfreitag)
Good Friday is the Friday before Easter Sunday. According to the Church, this was the day Jesus was put to death on the cross. In Germany, this is a holiday spent with family. Many choose to attend worship services, and it is customary to serve fish for the mid-day meal. Church bells are generally silent on Good Friday, and shops, banks and Post Offices are closed. You may see religious processions in town.
Easter Saturday (Karsamstag or Ostersamstag)
For some people, Easter Saturday is considered a quiet day, a day of waiting. But for most, it is a family day that can be spent preparing for Easter. Some bake an Easter Lamb in anticipation of Sunday's Meal.
One fun thing to do? Visit an Easter Market… similar to Christmas Markets, these Easter Markets sell hand crafted Ornaments for your Osterbaum (Easter Tree) or fun decorations for your home. Saturday is also the day for Easter Bonfires to chase away the gloom of winter.
Easter Sunday (Ostersonntag)
Easter Sunday is celebrated much like it is in the US. People go to church. After this, families and friends will gather for a large meal of Lamb. Potatoes, vegetables and fresh salads round out the meal. Dessert with Kaffee is often a Lamb shaped Cake, Fruit Torte, or cookies in the shapes of flowers or eggs.
Of course, the night before, or very early in the morning, parents hide Easter treats… eggs, chocolates, and small presents for the children. Sometimes in a basket, sometimes in a Paper Mache Egg.
Stores are closed… with the exception of newspaper stands and a few shops at rail stations.
Easter Monday (Ostermontag)
Easter Monday is a day of remembrance or reflection. You may see candle-lit parades or walks early in the morning to remember the walk Jesus made to his crucifixion. Churches hold services at the end of these walks.
Because it's Germany, people want to get outside. Many people see this as a day to get out into the countryside. They walk, hike, picnic, and generally enjoy nature. This is a celebration of Winter's and, and the new life that comes with Spring. Many communities hold Easter Egg races for children (with an Egg or Potato on a spoon).
Easter Monday is a public holiday, so again, stores, banks and the post office are closed.
More About the Easter Weekend-

More German Easter Traditions, Facts and Customs
Easter Bunny in Germany
Did you know that the Easter Bunny is actually a German tradition? According to legend, a few hundred years ago the Duchess Rosilinda von Lindenberg had to flee from her home with her children and a servant, to hide from war on her land. They were able to find shelter in a small mining village in the mountains. The poor villagers didn't have much, but they shared what they had. The Duchess decided to give back by bringing them Chickens. At Easter she dyed eggs to give to the children as special gifts, and she hid them in nests that she had kids build. The children were delighted to hunt for the treats… and when a rabbit jumped out of a thicket near a nest, they became convinced that the bunny brought the eggs….
Read more about the Easter Bunny here–> Where did the Easter Bunny Originate
Easter Tree or Osterbaum
In Germany, people decorate live trees or bushes in their yard with colored eggs tied on with ribbon. Unlike Christmas trees, these trees are living, and don't require a special stand or lights. Because it can still be grey and cold in the spring, these colored eggs add a festive atmosphere to neighborhoods and towns. The eggs can be plastic, wooden or real painted eggs that have been hollowed out.
Easter Trees are also set up inside the home. Branches with buds are put into a vase, and decorated with Easter egg ornaments. Sometimes the buds will even bloom, making it even more beautiful!
Read more about Easter Trees here–> What is an Osterbaum
Palm Sunday in Germany
The Sunday before Easter is also known as Palm Sunday. Many communities, especially in Catholic areas of Southern Germany, hold processions. Children carry Palmbuschen… large bouquets made from Pussy Willow and other green plants. These are blessed in the church, then taken home to bring blessings to the house.
Read more about Palm Sunday in Germany HERE–> Palm Sunday in Germany
German Easter Fountains
In parts of Germany, there was a tradition of drawing Easter Water (Osterwasser) for health and purification. Sprinkling it on the eyes was good for eyesight, and Farmers would give it to their animals to stay healthy. In Pomerania Easter Water meant Life and Fertility, and unmarried women would go to collect some before the sun came up… if she could sprinkle it onto the man she loved, there could be a wedding soon.
To honor the water, the giver of life, people would clean the wells in Springtime, and, over time, it became customary to decorate wells with ribbons, flowers and eggs.
Today, the custom of decorating the town's water fountain or well has spread across Germany.
Read more about German Easter Fountains here–> German Easter Fountains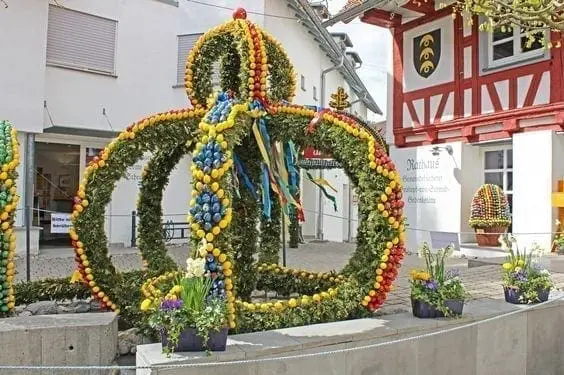 Schloßberg, Oberstadion, Land Baden-Württemberg, Deutschland
Legend of Easter Water
In some parts of Pomerania, Germany it was customary for a young un-married girl to go to the local stream and gather water on Easter morning. She must not talk to any one on the way there or the way back. Lest the water not be special. This was Easter Water. Symbolically, water means life and fertility, but this water is extra special…if a girl could sprinkle her lover with it, there would be a wedding soon.
Easter Water also had healing properties, against eye and skin ailments.
Today, OsterWasser often refers to the Schnapps that is drunk with friends on Easter Morning.
To read more about Osterwasser… Easter Water, click here–>Osterwasser, the Legend of Easter Water
Easter Fire in Germany
The Easter Fire, or Osterfeuer, is a symbol of light in the darkness. It can be as simple as lighting a candle, or  as big as the bonfires which are ignited all over in Germany at Easter. Because fire is a symbol of light, of renewal, it signifies the end of Winter, and the coming of spring. It also symbolizes Jesus Christ, as the Light of the world.  Depending on the community, the Easter fire is lit on Good Friday or Black (Holy) Saturday, with Saturday being more common, and extinguished on Easter Sunday or Monday.
Much of the religious meaning behind the Easter Fire has been lost in modern times, and these Bonfires have become more of a town Fest with food and drink, some communities even set up rides for kids!
Read more about Easter Fire in Germany here–> Easter Fire in Germany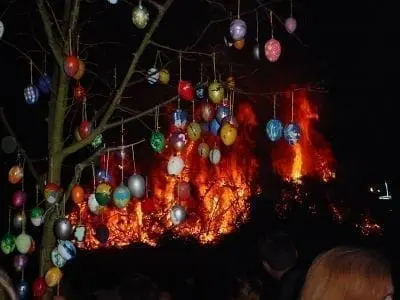 Ostara
Was German Ostern named for the goddess Ostara? Jakob Grimm thinks so… but it may not be that simple.  The legend may be younger than you think.
Read more about Ostera here–> Ostara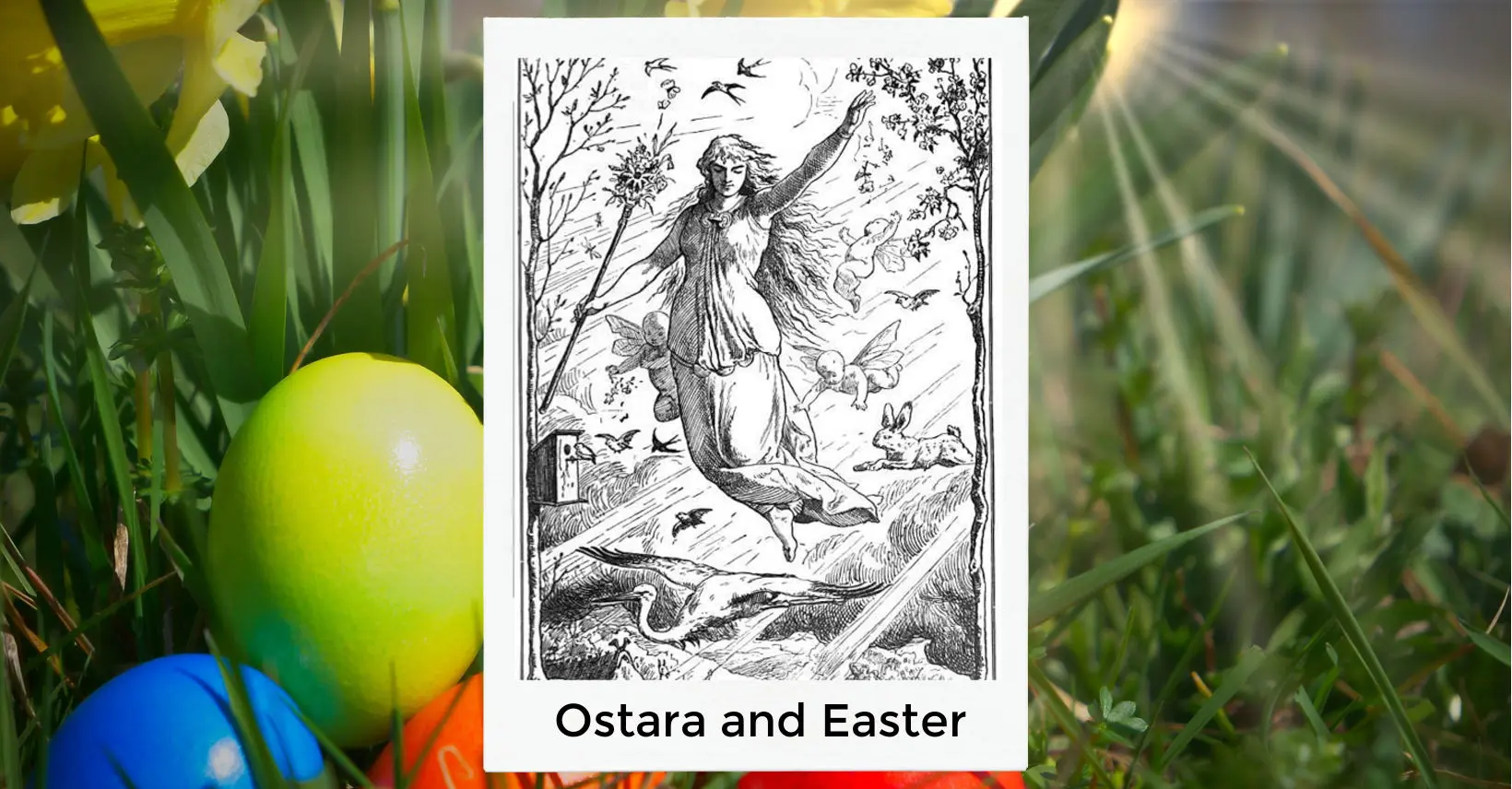 German Easter Markets
Similar to German Christmas Markets, German Easter Markets sell seasonal ornaments and foods. The markets open during Lent, and tend to only run on Weekends. Find special decorated eggs of all sorts, as well as many delicious treats. Some Markets even have Carnival areas where kids can play games!
Read more about German Easter Markets HERE—> German Easter Markets

German Paper Mache Easter Eggs
The Easter Bunny (Oster Hase) in Germany doesn't just hide treats in pastel colored plastic eggs or baskets… instead; he uses these traditional German Paper Mache Easter Eggs. These beautifully decorated eggs with motifs of Bunnies, flowers and springtime, they are big enough to hold all your favorite Easter Chocolates. The gift box eggs are a lovely addition to your Easter Celebrations, and are one of my favorite German Easter Traditions.
Today, many people collect the vintage styles of these eggs, and use them every year to give candies to children, or hostess gifts to friends.
Read more about German Paper Mache Easter Eggs Here–> German Paper Mache Easter Eggs
German Easter Treats
(because it's more than just German Easter FACTS… there's FOOD)
German Easter Chocolates
What would a holiday in Germany be without CHOCOLATE! Fortunately, you can get many of your favorite German Chocolates in special Easter Shapes and Packaging here in the US. Not only do I tuck these delicious treats into Easter Baskets and Paper Mache Eggs… I also like to give a nice box of German Easter Chocolates to friends as a small gift. ("Adult" chocolates filled with Marzipan and liquor are available!)
One of my favorite things to for the Easter Meal… either breakfast, Easter dinner, or just a Kaffee… is sprinkle small themed chocolates around the table as an edible decoration. Just be careful not to put anything hot on it! Or you have a mess!
Order German Easter Chocolates HERE–> Buy German Easter Chocolates
German Easter Candy and Sweets
Looking for more more than just chocolate for your Easter Basket? Find your favorite Gummi candies, Marzipan treats, Fondant candies, Dip Eggs, Dickmann Eggs, and special Easter Gifts.
These Candies and Sweets make great fillers for the Easter Basket! Plus there are "adult" candies for the grown ups in your world.
Find your favorite Easter Candy and Sweets HERE–> Easter Candy
German Easter Lamb Cake
German Easter Lamb Cake is the centerpiece and dessert on many tables at Easter. While many bakeries in Germany sell them, this is not a difficult cake to make at home. The sweet lamb, representing the Lamb of God, is baked into a lamb shaped mold… then decorated with either a simple sprinkling of powdered sugar, or in some homes, white frosting. In general, the cake is a pound cake, sometimes flavored with ground nuts.
You can bake your own Easter Lamb Cake… all you need is a recipe, a mold, and a few little tips that will insure success.
Find the Recipe and Lamb Cake Molds HERE–> German Easter Lamb Cake Recipe and Cake Molds
German Kinder Eggs
Kinder Surprise Eggs may not be available in the United States, but Kinder Joy Eggs are! And they make a sweet Easter Basket Filler. Learn all about Kinder Eggs, and find out where you can buy them, and the toys from Kinder Surprise Eggs here.
German Kinder Eggs- The Chocolate Eggs with the Toy Inside
German Hefezopf
A German Hefezopf is a lightly sweetened, braided yeast bread that is studded with Raisins. This braid makes a beautiful Easter Brunch centerpiece! Or you can serve it in the afternoon with a cup of coffee. Don't be intimidated by the yeast dough… this recipe isn't that complicated. The Bread is delicious fresh, or even toasted a few days later.
I like mine with a smear of Jam.
Find the recipe for German Hefezopf here–> German Hefezopf Recipe
Easter Breakfast
In a country renowned for fabulous breakfasts… Easter breakfast is the king. All stops are pulled out. Table set perfectly, rolls, Hefezopf and other sweet breads fill baskets to overloading, there is Aufschnitt and glass jars of Jams, best of all, there are chocolates at each place setting!
Find some great Easter Breakfast ideas here–> German Easter Breakfast