Hefezopf Recipe- An Easy and Delicious Braided German Sweet Bread
My mother loves any Sweet Bread made with yeast dough. Especially at Easter. This year (after watching far too many episodes of the British Baking Challenge) I decided that I would try something fancy. A Hefezopf.  This Hefezopf Recipe is an adaptation of Luisa Weiss's "Rosinenzopf " recipe from her fantastic cookbook Classic German Baking. Don't be intimidated by the Yeast, or kneading. The dough comes together beautifully in the mixer… and as for the kneading? I usually have around 10 minutes of aggression in me to take out on some dough.
When I pulled out the ingredients,  I was a bit irked to discover that we are out of raisins. I don't mind, I'm not a big fan of the things, but Tech Guy loves them (he must have snacked them all away). Rather than leave the fruit out, I chopped up some dried cranberries. Maybe they aren't "traditional" but they are quite yummy. In the back of my pantry I found the box of Hagel Zucker that I brought home from my last trip to Germany. (See…. filling up my suitcase at the grocery store in Germany does have its advantages… you never know when you will NEED it, but it's nice to have when you do. ) This means I was able to sprinkle the crust with crunchy bits of sugar to add just an extra touch of sweetness. YUM. Don't have Hagel Zucker (Pearl Sugar)? you can order them here–> Hagel Zucker, or use sliced almonds.
At Easter, you can use this same basic recipe and braid into a wreath shape to fill with colored Eggs… or even bake Hard Cooked Colored Eggs into the braids. (That will be something for me to try next.) A Hefezopf wreath makes a beautiful centerpiece on the Easter Breakfast table.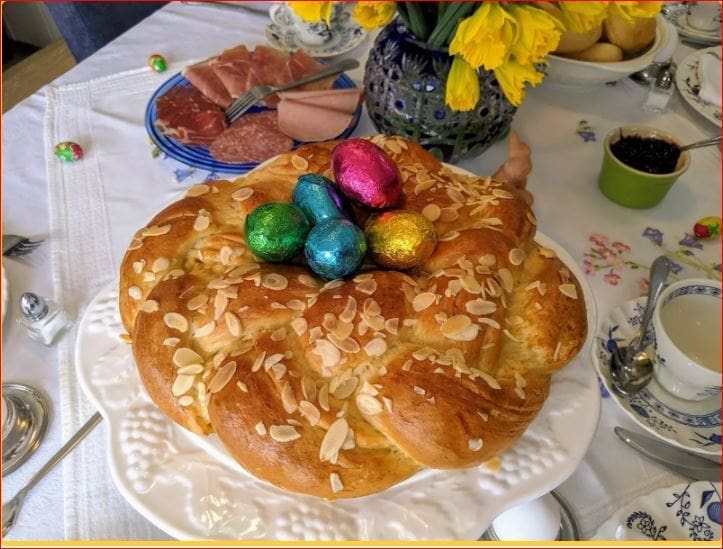 But any day you make the Hefezopf recipe, you can serve it up with some good German butter and delicious jam for a wonderful breakfast treat or mid-day snack. Or just eat it plain. (I find that even though I stored the bread in a plastic zipper bag, it did dry out a bit overnight… so the extra butter schmeared on it helps… especially for palates who are used to softer, sweeter baked goods).
Hefezopf Recipe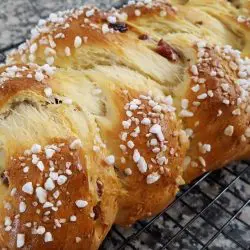 Hefezopf Recipe
Ingredients
1

Cup

Milk

500

gr

/ approx 4 cups All Purpose Flour

50

gr

/ 1/4 cup Sugar

2

tsp

Rapid Rise Yeast

1

tsp

Salt

Lemon Zest- approx 1 lemon worth

6

TBL Butter at room temp.

1

Egg

1/2

cup

Raisins/Cranberries

For Finishing-

1

Egg Yolk

1

tsp

Whole Milk

Few Tbl. Hagel Zucker / Pearl Sugar

OR

Few Tbl. Sliced Almonds
Instructions
Warm the milk up a little. (I stuck my finger in it, it felt warm, and it worked. You don't want it too hot, it will kill the yeast)

In your mixing bowl, combine the flour, sugar, rapid rise yeast, salt, and the lemon peel.

In another bowl (I just used a measuring cup) combine the milk and eggs.. give them a quick mix.

Add the milk/egg mixture to the flour/sugar mix... then slice in the room temperature butter.

Mix until it all comes together in a sticky dough.

Dump the dough blob out onto a floured surface.

Now comes the work. Don't cheat!

Knead the dough for 10 15 minutes, until it is smooth and elastic. (Note- even though I have a dough hook on my mixer, I did this by hand. I presume it can be done on the dough hook as well, I just chose to use it as a work out). Add a sprinkle of flour if the dough is too sticky.

Put the kneaded dough into a clean bowl, and cover with a dishcloth or plastic. Let rise 1 hour in a draft-free warm spot. It should double in size.

When the dough has risen, dump it out of the bowl and onto the counter.

Shape it a little flat, and add the raisins/cranberries.

Fold the dough over the fruits, then knead them in to distribute.

Cut the dough into 3 equal pieces (I actually weighed them out... )

Roll the pieces into 16 inch strands.

Lay them next to each other, squish them together at one end, then braid the length of the strand. Press the other end so they stay together, and tuck up under the end.

Place the braided loaf on the parchment paper, cover with a cloth, and let it rise for 20 minutes in a warm, draft-free space.

Preheat the oven to 350 degrees Fahrenheit.

When the dough has risen, check to see if any of the raisins/cranberries are sticking out. Poke them in a bit, or remove them if they are.

Combine an Egg Yolk and 1 Tbl. Milk in a small bowl... really mix it until its not separate looking. Use a pastry brush, and brush the whole braid.

Sprinkle with Hagel Zucker/Pearl Sugar or Sliced Almonds.

Bake for 25 minutes, then check. If it's getting too brown at this point, lay a piece of foil over the loaf.

Bake an additional 5 minutes.

Cool on a rack

Best served the same day, but you can wrap it tightly to store for another day.
Notes
I baked the bread using 2% milk, and regular American butter. (I used what I had in the refrigerator). The original recipe calls for WHOLE Milk and European HIGH FAT butter. I imagine the flavor would be richer, and the taste moister with the addition of the extra fat. And it would be better the next day
Looking for More German Recipes?
Easy German Cookbook: 80 Classic Recipes Made Simple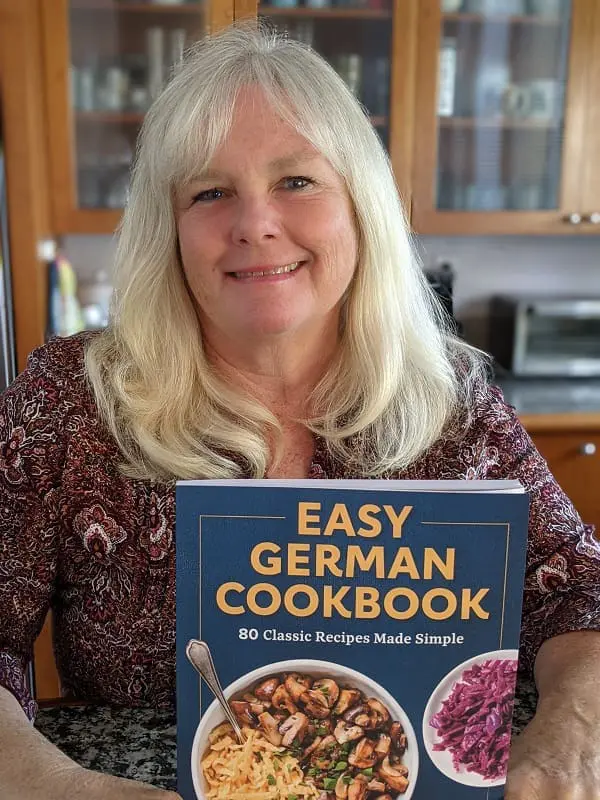 Easy German Cookbook SIGNEDGermanGirl Shop
Use a SCALE to Measure Ingredients
One Kitchen tool I've come to depend on, especially when baking German Recipes, is my kitchen scale. Honestly, they aren't expensive, and the results really are better. For example, this recipe uses 4 cups of flour… by weight this should be 500 grams. 500 grams NEVER changes, 4 cups is different every time you measure it out… depending on how the flour settles, and how moist the air is. It's just more accurate when you use a scale.
Pohl Schmitt Mechanical/Digital Food Kitchen Scale – Multi-Transducer Scale for Greater Precision with Auto Shut-Off (Batt. Incl.), Black

Step By Step- Hefezopf Recipe
Mix the ingredients until the dough comes together… knead for 10 – 15 minutes
Place the kneaded dough in a mixing bowl, cover and let rise in a draft-free spot for an hour
Carefully knead in the Raisins/Cranberries
Divide dough into 3 equal portions … roll those pieces into 16 inch strands … then braid
Place the Braided Loaf on a parchment covered sheet-pan. Cover and let rise for 20 minutes
Preheat the oven to 350 degrees F.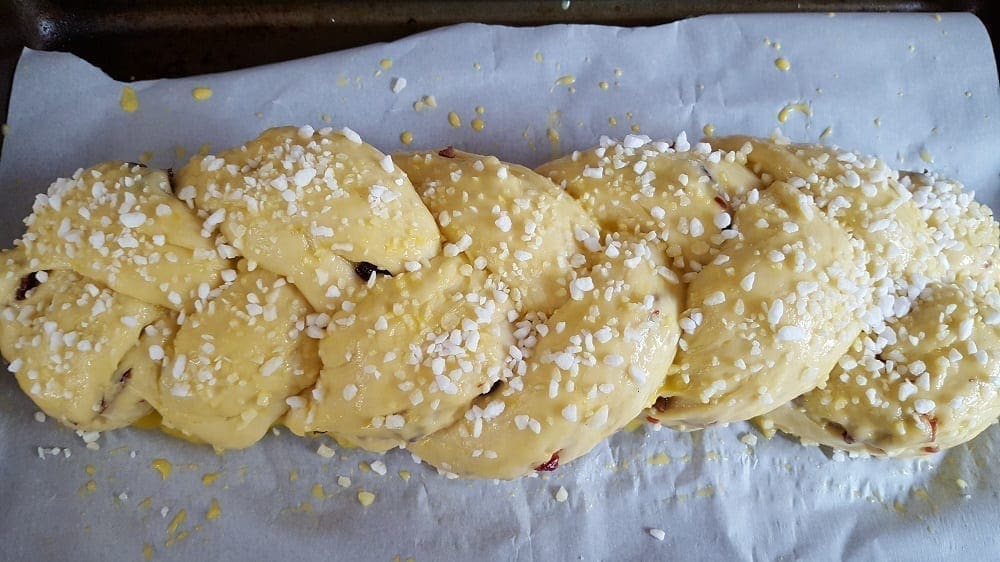 Brush the risen braid with a egg yolk/milk wash… then sprinkle with Hagel Zucker/Pearl Zucker or Sliced Almonds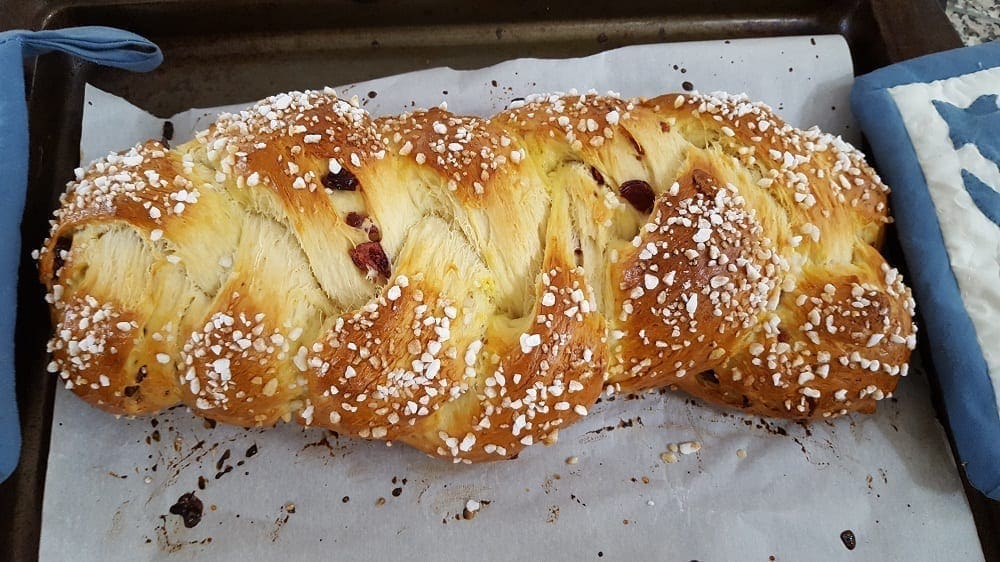 Bake 25 minutes, then check if it's getting too dark. Cover with foil if it is. Bake another 5 minutes (30 total)
Let the loaf finish cooling on a rack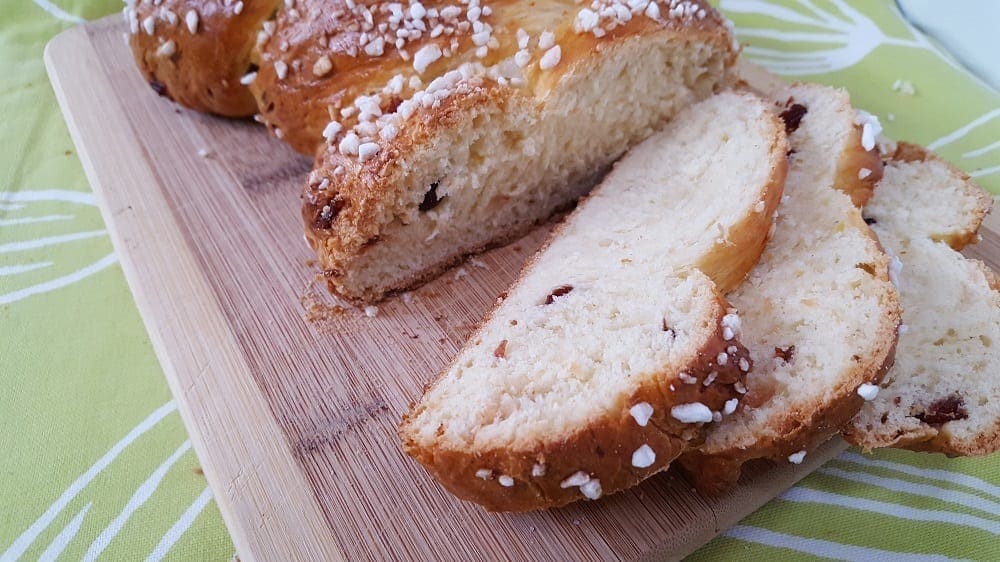 Slice and serve