German Easter Breakfast- The BEST German Breakfast of the Year!
German weekend breakfasts have a reputation for being delightful drawn out meals with loads of special things on the table… Aufschnitt, Brötchen, soft boiled eggs and fruit. But German EASTER Breakfast takes it up a notch. I'm not much of a morning person, but I was always happy to hop out of bed to enjoy this special meal with my family. Maybe it's because Easter is one of the few holidays I was able to enjoy IN Germany…. Still,  even today, we make Easter Breakfast a special lingering meal that everyone truly enjoys.
German Easter Breakfast
At home, my mother and I would always set the Easter Table the night before. A little extra care would go in to making sure that the white tablecloth was smooth, and that the perfect springtime table topper fit over it. The "good dishes" that she got for her wedding would come out of the cabinet, and so would the silverware, egg cups, and nice napkins. A centerpiece of flowers would go in the middle of it all, along with some bunny ornaments to make the table look extra festive.
The next morning, (after the egg hunt) we would find a special chocolate bunny or chocolate egg on our plate!
Easter Bunny Train with Egg Cup Wooden CarriagesAMAZON.DE
The table would be finished off with Brötchen (if we could get them!) or other breads. A sweet Easter Wreath was there to satisfy my mother's craving for sweet yeast dough! Of course, everyone got an Ei (a soft boiled egg) in a special egg cup with their own spoon and salt shaker. Earlier in the week, a special trip to the German Store would have happened, so now there was a plate with fresh Westfalisches Schinken, Gelbwurst, Blutwurst, Jagdwurst und Salami! And the Cheese… my mother could live from cheese, so we always had a lot. Jam, honey and Nutella were all on the table too… and of course… Gute Butter (the good butter)!
Looking for something a little heartier? Why not do what my cousin does … make a Schinken Käse Eier Salat! A Fruit Salad is a delicious fresh addition, as is some yogurt. And of course, don't forget the O-saft (orange juice)!
To finish off the table, scatter a few little chocolate eggs around for people to nibble as they sip their coffee. (Just be careful NOT TO SET HOT PLATES on them).
Don't forget the BREAD and Brötchen!
Baker's RollsThe Brot Box
Pumpkin Seed Rolls (5 pack)The Brot Box
Austrian Kornspitz Rolls (6 pack)The Brot Box
Germans' Favorites Large BoxThe Brot Box
Harry Stone oven breadGermanShop24
Raisin BreadGermanShop24
Mixed Buns -6GermanShop24
BrötchenGermanShop24
Easter Recipes-
Wurstsalat or Fleischsalat (Sausage Salad or Meat Salad)
BOTH Wurst and Fleisch Salat  are a nice hearty addition to any breakfast or brunch. You'll also find a delicious recipe for Fleisch Salat in my Easy German Cookbook. My cousin's friend also gave me a delicious recipe for Schinken Käse Salat. You even add cut up Hard Boiled eggs (you might have a few lying around … it is Easter)
Hefezopf Osterkranz (Yeast Braid/ Easter Wreath)
This traditional braided sweetbread can be made with or without raisins. Instead of leaving it as a loaf, for Easter, I brought the ends together to make a wreath.
Find the recipe here-> Hefezopf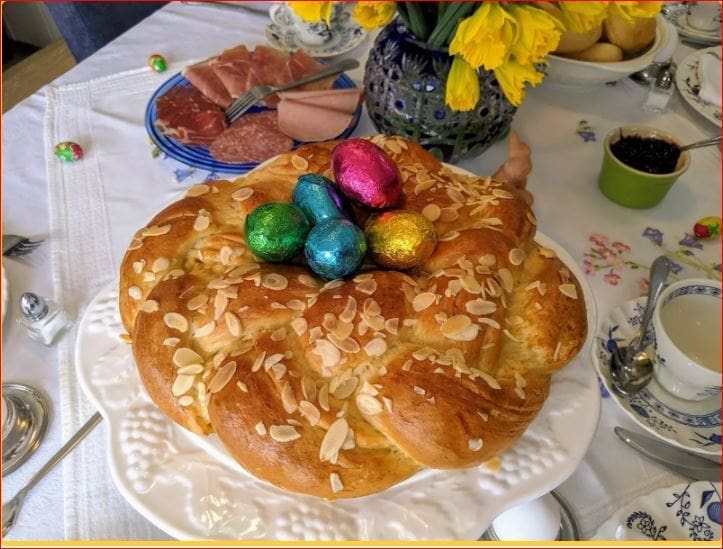 Osterlammkuchen (Easter Lamb Cake)
Who doesn't want cake for breakfast? Especially if it's shaped like a Lamb!
Find the recipe here-> Easter Lamb Cake
Easter Lamb Cake 14 ozGermanShop24
Easter Lamb Cake SMALL 4 ozGermanShop24
Make the Perfect German Ei
A soft-boiled Egg is a fixture at Breakfast time in Germany. Learn how to make one here–> Soft boiled Egg
Easter Chocolates
Scatter chocolates around the table… or place them on the breakfast plate for decoration. Find more chocolates here–> German Easter Chocolate
Chocolate Lady BugsGermanShop24
Variety Tub of Filled Chocolate EggsGermanShop24
Order Special Aufschnitt (German Cold Cuts) and Käse (Cheese
Find German Food Online HERE–> German Food Online
Butterkase Cheese CUT & WRAPPED BY IGOURMET Origin: Germany Size: 7.5 ounceigourmet
Cambozola Black Label Cheese CUT & WRAPPED BY IGOURMET Origin: Germany Size: 7.5 ounceigourmet
German Tilsit Cheese CUT & WRAPPED BY IGOURMET Origin: Germanyigourmet
Lachsschinken Cured & Smoked Ham SCHALLER & WEBER Origin: USA Size: 2.0 poundigourmet
Stiglmeier Beer Sausage 16 Oz (4 Pack)

Stiglmeier Gelbwurst with Parsley 16 Oz (4 Pack)

Stiglmeier Blood Sausage 16 Oz (4 Pack)

Stiglmeier Krakauer 16 Oz (4 Pack)

Schaller & Weber Pate Liver Gold Medal – 7 Oz. (Pack of 3)

All Natural Teawurst (6 pack)

SPECK, Smoked and Seasoned Prosciutto Ham, Cured in the European Alps Mountains, Alto Adige IGP, Boneless and Ready to Slice, Weight approx. 5 lbs, by Moser Tirolinger brand

Milano Salamiigourmet
German Cheese Board Gift Setigourmet
Baldauf Cottage Garden Cheeseigourmet
What are Your Special Easter Breakfast Ideas?