Eierbecher German Egg Cups for a Soft Boiled Egg
We always had
German Egg Cups
in the house, I still do, because I love a
Soft-Boiled Egg
. I tried to order one in a restaurant once, but my mom stopped me, and told me her story about Eggs. When she first arrived in America, she and my father had breakfast in a restaurant. Mom ordered a soft boiled egg. When it arrived at the table, it was served in a cereal bowl.
Like this…. With a tablespoon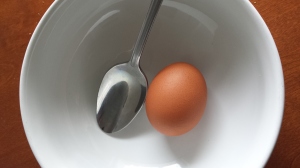 She had no idea how she was supposed to eat it. What would hold the egg up?
German Egg Cups  -Eierbecher
As soon as they set up their new home, mom sent for Eierbecher,  German Egg cups and Eierloeffel (egg spoons).  She even ordered mini salt cellars so we could each have our own at the table.
Every Sunday, and often during the rest of the week we got a nice warm soft boiled egg to start our day. There were even little covers (shaped like chickens) to keep the eggs warm.
We were taught early to give the egg a good whack with a knife to get the top off.  And then put the shells in the egg cup under the egg, so we don't make a mess on the table! (Honestly, I cringe when I see people putting their broken shell bits on the place mat or tablecloth next to their plate…)Soft Boiled Egg Recipe
I love the smooth feel of just-solid egg white, and the creaminess of still liquid egg yolk, delicious. It's still my favorite way to eat an egg. (If you need a recipe for Soft boiled eggs… look here.. )
Make Soft Boiled Eggs PERFECT Every Time
Just please… serve them in an Egg Cup / Eierbecher!
I use the wmf Eierbecher… I like the rim around the edge… but there are so many others to choose from!!!




Looking for Egg Cups / Eierbecher?
Kuchenprofi 2-Piece Egg Cup with Oval Base, 3.5 by 3-Inch, White Porcelain

Egg Cup Anwenk Egg Tray Stainless Steel Soft Boiled Egg Cups Holder Stand Storage Dishwasher Safe (4 Packs)

Lofekea Egg Cups, Set of Four White Porcelain Egg Cups Ceramic Egg Holders – Gifts for Kitchen

WMF Egg Cups Set of 6 Gift-Wrapped

Fun Egg Cups Kids LOVE!
YJYdada Egg Cup Funky Design Kids Gifts Knight Decor Home Kitchen Spoon Eggs Hold

Willy Mia Fred Childrens Egg Cup Set Pink

Egg Cup Holder Soft or Hard-Boiled Egg Breakfast For Tabletop Decor,Baby Toddler Small Feeding Bowl,Collectables Ceramic (Bear-B)

Joie Egg Cup and Spoon, Moo-Moo Cow

KOBWA Silicone Egg Cups, Sumo Eggs Cups Holders Creative Design Perfect for Serving Hard and Soft Boiled Eggs and Compliments any Breakfast Place Setting

Special Egg Cups for Special Breakfasts
Your Breakfast Table will look extra special with these sweet Egg Cups! Newer, and vintage! And I love the look of the Mid-Century Modern egg cups.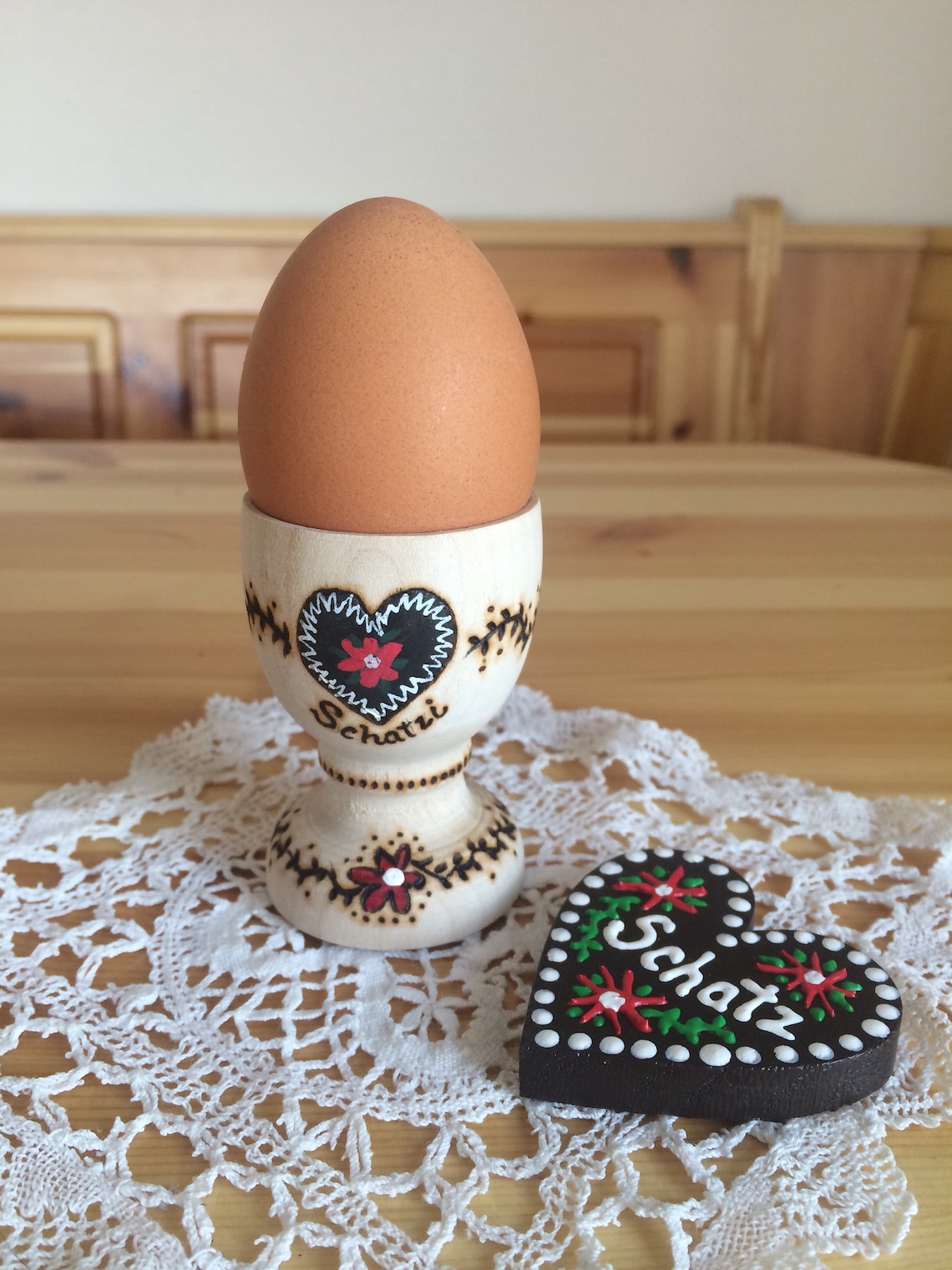 Egg Cup & Matching Heart Set, German Egg Holder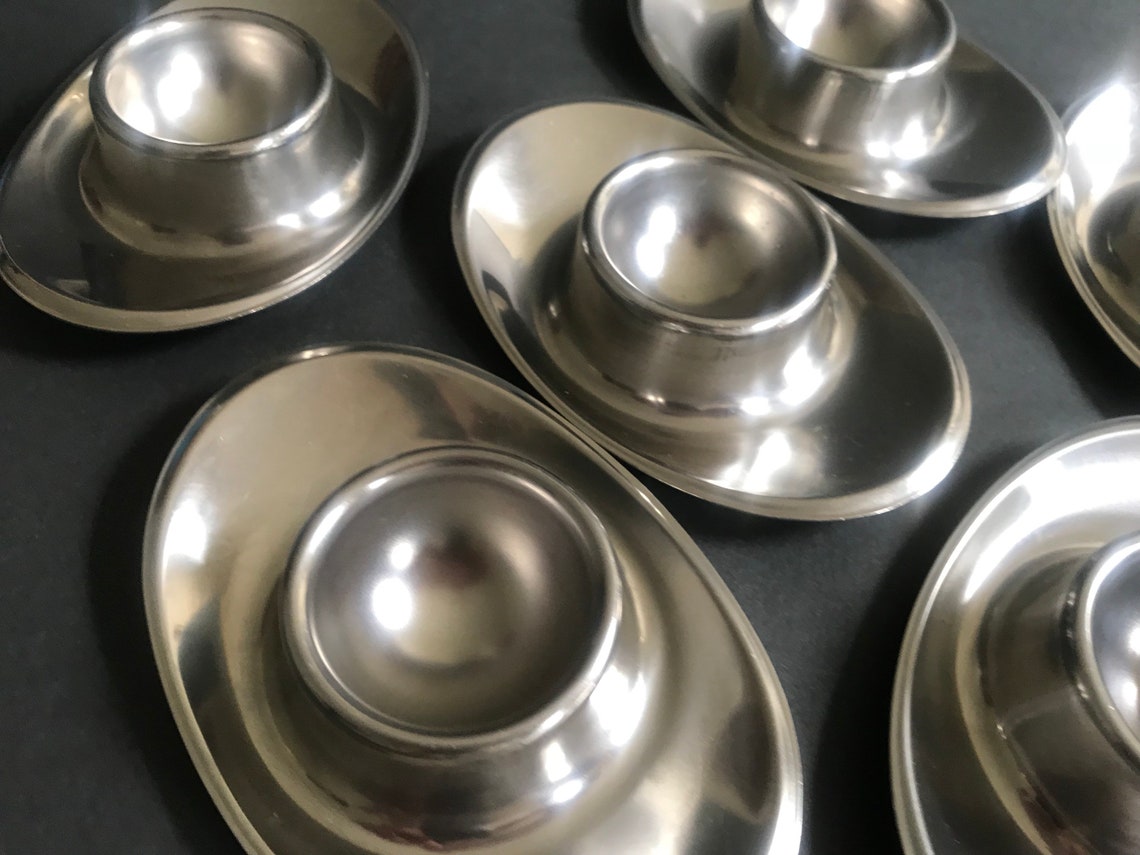 EGG CUPS Stainless Steel Tischfein 18/10 Made in Germany Set of Six Vintage Mid-Century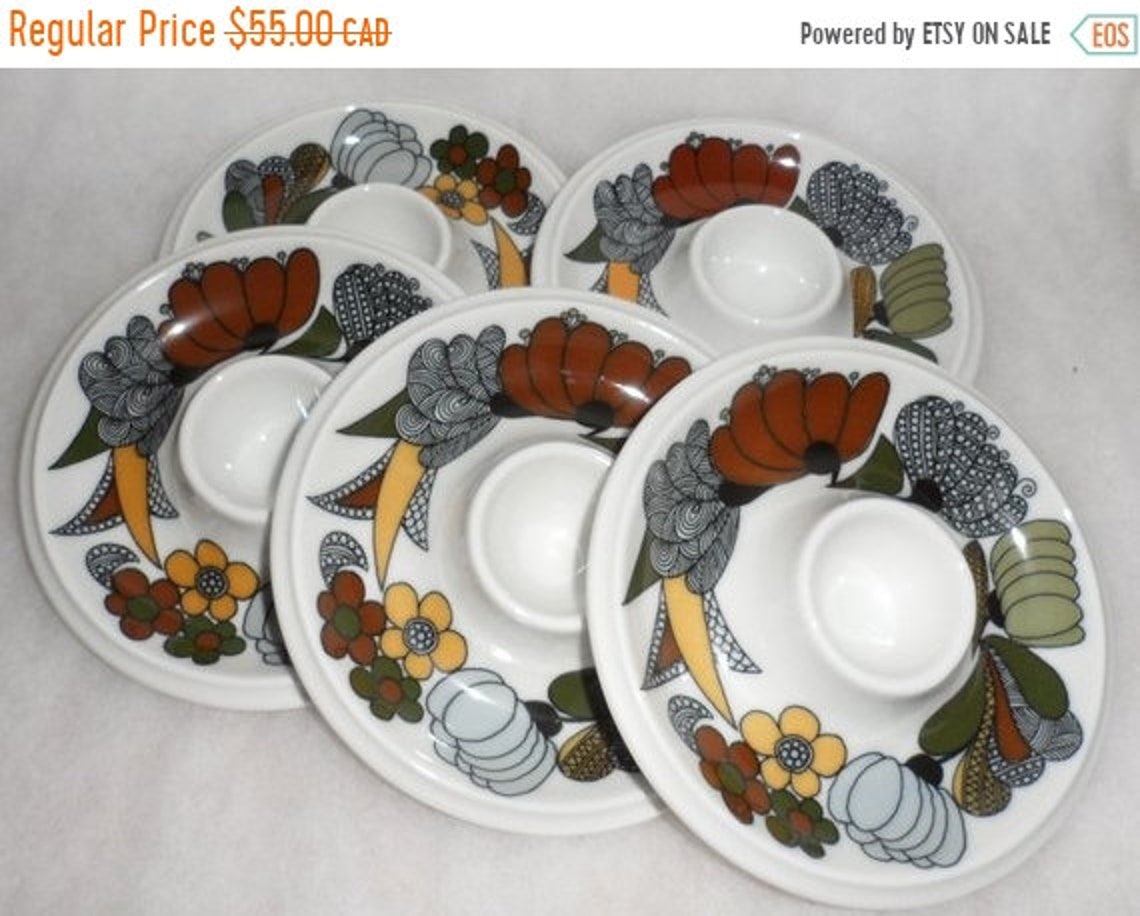 Rosenthal Brand Vintage Thomas Egg Holder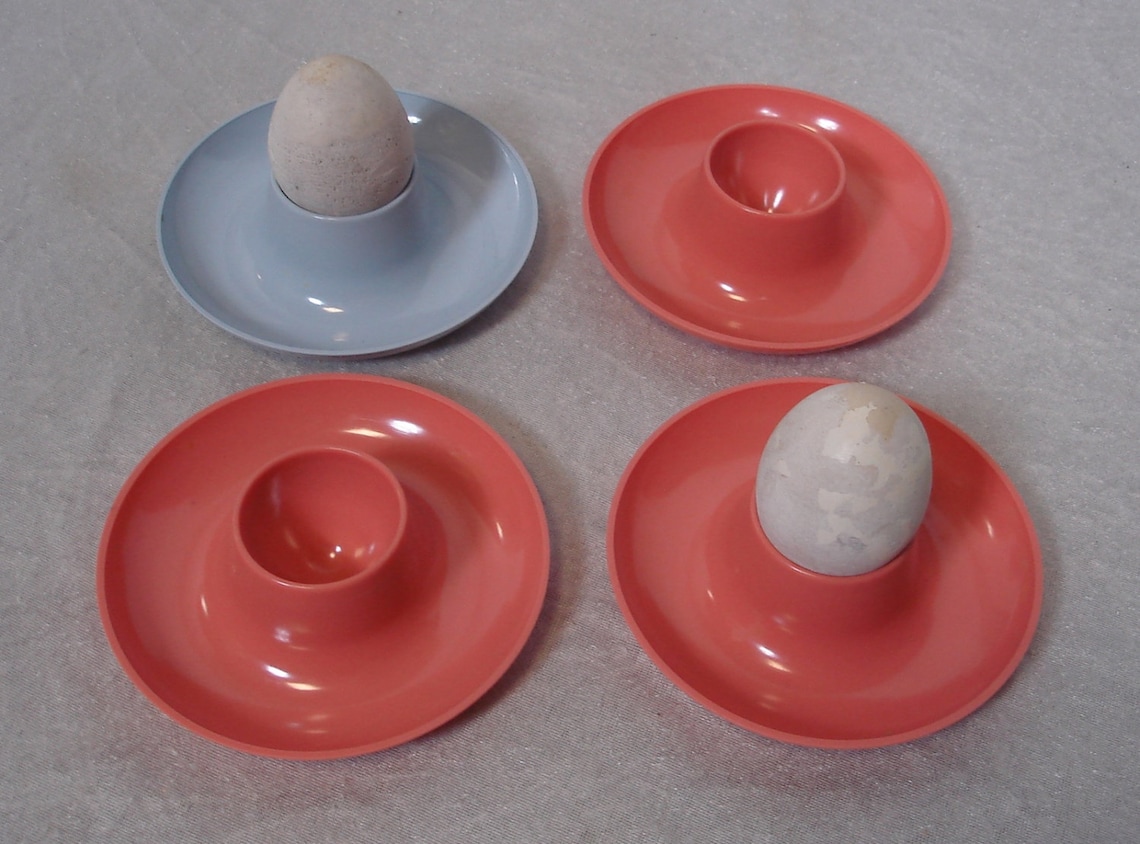 50s 60s 4 Egg Cups round, salmon + blue colors, German Mid Century Modern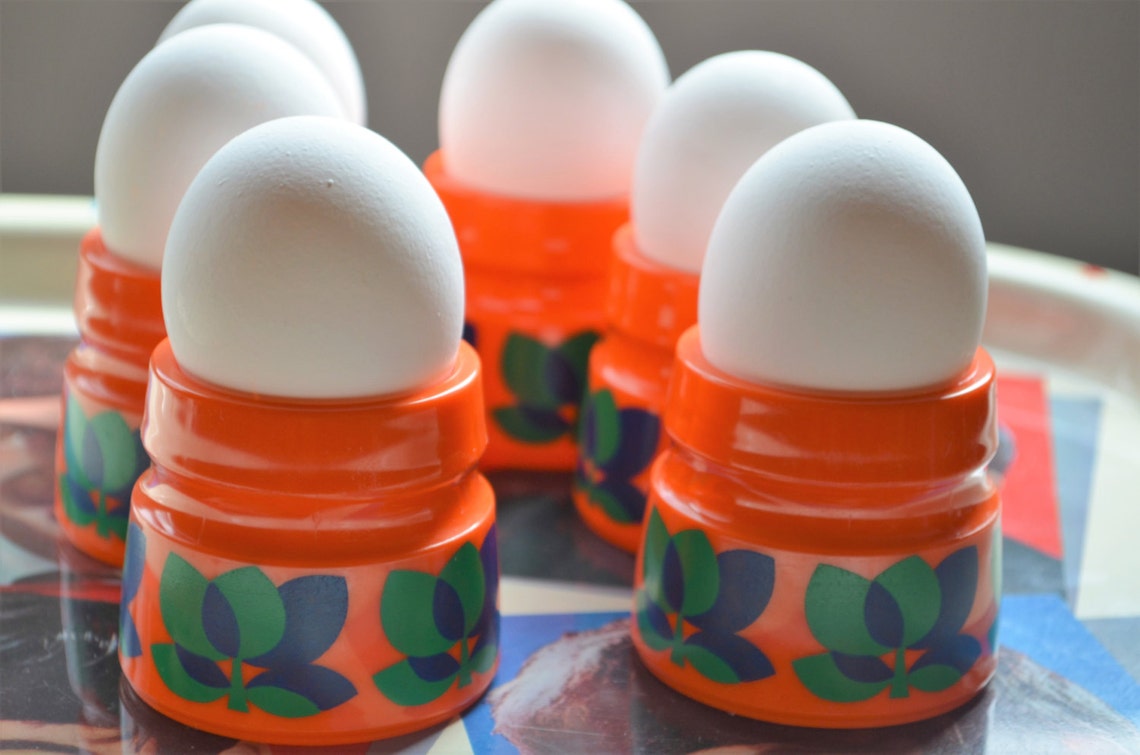 Vintage egg cups, Emsa Bologna, West Germany, red retro, 70s kitchen plastic, set of 6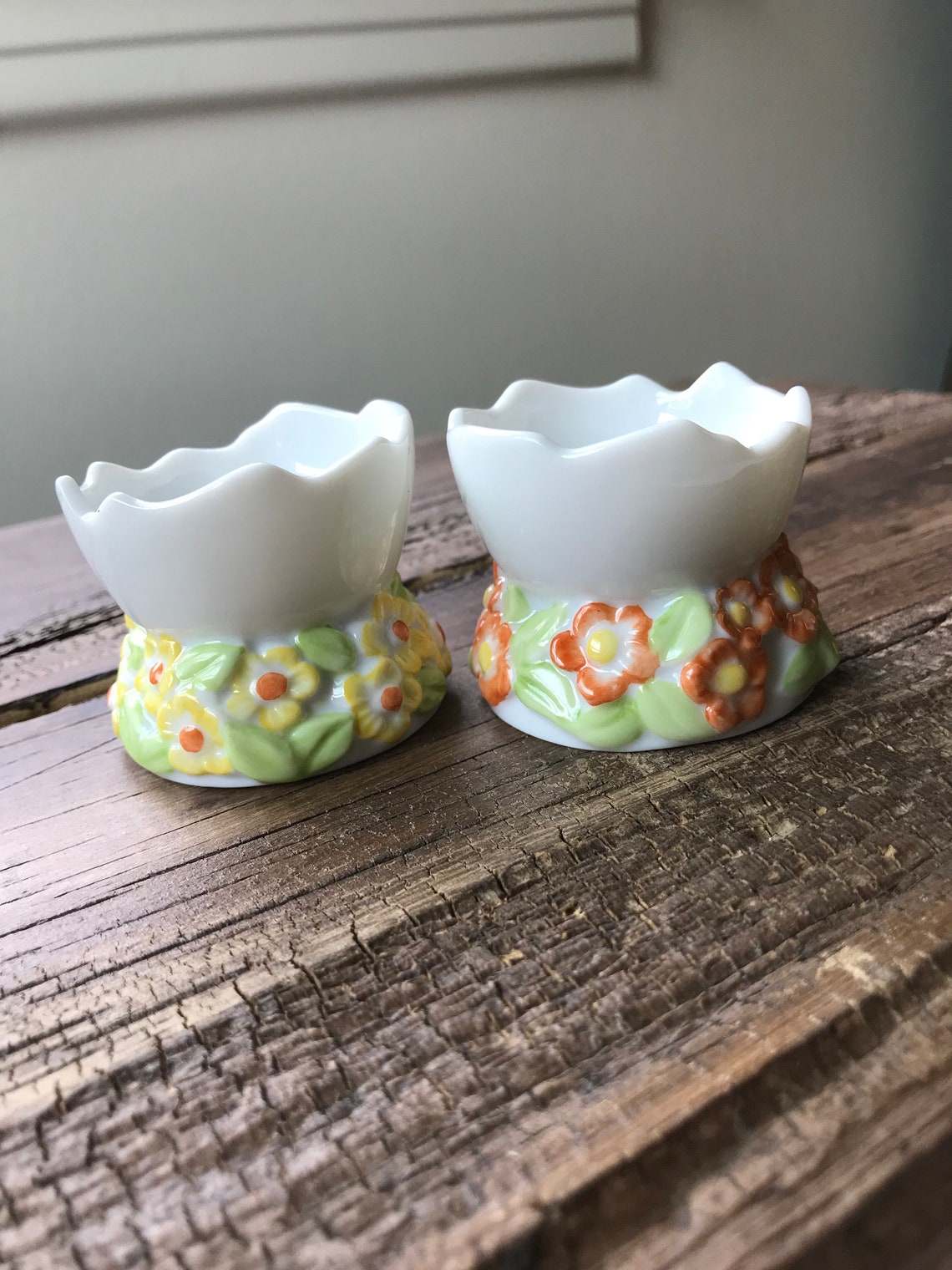 Vintage Hutschenreuther Ceramic Broken Egg Shell Floral Two Egg Cups

You need Egg Spoons and Salt Shakers
Some people prefer metal, others SWEAR by Porcelain… because the Stainless Steel can change the flavor. You choose…
RSVP Endurance Stainless Steel Egg Spoons, Set of 4

RSVP International

Drawihi Porcelain Spoons Coffee Tea Dessert Sugger Egg Small Spoons 5pcs White

(Case of 48) Mini Salt & Pepper Shakers Shaker, Cube Shape, Polished Chrome Top, Glass Body

Set of 4 Cube Shape Glass Mini Salt & Pepper Shakers (Stainless Steel Top) with 2 Mini Funnels for Easy Refill By Azi

Best Egg Toppers
I tend to use the quick knife method to top or behead my eggs, but these tools are much better. They take the top shell off without violence (or a mess). Find the best egg toppers for soft boiled eggs here…
Rösle Stainless Steel Egg Topper with Silicone Handle

RSVP Endurance Stainless Steel Egg Topper

Egg Cup, Spoon and Topper sets
You can buy a whole set at once, and not worry about missing anything. There are a few different styles available.
K&J's Egg Cup & Cracker Set with Beautiful Reusable Box – Includes 4 Ceramic Cups (Egg holder) + 4 SS Spoons + 1 Topper Cutter, Shell Remover – Great Gift for the Soft or Hard-Boiled Egg Lovers

Eparé Egg Cracker Topper Set – Soft Hard Boiled Eggs Separator Tool – Include Spoons and Cups – Shell Remover & Cutter – Steel Spoon & Cup Holder – Cooker Accessory

Mevis Line | Boiled Eggs Holder and Topper | Includes 2 Ceramic Cups, 2 Spoons, 1 Egg Timer and 1 Stainless Steel Egg Topper | White Ceramics with Roses Design

Egg Cup Set with Egg Cracker Topper Set – Includes 2 Ceramic Cups + 2 Spoons + 1 Shell Remover + 1 Sauce Dish- Hard Boiled Eggs Cooker Accessory

Egg Cozies…
To keep the eggs warm until they are eaten…
Vervaco® Happy Easter Egg Cozies Counted Cross-Stitch Kit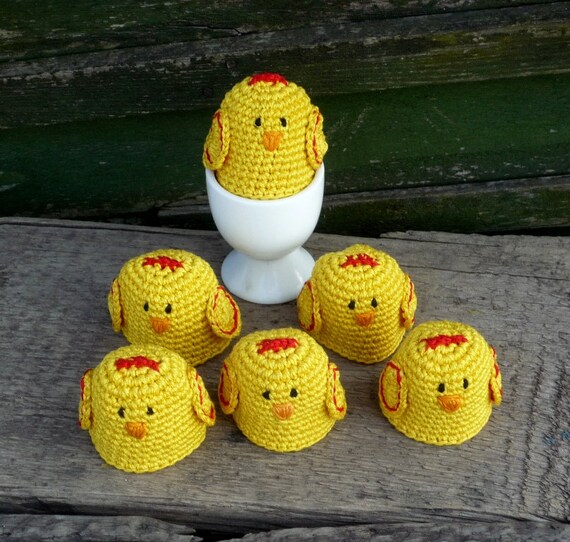 Crochet Egg Cozy – Chicken Egg Warmers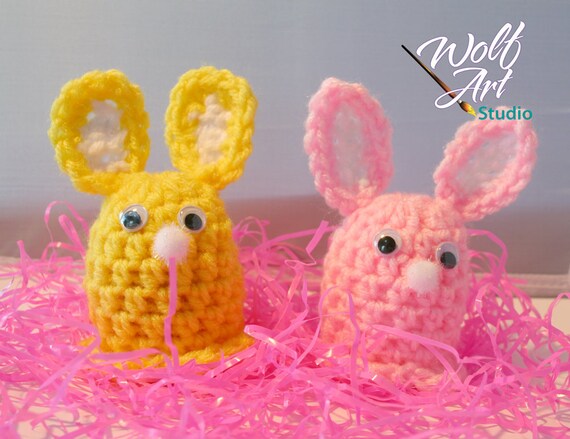 Yellow/Pink Bunny Egg Cozy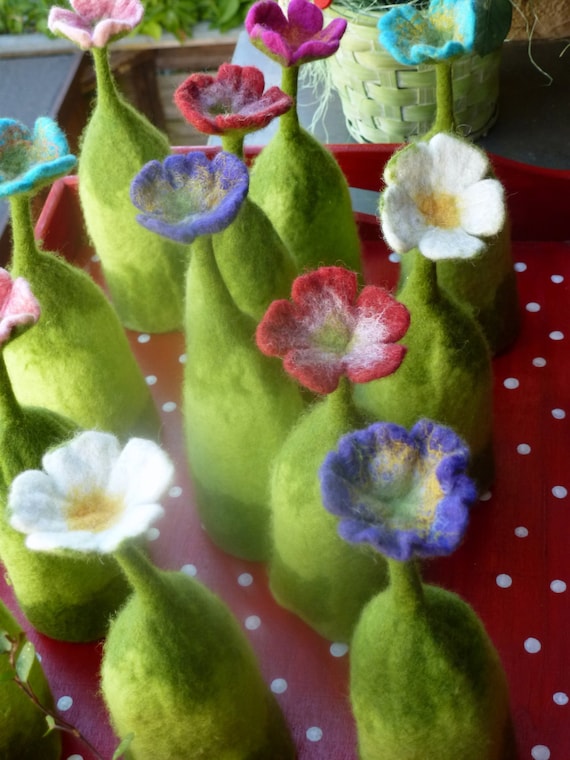 hand felted egg cozy for the breakfast table