What is an Osterbaum? Create Your OWN Easter Tree with Cute Ornaments that you Make or Buy!
During the Easter Season, it is quite common to see an Osterbaum! But what is an Osterbaum? Osterbaum in German means Easter Tree… but what is an Easter Tree? Let me explain, and show you how can you make this lovely decoration for your home.
What is an Osterbaum?
Every year at during the Easter Season my mother would place a few budding branches in a vase and hang colorful painted eggs from them. This was an Osterbaum, an Easter Tree  Over the season, the buds would sometimes even bloom. So pretty! While these Easter Trees are quite common in Germany, I'm delighted to see them catching on here in the US.
In Germany, people also decorate live trees or bushes in their yard with colored eggs tied on with ribbon. Unlike Christmas trees, these trees are living, and don't require a special stand or lights. Because it can still be grey and cold in the spring, these colored eggs add a festive atmosphere to neighborhoods and towns. The eggs can be plastic, wooden or real painted eggs that have been hollowed out.
The most famous of these Osterbaum trees is in Saarberg. For years Volker Kraft in Saalfeld, Germany has been adding more and more eggs that his family decorated to a tree in his yard. The final count was 10,000 eggs!
The Easter tree are can also be found inside the home. Usually they are made from branches cut from pussy willows or other flowering bushes. The cut branches are usually brought in the house and put in a vase to be decorated hollowed out real eggs, with hand painted wooden eggs, ribbon and little wreaths or nests. They make a lovely centerpiece for the Easter Table, or a beautiful decoration for your sideboard.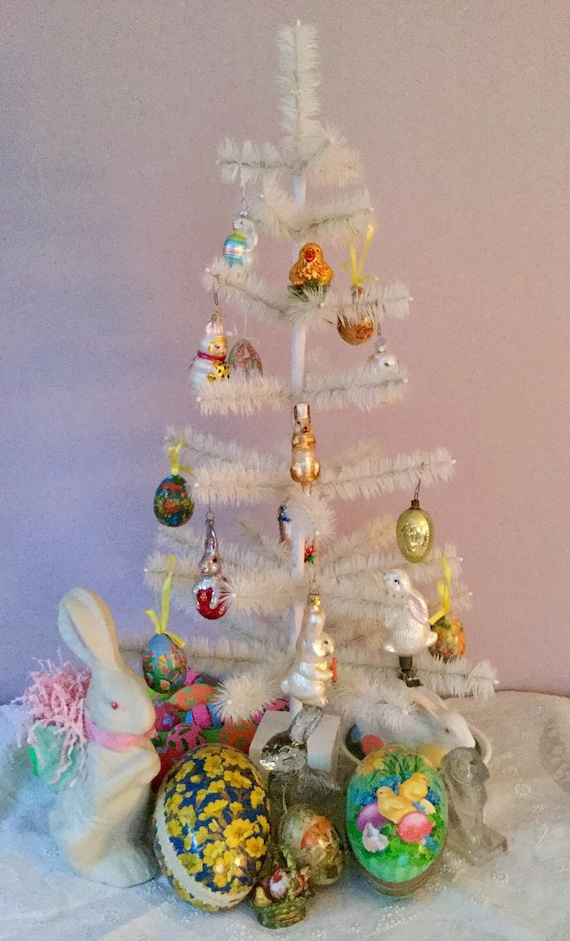 Authentic German Goose White Feather Tree Easter Tree

You can easily create your own Osterbaum (Easter Tree).
Of course, you can buy Easter Egg Trees that are ready made, but many people prefer to make their own. This is a nice idea for any home where the kids may be too old to hunt eggs, but too young to want to give up Easter fun altogether.
Make you Own Osterbaum
Supplies:
–Branches with buds or tiny flowers (Pussy Willows or Forsythia is nice)
–Hollowed out Eggs (the video below explains how to empty them out)
-Ribbon or String to tie the eggs to the tree
-Paint, markers, sequins or decoration for the eggs
Paint or decorate the Eggs however you like… then send the ribbon through the holes, and tie it to your branches. There are a million videos or tutorials for decorating eggs… choose your favorite method.
You can Find the CUTEST Easter Tree Ornaments on Etsy!
This vintage set of 28 Vintage Easter Ornaments is perfect to decorate a whole tree! They come in a few different sizes, and lots of bright colors. Little eye hooks on top of each egg make hanging them easier. The MyBeautifulBavaria shop has loads of other lovely holiday items… and she has low shipping costs! Take a look….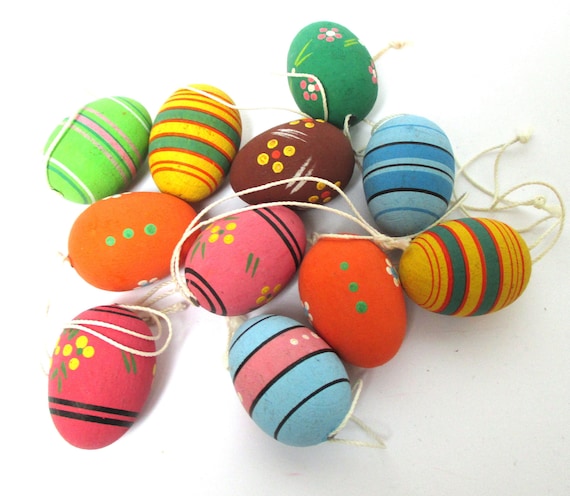 Antique Erzgebirge Easter Eggs Ornaments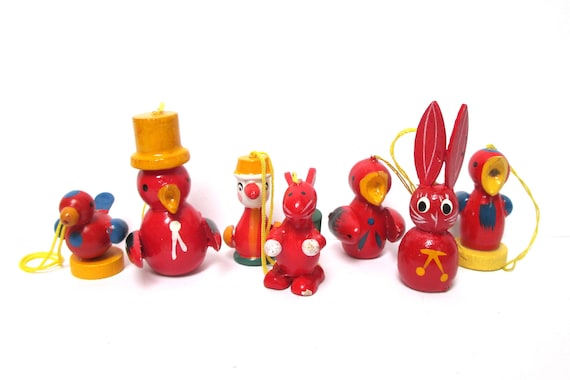 Red Erzgebirge Wood Easter Ornaments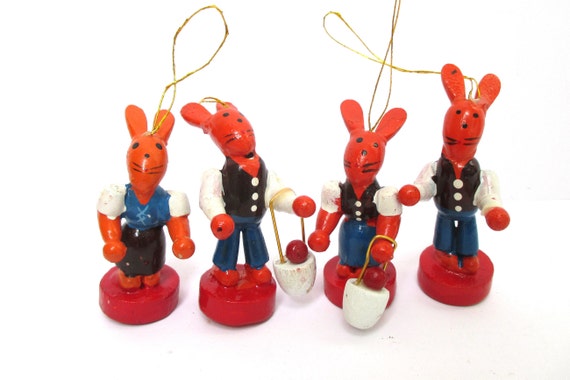 Colorful Wood Easter Bunny Ornaments Four Erzgebirge Bunnies

Start with a "Tree"
You need Branches or a bare tree. Pussywillow branches, both real and silk, are available online.
TreesAgain Lot of 5 Pussy Willow cuttings – Salix discolor – 7 to 9 inches
White Twig Tree for Holidays and Centerpieces – 39
&
How to Blow Eggs for Your Osterbaum
Easter Tree Video
Make Your Own Osterbaum Ornaments
You can blow out eggs… or find artificial eggs ready for decorating online. Just paint or glue on beads and ribbon, to make your own special Osterbaum Ornaments.!
&
Find German Easter Ornaments Here-
You can decorate your Easter Tree with real eggs that you've made, or you can order some beautiful ornaments that were made in Germany. Wood, glass, felt, beaded, new or vintage… you can find just the right ornaments to compliment your style!
German Wooden Easter Ornaments
Wooden Easter Ornaments from the Erzgebirge are beautiful and colorful, and they can be handed down to future generations.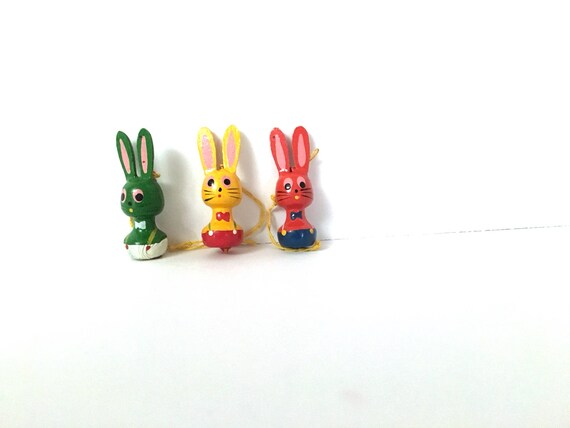 Vintage Easter Ornaments from Germany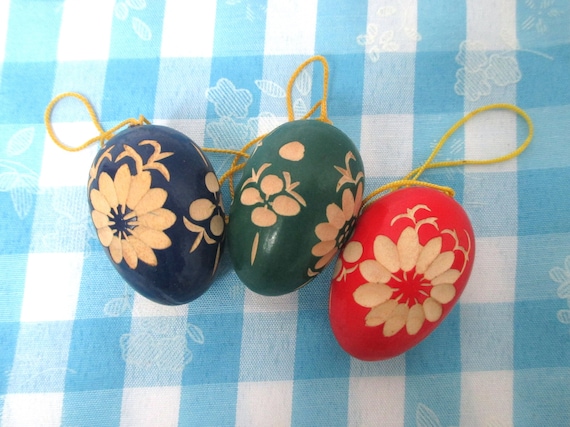 Wooden Erzgebirge Miniatures Wood Easter Ornaments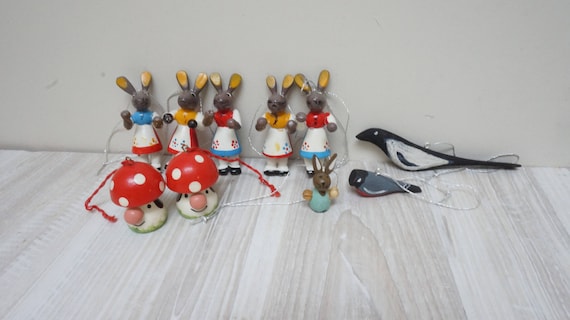 10 German Erzgebirge hanging Easter figurines bunny rabbit mushroom bird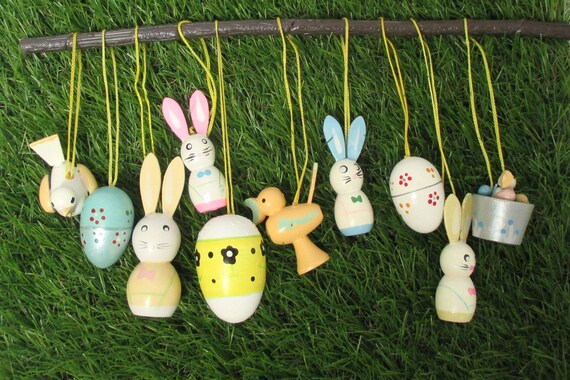 Easter Ornaments Pastel Easter Eggs Bunnies Chicks German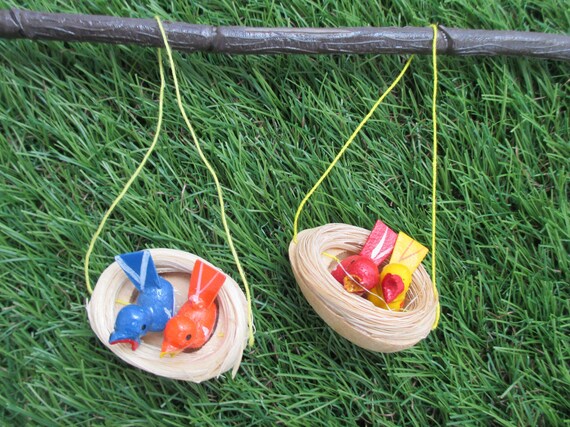 Bird Nests Easter Ornaments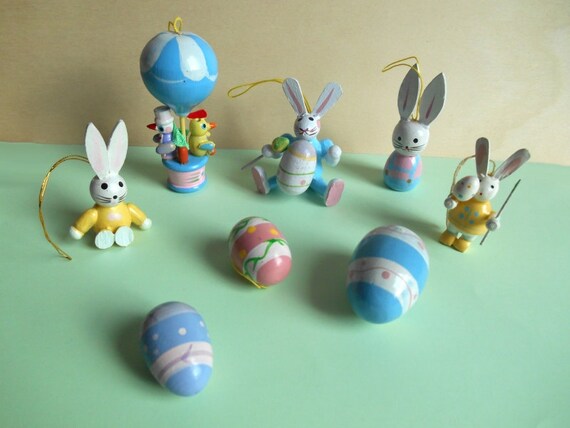 10 vintage wooden Easter ornaments / German tradition

Dregano Ten Wood Erzgebirge Matte Eggs Ornament, Set of 10,
6 Erzgebirge Wood Easter Egg Ornaments
Dregano Set of 6 Beautiful Painted Easter Eggs Set
&
&
Porcelain Ornaments from Villeroy & Boch
Villeroy & Boch is known for their high quality porcelain products. Every year they create new eggs to add to your collection. And at the moment… they are on SALE!
Spring Eggs Bell Ornament:Bunny boy

Annual Easter Edition Annual Egg 2018

Bunny Family Ornament : Egg airplane

Roll over image to zoom in Villeroy & Boch Spring Eggs Bunny girl-00 Additional Information SKU 1485756636 Dimensions 7CM Material Porcelain weight approx. 0.25 lb 15% OFF Spring Eggs Bunny girl

Bunny Family Ornament : Basket with Boy Bunny

Glass Easter Ornaments
These highly collectible, delicate and beautiful glass Easter Ornaments add shine to your Osterbaum.
Rabbit and Butterfly Easter Bunny set of 3 German Glass Christmas Tree Ornament Animal

Rabbit and Butterfly Easter Bunny set of 3 German Glass Christmas Tree Ornament Animal 012331B

Kurt Adler Glass Decorative Egg Ornament, 45mm, Set of 9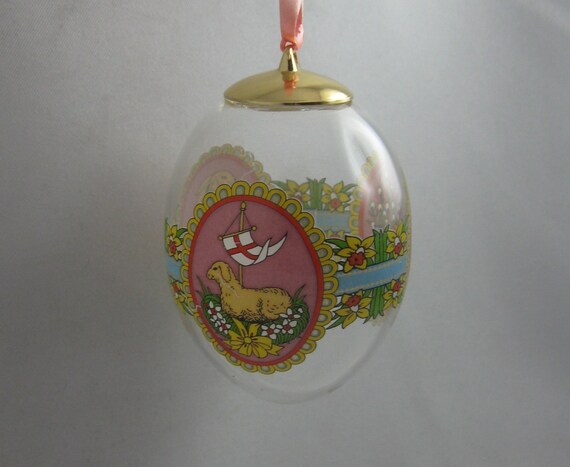 ROSENTHAL Classic Germany 1997. Glass Easter Egg. Height 6 cm, diameter 4 cm.

&
Felt, Paper, and Ribbon German Easter Decorations
Love a vintage look? Maybe you have strong memories of the 50's and 60's? There are so many adorable styles of Easter Tree Decorations!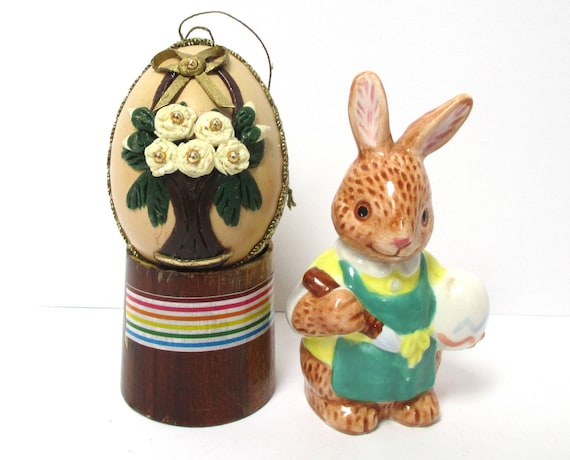 Hanging Easter Egg Ornament Vintage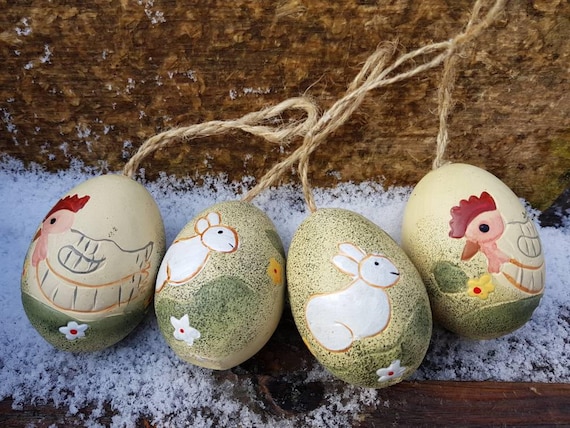 Eggstraordinary Easter Eggs Vintage German Easter Egg Ornaments Set of 4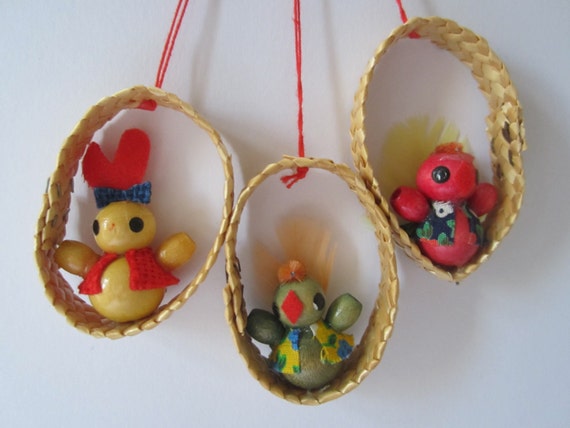 Collection of 3 vintage Easter ornaments bunny and birds made of wood and bast, German vintage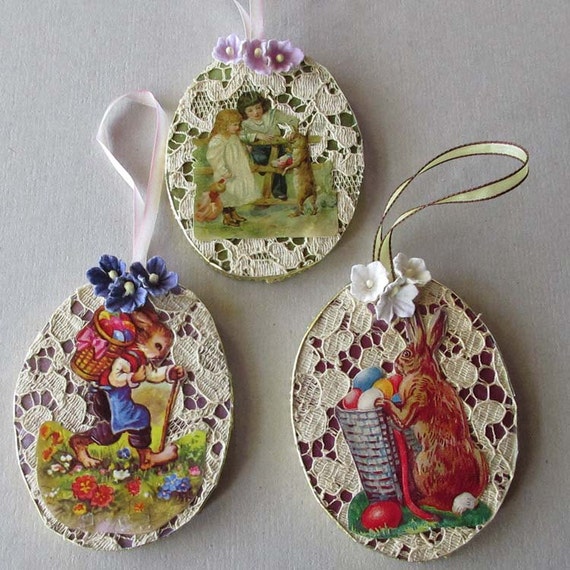 3 Fancy Easter Egg Ornaments Lace Dresdens Scraps Decorations Easter Tree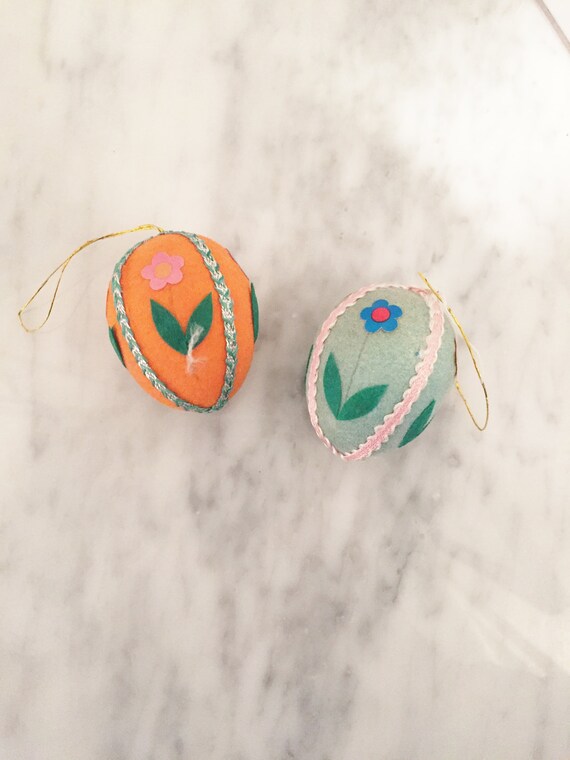 Felt Easter Egg, Vintage Egg Ornament,

&
&
Egg Decorating Tutorials
Styrofoam Bead Eggs

Decoupage Eggs

Glitter Eggs

Ribbon and Sequin Eggs