A Visit to Seiffen Germany- Germany's Spielzeugdorf
I'm completely convinced that despite the North Pole story we were told as children, the real Santa's workshop can be found in Seiffen Germany. This tucked away town in the Erzgebirge known as the Spielzeugdorf (Toy Village) is all about making wooden toys and traditional German Christmas decorations. The main road is lined with stores full of Nutcrackers, Smokers, Schwiboggen (Arches) and beautiful moving Pyramids. There are workshops to visit and see toys being made in the old fashioned way (by hand and simple machine). You can even step back into Seiffen's past with a visit to the Spielzeug Museum (Toy Museum) or the Freilicht Museum. Christmas all year round? I had to go!
Visiting Seiffen Germany
In July 2019, I had a chance to visit Seiffen. The town sits very close to the border of the Czech Republic and doesn't even show up on the map I bought before my trip! (yes, I still buy maps, I like seeing the big picture before I set the GPS). When I started my planning, I really didn't know what to expect. All I knew was that Seiffen was in the Erzgebirge, where many of my favorite German Wooden Christmas Decorations are made, AND in 2019 the Erzgebirge achieved UNESCO World Heritage Site status. Lucky for me, Richard Frank, a member of the Muller Fasching Verein in Milwaukee, heard about my trip, and sent me a big envelope FULL of information, a list of "Things to See, Do and Buy" and wonderful photos from his previous trips. So exciting! A new place (for me) and beautiful things to see and buy! (My mom was JEALOUS!!)
The town isn't "just off the Autobahn", so visiting takes a little effort. You'll be driving on small streets through villages and countryside for a while. Give yourself time to get there… and make sure you've given yourself enough time to stay for a while.
History of the Seiffen and the Erzgebirge
Walking through town, we were overwhelmed by then number of shops full of beautiful wooden Christmas Decorations and Toys. How did Seiffen and the Erzgebirge become known as the Spielzuegstadt (Toy City)? And no, it had nothing to do with a guy in a red suit… (although, I kept having visions of the Kringle family, the Warlock, and the Burgermeister in Santa Claus is Coming to Town!) The real story is rooted in German practicality. The Erzgebirge was a mining community. The hills full of Silver and Tin. Seiffen was first mentioned as a town in 1324, when miners came into the area and started digging. By the late 1600s, most of the mines were tapped out. In these days people didn't just "move", so they looked for new ways to make money to feed their families. Besides digging, miners were also trained in woodworking… so they adjusted this practical craft into a smaller scale, and began making toys and Christmas decorations.
A Recreation of a Mine in the Toy Museum
Many of the Decorations can be traced back to mining times. The Pyramids, the ornaments lit with candles that move, are a scaled down version of the "pumps" that lifted water out of the mines. And the Schwiboggen? The lovely arches? Larger ones would be found over the entrance to mines, supporting the openings.
In the Schauwerkstatt
But what to DO with all those toys? Selling just to neighbors wasn't going to help anyone. They needed a bigger market. As the story goes, in 1699 Johann Friedrich Hiemann took a load of his hand carved toys to sell at the Toy Market in Nuremberg (At the time, Nuremberg was the center of toy distribution for all of Europe). He came home with a pocket full of money… and the next year others took their toys and decorations to the Nuremberg market too.
Seiffen toys were popular because they were so well made… and also because they were relatively inexpensive. The cost of living in the Ore Mountains was so low, the woodcarvers there could undercut carvers and toy makers in other parts of Germany. Families specialized in certain toys and figures, and the whole household worked together… literally a cottage industry!  (Side note- While the Seiffen products are now being undercut in price by cheap imports from Asian Markets, they still produce goods of the HIGHEST quality. And you get what you pay for.)
Today, some families still work out of workshops attached to their homes. Drive or wander down any road outside of the center, and you'll see boxes containing examples of what the family produces. Check for an open sign. You'll be helping a small business, and bringing home a truly "can't find this anywhere else" souvenir.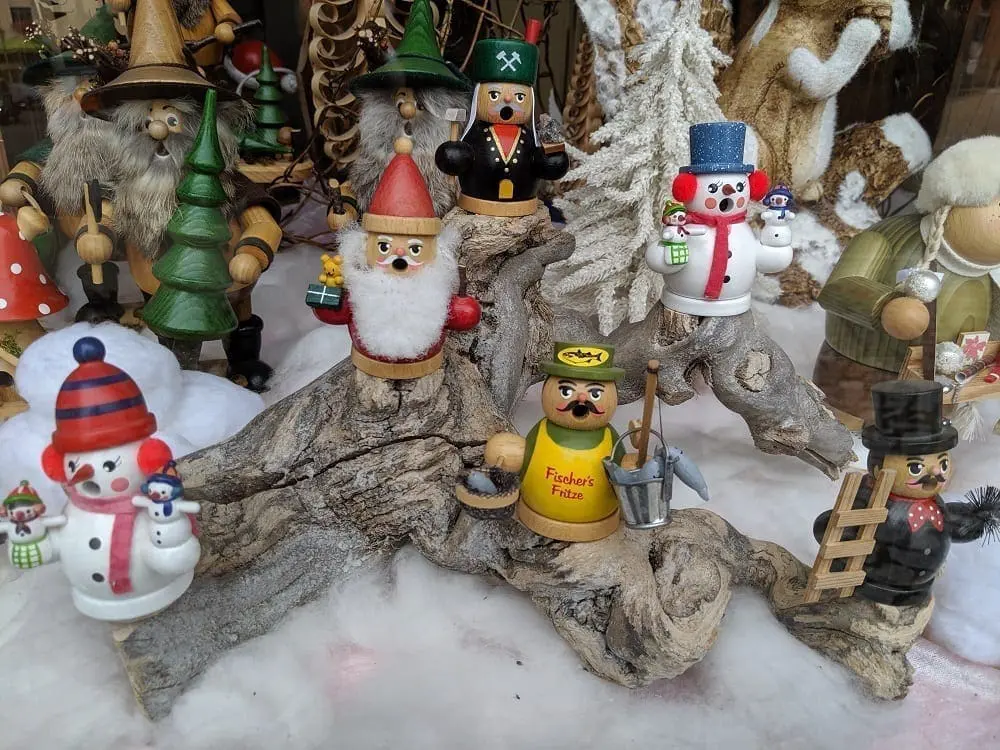 A  few Smokers
Seiffen is not Like Other German Cities
Seiffen is not like German cities that you may have seen before
. There are no massive Cathedrals, and there isn't a Fußgängerweg (Pedestrian Zone) running through its center. It has more of a village feel. None of the buildings are more than 3 or 4 stories tall… and the majority run along 2 main roads that crisscross the town.
But the small scale makes it perfect for what you find there. Park your car and walk. There is public parking next to the Spielzeugmuseum, and many of the workshops, stores, and restaurants can be reached on foot. (You'll find the Schauwerkstatt and Rodelbahn up a hill and around the corner… they have a parking lot as well. You decide how energetic you want to be).
The relative isolation means that until recently, the throngs of International Tourists you find in places like Rothenburg haven't quite discovered this gem. But, word is getting out. On weekends, and especially during the Advent Season, collectors looking for treasures fill the town. And the Sternmarkt, a Christmas Market, opens in October!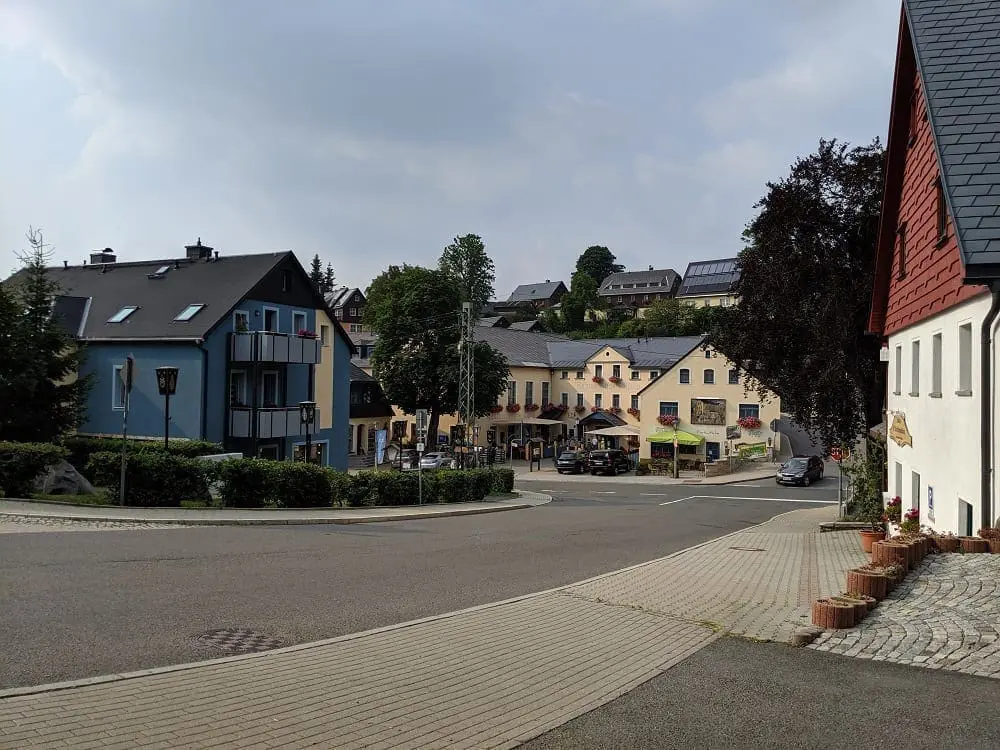 "Downtown Seiffen"
Workshops in Seiffen
Today you find workshops and stores belonging to very familiar names in the German wooden Toy and Christmas Ornament Market. Richard Glasser, Dregeno, Wendt & Kuhn, and many others. You can stroll through and enjoy shopping the latest creations, as well as traditional forms. Fair warning… It can get overwhelming. SOOOOO many beautiful things! And since each workshop produces a distinct style, you can immerse yourself in a favorite.
May I suggest bringing along… 1. an extra suitcase 2. a credit card with a lot of room. (No extra suitcase? Most places will ship… )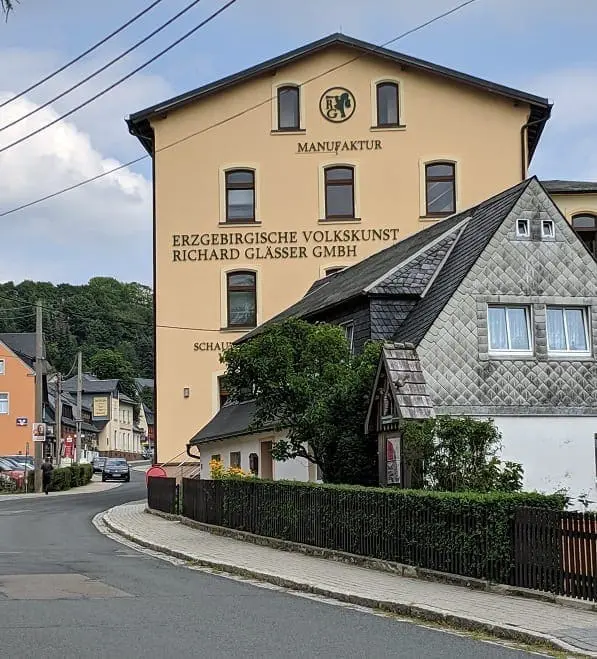 Take the Workshop Tours!
The Richard Glasser workshop offers a peek at the work floor. For just a few Euros, you can go upstairs and see craftspeople working on beautiful decorations by hand, carefully painting, sanding, carving and gluing. Local men and women still work hard in the workshops. It's fascinating and a bit overwhelming to see the sheer number of pieces that they work with. But seeing real people assembling and painting nutcrackers and pyramids by hand puts into perspective just how special these pieces are. Nutcrackers made by machine aren't the same.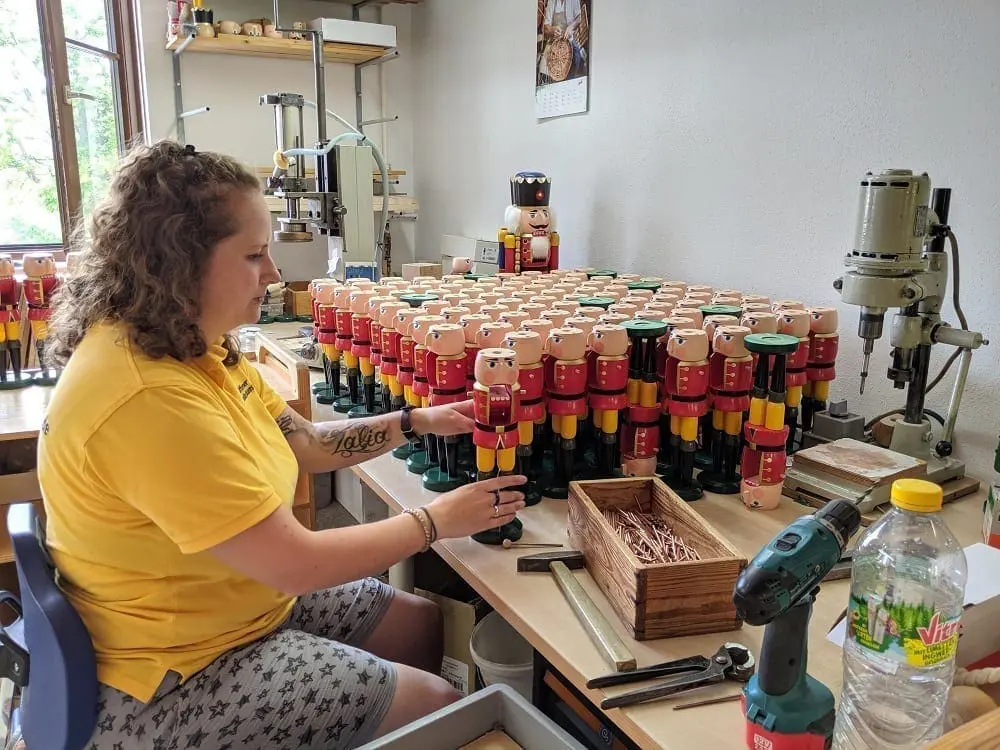 In the Richard Glasser Workshop… THOUSANDS of Nutcrackers get made Every Year
I asked one woman how many Nutcrackers she built every year... she said she couldn't even begin to count. Isn't it amazing to know that the thousands of tiny Angels and Nicholas's painted by hand get sent far and wide to delight families all around the world.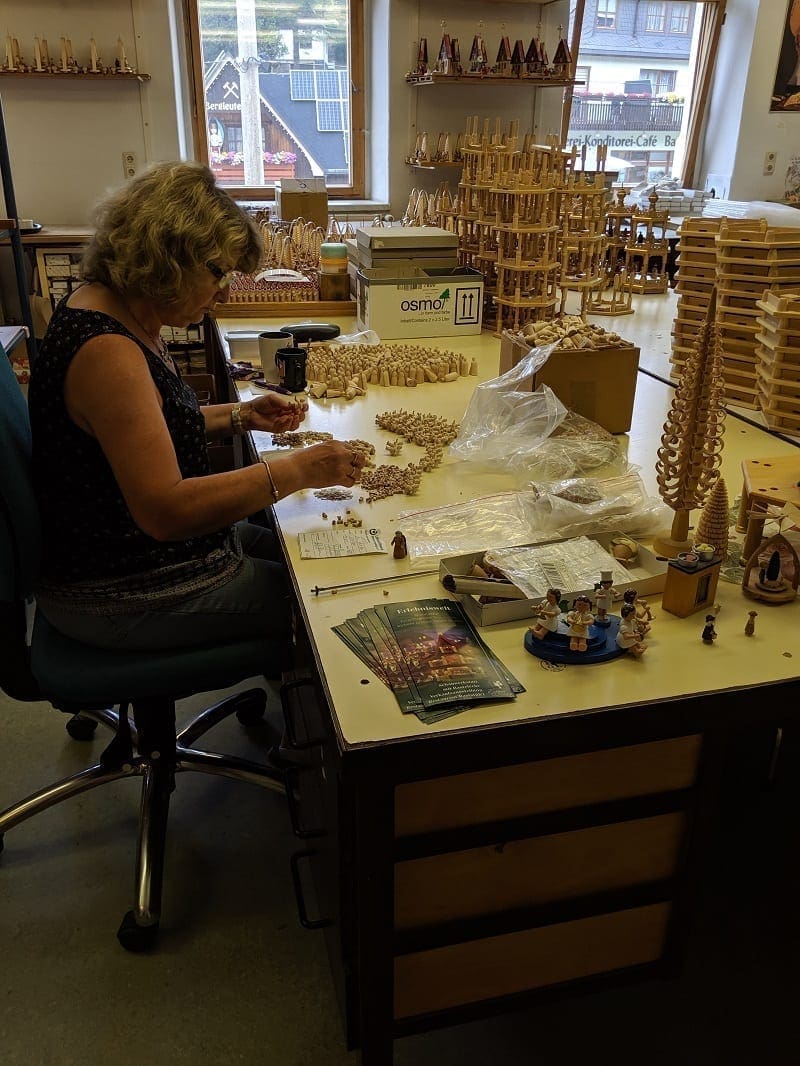 Small bits and pieces
For a more "hands on" experience, go up the hill to visit the Schauwerkstatt.In fact, if you don't have time to visit any other workshops, go here. The workshop and store are right at the entrance to Seiffen with a big moving Pyramid out in front. Inside you will find work stations where you can watch craftspeople make the most marvelous wooden decorations. The rooms show all of the bits and pieces that go together to make the German Christmas decorations.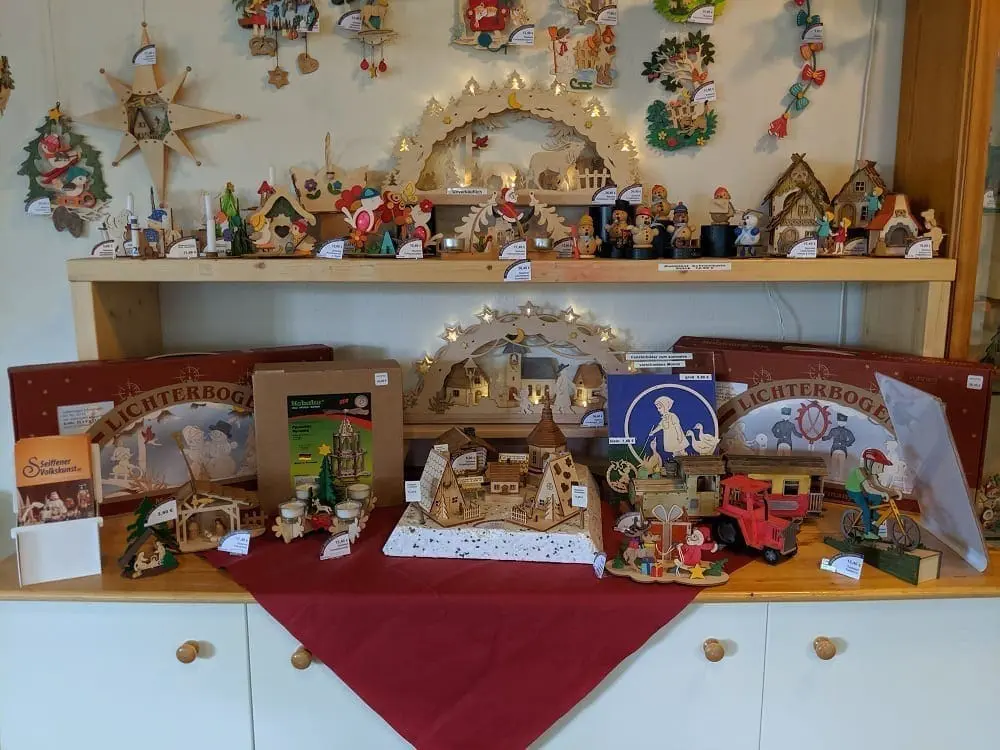 You may buy and build any of these models
Even better, there is a space in the back where you can choose a project to build yourself!
Choose from 20 or so models. (Some easier and more kid friendly than others.) Once you've paid, you can take it home, or sit down in the work space to put it together. All the supplies you need are provided. After seeing all the beautiful decorations being made, I needed to try building one for myself.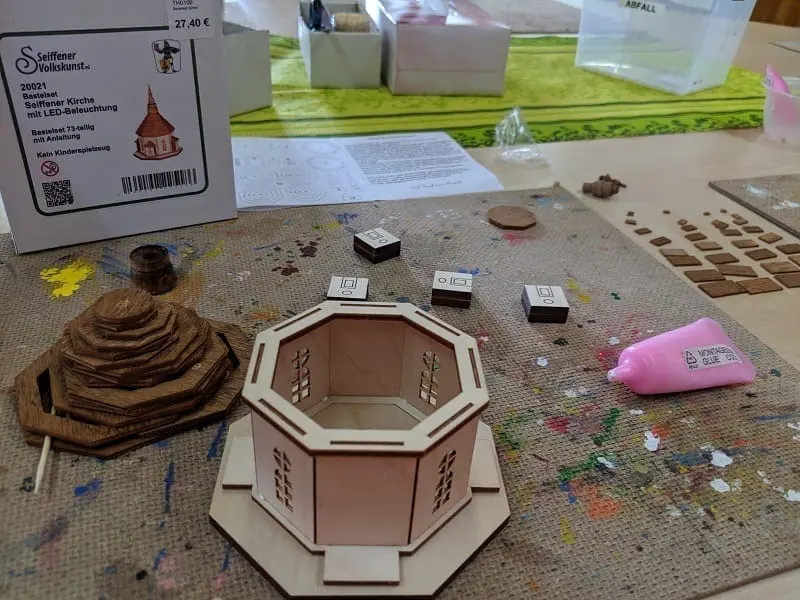 I chose to make a model of the local church.  One little girl near me put together a simple door decoration under the watchful eyes of her mother… and a family group of three behind me built a Nativity. Despite my lack of craftiness, with the help of the woman who kept an eye on us, it looks great! And now it sits on my cabinet at home. (It even lights up!)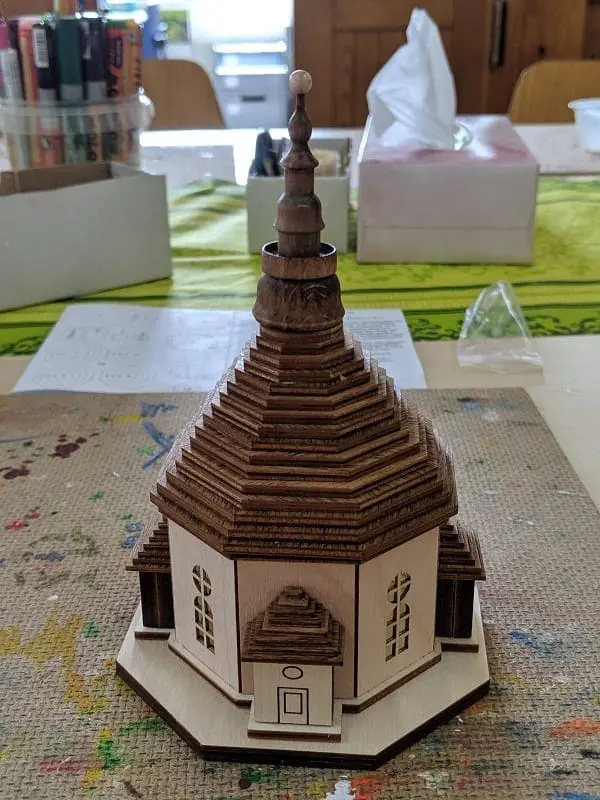 Shops  aren't the only places to Buy Treasures!
Down every road, no matter how small, no matter how deep into the neighborhoods or off the main streets, you will find display cases in front of homes. You see, many families have their own "private" in house shops! If you see what you like in the display cases… just go knock on the door! (Please, don't haggle the prices. It's just not polite!) To me, that indicates an ASTONISHING amount of trust, but that's the way it's done. And what an amazing souvenir along with fantastic story you can bring home with you.
Museums in Seiffen Germany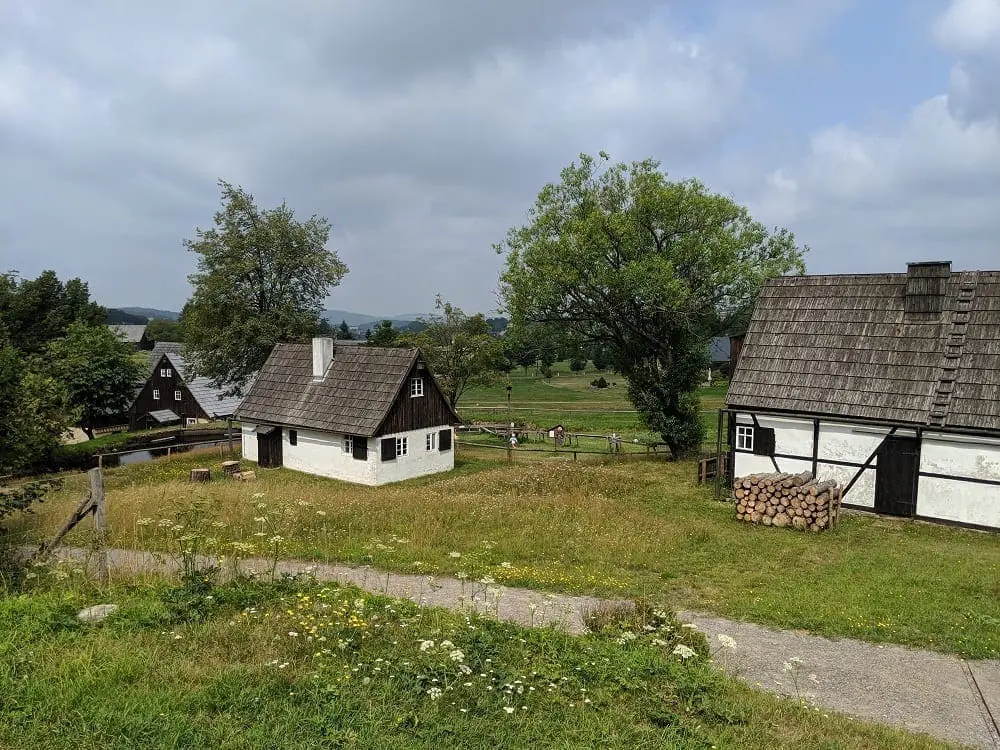 Freilicht Museum
For a deeper look at what life was like in Seiffen Germany, we headed over to the Erzgebirgisches Freilicht Museum. I LOVE Freilicht museums (Open Air Museums). You get a chance to walk into houses and workshops from long ago and really get a sense of what life was like. Beds under the eves, a Kachelofen (big tile stove) to warm the house, a place for the animals, and a table for working on the many toys that the family produced to survive.
The houses feel small, but cozy. (Some of you may have to duck your heads going through doorways). Everything has a purpose and a place. It almost feels like the family just stepped out for a moment, but will return any time to take up their work and life again.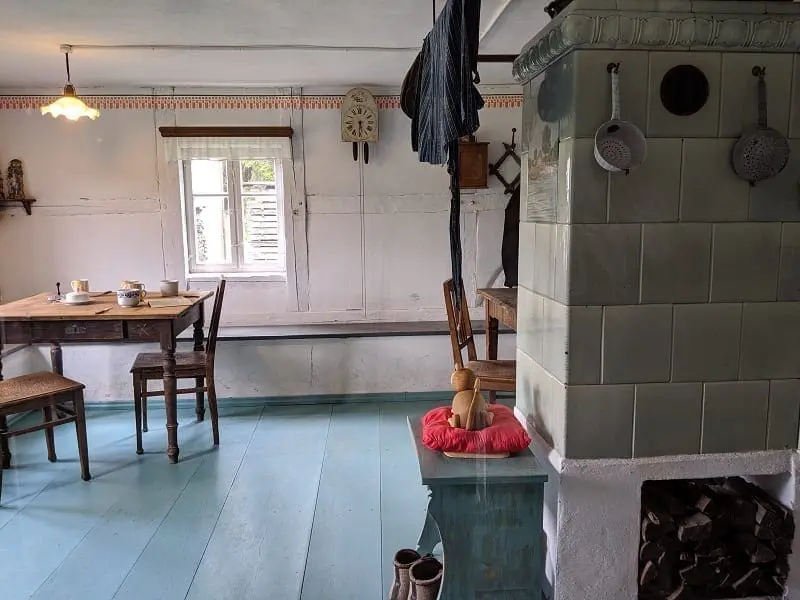 Inside a "typical"home
My favorite part, and clearly the most popular part of the museum, was the live demonstration of the Reifendrehen. Basically, the Reifen Dreher mounted a disk on a lathe, then cut out bits and wedges while it spun. When he pulled the disk back off, it looked like a ring with grooves. Then Reifendreher (guy who makes them) slices off pieces with a sharp tool… and a small animal appears!
Special chisels of different size and shape hang around the room, and even on the ceiling. In the corner behind the lathe, the pile of wood shavings grows and grows with every new project. You'll find examples of animals and buildings to buy. The gentleman explains his job as he works, and seems endlessly patient. But fair warning. At Lunchtime, he doesn't linger! Learn more about it all here….Reifendrehen
Hard to believe these notched circles become animals!
These "mass produced" horses, giraffes, elephants and cows would be playthings for children.
Spielzeugmuseum
Speaking of playthings…. a ticket to the Freilicht Museum will also get you into the Spielzeugmuseum. Take time to visit this Toy Museum (it's next to the parking lot in the center of town, so you can't miss it). The fascinating history of toy making in Seiffen is laid out over several floors. And naturally, interactive spaces mean that your kids (who am I kidding? YOU) can PLAY. (I do love touching things).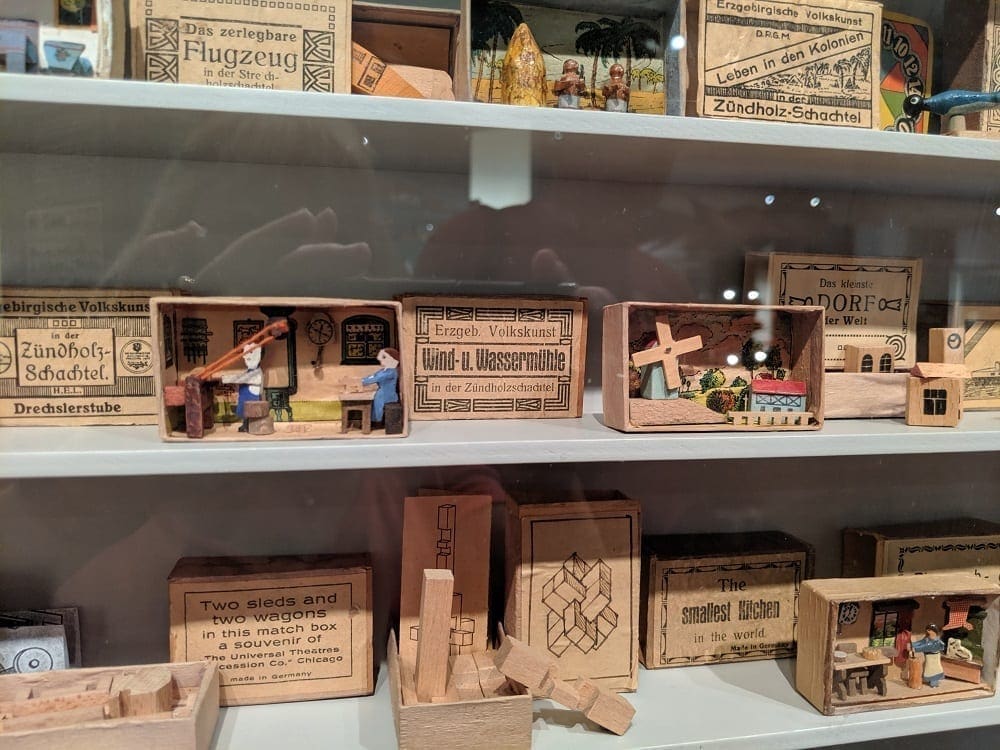 Matchbox sized toys were popular for a while, and because they were small and light, they were easy to ship worldwide
The history of toys, Christmas ornaments and even wooden chandeliers are on display over 3 levels. 
WOODEN CHANDELIERS! So intricate and delicate… why aren't they hanging in castles everywhere?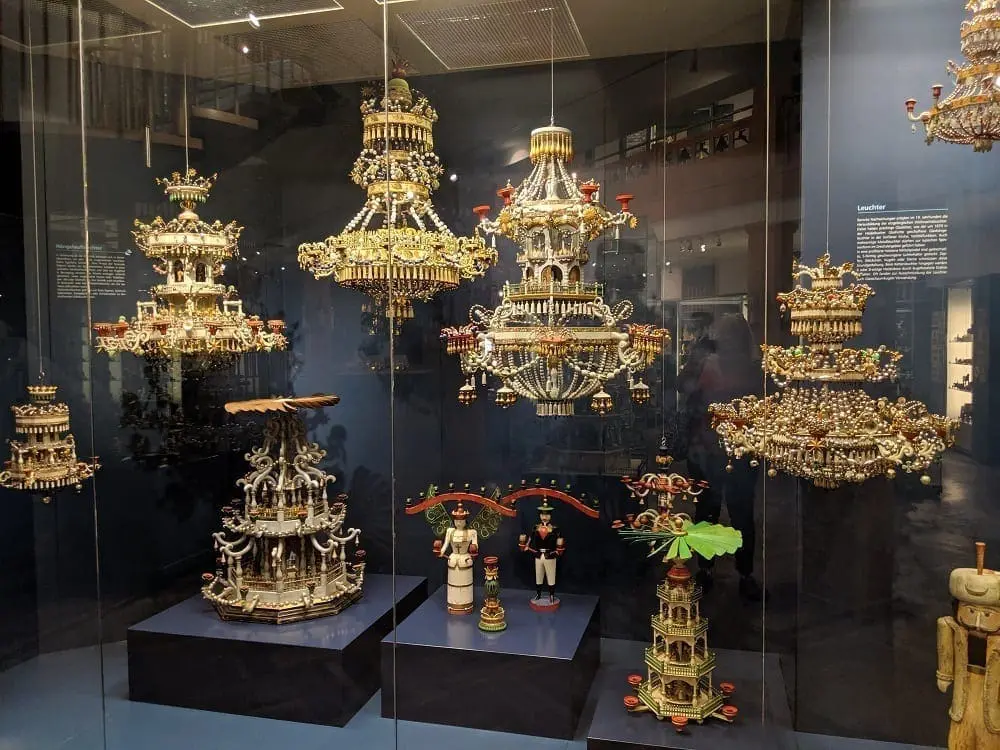 Wooden Chandeliers and Pyramids in the Museum
Don't want to Drive? Sign up for a Day Trip!
The Seiffen Germany Bergkirche
As the sun sets, take a walk up the hill to the Bergkirche (Mountain Church). Your way will be lit by colorful streetlamps with covered in playful designs. And the church? When you see it, you will know it. This multi-sided white church with dark roof looks almost round. It's not a toy, and it's not a museum! It's a living breathing neighborhood church. Still tours are given at set hours, and there are special music performances. Sit on a bench next to the well tended (and oddly recent) cemetery, and enjoy the lit up scene.
The Bergkirche in Seiffen
And just when you thought Seiffen showed you all of it's charm, the street lights, each decorated with a different scene, light up. (Part of me wants one in front of my house… part of me wants to know that there is nowhere else in the world to see these adorable lamps).

Then it's time to head back to the hotel. The streets will be quiet (shops close early) and there are only a few restaurants that stay open later. Sit and enjoy a last glass of wine and enjoy the stillness. Then get yourself to bed, because tomorrow is another day of shopping!
What to Eat and Where to Stay
When we arrived, we were good and ready for lunch. The public parking was right in front of a restaurant that Richard recommended, the Gaststätte Holzwurm. One look inside, and we were HOOKED. (Enthralled may be a better word). We chose to sit on the patio in order to enjoy the beautiful day, but I did walk through the restaurant to see all of the amazing figures.
Inside the Gaststätte Holzwurm
The whole restaurant was beautifully decorated with local wood carvings… figures and pyramids… animals and arches. And somehow, they made it look homey and not kitchy. Best of all, the FOOD was outstanding. (We actually ate there a few times…) Remember, we were in former East Germany, so there were a few items on the menu that I hadn't seen before (Wurzfleisch… and WOW was it good). EVERYTHING we ate was perfectly prepared and delicious. My guy said he had never eaten more delicious Lentil Soup (it was Sauerlinsen Suppe)… now I need that recipe!
A Beautiful Modern take on Wurzfleish
Just up the road was our Hotel, the Buntes Haus. And it lived up to it's colorful name. The hotel was painted with friendly and welcoming colors. Our rooms were at the front of the hotel overlooking the restaurants, and up the hill to the famous Seiffen Church. Our room was comfortable, and I love how every room was marked with a special figurine. Best of all, the central location meant we seldom felt the need to jump in the car.
Outside each door in the Buntes Haus is a Figurine… All are Different
Rodelbahn
Near the Schauwerkstatt is a Rodelbahn! Basically, you ride a sort of sled down a track… in this case, the track is a metal half pipe. You have a break (use it), and are given a lift up the hill. The rest is up to you…. The starting point also has a small restaurant, and a train brings your food
UNESCO World Heritage Site
In 2019 the Erzgebirge Achieved UNESCO World Heritage Status!