Würzfleisch Recipe from the DDR
German food is more than Sausage, Rouladen, and big roasts. Home cooks in Germany are especially good at making something delicious out of what they have. The goal is to fill the tummy and satisfy the soul. Since I'm not a "fancy" person when it comes to food. Comfort foods done well will make me smile every time. This is why I was absolutely delighted when I stumbled across a dish called Würzfleisch while I eating at the Gaststätte Holzwürm in Seiffen. Thanks to my friend Katja and her extraordinarily helpful parents, who sent me a Würzfleisch recipe, I was able to recreate this dish at home. This DDR specialty is fairly easy to make, is fancy looking enough for company, and is yummy to satisfy even the pickiest of eaters.
Würzfleisch Recipe
Würzfleisch shows up in some cookbooks as Ragout Fin, a more complex dish from France, that contains veal, sweetbreads, brain, marrow, and tongue. The recipe traveled to Berlin, where it became known as Würzfleisch (which means 'Seasoned Meat').  And since I'm not much of an offal person, I'm happy that the people in East Germany shortened the steps, and changed up the ingredients. Today, Würzfleisch is made with Veal or Chicken (some still use tongue, but… I would be chasing my family around the table with it if they knew).
Cooked cubes of meat (in my case, chicken) are added to a sauce made from a light roux (butter and flour) with chicken broth. Season it up with pepper and Worcestershire sauce, and if you are feeling fancy, some white wine (wine goes in the sauce, as well as the chef). You can stretch it a bit more by adding some sauteed mushrooms. The meaty sauce goes into small baking dishes / ramekins… is topped with Gouda Cheese, and stuck under the broiler.
If you don't have small ramekins, you can use a casserole dish, and serve family style.
Serve with bread for dunking. A salad on the side, and you have a meal fit for a king.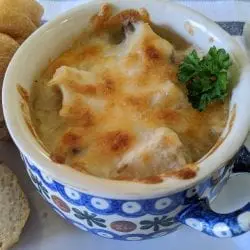 Würzfleisch Recipe from the DDR
Ingredients
500

gr.

Cooked Chicken

I used one good sized boneless chicken breast

40

gr

4 TBL Butter

2

TBL Flour

1

Cup

Chicken Broth

1/2

cup

minced Mushrooms

optional

Salt and Pepper

Worcestershire Sauce

few dabs

White Wine or Lemon Juice

4 - 6 teaspoons

200

gr

I used a few handfuls Gouda Cheese (or what you have)

Serve with Bread
Instructions
Preheat the Broiler

In a larger Saucepan- Melt the butter, and add the flour.

Stir until the flour is absorbed and bubbly. (Don't let it brown!)

Slowly pour in the Chicken Broth while stirring.

This will make a smooth and thick sauce.

Season it with salt, lots of Pepper, Worcestershire Sauce, and wine or lemon juice.

Stir to combine.

(Taste for flavor)

Add the finely diced Chicken

If you want to add mushrooms, now is the time.

Stir until it's all combined.

Fill into OVEN SAFE bowls (they are going under the broiler!)

Top with Shredded Cheese

Broil until browned and bubbly on top... about 5 minutes? Keep your eye on it!

Serve with Slices of bread or Toast.
Notes
When I was first served Würzfleisch, it came in a small-ish dish. And believe me, a little goes a long way. The recipe is for 4 people (when served with bread and salad on the side). The dish if incredibly rich and flavorful. It's perfect in Winter, but I REALLY enjoyed it in Summer as a small meal. 
If you don't have little ramekins or oven proof dishes, put it all in a smaller casserole dish, cover with cheese, and broil. Then serve family style.  
Porcelain Ramekins by CIROA | Set of 4 8.5oz Embossed Ceramic Bowls for Baking, Souffle, Snacks, Dips and Condiments

LIFVER Ramekins with Lids,8 oz Creme Brulee Ramekins,Ramekins 8 oz Oven Safe, Mini Casserole,Souffle Ramekins,Ceramic Ramekin with Cover and Handle for French Onion Soup,Ramekins Set of 4, White Teal

How to Make Würzfleisch
Melt Butter, Add Flour, stir until smooth and bubbly… add chicken Broth
Cube cooked Chicken

Add Chicken to the Sauce… add Mushrooms sauteed in a bit of butter if you like 
Put the mixture into Small Broiler Proof Ramekins (or a larger broiler Proof pan)
TOP WITH CHEESE!!!
Put it under the broiler for a few minutes… WATCH IT…
the cheese will go brown and bubble.
Let it cool a few minutes before you try to eat it.
 
If you don't have small Ramekins, a larger broiler-proof casserole will work.
Serve it family style
Serve with Bread for soaking up all of the sauce!
Looking for more Fantastic Recipes from the DDR?
This tiny book is packed with lots of interesting recipes from East Germany