What is Apfelwein? Sparkling German Apple Wine
"Turn left at the main road, then cross over, and take the next right… you can't miss it". With those instructions from the Hotel Manager, my daughter and I headed out from our hotel in Sachsenhausen (Frankfurt) to find  a Bembel of Apfelwein. It really wasn't that hard. In fact, Sachsenhausen is KNOWN for it's many Apfelwein restaurants, and we passed three before we landed at the first one he recommended, the Dauth Schneider. Now, despite the server telling us we couldn't possibly finish a Bembel ourselves… and that we should mix it with the Limonade he brought (the horror!), both of us really enjoyed the flavor. And thanks to the delicious hearty meal that we ate with it, the effects weren't as strong as he feared. In fact, we took a nice walk afterwards, and even considered stopping for more at another of the many Apple Wine places along the way.
"This post contains affiliate links, at no additional cost to you I am compensated if you purchase after clicking on the links."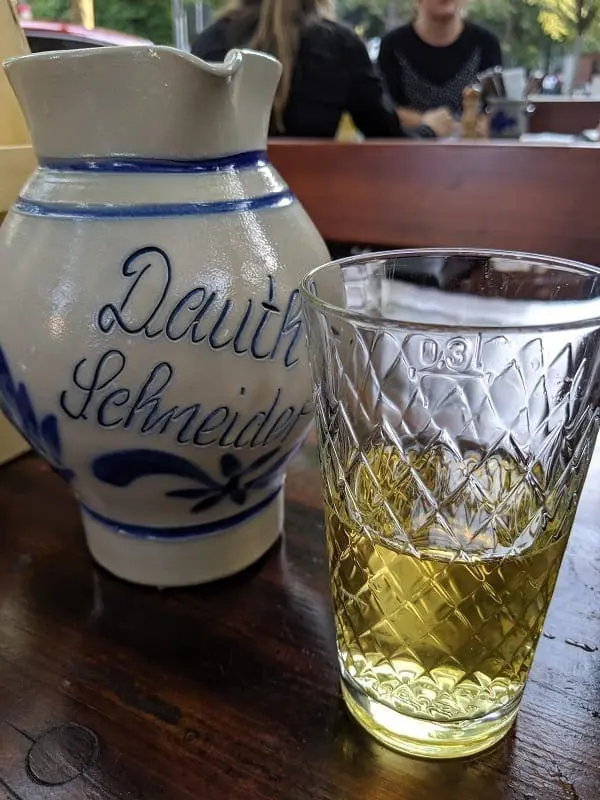 What is Apfelwein? or Apple Wine?
What is Apple Wine? (Here is where we get very specific) Apple wine or Apfelwein is closely related to Apple Cider… but there is a difference. Yes, both are made from pressed apples, and both are alcoholic. The difference comes in the process. While the Apple Wine is fermenting, the Carbonic Acid is allowed to escape, while it is captured in the cider making process. So, the Apple Cider comes out bubbly… and Apple wine is more smooth. Also, Apple Cider tends to be sweeter. Apple wine is made without added sugar or yeast, instead apple wine makers use old fashioned apple varieties that aren't grown to be eaten, giving the Apfelwein more tannic acids. This means it's more tart or sour, and the tannins can bite your tongue a bit. Still, because of this, it's quite refreshing, and considered a nice light alternative to beer.
As someone who doesn't really care for very sweet drinks, I far prefer Apfelwein to Apple Cider. It's funny how everyone tells me it's an acquired taste. Nope… Liver is an acquired taste, Licorice is an acquired taste… Ebbelwei (Apfelwein in the local dialect) is quite delicious.
Or perhaps I just acquired it immediately….
Best Place to Drink Apple Wine
The Sachsenhausen neighborhood is "Dribb de Bach" (over the stream) or Over the River from downtown Frankfurt. (The area around Frankfurt is perfect for growing apples). After a few drinks, it's a nice walk along the water or over the bridge to the "old town" of Frankfurt. The main thoroughfares are busy, but the side streets are more pedestrian than cars, and you will find lots of  places that serve Eppelwei. I love that in the summertime there are plenty of tables outside. We got there a little early, but as we sat, all the tables outside began to fill up!
What are the BEST places to drink Apfelwein? We really enjoyed the food, wine and gemütlichkeit at Dauth Schneider at Neuer Wall 5 to be perfect for us.
HOWEVER, there were at least a dozen places nearby… and even right next door!
Struwwelpeter was at Neuer Wall 3
Drinking Apfelwein
Apfelwein is traditionally drunk from a geripptes glass. A 10 oz (.3L) glass that has diamond cuts on it. (This helps you grip it after a few… and refracts the light beautifully). If you can convince your waiter you aren't a lightweight (or you come in with more people, it will be served in a Bembel. A Jug made from salt-glazed stoneware. It's traditionally grey with blue decoration and a nice handle for easy pouring.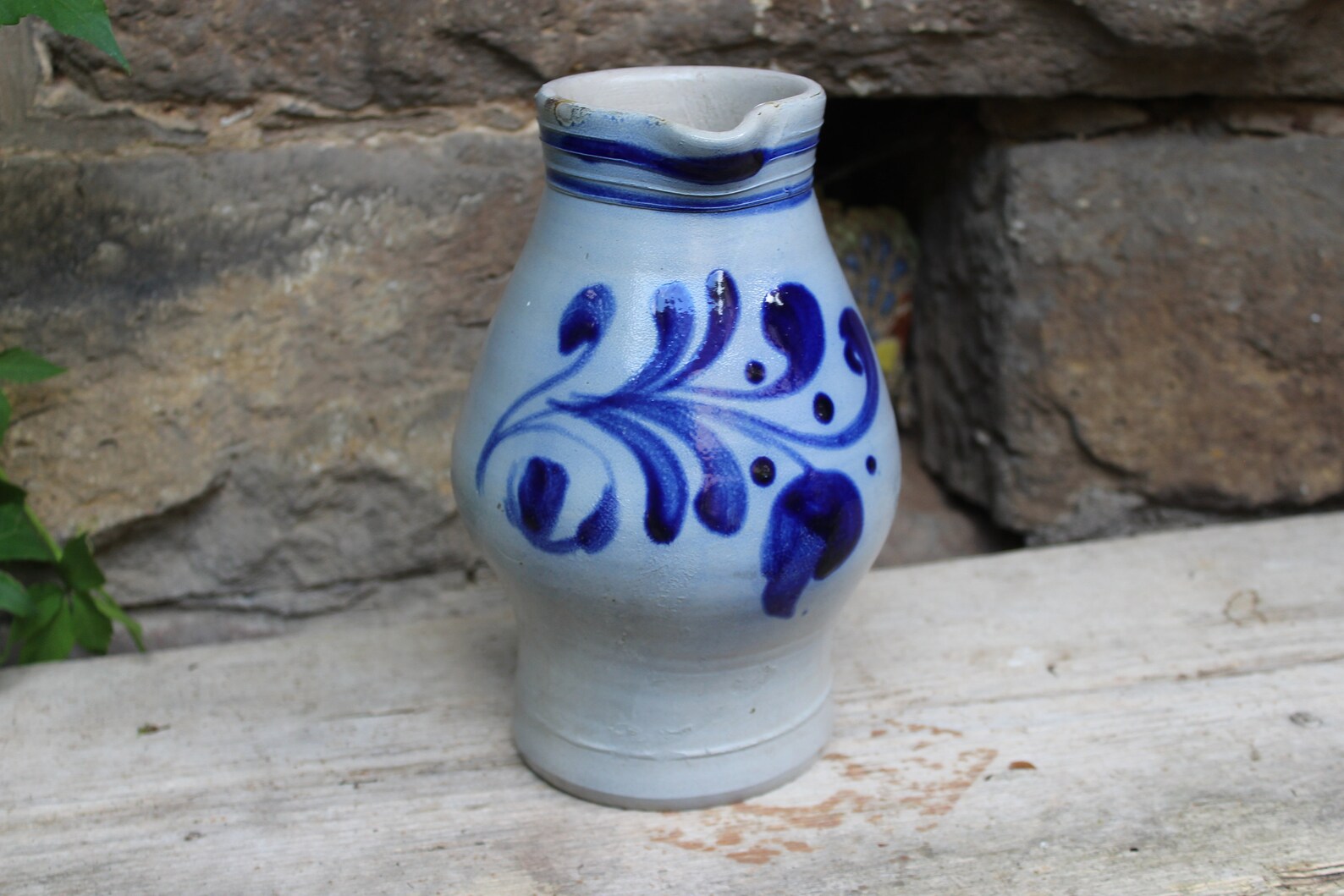 Wine jug jug 2 l Bembel stoneware Westerwald ceramic salt glaze vintage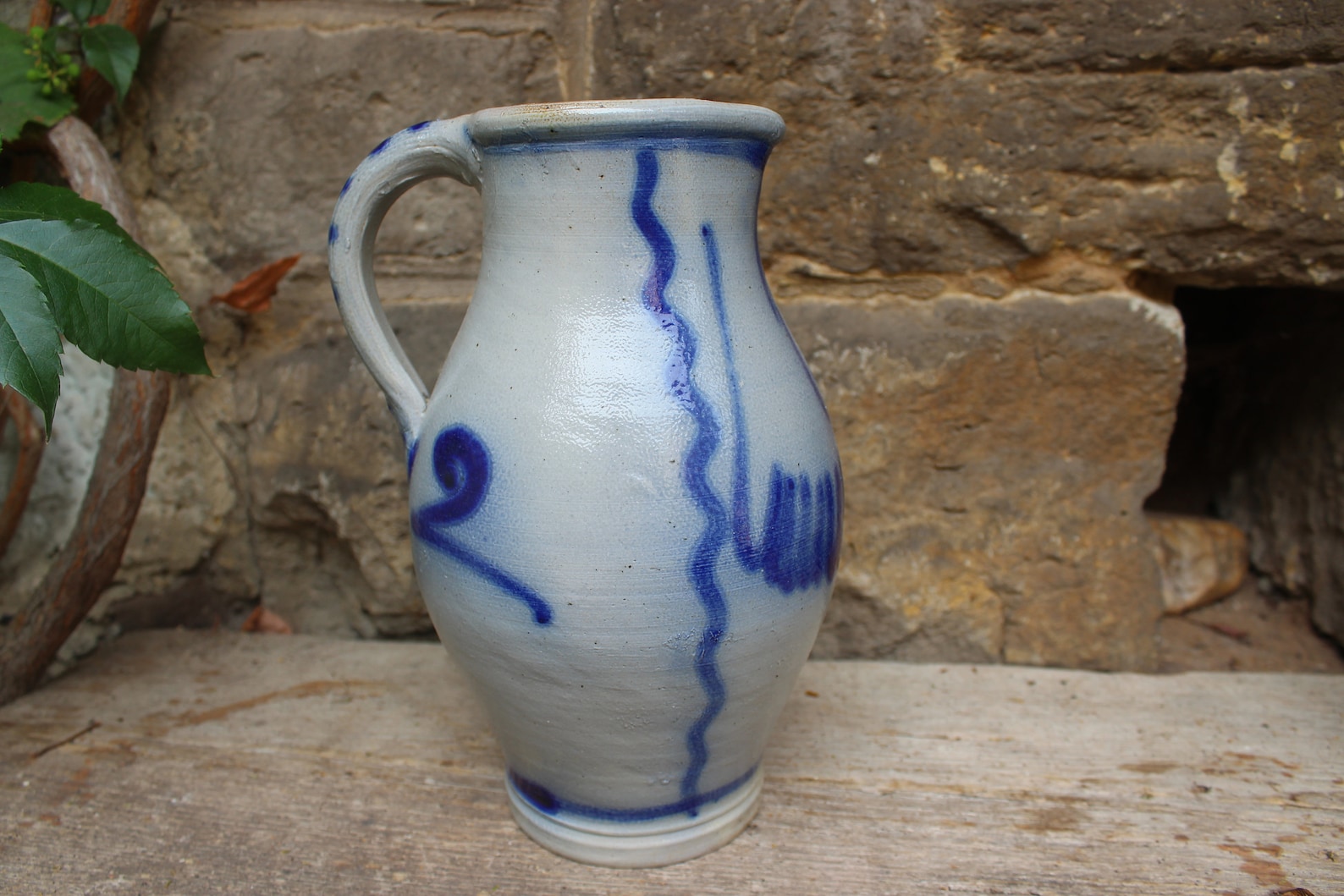 Vintage jug wine jug 2 l Bembel stoneware Westerwald ceramics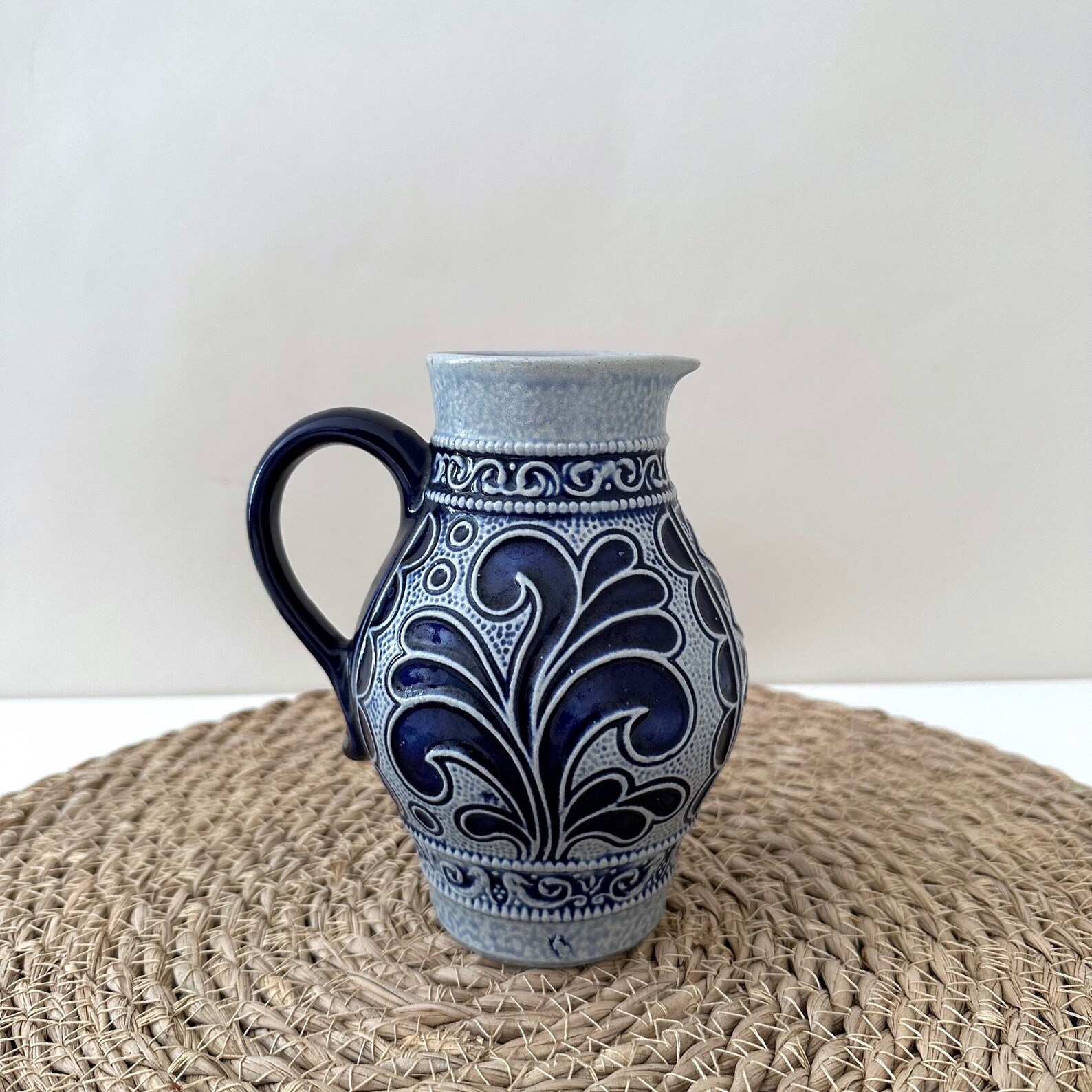 Marzi & Remi stein, vintage bembel, wine jug, earthenware, vintage jug, water jug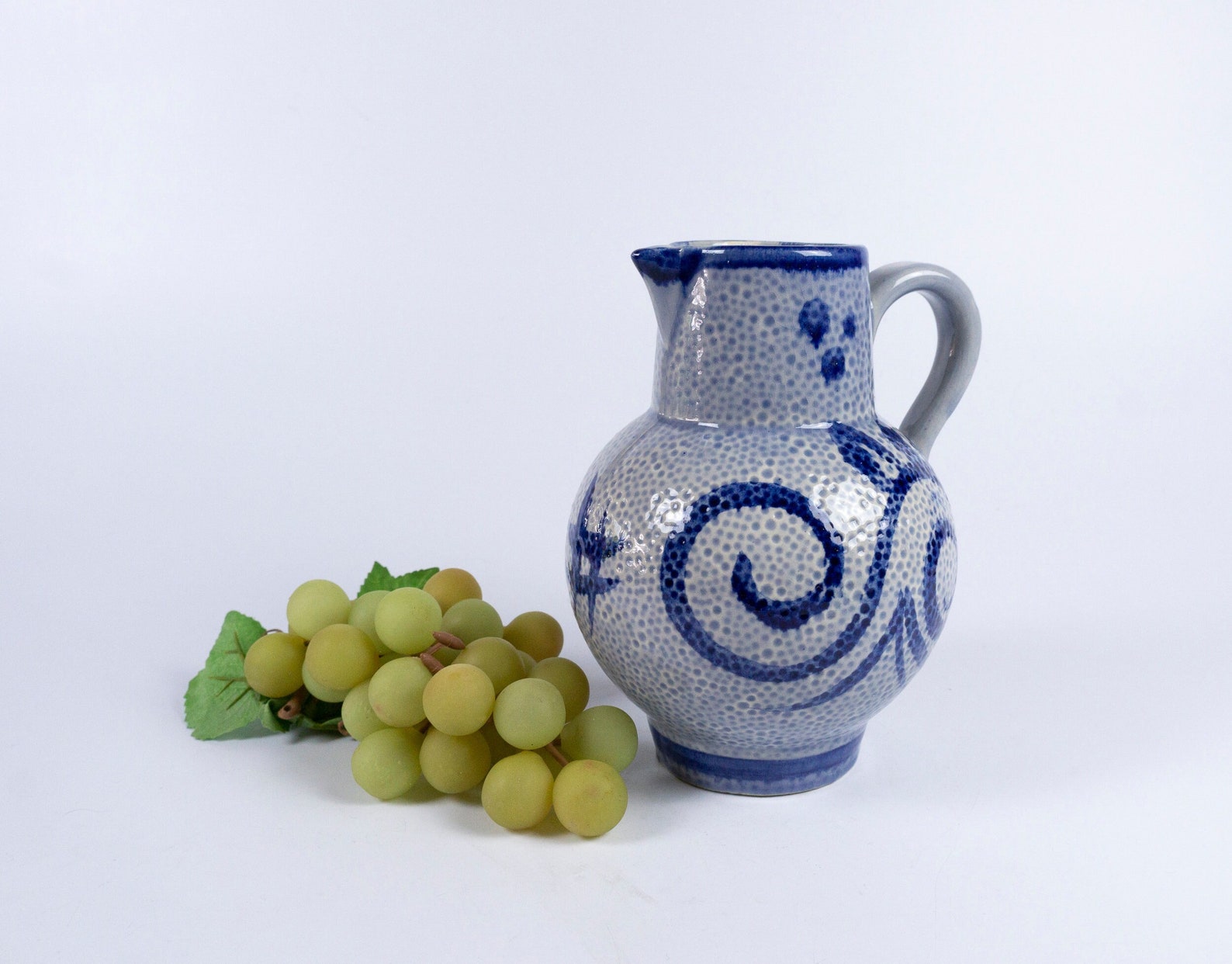 Vintage jug, wine jug, cider jug by Scheurich, German Bembel, traditional, bottom mark 418-18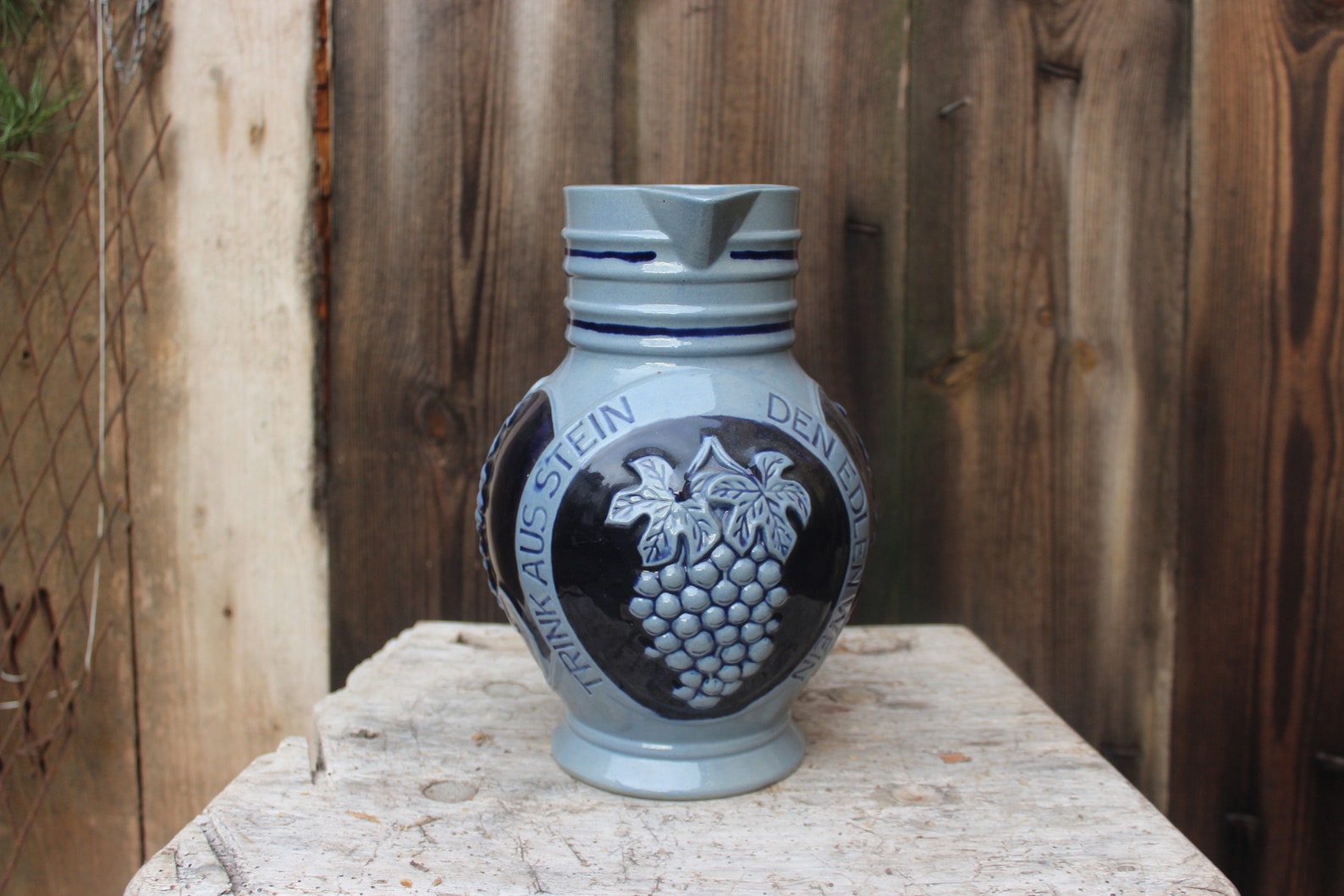 Vintage jug wine jug 3 l Bembel stoneware Westerwald ceramics

Next time you are in Frankfurt, cross the bridge to Sachsenhausen and try the Apfelwein… Don't forget to try a local Frankfurt specialty like Grüne Soße (green sauce) or maybe you will be brave and have the Handkäse mit Musik (Stinky cheese with onions) too!
And don't let the Waiter talk you into Limonade…..