Smelly German Cheese- Plug Your Nose and Try These Stinky Cheeses
My mother loves cheese. (Actually, that is an understatement, since she once told me she could actually LIVE on cheese and bread.) But what she REALLY loves is smelly German Cheese. Stinky, ripe, room-clearing, odoriferous cheese. Woe to the curious child who accidentally opened up the container with Limburger! (You would end up with that smell in your nose for the rest of the day). As it turns out, Germany has many really stinky cheeses! Including a few that will get you asked to leave public transportation.  So, go nuts, eat the cheese! (Just do it outside….) These all go well with a slice of Rye bread and a Beer!
(Now I'm wondering if Biergartens were invented so people could eat their smelly Geman cheese in peace…)
Smelly German Cheese
I'm sure it's no accident that Germans call stinky feet "Käsefüß", meaning "cheese foot". 
Limburger
Serve Limburger cheese with a good rye bread
Limburger cheese has the distinction of being the most pungent cheese in the world. It originated in Belgium but is now made mostly by the Germans. It has a soft, creamy texture and a taste that's earthy, almost meaty in flavor. Although many people swear by the taste of this German Stinky cheese, a high regard for the odor definitely must be acquired. The famous aroma is due to Brevibacterium linens (an enzyme partly responsible for the smell of the human body)  breaking down certain proteins which lie on the surface of the cheese giving rise to what can only be described as a "stinky" odor. (It smells like feet… really stinky teenage boy feet.)
You can buy Limburger Cheese HERE–> Bäyrischer Limburger 
Limburger Cheese – Creamy, 8 oz.

Limburger Cheese Party Pack with (2) Limburger Cheese Spreads and (2) Limburger Cheese Blocks, Perfect Appetizer and Snack Sampler

Allgauer Limburger Cheeseigourmet
Limburger Cheese St Mangigourmet
Liederkranz Cheese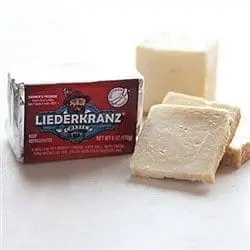 Liederkranz isn't strictly German, more like German-American.
It was first made in New York by German immigrants because their beloved Limburger didn't travel well (Actually, I wonder if it's the cheese that didn't travel well, or that fellow passengers threw it overboard…). This soft brick shaped cheese is the first cousin to Limburger with just as strong a smell (actually, the description reads "strong aroma and full-bodied flavor). By the 1920s, this cheese found a large fan base in Wisconsin. In the 1980s, the factory discontinued making Liederkranz… but fans rallied, and 25 years later, the stinky stuff is back in Milwaukee Biergartens.!
I'm currently looking for a source for Liederkranz…. Please let me know if you have one!
 Bierkäse or Weisslackerkäse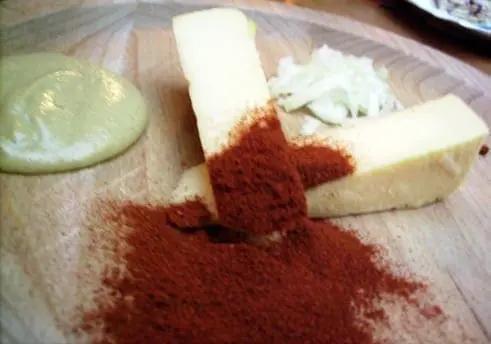 Bierkase… served with onion and paprika.
Don't mix up Bierkäse with Beer Cheese. Bierkäse is a brick shaped member of the cheddar family. (Beer Cheese is a cheese spread that has a pungency all it's own, mostly because of garlic). It gets the name Weisslackerkäse (white lacquer cheese) from the varnish-like mold coat it gets while ripening in humid conditions (sounds appetizing, doesn't it?). The flavor of this German cheese is both tangy and pungent but its characteristically pungent odor doesn't stop this cheese from being enjoyed on a slab of rye bread along with a healthy spoonful of spicy mustard. Once you get past the smell, cheese lovers agree, the flavor of this cheese is quite satisfying. Serve with a beer for maximum delicious effect. In fact, it's customary to even DIP this cheese into your beer.
Order Bierkäse here–> Bierkäse
Bierkäseigourmet
 Rotschmierkäse
The Rotschmierkäse (red spread cheese) gets its name from the sticky red rind that covers this especially pungent cheese.  The cheese is bathed in red-mold cultures and brine several times during the ripening process… constantly adding more flavor (and odor) to this spicy and piquant cheese. You can eat the Rotschmierkäse while it's still immature.. the inside will have a quark-like consistency, and is a bit milder. As the cheese matures, the soft center shrinks, and the cheese takes on more flavor and a much stronger smell. Feel free to eat the rind too…
Order it here–> Rougette Bavarian Red
Rougette Bavarian Red Cheeseigourmet
Handkäse (mit Musik)
HandKäse comes with or without Caraway seeds, and is often served with onion vinaigrette (music)
Handkäse (or hand cheese), a specialty of  Frankfurt, might be the stinkiest nastiest cheese of all. The name comes because it's rolled by hand. It's a "smeared acid curd" cheese made from soured milk (I looked at a few technical cheese making articles about what the heck a smeared acid curd is… and I'm still not clear. Let's just say there is yeast or bacteria, and it's complicated). The cheese is then ripened in a sweating room. In the end you get a somewhat translucent cheese whose smell reminds me of the time I drove 5 teen soccer players home after a particularly active game. (My eyes melted, and I had to open the windows, even though it was raining). Handkäse lovers adore this stuff… especially when served with a raw onion vinaigrette. (Turns out, this is where the music comes in… it's a fart joke…) Handkäse is sold with and without Caraway seeds. Read more about the wonders of Handkäse here on the Spoonfuls of Germany blog.
If you're a cheese fan and you don't mind a little odor, you may want to give these odoriferous cheeses a try. Fortunately, their taste is a lot more appealing than their smell!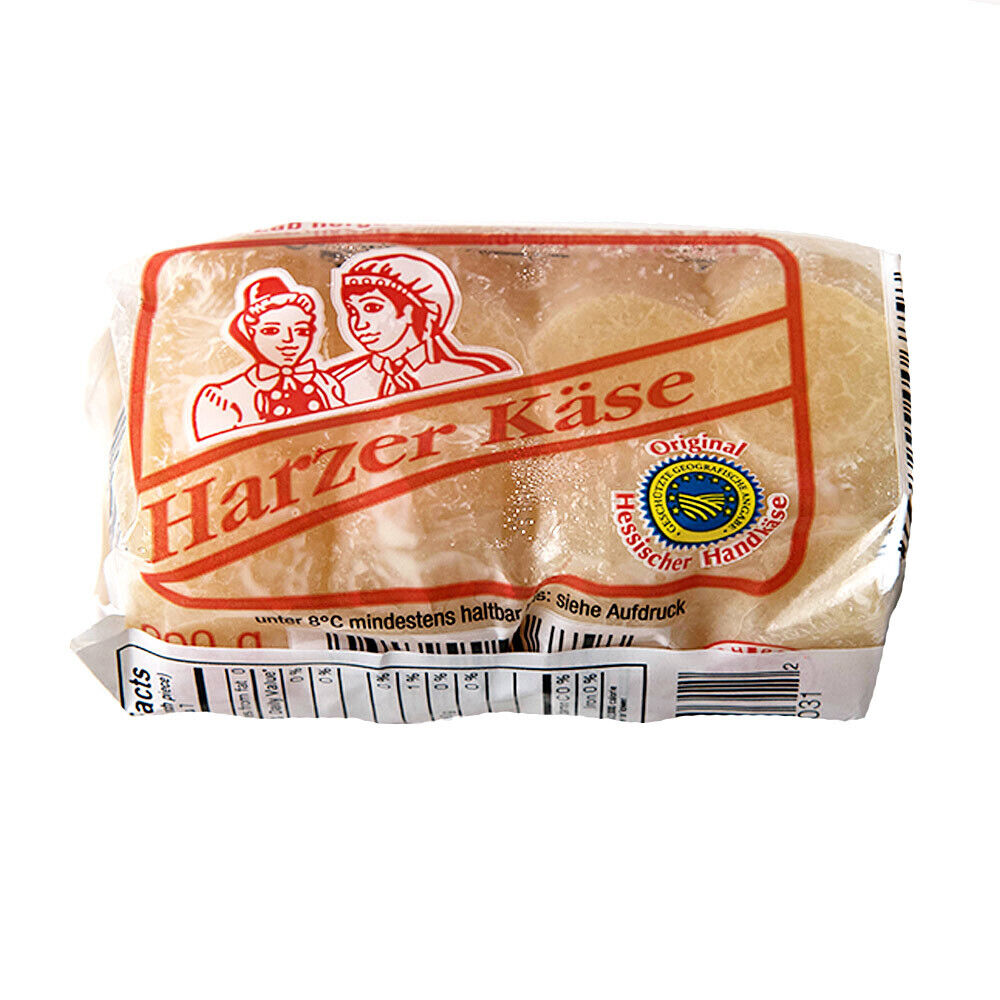 Cheese German KASE Hazer Hand Cheese $7 (7oz) a piece !! US SELLER !!ebay
Order a Selection of German Cheeses HERE
A nice selection of delicious German Cheese…
Bruder Basil Cheeseigourmet
Butterkäseigourmet
Smoked Ammerlander Cheeseigourmet
Baldauf Lemon Pepper Cheeseigourmet
German Cheese Board Gift Setigourmet
Baldauf Der Allgauer Cheeseigourmet
Quark Cheeseigourmet