German Oktoberfest Foods- What to Eat at German Festivals
When it comes to Oktoberfest, the first thing people seem to focus on is the BEER. But there are many traditional German Oktoberfest Foods that you will find served in the various Beer Tents and on the Wiesn. Feel confused by some of the names? Don't be. It's all GOOD. Here's a list and pictures of foods to try at Okoberfest that will help you when it's time to order.
Brathendl (Roast Chicken)
There is a saying " without Hendl, it's not Oktoberfest". Around 510,000 Brathendl are sold at Oktoberfest München every year! What is a Brathendl? It's a roasted chicken! What makes it special? The crispy flavorful skin. You can get that flavor at home with Hänchen Würzsalz (German Poultry Seasoning)… or plenty of salt and paprika.
Brotzeit Platte
Aufschnitt (cold cuts), Käse (cheese), Obaztda, Schmalz (flavored rendered fat served as a spread), tomatoes, pickles, radishes… and the list goes on. Served up on a wooden platter, with German Rye bread and/or Pretzels, it often sits in the middle of the table for others to share.
Radi
A Radi is a LONG white Radish cut into spirals (or thin slices) and sprinkled with salt to soften it. Some also serve it with vinegar.
Schweinehaxen
When this arrives on your plate, you KNOW you are in Germany. Basically, it's a slow roasted pork knuckle. The fat is crisped and brown… the meat is tender and delicious. And it's good for soaking up all that beer.
Wurstsalat
This "salad" made from German Sausage (like a ring bologna), cheese, pickles, radishes, onions and herbs tossed in a vinaigrette type sauce  is delicious on bread as a meal… or maybe as an in-between snack. Find a recipe here–> Bavarian Sausage Salad
Schweine Braten
Pork products are all over German Menus… and while Schweine Braten (Pork Roast) may be similar to Schweinehaxen, it's a different cut of meat. Made from Pork Shoulder, it arrives in slices on your plate, often with Knödel (dumplings) and LOTS and LOTS of delicious gravy.
Stecklerfisch
Stecklerfisch get their name in a typical German descriptive way… It's a Fish… on a Stick. Then it's put over hot coals head down and marinated. The fish arrives whole on your plate.
Wurstl
Wurstl are Sausages….You will find Weisswurst (White Veal Sausage often served in Broth), Bockwurst, Cervelatwurst (smoked sausage), Blutwurst (Blood Sausage), Bratwurst (Sausages made from Pork or Veal, often grilled), Knackwurst (fat "hot dogs")  und Wiener (skinny "hot dogs") ….  Some are served in Brötchen, others on a plate with sides like sauerkraut. Here is your chance to try them all.
Brezen
Bretzn' are big chewy Bavarian Pretzels. They are treated like bread in Bavaria, and will be found in the Bread Basket or on a hanger (you can even break them open and smear butter on them). At Oktoberfest they come as they are, or you can order a side of Obzata.

Knödel
The simple dumpling is elevated to an art form in Germany… and at Oktoberfest, you can find Knoedel in all its possible forms. Kartoffelknödel (potato Dumpling), Semmel Knödel (Bread dumplings), Spinatknödel (spinach dumplings) and even Leberknödel (Liver dumplings) in soup.
Kassler Rippchen
Kassler are pork chops that are brined and smoked. These super flavorful smoked slabs of yummy are generally served with Sauerkraut. (And unlike most pork chops in Germany, they aren't fried in a bread crumb coating).
Kasespätzle
People call this German Macaroni and Cheese... and sure, it's Spätzle noodles and cheese, but it tastes NOTHING like the stuff that comes out of the box with orange powder, and it's only a distant relative to the gooey (and admittedly delicious) stuff you find in the South. But in KäseSpaetzle noodles are topped with Emmentaler cheese and roasted onions. (It's also a great vegetarian option!)
Obazta
Obaztda has a strong following in Bavaria. This creamy spread is made with Camembert cheese, butter and Paprika… (and causes more excitement than Ranch dressing dip at Teen party). Generally it's served alongside the Brezn. Although I'm sure there are people who eat it with a spoon. Find a great recipe here–> Obaztda
Kartofelpuffer/Raiberdaschi
Quite simply… Kartofelpuffer/ Raiberdaschi are potato pancakes. (They also happen to be one of my favorite foods EVER). Often they are served with Applesauce, but you will also find them served with Lox. Either way… crispy, fried, delicious!
Weisswurst
When at Oktoberfest, you eat Weißwurst Bavarian style. These white veal sausages will arrive in a pot of "broth". Pull one out with your fork, peel off the skin, and eat it with sweet Bavarian mustard. Don't forget the Bretzen!
Sauerkraut
First of all… Sauerkraut in Germany is not like the Sauerkraut you find in an American Hot Dog Stand. It's warm and less salty, plus MANY cooks prepare it with wine… (some even put it in the Sauerkraut!). I've come to realize that Sauerkraut is like Potato Salad… different regions make it differently. In Munich, you may find bacon in it. Give it a try.
Gebrannte Mandeln
Literally "burned Almonds", but actually, these are highly addicting Candied Almonds. You will smell the booth before you see it… and the flavor of those still warm, just made almonds will keep you coming back for more and more. YOu can also find a recipe here–> Gebrannte Mandeln
Lebkuchen Hearts!
Don't dare leave Oktoberfest without a beautifully decorated Lebkuchen (Gingerbread) heart. They come with cute sayings…and are perfect for gifting. AND you can wear them from a string around your neck. Food and Jewelry…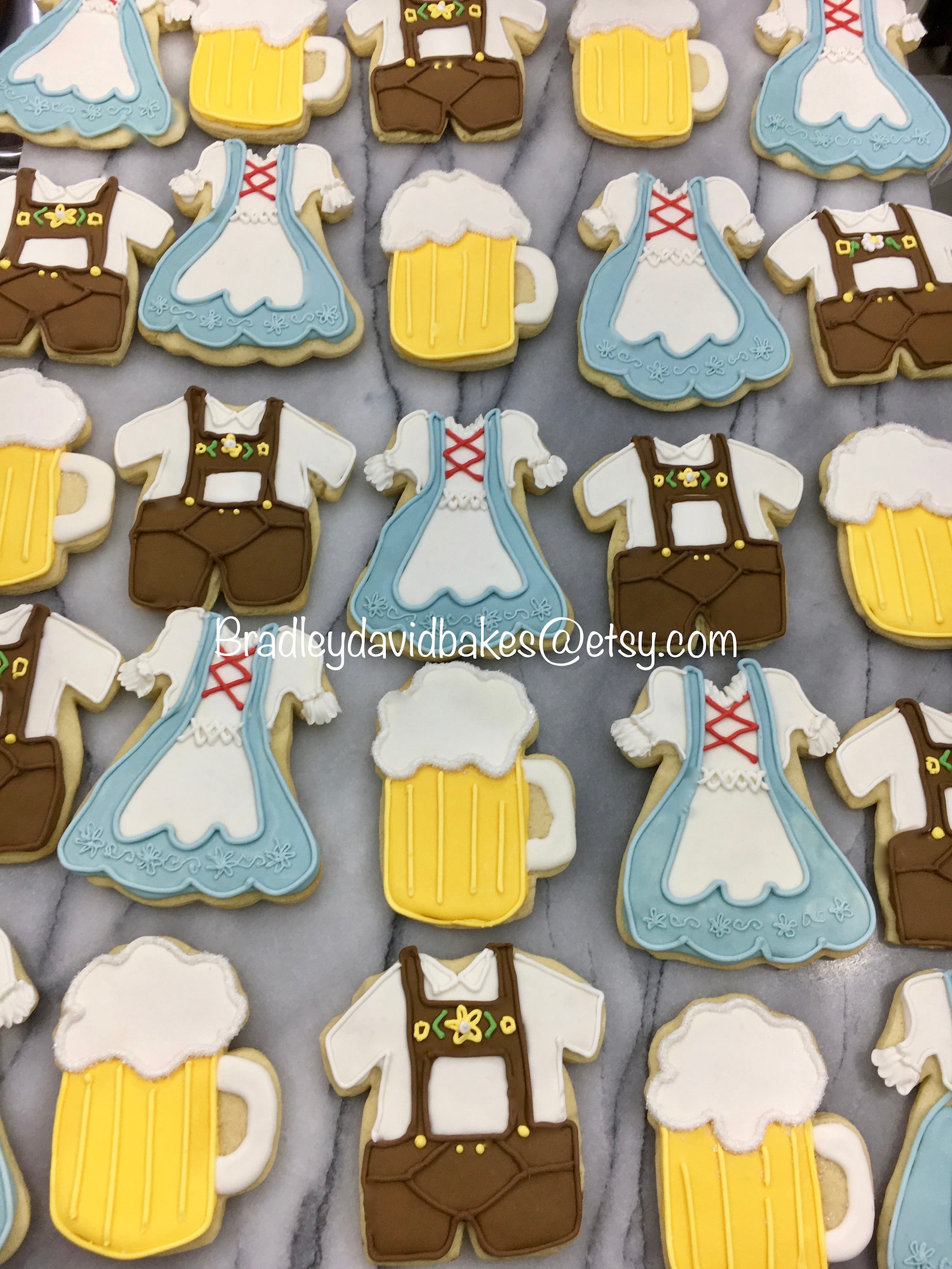 Octoberfest & Beer Decorated Cookies

Lebkuchen Heart

Vegetarian Foods at Oktoberfest
Despite the German reputation for MEAT, SAUSAGE, MORE MEAT…. there are more and more vegetarian offerings at Oktoberfest. You will find Sausages and "hamburgers" made from Soy. But beyond that, feel free to enjoy Spätzle with Cheese, Kartoffelpuffer, Knoedel, Brezn, and Obzata. Also, many places will have a special vegetarian section on the menu.
Hungry Now?
German Hot Dog Kitigourmet
Black Forest Hamigourmet
Beef Wienersigourmet
Bratwurst samplerigourmet
Oktoberfest is much more than a beer festival. It's a carnival, a celebration… and there is plenty of food to keep you fueled up for the two weeks.
Looking for Oktoberfest Food Recipes?
Oktoberfest Cookbook: Authentic Recipes from the World s Greatest Beer Festival

Oktoberfest Recipes for the German Beer Festival (Cooking Around the World) (Volume 8)

Easy Oktoberfest Recipes – Favorite Traditional German Food