Buy German Sausage Online from Cured and Cultivated
A few years ago I moved half way between Los Angeles and San Francisco. Because there aren't "German Stores" in the area (and the one "Euro Deli" nearby closed down), I've started to buy German Sausage online. Fortunately for me, Cured and Cultivated, an online Deli specializing in meats and cheeses with a HUGE selection of my favorite German Sausages and cold cuts opened up, just when I needed a new source!
Cured and Cultivated
Anatoly and Katherine Vorontsov established Cured and Cultivated in Paso Robles California to supply the many local wineries with Charcuterie boards to customers wanting more than just a sip of wine. Anatoly grew up eating smoked meats and sausages in his native Russia, while Katherine, who was born and raised in the Texas Hill Country worked in the wine industry. They both love food, and love sharing "new" flavors. And they both love the incredible varieties of Aufschnitt that shows up on Tables in Germany and all over Europe, Blutwurst (Blood Sausage), Leberwurst (Liverwurst), Teewurst, Salami, Leberkäse, Sülze (Head Cheese), and Gelbwurst.  And German sausages? Landjäger, Würstchen, Bratwurst and more… They also have a variety of smoked Schinken. I'm in pig heaven!!
Buy German Sausage Online!
Looking for some great German Sausage? Cured and Cultivated carries those sausages we all love…  Priced right, and very convenient. Perfect for Oktoberfest!
NURNBERGER BRATWURST
KNACKWURST
KÄSEKRAINER SAUSAGE
The Great Wurst Taste Test!
Recently, Katherine and Anatoly brought me a box of treats to sample and compare. (Honestly, this is one of those times I really REALLY love my job). Inside were two types of Leberwurst (Liverwurst), two types of Teewurst (Teawurst) and a German Bologna. (Sampling these sausages even lured the teenager out of her room… and this summer, that is a small miracle!).
First the Leberwurst (Liverwurst).
Most people I know look at Liverwurst and think…"I don't like Liver, why would I eat that?" Obviously, because it's good. Leberwurst was on the table in my Parent's home almost every breakfast and lunch (and if mom declared "Brotzeit for dinner). Smeared on a slice of bread with some butter (or without), it's a flavorful spread at mealtime or as an appetizer.

We were given a regular Liverwurst (Liver Sausage) from Continental and Schaler & Weber's "Pate with Onions". The plain Liverwurst was silky smooth and a bit paler in color than the Pate with Onions, which was a coarser grind (but still smooth). Honestly, the Pate with Onions won in flavor. Both by spoon and on bread. It just has more seasonings, or maybe it's the onion. It's fantastic. But, truth is, my daughter declared both winners, then collected up all of the samples and took them to her room to munch.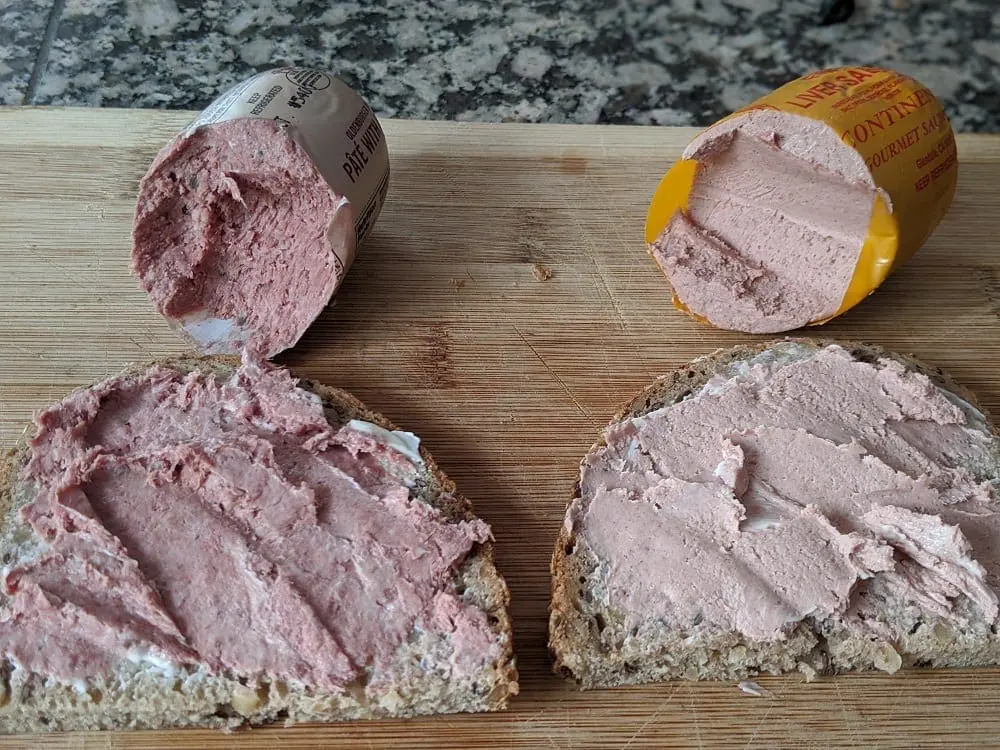 Both styles hold up well on good German Bread, but would also taste great on baguette or even crackers. It's exactly what you want to eat at a Biergarten with a cold beer in hand. They come in a tube-like casing, but it's better to transfer the Liverwurst to a small crock. This way it goes to the table or Brotzeit board without making a mess (and you don't lose any!).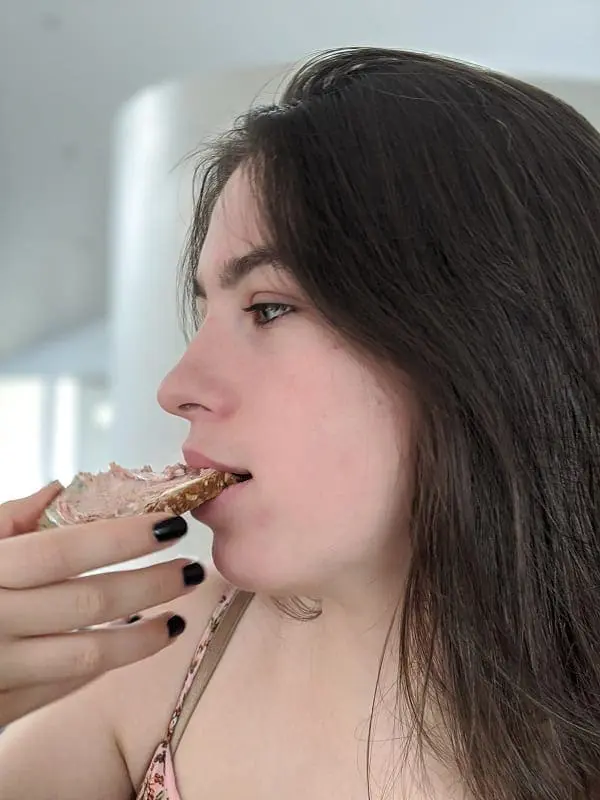 The Teawurst

Teewurst or Teawurst was my "first" sausage, and strangely, you don't see it much in the US. This mild spreadable sausage is made from Pork and Bacon, grated very fine … silky smooth… then it's packed in a casing and smoked. This sausage is a special flavor memory for me, so I was humming happily as I munched it down. (Believe it or not, I still remember sitting in the high chair picking up squares of bread and Teawurst that mama put in front of me.) Some people may wonder… butter on the bread under a spread? Yes. (Because butter goes with everything).
Please don't get the idea that this is kid food! A Teewurst is an absolutely delicious spreadable sausage that adults love too (my mother is a huge fan). Think of it as a smooth almost bacon-y Pate, but it's a little saltier, and less livery (is livery a word?), because there is no liver in it. It doesn't have that metallic back taste that you get from Liverwurst. I absolutely love it. The 17 year old prefers the liver. Go figure?
We tasted two different types. Continental and Schaler and Weber. You can see from the images that Continental is "pinker".  While both were good, I couldn't stop eating the Continental. It reminded me of how it used to taste. So good.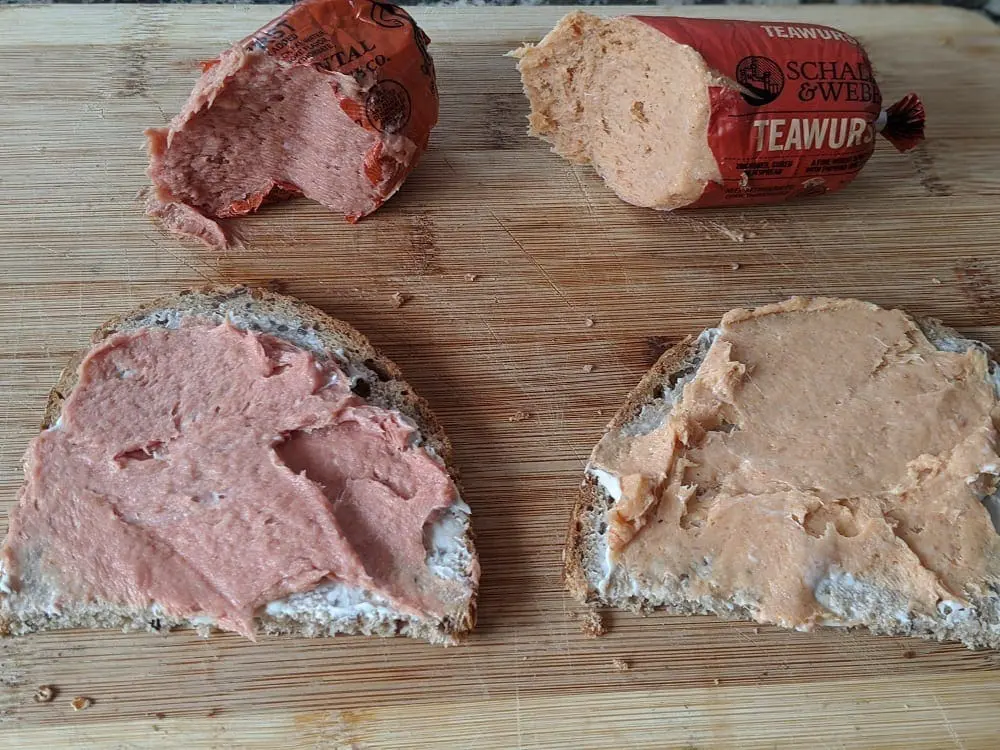 Fair warning… the Continental Teewurst is packed TIGHT into its casing. When I sliced into it BANG! Like those biscuit cans. Basically, this means it just looks a bit crazy. I transferred it immediately to a small dish that will look nice on the table/ board… and everything was fine.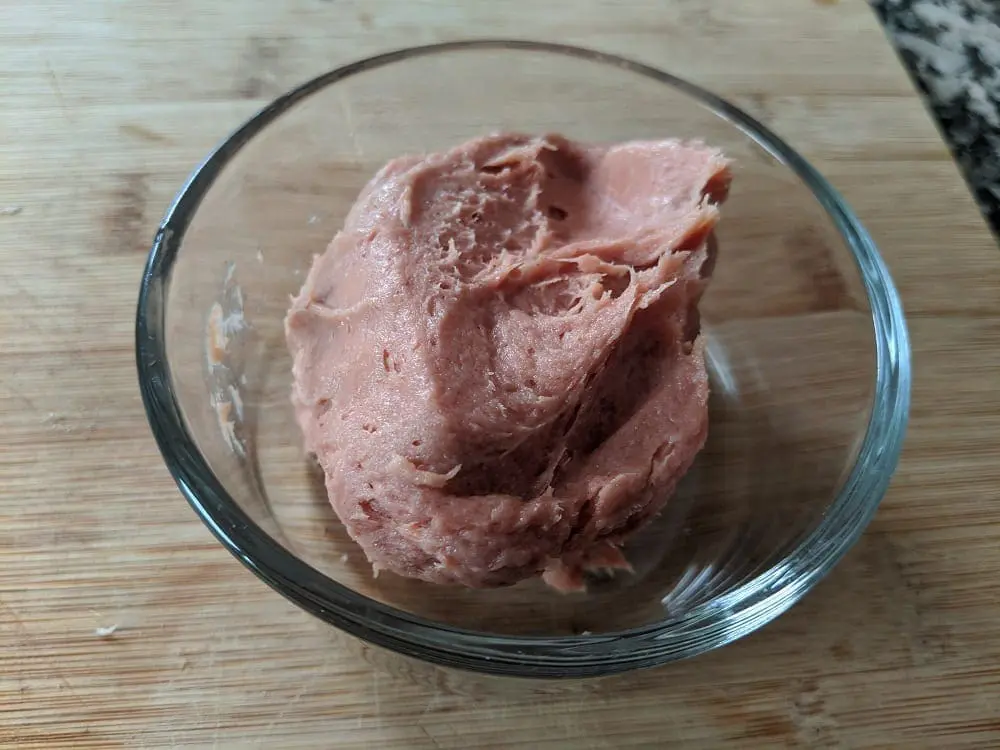 Bologna
You know that stuff in the supermarket called Bologna? This isn't it. German Style Bologna, like the one made by Schaller and Weber, is nothing like that. The flavor and texture are absolutely delicious. And you know that funky fat coating in your mouth that you get from the supermarket stuff? You don't get that with Schaller and Weber.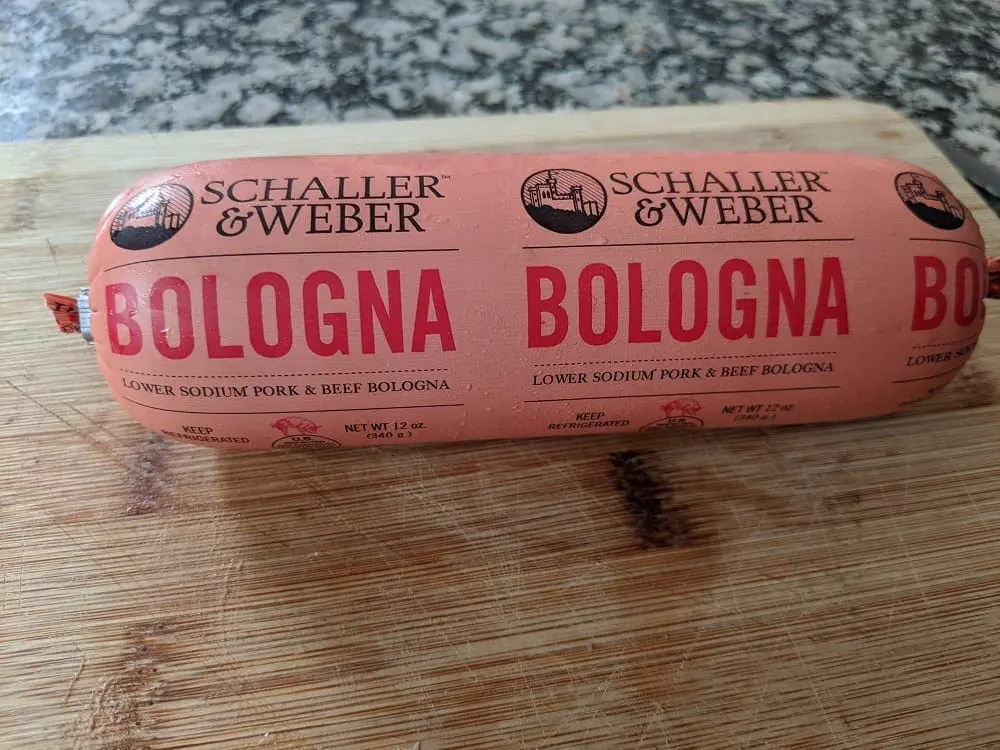 This Bologna comes in a tube, but it's not soft like Liverwurst, it's a fine grained sausage made from beef and pork, and NO fillers. (You don't have to worry about what goes in to the making of this sausage…). Forget what you've had before… THIS Bologna has a fabulous flavor. I love it on a piece of good bread… with butter or mustard. Open faced of course, to get all of the flavor. (My Tech Guy will brave losing fingers, and snitch it straight off of the slicer)
You can slice it with a knife, but I always make a hash of it (as you can tell by that first slice). I pulled out the slicer to make enough for a few sandwiches. I will be slicing the rest tomorrow, because most of this is already gone.
Cultured and Cultivated is MUCH more than What I've Shown
You will find an incredible assortment of meats and cheeses at Cultured and Cultivated. Whether you need to buy German sausage online for everyday, or for a wine tasting in your yard, or for a Brotzeit board at an Oktoberfest or Webtoberfest, you will find all those flavors you love and remember. Let Anatoly and Kathrine pack up some wonderful sausages for you.
Currently, due to the Covid-19 crisis, and the slow down in shipping, they are only shipping sausage and cheese to the Western States to insure that the product arrives fresh on your doorstep!
Bierwurst
Leberwurst with Onion
OLD FOREST SALAMI BY PILLER'S
LEBERKÄSE – GERMAN BRAND LOAF
Head Cheese / Sülze
NURNBERGER BRATWURST
LACHSSCHINKEN
TONGUE & BLOOD Sausage
VIENNA SAUSAGE ALEX, 1 LB