The Biergarten- A Bavarian Cultural Essential!
With the rise in popularity of craft beers, there has definitely been an uptick in the number of Biergartens around the world. But are they Biergartens? Or Beer Gardens? Is it just an spot next to a brewery with tables? Is it a patio carved out next to a bar? Is is the place where gardeners plant beer bottles and hope for the best? Exactly what is a Biergarten? and what makes them so special? For 200 years Biergartens in Munich been a welcome place for everyone, regardless of age or financial stature. At the shaded tables of a Biergarten, people can come together, enjoy a beer and maybe a bite to eat, and enjoy the fellowship of others.
What is a Biergarten
At their core, Biergartens are a place to drink beer communally at tables outside a brewery. But the Bayerische Biergartenverordnung, a 1999 law, decreed that Biergartens are officially a central part of Bavarian culture. What sets them apart from other "Biergartens" around Germany is that you may bring your own FOOD into a Bavarian Biergarten.
(I find it interesting that a lot of local breweries here in California have similar rules. The breweries may have a kitchen or welcome rotating food trucks, but you are more than welcome to bring your own picnic… and we do. I don't know what it's like in other states.)
On the other hand, a Wirtsgarten may look similar to a Biergarten, but you may only consume food bought on the premises.
Biergarten History
The origins of the Biergarten go back a few hundred years. In 1539, Albert V decreed that beer brewing was only allowed during the cooler months…  specifically (and quite typically German) from September 29 (the Feast of St Michael) to April 23 (the Feast of St George). The Brauordenung was put in place mainly, because of the  high risk of fire from hot kettles in the summer months (Fachwerk houses were built close together, and they burn FAST). But brewers also realized that beers fermented at cooler temperatures ended up purer. That's fine and good, but that meant that in the summer, when thirst was at it's peak, only warm flat beer was available. Something had to be done.
Brewers in Munich started digging deeper lagering (storage) cellars and filling them with ice to store their beer barrels and keep them cold. Then, they planted leafy Chestnut trees over the cellars to provide shade (and help keep the ground under it cool). Well, now that there was shade… and cool beer… it was only logical that someone put a few chairs under the trees so that people could sit comfortably while enjoying the cool beer. And then they brought in tables and started selling food, because it's always nice to eat something while drinking.
Unfortunately, these entrepreneurial Munich Beer Brewers stepped on the toes of local restaurant and pub owners who were losing business to these outdoor spaces. Their protests were brought before Bavarian King Maximilian I… who actually sided with them. On January 4, 1812, he decreed that Munich Brewers MAY sell beer from their cellars, and bread. Nothing else.
And the Biergarten was born..
Proclamation from King Maximilian I. Joseph of Bavaria, dated 1812-01-04, permitting local brewers to serve their beer from the ice cellars, but no food with it besides bread.
The Augustiner Biergarten in Munich was established in 1812. Today it seats 5000 people (under 100 Chestnut trees!! Here you get get a Maß of Augustiner Edelstoff straight from the barrel.
Biergartens Evolved into a Social Scene
Biergartens became a social gathering place for Bavarians. And it became quite common to bring sausage and cheese to supplement the beer and bread. By 1897, the ban on Bavarian Biergartens selling food was lifted, but by then tradition was set. Even through a Biergarten may sell Wurst, Stecklerfisch, Obatdza and Kartoffelsalat, it's not unusual for people to bring their favorite picnic foods from home to enjoy in the shade with others. Some people go all out, bringing tablecloths, and cutlery as well as some amazing foods!
What makes a Biergarten in Bavaria special is the concept that AT the Biergarten, everyone is equal. It doesn't matter if the person is a doctor or a student, a lawyer or a bricklayer… when at the Biergarten, everyone has the same social status. Tables are shared. (The only exception might be the Stammtische… which are reserved for regulars).
In 1999 the Bayerische Biergartenverordnung (Bavarian beer garden ordinance) decreed that the Biergarten was essential to Bavarian Culture, and therefore not subject to regular restrictions on operating times (they are allowed to stay open until 11pm) or noise restrictions (the Band can play loud!).  It also states that any open air restaurant where outside food is allowed may call itself a Biergarten.
A Biergarten is a chance to come together with others… to enjoy conversation, music and real German Gemütlichkeit.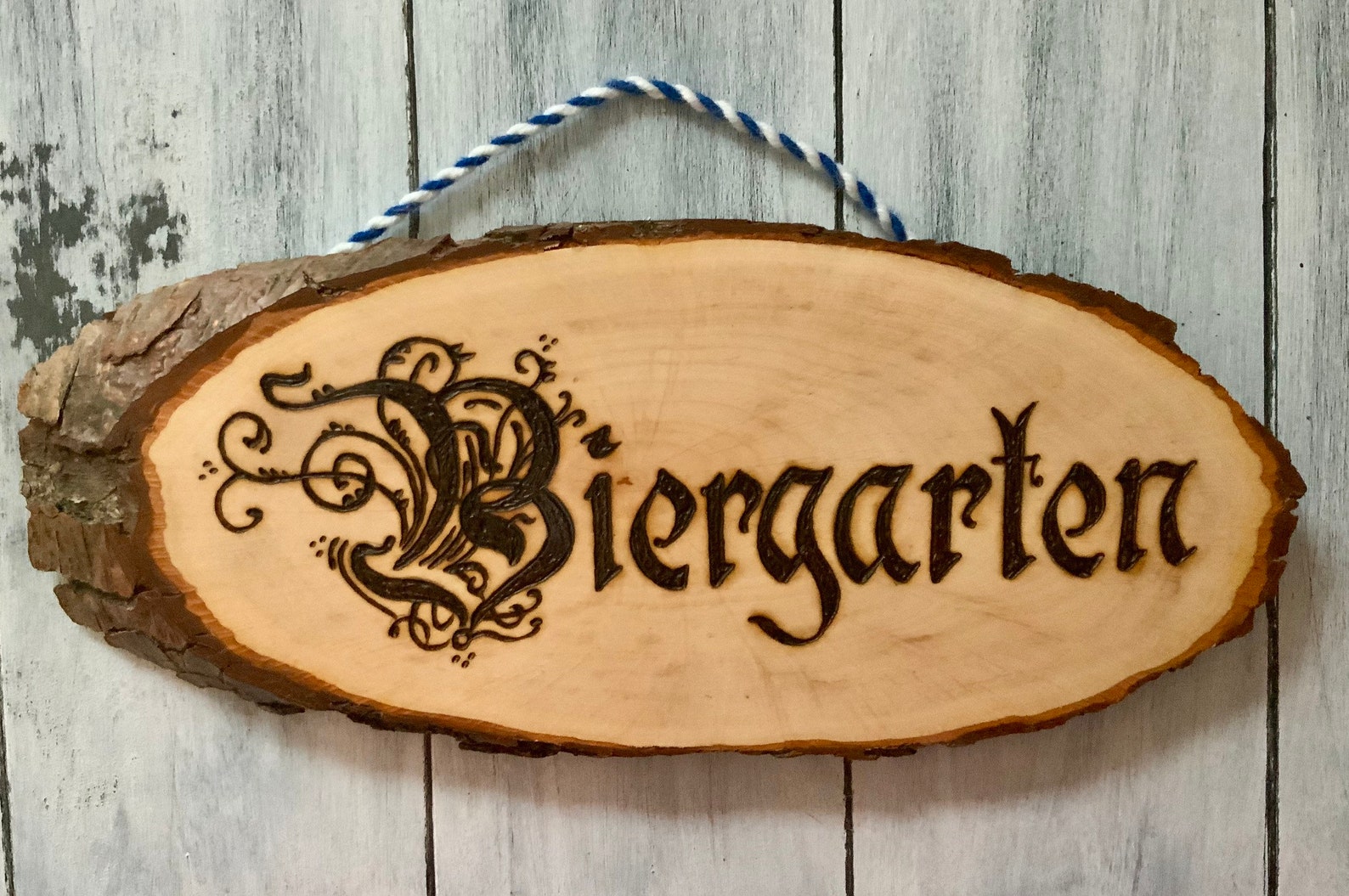 Biergarten Sign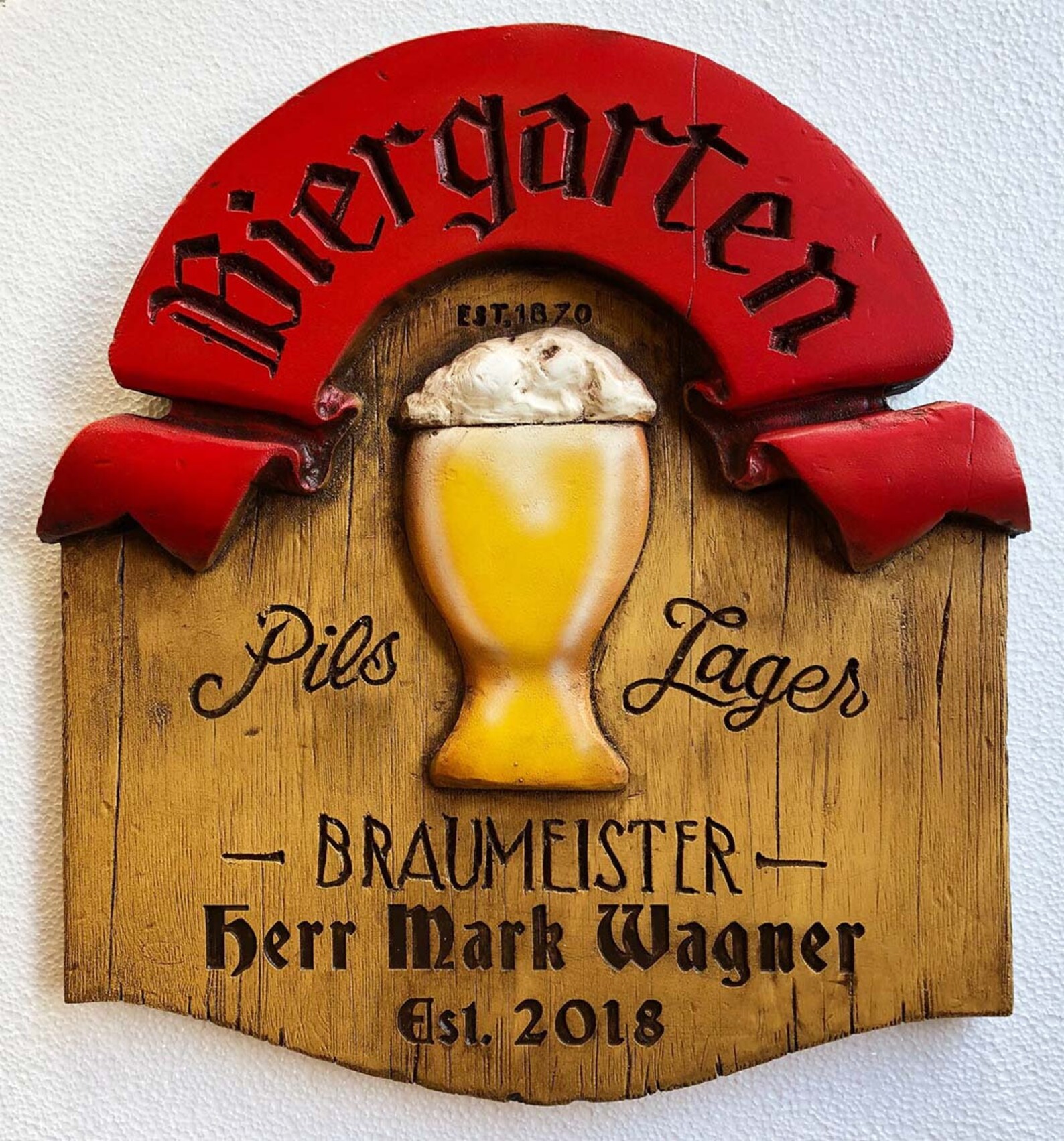 German Biergarten Personalized Beer Pub Sign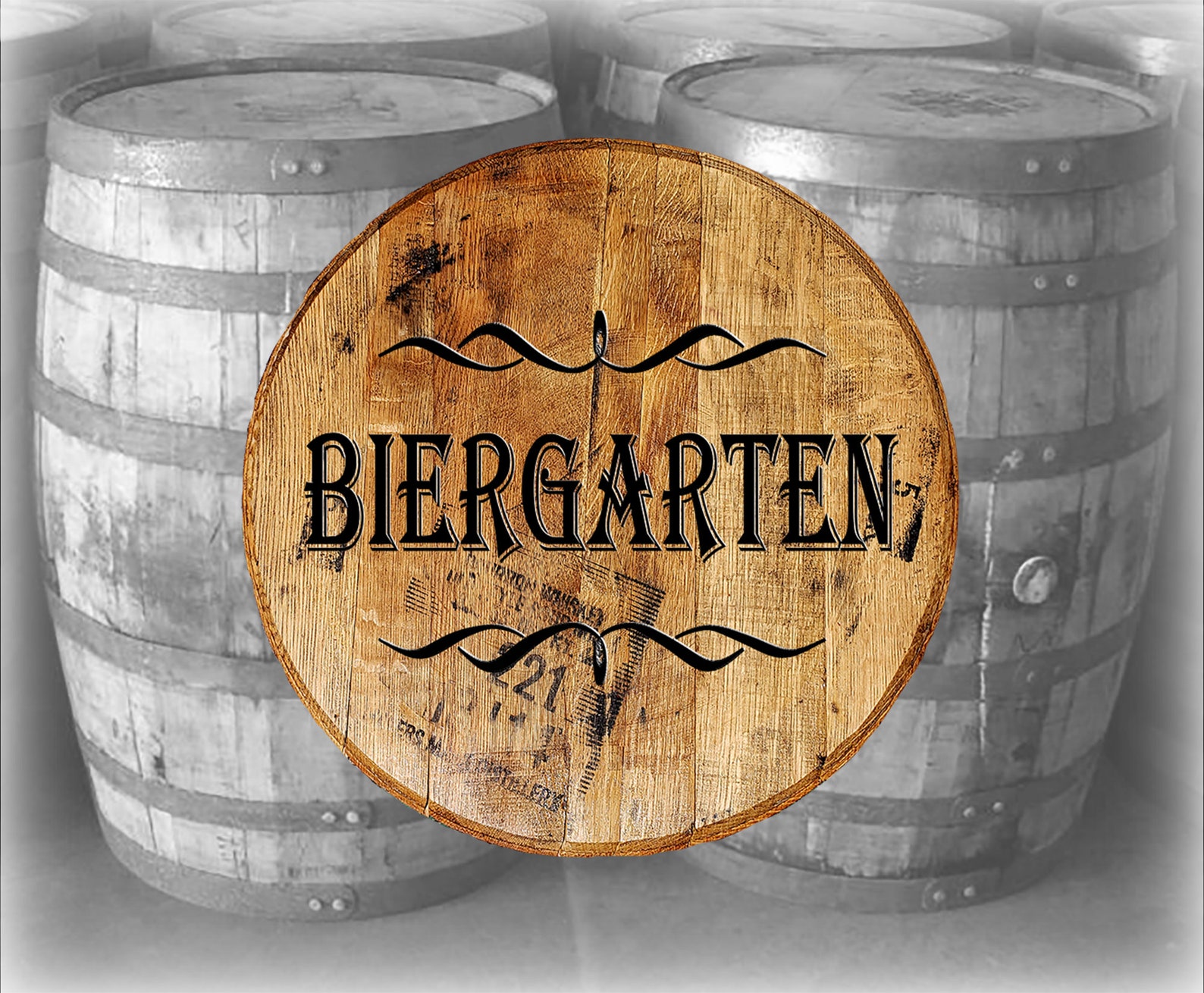 Reclaimed Wood Whiskey Barrel Head Biergarten German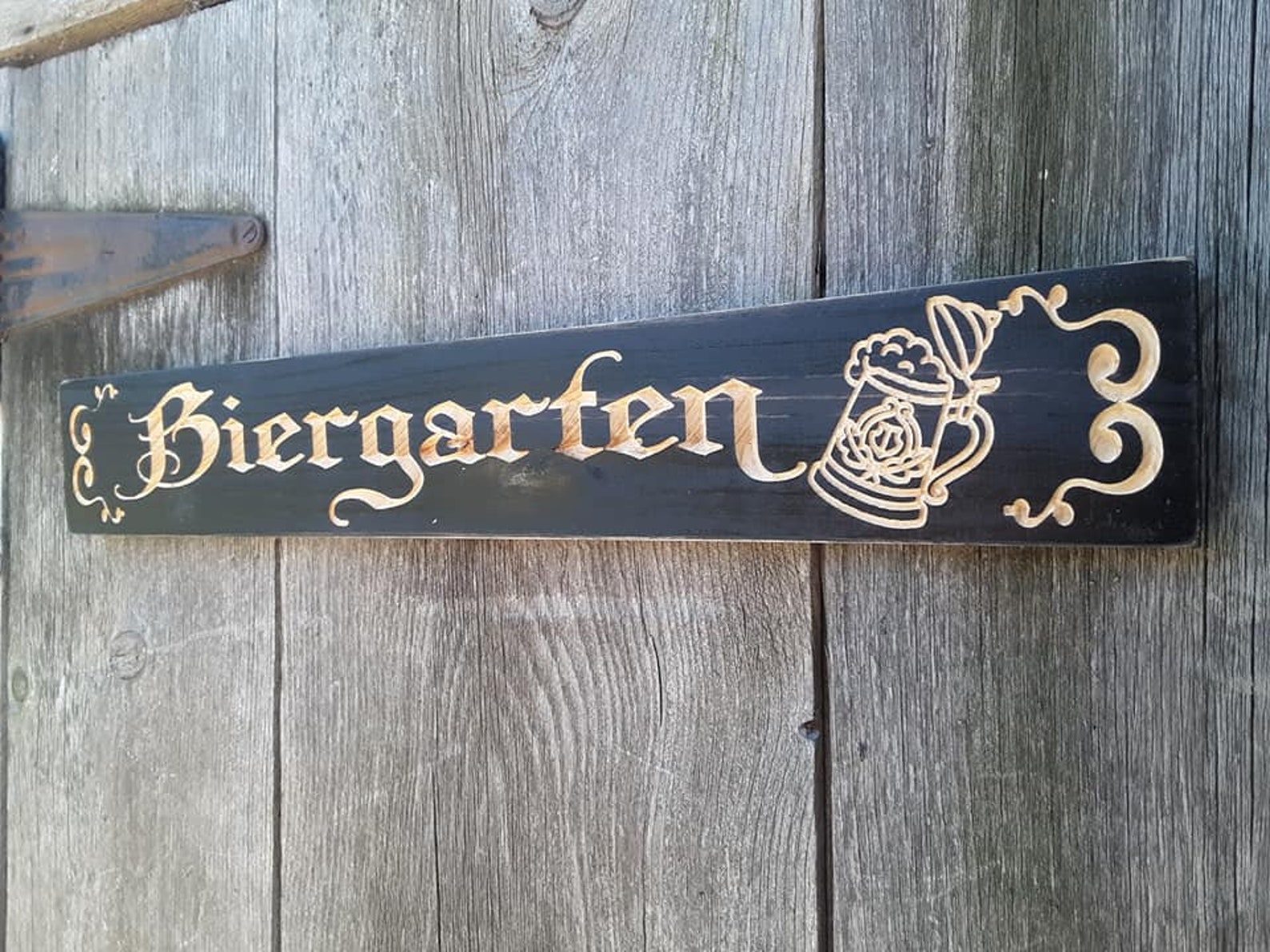 FREE SHIPPING! Routed Carved Engraved Biergarten