Kaltschale Recipe – Chilled Fruit Soup for Hot Days
When I was growing up in Southern California, my mother would make a wonderful "beat the heat" meal…Chilled Fruit Soup also known as Kaltschale. This wasn't dessert… it was the meal. And so refreshing.  The past few days we've experienced a heat wave in my part of the world, and started craving this cold and satisfying meal. After digging through recipes for a few hours, I discovered that there is not one single Kaltschale Recipe. Everyone makes it slightly different depending on 1) how their Oma made it, and 2) what fruits they have on hand, and 3) whatever thickening agents they had in the pantry. My Mother made it differently depending on the season and what fruits she had. Sometimes there were apricots, sometimes apple, often cherries, and sometimes raisins (I hated the raisins!).
Kaltschale Recipe
I ended up making a Berry and Cherry Fruit Soup by taking bits and pieces from a few different recipes (and because I had berries), and my people really enjoyed it.
One thing about German Fruit Soup or Kaltschale, like German Cakes, it's not super sweet (in fact, my older daughter suggested that next time I add Rhubarb to give it more bite. I used Lemon Juice, and not too much sugar. It's not sour, but also not fruit topping sweet.
This recipe uses Tapioca as a thickener... mostly because my younger daughter loves Bubble Tea, and I thought I could convince to try if there were Tapioca balls inside. She ate a whole bowl with gusto. You can thicken with tapioca or corn starch… or even puree half of the fruit with a stick blender.
Fresh fruit is good, frozen fruit works well (I had a bag of frozen berries from Costco, and another bag of frozen pitted cherries from a different project) This is your chance to be creative. Use what fruit you have (except bananas…bananas are yucky).
Cook it up in the morning, then set the soup in the refrigerator to cool all day. Dinner is done.
Serve Chilled Fruit Soup
Serve Chilled fruit soup alone, or with some Vanilla Yogurt or Vanilla Sauce… maybe sprinkle on some toasted nuts. Kaltschale is a light and refreshing meal for those hot summer days.
(OK, yes, I realize that for many people, the thought of a cold fruit soup for dinner just isn't enough. Maybe serve Schnitten or a Salad along with it… or some cheese and bread. Or just serve it for dessert)
Kaltschale Recipe - Cold Berry Fruit Soup
Ingredients
8

Cup

Water

3

Tbl. Tapioca pearls

if you like it thicker, go up to 1/3 cup

1/2

cup

Sugar

you may need to add more, depending on how sweet/ripe the fruit is

2

tsp

Vanilla extract

1

Cinnamon Stick

7

cups

mixed Berries/ Cherries

you can add chopped apples, apricot halves, raisins etc (I did notice that frozen berries are less sweet! Taste and add sugar if needed.)

1-2

Tbl. Lemon Juice
Instructions
In a soup pot... combine water, sugar, vanilla extract (or split vanilla Bean), cinnamon stick and Tapioca pearls. Bring it to a boil over medium heat.

When it begins to boil, lower the heat to the lowest temperature.

Cook for 20 minutes, while stirring (if you don't stir, it can burn or get stuck to the bottom). The Tapioca will thicken.

(If you choose to work with cornstarch instead of Tapioca... Bring water/sugar/spices to a boil,. Combine 2 TBL corn starch with 1/3 cup cold water... stir into the boiling sugar water. Let cook 20 minutes.)

Add fruit to the simmering liquid.

Raise the heat, and bring back to a boil.

Simmer for another 5 to 10 minutes (longer if your fruit was frozen).

Add lemon juice.

Taste.

Sweeten if needed.

Let the soup cool, then store in the refrigerator until cold.
Notes
You will need to chill the soup for several hours to serve it cold. Best to make it in the morning, and store it in the refrigerator all day.
Easy German Cookbook: 80 Classic Recipes Made Simple
My new cookbook is packed with great German recipes! Order it here!
Easy German Cookbook: 80 Classic Recipes Made Simple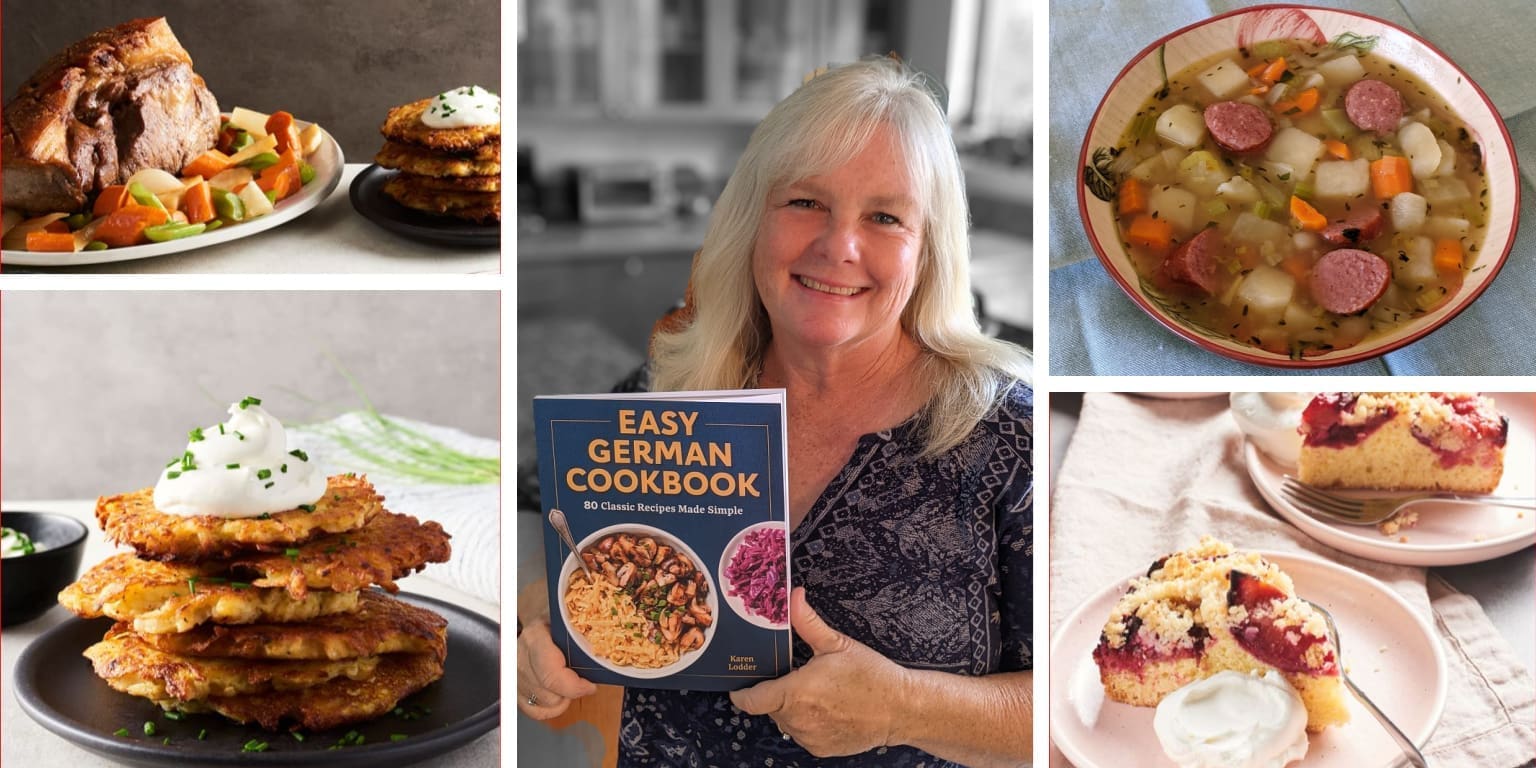 Signed Copy Easy German CookbookOrder A Signed Copy Here
More Cold Soups and German Summertime Meals
Keep the kitchen as cool as possible on hot days.
Natürlich Süßes im Glas: Neue Desserts und Kuchen

Sommerküche von A – Z