Easy German Cookbook: 80 Classic Recipes Made Simple
Easy German Cookbook was a labor of love. But sharing German culture and food is what I do online, so this book seemed like the next logical step. Between the covers you'll find 80 pages of food memories. Foods that we ate at home, foods we ate at festivals, foods for special occasions. Foods that nourish and remind us how much we are cared for. And of course, since it's me, the book also has some food history explaining why Germans eat what they do. For far too long, the world dismissed German foods as being heavy, just meat and potatoes… but I set out to prove that Germany contributed more to the culinary scene than pork and pretzels (although, you will find those recipes in the book too).
Easy German Cookbook: 80 Classic Recipes Made Simple

I get emails and messages all the time saying "my Oma made this dish, but didn't write down the recipe". Just like you, so many of our family recipes didn't have proper measurements… Oma and Mams used the "little of this" and "some of that" method of adding delicious flavors to our favorite dishes.  I spent a lot of time testing and taking careful notes to insure that Oma's "ein Bischen" could be replicated (it's approximately 1/2 tablespoon btw). Along with measurements, I worked on ways to make the recipes TASTE right, while still using ingredients sourced from supermarkets in the United States as much as possible.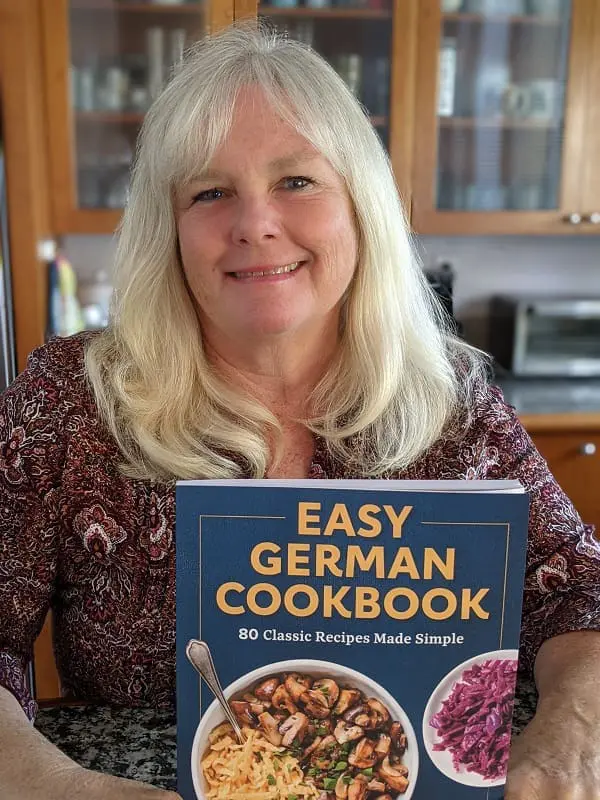 For me, sharing recipes from all over Germany was essential. Different corners of Germany specialize in different dishes. My family is in Nordrhine-Westfalen, my mother came from Silesia, my Oma was born in the North, and my godmother comes from the South. All of those influences ended up on our dinner table, so I made sure that all of the areas were represented. (I even put in 2 different recipes for Potato Salad to avoid problems between north and south).  You'll find the familiar Rouladen, Sauerbraten, Kartoffelklöße and Kartoffelpuffer,  but also the less familiar Labskaus, Herringsalat, and Westfalisches Krüstchen. You'll also find all the recipes you need to make traditional the Christmas and Easter meals we love.
To help you find your favorites, the recipes show up with their English AND German names. And did I mention that the emphasis was on EASY? My editor (who had no real experience with German cooking) and I broke the recipes down to the basics. He pointed out that while some techniques may seem obvious to some, they weren't to others. In the end, a beginner without much experience should have no problem recreating the dishes. I'm hoping you will discover that homemade Spätzle is as easy as opening a package, and that making Rotkohl from scratch is cheaper and more delicious than opening a jar. I also added special cooking tips, and even a few variations to change things up.
Easy German Cookbook: 80 Classic Recipes Made Simple

Order your copy today! Easy German Cookbook: 80 Classic Recipes Made Simple!
Thanks to all of you who made the Easy German Cookbook possible. The cheerleaders who reminded me that I could do this… and the tasters who got to try it "just one more time" to insure I got it right. And thanks to all of you. Guten Appetit!