Simple German Bratapfel Recipe with different Variations
In my old German recipe book, there's a Bratapfel recipe. Ingredients – Apples, nuts, raisins, cinnamon, honey (rum). Instructions… carve the core out of the apple, stuff with filling, bake.
That's it.
No details, no actual amounts. Even the bake time is vague… Bake until soft.
I didn't think much about the actual recipe until very recently when the weather started to cool. One evening, we enjoyed Bratäpfel (Baked Apples), and I decided it would be a nice recipe to share. But like my old recipe book, I don't have an exact recipe. hmmm. So I decided that this week's project was to quantify and specify. It wasn't as easy as it sounds. Apples… what kind of apples? Nuts…. what sort of nuts and how many? Raisins…. soak or not? Spices, sweeteners… Bake Topless? Modernize the recipe with unusual spices and fillings? (This was starting to remind me of the Potato Salad project).
The main difference between a German Bratapfel and an American Baked Apple seems to be the sweetener. My German recipe calls for Honey, and not a lot of it (German recipes don't tend to be overly sweet). The American recipes usually call for brown sugar (not a common ingredient in Germany). Finding that balance that tasted like my memory, but also appealed to the American at the table was tricky.
After cooking 6 different variations, I was asked to stop. (This is the main problem with recipe testing, it gets to the point where you have it coming out your eyes).
Below, you find a BASIC recipe  for German Baked Apples. (One that Oma's everywhere may have served). Try the recipe as it comes, or maybe add a flavor or filling that you remember. Or try something new…For the record, the number one recipe combination in our house used crushed Spekulatius cookies in the filling. (There was a bit more sweetness, and a hint of Christmas).
Serve with Vanillesoße or Vanilla Sauce to add a rich sweetness to counterpoint the tart apple.
Bratapfel Recipe
They say, "an apple a day keeps the doctor away". Why not make that apple extra appealing by filling it with nuts and raisins, then baking it until it's tender. The juicy apple and flavorful filling will warm you up on a cool evening.  Put Bratäpfel in the oven while the rest of your dinner cooks... and by the time you are ready for dessert, they are ready to be eaten. 
I love serving them with Vanillesoße (Vanilla Sauce) or Vanilla Ice Cream, but you can also enjoy them just plain. 
Ingredients
4

medium sized Apples

1/4

cup

50 gr Chopped Almonds

1/3 - 1/2

cup

50 gr Raisins

4

Tablespoons

Honey

4

Tablespoons

Rum

OPTIONAL

1/2

Lemon

2 1/2

Tablespoons

Butter
Instructions
Preheat Oven to 400 ° F

Generously butter the bottom of an 8 inch baking dish with 1/2 Tablespoon Butter.

In a small bowl. Combine the chopped almonds, raisins, and honey. Add rum if you like it (I do.) Mix well. Set aside.

Wash the apples, then slice the top off... down to where the stem starts. (Set aside the tops)

Slice 1/4 inch off of the bottom of the apple, just to level it.

If you have a corer, press it in, and pull out the apple core. Don't go all the way through.

You can also use a knife. Cut around where the core is, then spoon the seeds and core out. (I used a Grapefruit spoon, but a regular spoon will work as well)

Rub the cut edges of the the apple with the lemon to keep it from browning.

Place the apple into the baking pan, and repeat with the rest of the apples.

Fill the center of the apples with the filling. Divided between them as evenly as possible. Let any extra just pile up.

Cut a tablespoon of butter into 4 pieces. Place one piece on top of the filling.

Put the other tablespoon of butter into the pan.

You can top the filling with the Apple Lid (the part you sliced off the top)... or just eat that while you work. (I like mine topless....)

NOTE- If you put the tops back on, your raisins won't get hard/dark. I don't mind crunchy raisins, but they can be bitter.

Bake for25 to 30 minutes. Apples will be soft... a paring knife inserted should go in easily.

When apples are done, let them sit in the baking pan to cool for a few minutes before serving.

Place an entire Bratapfel on a plate, and spoon some of the caramel colored liquid from the pan over it.

Serve with Vanillesoße (Vanilla Sauce) or Vanilla Ice Cream for a extra special treat.
Notes
I used chopped Almonds, but Hazelnuts are a fabulous substitute. 
Don't like raisins? Use dried Cranberries! Honestly, Bratäpfel are a fun desert to experiment different flavors with. Tuck in some Marzipan, or maybe a few chocolate chips. Dried cherries with chocolate would be AWESOME! 
Let me know what you come up with!
Bratapfel Fillings
Experiment with your favorite flavors. Use what's already in your pantry.
Variations for your Bratäpfel-
for the nuts-
Chopped Almonds or Chopped Hazelnuts
Sliced or slivered Almonds are also excellent
for the raisins-
Don't like raisins? Use dried Cranberries!
Golden raisins also work.
Chopped dried Apricots
Dried Cherries
Other additions-
Crumble a Spekulatius Cookies (1 cookie per apple), and add to the filling.
Tuck some Marzipan into the apple before adding the other filling
Add a few chocolate chips to the nut/raisin mix
Melt some Apricot Jam in the microwave, and drizzle over the baked apples.
Spekulatius Cookies with a few Almond Slices are a family favorite
Like this Recipe? Check out my Easy German Cookbook!
80 Classic German Recipes perfect for the American Kitchen. 
All those delicious German foods that your Oma and Mama made… but no one every wrote down! Read more about it HERE
Easy German Cookbook: 80 Classic Recipes Made Simple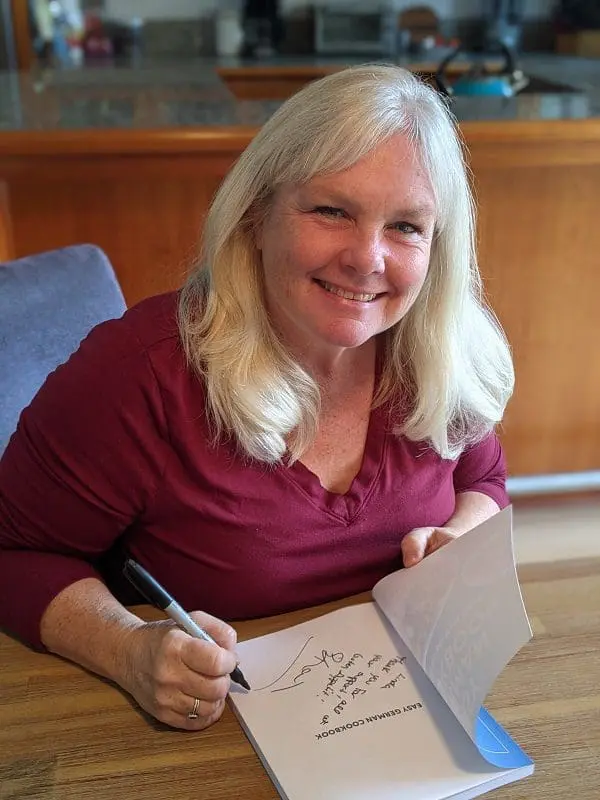 Click to Order a Signed Copy of the Easy German Cookbook HEREGermanGirl Shop
What kind of Apples are best for Bratapfel?
German sites all agree that the Boskop apple is the best. The problem with this is, I can't find them in my local grocery store or farmer's market.
I've tested-
Honeycrisp– Flavorful and a little tart. Bake for the full 30 minutes… then test with a knife, it may need longer.
Fuji– Tastes ok. Flavor works, but it's not remarkable. Bake for 30 minutes
Macintosh– I tried this just to see what would happen. Honestly, the tart flavor was good… but the apple skin basically explodes open and the apple flesh turns to apple sauce at 30 minutes baking time. My testers loved the taste though… so maybe, if you have them in your fruit bowl, try a 20 minute bake time (and keep an eye on things)
Granny Smith– TART, and needs a longer baking time to get soft.
Mackintosh apples EXPLODE!
How to Make this Bratafel Recipe
Slice off the top of the apple… the pre-cut around the core (not all the way through!)
Use a spoon to scoop out the core and seeds. You'll end up with a nice pocket in your apple
Set them into a buttered baking dish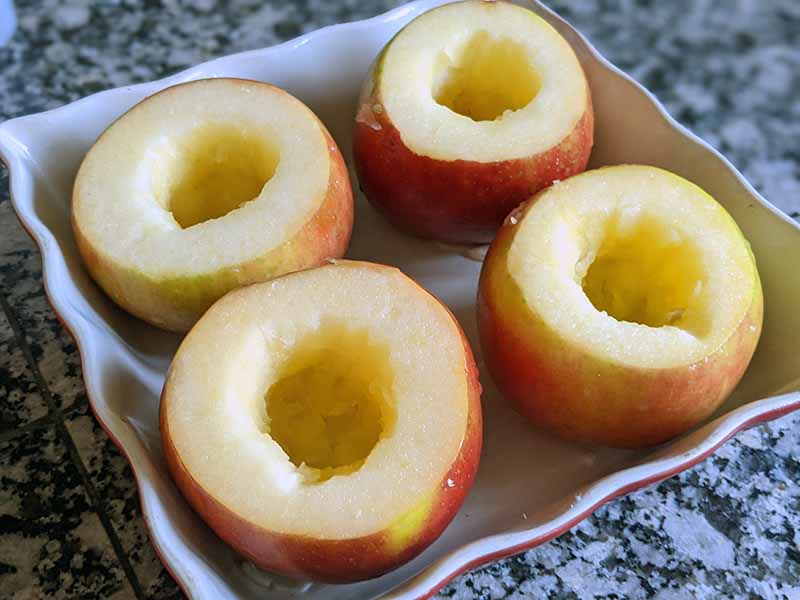 Mix your filling (This one is Raisins, chopped almonds, honey, rum, and cinnamon)
Divide the filling between the apples, then top with butter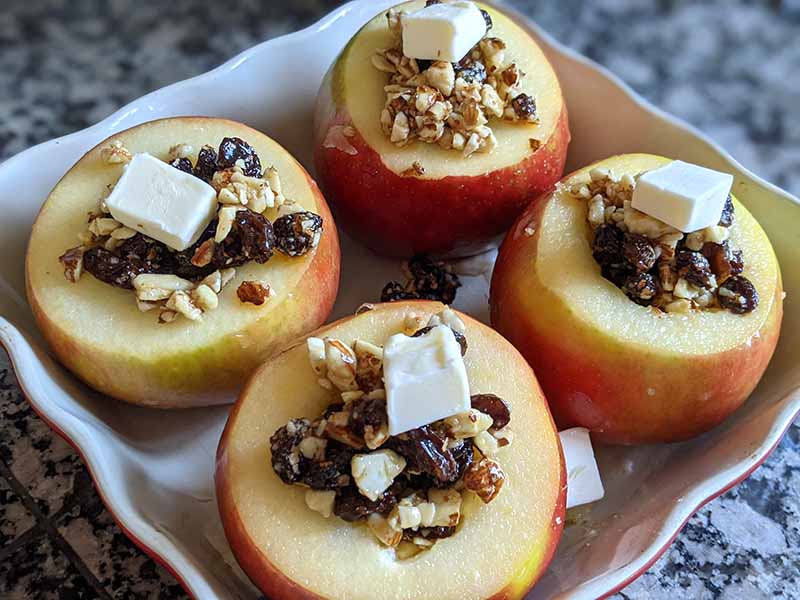 Put the lid on if you like. This will keep the top of your filling from burning.
I live dangerously (and I like my raisins crunchy), so I leave them off.
Bake and serve.
I like to spoon over a bit of the juices from the baking dish… and naturally Vanilla Sauce.