How to make Obatzda – German Beer Cheese Spread
Last summer while on a tour in Munich, we had a "get acquainted" lunch at the Augustiner Brewery (across from the Hofbrauhaus). On the Menu… Weißwurst, Pretzels and Obatzda, a German beer cheese spread. It was orange. As someone who has attended plenty of gatherings with a fluorescent cheese ball, I was skeptical. But that first taste… smeared on a pretzel… wiped away all (well, most of) those memories of cheese ball's past. This flavorful spread is smooth, strong-ish, with a bit of a bite. The color comes from an addition of paprika! And its power comes from ripe Camembert. It goes down very well with a Weißbier. And is a logical addition to any Brotzeit platter. Let me show you how to make Obatzda… it's easier than you think!
What is Obatzda
Obatzda, Obazda, Obatzter. (Part of me wants to say "Ups-sasa") However you spell it, and whatever you call it, Obatzda is a cheese spread found commonly in Bavaria. It has relatives in other parts of the German speaking world… in Austria you'll find it called Liptauer, in Switzerland, "Gmanschten", and in Hessen, they seem to lack creativity, because it's just called "Hessescher". But no matter how you call it, it's cheese spread.
The first mention of Obatzda was in the 1920s when an ingenious and thrifty landlady, Katharina Eisenreich, began serving this cheese spread to her guests at the Freising Braustuberl. Basically, she took old overripe cheese, mixed it with some butter for smoothness, and a few herbs to cover the funky taste… and TA-DA… she had an appetizer fit for a drinking person!
For the longest time, Obatzda was considered "Poor Man's Food". A way of recycling leftovers that might normally have been discarded. (Although… having grown up in a German Household, I don't believe that discarding food in ANY stage is the German Way. EVERYTHING is trimmed, ground, reworked… until it's eaten). (I'm kidding… sort of)
How to Make Obatzda
Today, Obatzda is made from a strong ripe soft cheese, like a Camembert. Some butter and cream cheese are added to smooth the cheese out, and make it less bumpy. Caraway Seeds, salt and pepper are added for flavor. Paprika adds flavor as well as color. Many recipes call for the addition of onion. But if you do, be aware that you must eat it fresh so they don't spoil. Sprinkle with chives or red onion rings to make it extra pretty!

Serve with Pretzels or a good Rye Bread.
Obatzda Variations
Naturally, like EVERY German recipe, there are regional variations (and personal preferences).
In Upper Bavaria- they add a little Beer to the Obatzda
In Franconia- a shot of wine is added to Obatzda
Some people make theirs with Quark, others Cream Cheese (which is easiest in the US).
And there are some people who like their Obatzda STRONG! They make it with Limburger.
German Beer Cheese Spread
Obatzda is a German Beer Cheese Spread that is easy to make, and along with pretzels or bread, lays a nice base in your stomach for beer. Add it to your Brotzeit platter, or bring it out with hard pretzels to snack on in the yard.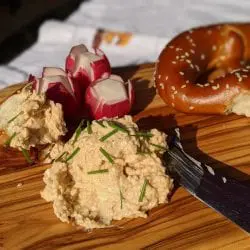 How to make Obatzda - German Beer Cheese Spread
This Bavarian Beer Cheese Spread is delicious for Brotzeit... or as a dip with pretzel sticks. Serve with Radishes, Sausage, Bread Sticks, Pretzel Sticks... and beer!
Ingredients
8

oz.

Camembert

6

oz.

Cream Cheese

3

Tbl Butter

soft

4

Tbl Beer

you can drink the rest

1

tsp

Caraway Seeds

1

tsp

Ground Paprika

Salt and Pepper to taste

about 1/4 tsp each to start

Chives

Red Onion
Instructions
Take the Cheese and Butter out of the Refrigerator around 30 minutes before you start.

You need a medium bowl and a cutting board. To make it easier, use a food processor.

Cut the Camembert into small pieces

Cut the cream cheese into pieces, add to the Camembert

Cut the butter into pieces, add to the cheeses

Mash them all together with a fork.
NOTE:
This takes more energy and patience than I usually have. I ended up putting it all into the bowl of my food processor and using "pulse" to bring it together.

Add the Beer, Paprika, salt and pepper.

Mix well.

(take out of the food processor, if you used it)

Mix in the Caraway seeds.
Onion:
If you like your Obatzda with onion. Chop the onion very fine, and add it to the cheese right before serving. The onion makes the Obatzda taste "off" if it sits in it too long.

Another alternative is to serve the Obatzda with diced onion or rings of onion on top.

Spinkle with chopped chives before serving (also optional, but it does look nice)
Notes
This makes a nice big bowl, and I tend to serve it by scooping the Obatzda out onto Brotzeit boards using an ice cream scoop.
The rest should keep for a few days in a sealed container in the refrigerator. (As long as you haven't added onion)
Find MORE Recipes in my Easy German Cookbook
The Easy German Cookbook is filled with 80 Classic German recipes made simple for the American kitchen.
Easy German Cookbook: 80 Classic Recipes Made Simple

Watch it Made
Put the Cut Camembert Cheese in a Bowl Add other cheese
This is where I realized mashing cheese with a fork was a drag… into the Food Processor with you!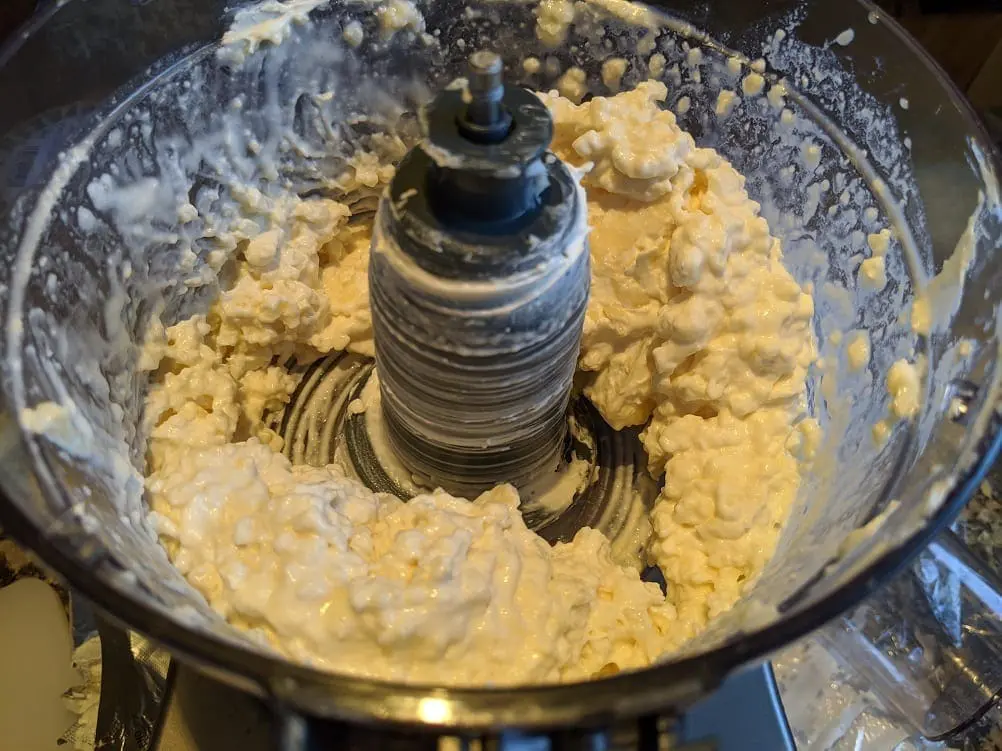 You want it still lumpy… then add Paprika, Beer, salt and pepper… pulse
(I added Caraway AFTER I took it out of the Processor so it wouldn't get chopped up)
You can just do all the mixing by hand
Mixing in Caraway… You can add diced onion now if you want them.
Serve in the sunshine…