How to Make Quark- Make Creamy German Quark with a Yogurt Maker
Quark is a delicious and very versatile creamy dairy product from Germany. For those of you not familiar with it, it's almost like a very thick yogurt, or a looser whipped cream cheese. It doesn't have the tang of a yogurt though. Because it's not sweet or salt, quark can be used in a number of ways; spread on bread, served with fruit for a healthy dessert, baked into delicious cheesecakes, or even mixed with savory herbs for a wonderful dip.
A recent post about Quark on the Facebook page got a lot of comments…. mostly from people who miss having it easily available here in the United States. Strangely, although we have what seems like thousands of different yogurts in the dairy aisle, something as basic as Quark seldom appears. And if you do find it, it can be costly.
Because I LOVE a good German Cheesecake, and Quark is an essential ingredient for a real German Cheesecake, I've learned to make it myself. Lots of trial and error… and a bit of frustration… but I think I've got the recipe and technique worked out. And now I will share it with you.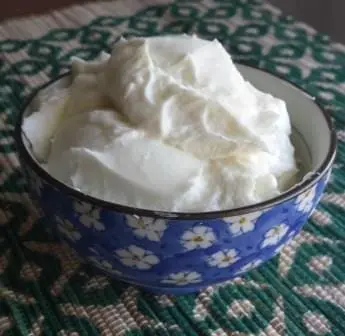 Make Quark at Home
I will start off by saying,  you have to really want Quark to go through the bother of making it yourself. Not that it's difficult, in the opposite, it's quite simple. Mostly it's time consuming. And in the end, you don't get a whole lot of Quark for the amount of milk. STILL… you get enough, and since Quark doesn't last forever in the refrigerator, you don't want to make more than you can use up.
Home Made Quark Recipe
I use a Yogurt Maker to make my Quark. I know a lot of people use the oven on its lowest setting overnight… but I am not sure of the temperature settings on my oven (and more than once, I've forgotten things IN the oven… what a mess). The Yogurt Maker has a timer and sits on the counter where I can see it. (And mine came with a fine meshed strainer… essential for the process).
This recipe uses whole milk. I've seen (and tried) recipes with Buttermilk. The problem is, you can't use lowfat buttermilk, it doesn't really work (the result is too liquid). By adding a little bit of buttermilk to whole milk, you get the flavor profile you want.
Ingredients
4 Cups WHOLE Milk (don't use skim or 2 %)
1/4 cup Buttermilk (whole buttermilk is best… but impossible to find near my home)
Instructions-
Pour the milk and buttermilk into the Yogurt Maker. Set for 13 hours… and then walk away.
Check the batch. If it doesn't "set" you might have to run it a few more hours.
Put a fine- meshed strainer over a bowl/container, and pour/scoop the thickened milk into it. Cover with plastic wrap and put it in the refrigerator.
Let sit for at least 12 hours.  (Pour off the whey/liquid at the bottom of the container from time to time. Some people save this, but I don't know how to use it, so I don't)
Scoop the Quark out of the sieve into a bowl. Use or refrigerate for one week.
NOTE- some of the whey at the bottom of the container might look "Thick"… you can pour this back through the strainer to catch more Quark. It's not a lot, maybe another Tablespoon or so, but my Oma taught me to hate waste.
Also… I end up with around 350 g of Quark using this method. Most German Cheesecake recipes use 700 to 800g, and my favorite Himbeer Kase Streuselkuchen needs 500g. Sometimes I cheat, and use a bit of cream cheese to come up to the right weight. It's not a perfect system, but the Quark lightens the Cream Cheese. And yes, I COULD get a larger yogurt maker…. but so far I haven't.
Buy Your Yogurt Maker HERE
I use the Dash Greek Yogurt maker. It's not fancy, but it works, doesn't take up much space, and is easy to clean (the parts go in the dishwasher).
UPDATE- the Dash Greek yogurt maker that I use is currently unavailable. These Greek yogurt makers work the same way, and have good ratings
JoyMech Yogurt Maker, Compact Greek Yogurt Maker Machine with Constant Temperature Control, Stainless Steel Container, 1 Quart for Home Organic Yogurt

Bear Yogurt Maker, Greek Yogurt Maker Machine with Strainer and Timer Control, Yogurt Maker with Stainless Steel Inner Pot, Automatic Digital Yogurt Maker with 2 Glass Jars 1 Quart for Home Organic Yogurt, Cheese Maker, Fruit Wine Maker, Black (black)

Making Quark with a Yogurt Maker with PHOTOS
My Dash Greek Yogurt Maker
Pour all Ingredients into the Yogurt Maker… set it for 13 hours… and walk away
It will look like this after 13 hours
Notice that there is a separation between the Creamy stuff and  the "whey", the clear stuff
Put the strainer into the other container that comes with the maker, and pour the quark and liquid in to strain.
Pour the contents of the yogurt maker into a FINE strainer over another container. Strain for at least 12 hours. 
After 12 hours of straining
Pour of the whey from the bottom container… (If it looks like there is a lot of thick creamy stuff at the bottom, you can send that back through the strainer for another 12 hours)
Whey over thick cream.. Pour off the whey, and possibly restrain the creamy part
And you've made Quark!
Using a Cheese Making Method to Make Quark
Gudrun Hommel sent me to this site for information about making Quark using a cheese making method. She says she's had success, and that it's easy to do. You need to order buttermilk culture from the company to make it work. The company is reputable, I've used another of their products, and there are lots of step-by-step instructions.
A Recipe for Making Quark– http://www.cheesemaking.com/Quark.html