Bremerhaven Tourist Attractions- What to See in Bremerhaven
When I learned I was going to Bremerhaven, I was a little bit concerned. After all, Bremerhaven has a reputation for just being a working class city with a big port. (Sort of like Oakland, California). Many years ago I visited Bremerhaven, and at the time, it didn't leave much of an impression (unless you like boats). But now I discovered that there is far more here than big ships. Bremerhaven is a new-ish German city that is constantly evolving. And believe it or not, there is LOADS of Bremerhaven tourist attractions for the whole family! In fact, one day, is no where near enough to see all the interesting things that Bremerhaven has to offer.
Auswanderer Haus (Emigration and Immigration Museum)
The Auswanderer Haus sits at the top of my list of interesting museums, and is my favorite Bremerhaven tourist attraction. Hundreds of thousands of Germans emigrated through the port at Bremerhaven. The museum tells their stories in a completely immersive way. You become part of the story! Every segment of the museum is hands on. What's more, the design of the building fools you into believing you are on a ship too! If you've ever wondered what it must have been like for your great great grandfather… or your mother… to make that journey, you HAVE to visit the Auswanderer Haus. And, as in most German Museums, there is a cafe (on special nights, they serve St Louis Ribs). Read more about my experiences at the Auswanderer Haus –>Click HERE
Get your tickets here…


Harbor Bus Tour
To get a sense of scale…each of those blocks down at the bottom of the dry dock is 2 meters high.
Ok, you think, what's so interesting about a tour of a working Harbor? Well… have you ever watched one of those TV programs where they show how BIG heavy equipment is. I mean REALLY BIG! And there are these ants walking around next to it that turn out to be people? Imagine now that you are one of the ants. The Bremerhaven Harbor moves more cars than ANY other port in Europe, as well as more fruits and veggies, and a zillion other things. And somehow they manage to do it with this incredible precision. It's almost like watching a dance. (I honestly have NO IDEA how they keep track of everything, I lose my car in our city parking structure.) The guided bus tour starts at the Fishery Harbor, and takes you past a number of sites in Bremerhaven before cruising into the Harbor Zone. Be aware, this is a restricted area. Due to heightened security, you may not take photographs after a certain point, and you may not exit the bus (believe me, the bus was just big enough to make me feel safe around all those container-movers.) The bus will take you right up to the ships, and you will get to see containers and cars flowing around you while the guide explains everything that's going on.
Order your Tickets HERE–>Bremerhaven Harbor Bus Tour
Deutsches Schifffahrtsmuseum German Maritime Museum
Heehee… this photo is a few years old… but I did like climbing around the submarine.
The Deutsches Schifffahrtsmuseum is noted for not only having 3 "f's" in a row... but also for being a really fun and interactive museum. Inside the very large exhibition hall, there are loads of things to see, touch and even play with! Remote control toy boats and models to climb on. The whole history of seafaring from the Middle Ages to today is laid out for you in a way that's the whole family will enjoy. Whaling ships, Tall Ships that reached the New World, and even Polar Exploration ships all have displays. Outside you can go aboard the Museum ships… a tall Sailboat, and even an old World War II submarine (can you say claustrophobia!). Be aware that in 2019 they are undergoing renovations, and some parts of the museum may be closed… but the "pay what you think it's worth" price structure that they have during the renovation keeps it in budget!
Get more information Here–> German Maritime Museum 
Fischereihafen Fishery Harbor
Walking along the Fishery Harbor Restaurants
Looking for a fabulous place to eat while in Bremerhaven? Look no further than the Fischereihafen or Fishery Harbor. The old port-side warehouses used to hold the catch from the Bremerhaven fishing fleets. Today, while there is still a Fish Smoke Haus  down at the end, and there are still Fish Auctions on some days, the warehouses and refrigeration buildings are mostly given over to restaurants and shops. Stroll down the wooden walkway and do some "window shopping". Restaurants decorate the windows and have their fresh fish offerings listed on chalkboards outside. Don't think too hard, it's all good. I had a delicious lunch at Der Kutterfischer… but the places on either side looked fantastic too. There are even shops where you can buy fresh or smoked fish to take along. In the summertime, the Fischery Harbor comes alive with live concerts, open air movies and people enjoying the sunshine.
Get more information HERE–> Fischery Harbor
Buy some Fish while you are there…
Klimahaus 8° Ost
The Klimahaus at night
When I first saw the Klimahaus, I thought it was a Fußball Stadium! But this giant bean shaped building is actually a rather original science center. Translated, Klimahaus is Climate House. When you visit the Klimahaus, you walk through 9 climate zones on 5 continents…. all found at 8° Longitude (the same as Bremerhaven). Basically, it's your chance to walk around the world and experience what it feels like to be in the desert, the tropics, and even freezing Antarctica. Each zone is hands on with things to touch and try, and you will definitely FEEL the dry heat or the damp humidity. This is your chance to experience the world in one afternoon. And you will get the chance to see and understand how climate change is affecting the world.
Get more information HERE–>Klimahaus 8° Ost
Zoo am Meer/ Zoo by the Sea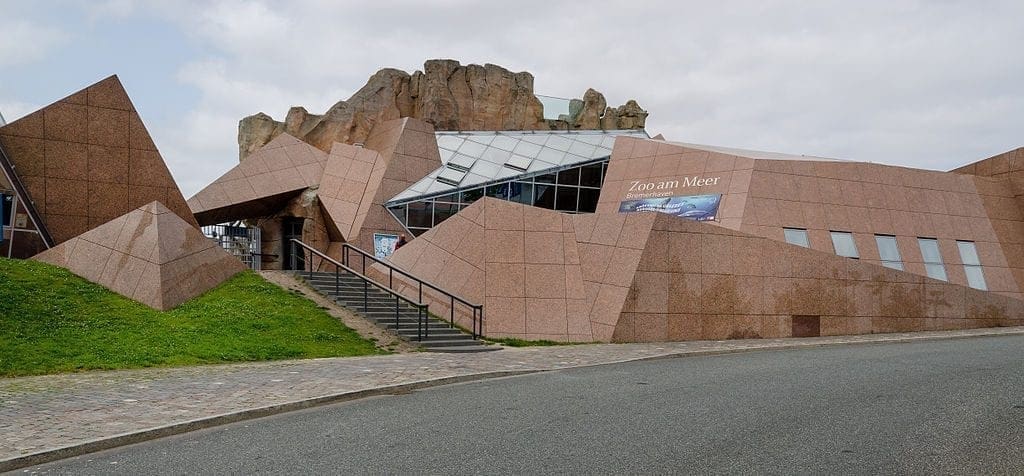 Photo from Tuxyso / Wikimedia Commons
When I first arrived in Bremerhaven and took a walk along the water near my hotel, I kept hearing animal noises. Directly across from me was the Zoo am Meer! Sea Lions and Polar Bears were singing themselves to sleep. This really is a special little zoo. All of the animals are found in and around the North Sea. Everything from Red Squirrels to Polar Bears, Sea Lions to Otter. There are a few exceptions…. my favorite is the Emperor Tamarin, a monkey who got his name from his close resemblance to Kaiser Wilhelm II. The zoo also has an aquarium (don't you love aquariums! it feels like you are under water!). It may not be one of the best aquariums in the world, but it's still well worth checking out if you're in the area. Walking around the zoo is easy, wide paths make it completely accessible. I love the "natural" feel of the place. Feeding times are staggered to keep the animals from becoming complacent, so check the website before you go if you want to catch one. There is a fun playground for the kids!
Get more information HERE–> Zoo am Meer
Where I stayed….The Liberty Hotel
The German National Tourist Board… who sent me to Bremerhaven… put me up in the brand new, absolutely amazing Liberty Hotel in Bremerhaven. It's right on the water, across from the Zoo and next to the Auswandererhaus. The rooms were perfect! Comfortable beds with thick feather comforters. All the modern comforts. A large shower with a huge shower head, and all the toiletries you might need. Upstairs was a spa with sauna for guests… and a bar with the most amazing view (and a wildly talented bartender). Breakfast was lavish and delicious, including tropical fruit juices and a selection of local smoked fish. Best of all, the staff made me feel special. I would go back there in a heartbeat!
Make a reservation at the Liberty Hotel HERE–> Liberty Hotel