All about the Stammtisch- In Germany, it's a Table for Regulars
You walk into a German Gasthaus, Wirtschaft, Restaurant or Biergarten… and you see it! The perfect table! Close to the Bar, the right distance from the bandstand, and the perfect conversation spot… you make a beeline, delighted to rest your legs after a long day of touring. (Remember, in Germany, you generally seat yourself). Then you see it, the sign above the table, "Stammtisch". You know that "reserviert" means reserved, but what is a Stammtisch? And why do people get upset when just plop yourself down?
What is a Stammtisch?
The word "Stamm" has a few meanings… it could mean Tree Trunk (as in Baumstamm)… it can also be an origin point ("wo stammt er her?) but it also means Clan or Tribe. And Tisch, of course, is Table. But together, Stammtisch is a table for regulars. And in Germany, it is quite common for one big table in a restaurant to be set aside for locals. Regulars can come and go, happy in the knowledge that any time they want to sit down for a drink in their local pub, there will a spot just for them. The size of the establishment down't matter, "members" have a spot.
Once upon a time, the this table was reserved for the very important people in town… the Burgermeister (Mayor), the Doctor, rich Merchants, and wealthy Land Owners. The table became in informal place for political discussion. Laws and philosophical ideas could be hashed out over good food and drink. Deals were made, partnerships forged, and news would be exchanged.
Over time, the Stammtisch opened up to "regular people". (Think of the Bar on the TV show Cheers… the same regulars revolving through). As long as you lived in town (and were a man), you were welcome at the Stammtisch for an evening drink, a round of cards, or on Sunday morning for Frühschoppen. Today, men AND women are welcome. They've become a social hub, a place to trade information, and to do a bit of Networking. Being a member means you generally don't have to drink alone, because someone else might join you.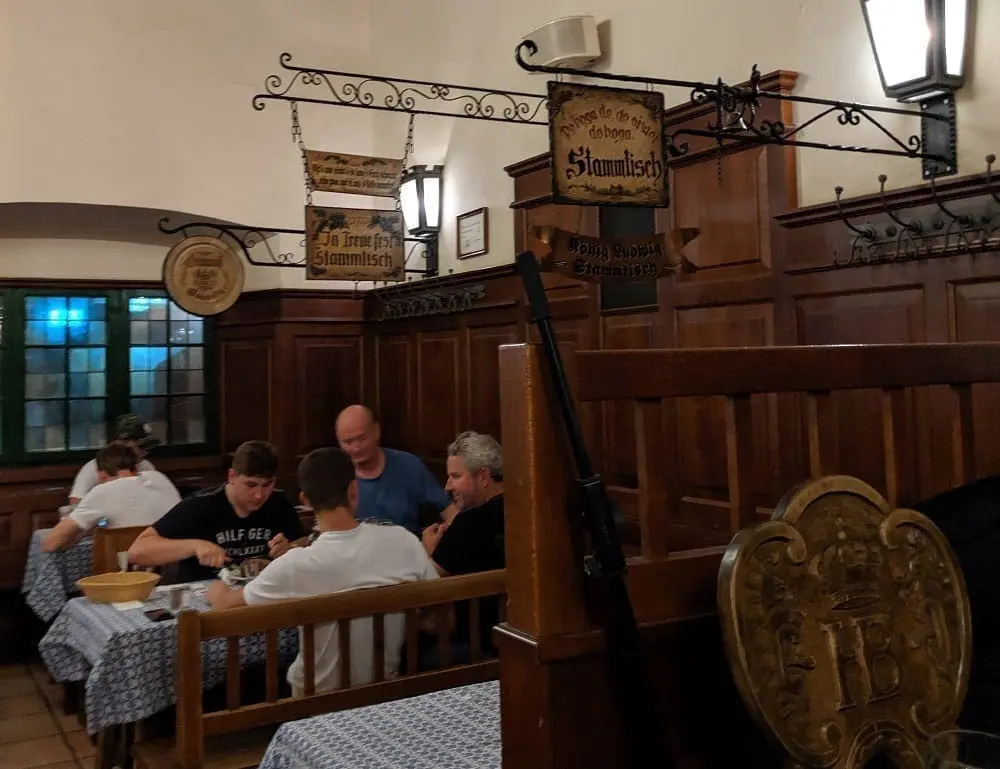 The Group Stammtisch
The word Stammtisch has also come to mean a group meeting. Different clubs will reserve a Stammtisch for specifics days or times (in that case, a "Reserviert" sign will probably show up on the table). If you've ever visited the Hofbrauhaus in Munich, you will see lots of tables… many with club names or groups on the signs.
Are you Allowed to Sit There?
Think of the Stammtisch table like the Cool-Kid's table in the High School Cafeteria. You need an invitation to sit there. And it's a real honor to be asked. Unlike the cool-kids, the  regulars are more likely to act friendly when you are there (unless you just butted in like a jerk).
Generally no one will stop you from sitting at an empty Stammtisch, especially if there are no other seats. BUT, if a local group shows up, you will probably be asked to move to another table. I actually love sitting near a Stammtisch. People talk and enjoy each other… and there might even be singing! (Plus, I'm a shameless eavesdropper, and love to know what's going on in town).
The American Stammtisch
Here in the US, the concept of Stammtisch has taken off in a slightly different way. Some German Restaurants in America carry on the tradition of a Stammtisch, and set aside this table for frequent regulars. Or it can refer to a table set aside for a regular group meeting of German speaking people.  For example, a "Wednesday night Stammtisch" would be for a club or group who meets at a certain time… members can gather, drink and eat, and maybe practice their German.  Numbers around the table will be fluid… and you will hear loads of different conversations crisscrossing the table. It's a nice informal way to gather, and no one is responsible for hosting or feeding a larger group.
The Culture Continues
Germans have a long history of gathering to discuss ideas over a beer, so think of a Stammtisch as an extension of Biergarten culture. A place locals to come together and discus news and current events of the day in a more informal setting. A Stammtisch is a place where everyone knows your name.
Stammtisch Table Signs
Make your table the spot for regulars with a sign…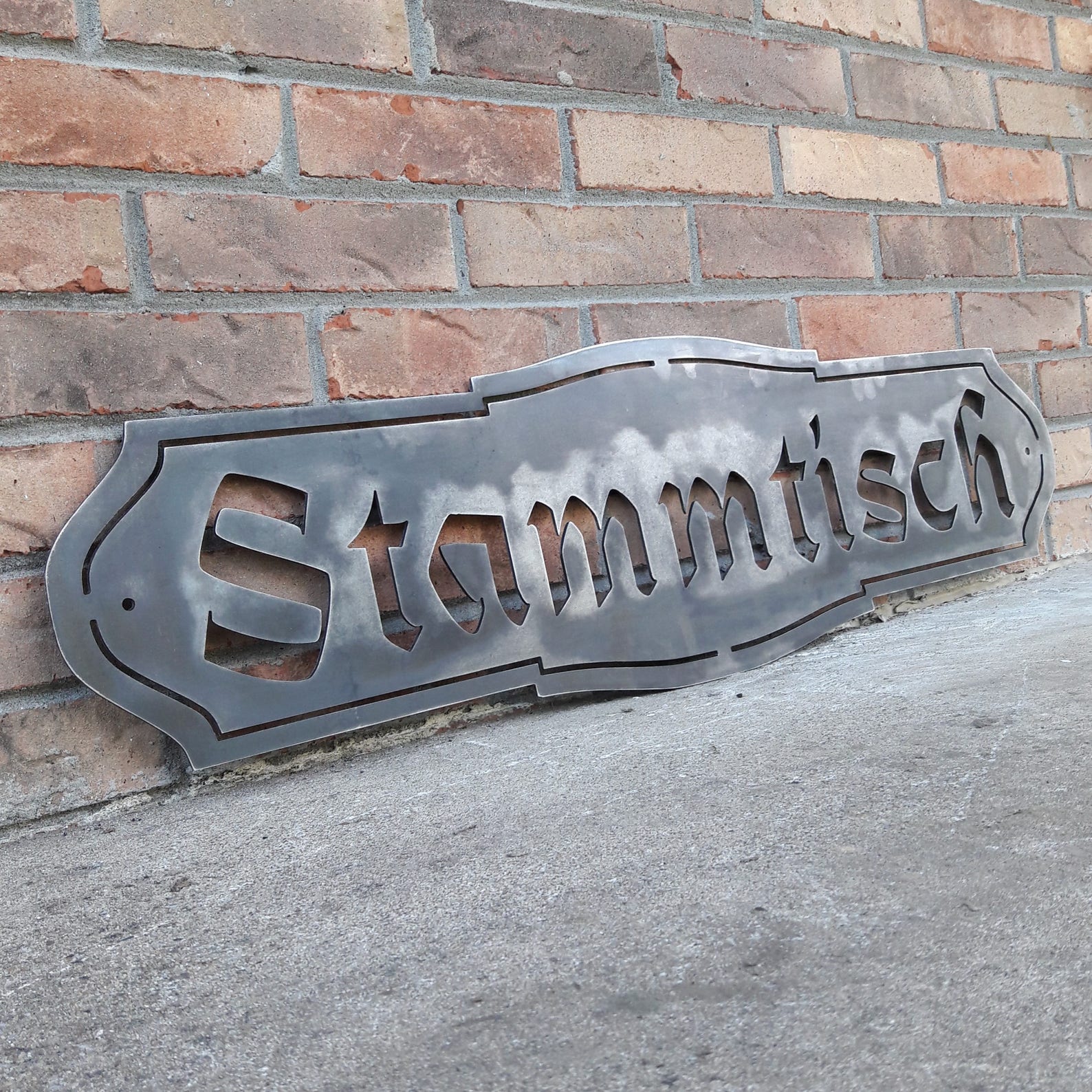 Stammtisch Friends Metal Sign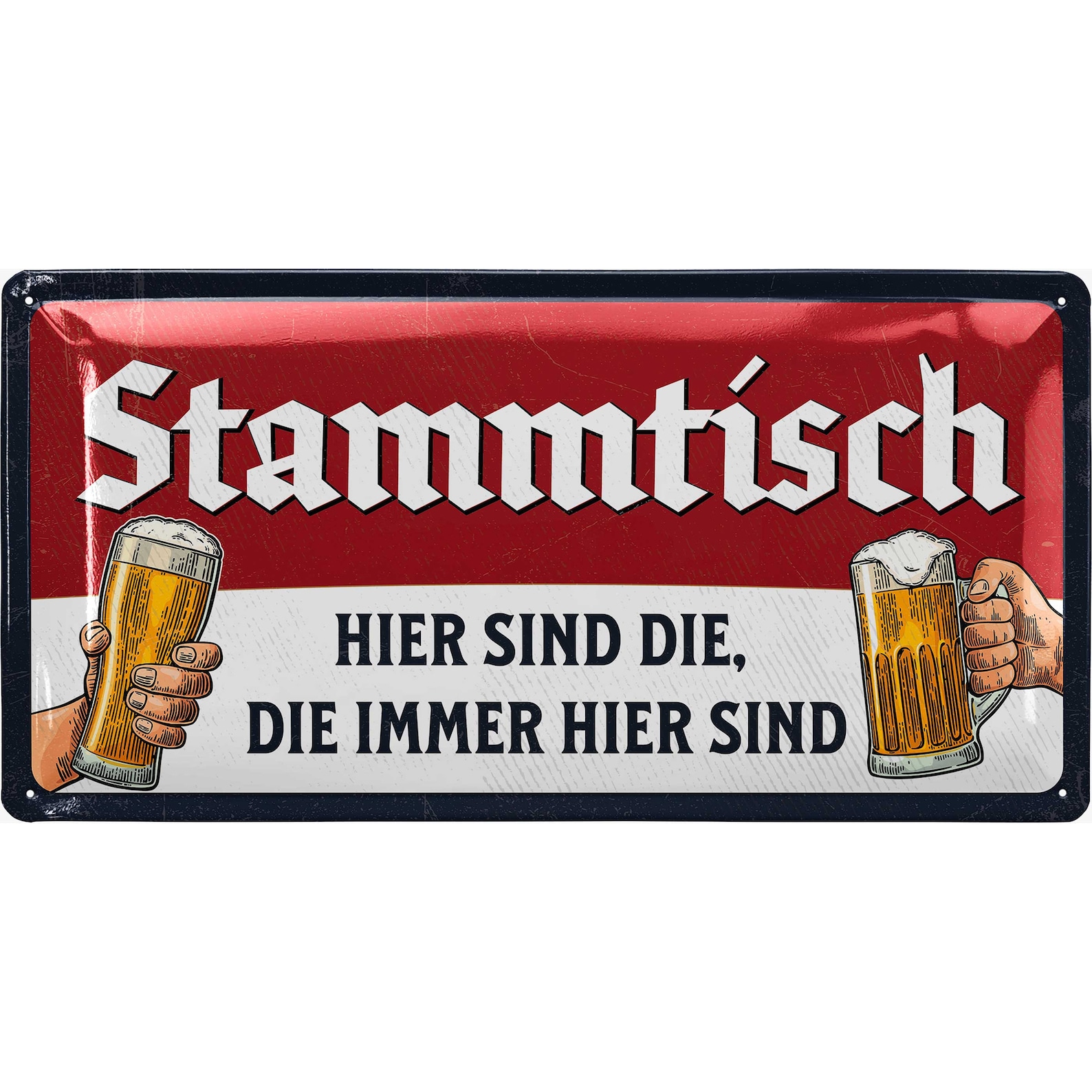 Stammtisch sign – retro metal sign as a gift for beer lovers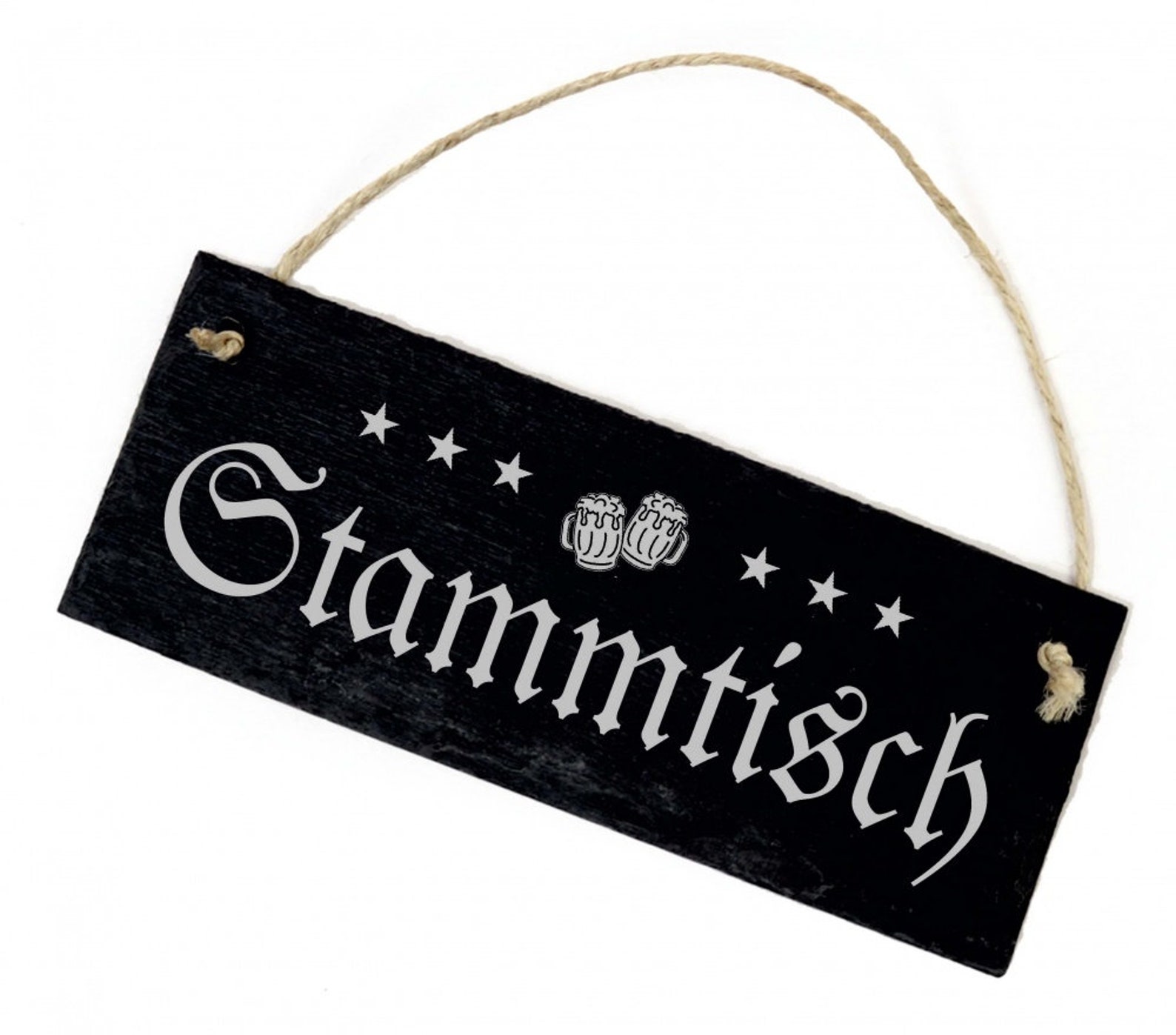 Stammtisch sign made of slate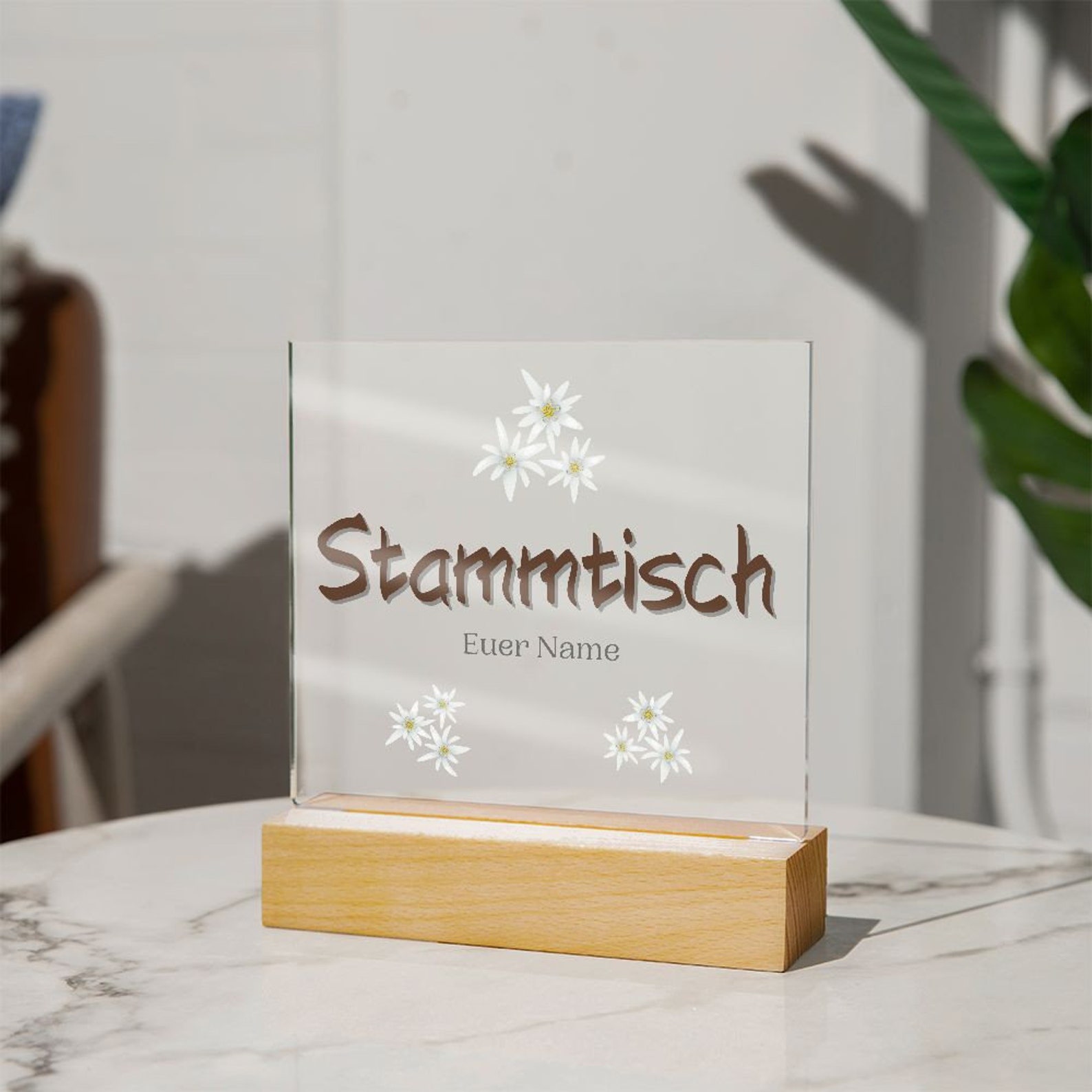 Personalized Stammtisch sign