Schüttelkuchen -Mandarin Orange Cream Cake Recipe
Every month GermanShop24 sends me a box full of German Foods and Products to review and share with you. This month, they included the ingredients and a Mandarin Orange Cream Cake Recipe called a Schüttelkuchen. Schüttelkuchen actually translates as "Shake Cake" … and I needed a little help figuring out the method, because it is so different from anything I've made before. And it seemed to be too easy to actually work.
The recipe says…. use a cake base… add the rest of the ingredients to a bowl, then cover it and SHAKE.
What? How is that even possible?
I had nothing to lose (except a little clean up time)…
It worked… it actually worked. And my 17 year old proclaimed that the resulting cake was the "BOMB" (that's "really yummy" in teenager speak)
Just a few ingredients, a little shaking, and you can make an absolutely delicious cake that's pretty enough to share with company, without even turning on the oven!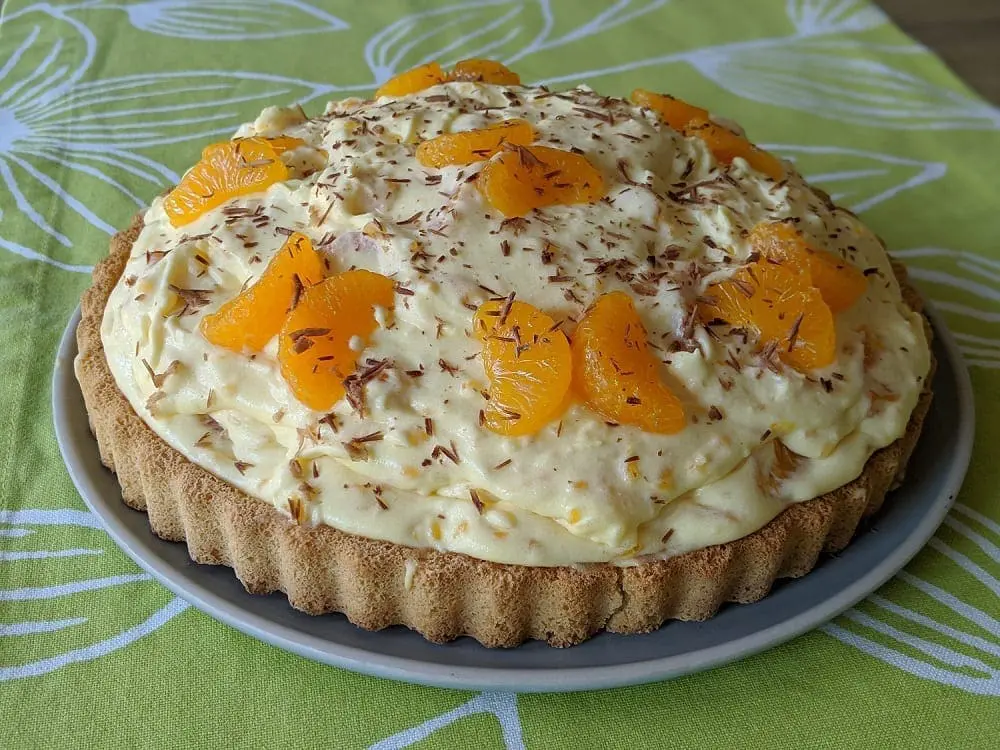 What is a Schüttelkuchen?
Schüttelkuchen seems to be a newish trend in German Baking. It's "time saving" and doesn't require as much clean up since you aren't breaking out the mixer. The idea goes like this… all ingredients go into a bowl with a sealed lid, you shake it for a few minutes, and pour it into the baking form or over a pre-baked Torte. It is important that the bowl you use is large enough to have some 'air space' above the ingredients, so that they get a good mix (and incorporate some air). Most of the recipes use extra liquids to capture up the dry ingredients. You also find Schüttelkuchen recipes for things like carrot cake and muffins. Instead of beating the butter into the sugar, you melt it, and shake all of the ingredients together.
This particular Schüttelkuchen uses whipped cream and Paradise Cream powder (a pudding mix), so it sets up fairly easily (and makes sense).
Trend or Genius, all I know is that THIS recipe really works well.
Don't want to wait for the cake to arrive? You can even bake your own cake base…. Torten Boden Recipe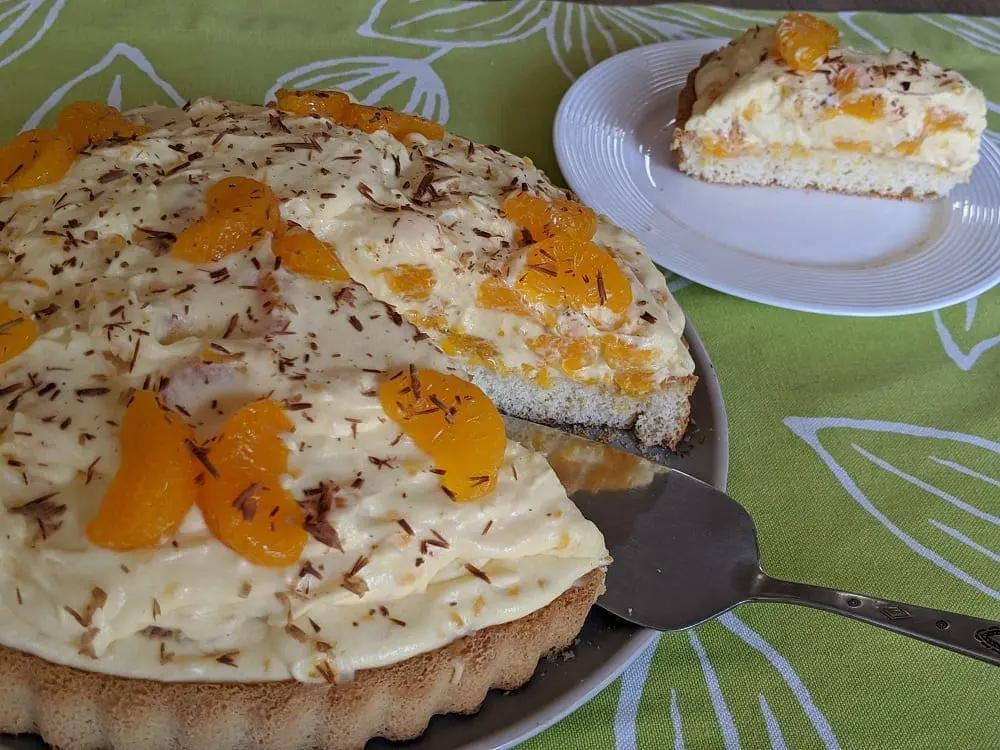 Mandarin Orange Cream Cake Recipe (Schüttelkuchen)
This recipe originally comes from the Dr Oetker website… I've translated it, and put the ingredients into measurements for the American kitchen.
I used grated chocolate to decorate, because I had the remains of a Dark Chocolate Ritter Sport bar hiding in the pantry.
Mandarin Orange Cream Cake Recipe-Mandarin Schüttelkuchen
Ingredients
1

Pre-Baked Cake Base

2

cans Mandarin Oranges 15 oz.

1 2/3

cup

Heavy Whipping Cream

the liquid

2

packs Sahnesteif Whipped Cream Stabilizer

2

packs Dr Oetker Paradise Cream

Vanilla flavor

Pistachios or Grated Chocolate to decorate
Instructions
Put the Cake Base on a Serving Platter (You can bake one, or just use the pre-baked one)

Strain one of the cans of mandarins (save the liquid) pick out 12-16 "pretty" mandarin slices and and set them aside to use for decoration.

Put in the rest of the mandarins, all the mandarin liquid from both cans, the heavy cream, the Sahnesteif, and the Paradise Cream.

Put on the lid (make sure it's really ON, or you will be mopping the floor)

Shake it.... for 1-2 minutes.

Open, maybe give it a stir to make sure everything came off the bottom

Seal and shake one more minute.

Let it sit for a minute (it will stiffen up as it sits)

Spoon the mixture into the cake base.

You will be able to mound it because it gets stiffer (it's like magic)

Decorate with the reserved mandarin slices (back to back, they look like butterflies)

Sprinkle with chopped pistachios or grated chocolate.

Refrigerate for an hour

Cut and serve.
According to my guy, who just ate the last piece, it's even better the second day…. because the mandarins are colder.
Keep These Ingredients In Your Pantry
Serving last minute guests is never an issue when you have these ingredients in your pantry. (And Whipping Cream in the Refrigerator)
Kuchenmeister Biscuit Cakedkdkdkdkd

Paradise Cream Vanilla

Sahnesteif

Dole, Mandarin Oranges in Light Syrup, 15 Oz

Step by Step Instructions
Put the Cake Base on a Serving Plate
Drain one can of the Mandarins
Pick out some "pretty" ones to set aside
Dump all of the rest of the ingredients into a container with a lid
The all the rest of the mandarins, the liquid, the powders, the cream… (just not the nuts or chocolate)
It will look odd…
Shake a few minutes… check to make sure the dry stuff at the bottom is getting mixed in and shake another minute
Let it sit a moment, then start spooning it into the cake base
Seriously…SPOON IT, not dump it. You can pile it up high if you take the time to spoon it.
It will thicken up, so you can pile high
Decorate with the reserved Mandarins
Shave chocolate or chopped pistachios over the cake
Do this by scraping a potato peeler against the edge of the chocolate OVER the cake
(if you do it onto a plate, it melts when you pick it up)
Refrigerate for at LEAST an hour… Serve
More Schüttelkuchen Recipes
Schüttelkuchen 2. Neue Rezepte und Ideen.

Schüttelkuchen. Schüttel-, Becher- und Tassenkuchen.