German Shop 24 Product Reviews- German Shopping Online
Recently Germanshop24 approached me, and asked if I would like to do regular reviews of some of their products. Since I do much of my German Shopping online… and already order many of my favorite items from them… I am MORE than happy to share German Shop 24 Product Reviews.
GermanShop24 carries HUNDREDS of items… from food to cleaning products, from drinks to personal care items. They even have a wishlist, so if you are missing something, you can let them know!
Dickmann's SchokoküsseGermanShop24
Dusch Das Noire ShampooGermanShop24
Wiener Schnitzel FIxGermanShop24
To be open about this…
I received all of the products for free, with no expectation that I would love all of them. In fact, my intention is to be perfectly honest about how the products arrived, how they taste, and the value for cost.
I tried each thing myself, and encouraged my family to try them as well.
Finally, I need to let you know that because I am an affiliate of German Shop 24, I receive a small percentage from each item sold through my website, at no extra cost to you.
Blue and White Baltic StrandkorbGermanShop24
German Shop 24 Product Reviews
All products sent by German Shop 24 are carefully packed and shipped. Fragile items are bubble wrapped. Prices are quite reasonable compared with other German shopping online. Shipping is a flat rate of $25. It's a good idea to keep a list on your refrigerator or pantry… and place the order when it is big enough for that free shipping. (I've been known to combine orders with my mother and daughter).
Note! If you order items that should be kept cool (think chocolate in summer months) you will have to pay extra for cooled shipping.
UPDATE! 
We are changing things up a bit. I am getting more involved in choosing the items being shipped to me. This means that I'm working with themes or plans for cooking specific dishes, or I'm looking for items that I would regularly use. If you have any suggestions for reviews, I'm happy to try them out!
Jacob's Kronung CoffeeGermanShop24
Tina Koch & Backen Magazine (one issue)GermanShop24
Lorenz Crunchchips PaprikaGermanShop24
June 2021
Seasonings! It's all about the flavors of Germany. Sometimes the quickest way to that "right" flavor to a roast is by adding a shake or two of Maggi Seasoning Mix #1 (believe me, I use it to punch up the flavor of gravies when I don't get enough drippings). And those salad herbs? Maggi Seasoning mix #4…  In our house, my mother always added Fondor to vegetables like Peas, and recently, I've been adding a shake to Asparagus and Broccoli. The vegetables take on a buttery savory flavor that even the Americans in the house love. (How much do they love it? There is FIGHTING over who gets to finish the Peas…. PEAS!)
Maggi FondorGermanShop24
Maggi Seasoning Mix 1 Roast MeatGermanShop24
Maggi Vegetable Bouillion TubGermanShop24
Maggi Seasoning MIx #4 SaladHerbsGermanShop24
May 2021
Sweet! German Shop 24 is the perfect place to shop if you have a sweet tooth. I made S'Mores from German Marshmallows and Milka Cookies!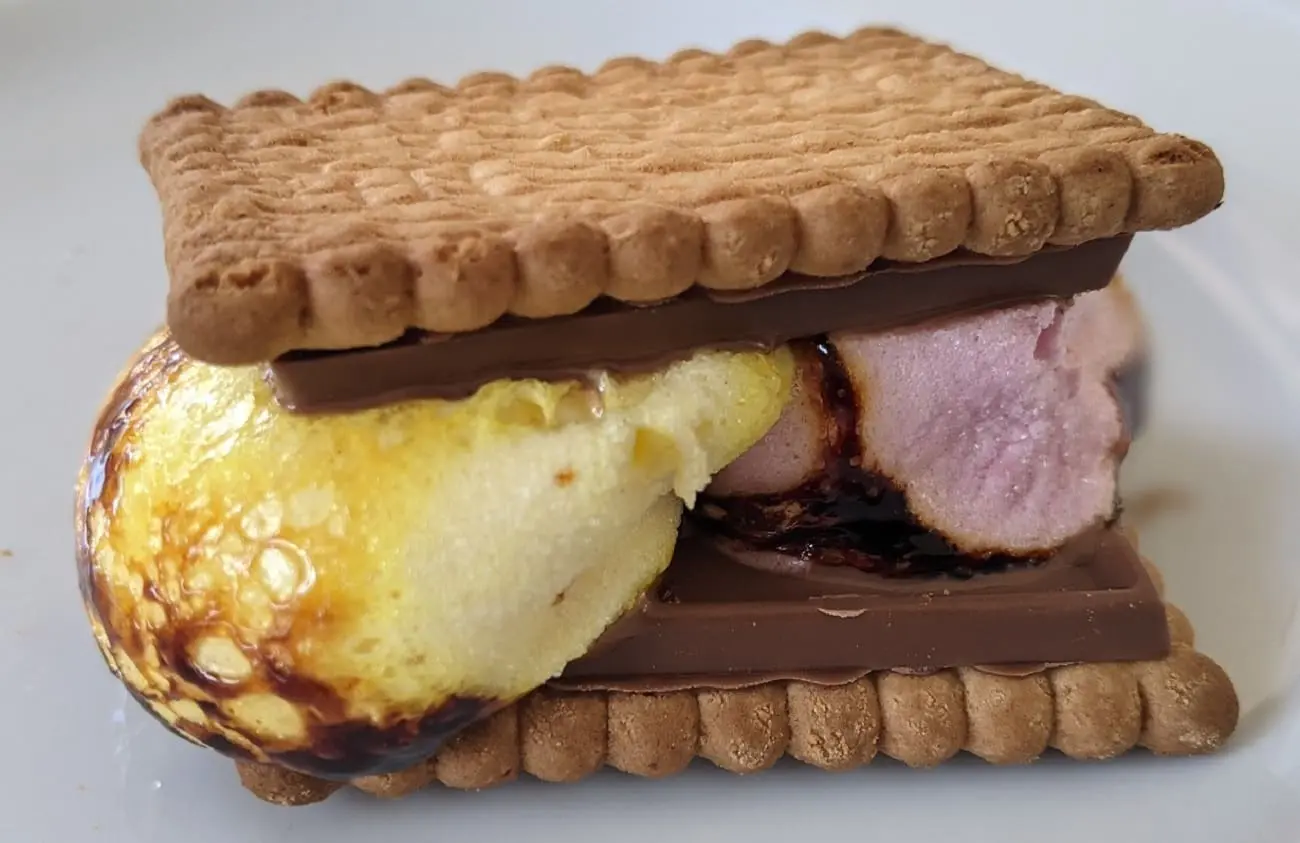 I LOVE German Marshmallows…delicious with a hint of fruit flavor. The outsides are covered in a crust of sugar. Milka makes biscuit type cookies with chocolate. Perfect for your sweet tooth.
Chamallows MixGermanShop24
Milka MooGermanShop24
MIlka cookies with chocolate and cream filling. Perfect with a mid-afternoon snack with a coffee.
Milka Choco WaferGermanShop24
Milka Choco & BiscuitGermanShop24
Dallmayr CoffeeGermanShop24
April 23, 2021
Want to make a German meal that everyone will enjoy in a hurry? You can take some short-cuts with great German products! I had Schnitzel, Spätzle, and Spargel (the three s's) on the table with a creamy Mushroom Sauce (for the Spätzle and Schnitzel), and a Hollandaise for the Asparagus. (I have been searching high and low for white Asparagus, but we had to make due with Green.) Here's how it went.

The salted Spätzle water went into a big pot, and I set it on high to boil. When the water came to a boil, I poured in the 3Glocken Spätzle. This is the best "pre-made" bagged Spätzle I've found yet. The noodle comes out with great texture… a little rough to hold the sauce… and super flavor. When the water boils, it just takes 12 minutes for them to be tender and perfect for serving.
The Schnitzel came from George's via my mother, but you can use pork or chicken pounded flat. The Knorr breading makes them quick. It's pre ground and pre seasoned. You just have to dip the Schnitzels into the mix. Heat about 1/2 inch of  oil in a frying pan, and drop the breaded Schnitzels in. Because they are thin, it goes QUICK. Don't crowd the pan, just keep the done ones on a platter in the oven. The Asparagus can be steamed or roasted in the oven. But the Hollandaise just needs a quick zap in the microwave. The Thomy sauce comes in a juicebox sized package. No mixing, no messing around. Zap. Done. (And I had enough left over to use on Eggs Benedict). The Hollandaise is creamy smooth and tastes rich and delicious. Finally the mushroom sauce… yes, another packet. Just add to water, bring to a boil, then simmer.
Yes, it's possible to make it all from scratch, but as a working mom, I'm happy when a meal came together in a snap, and everyone at the table digs in! 
Find all the products I used on GermanShop 24 
Knorr Fix for Creamy Wiener SchnitzelGermanShop24
3 Glocken Spaetzle noodlesGermanShop24
Champignon SauceGermanShop24
Thomy Hollandaise SauceGermanShop24
April 7, 2021
My mother visited for Easter, so I picked out a few items that I KNOW she loves. Tea, healthy bread, coffee milk, and sweets… but I also set up a Currywurst meal.
Bären Marke Milk
No German Kaffeeklatsch is complete without a little bottle of Bären Marke Milch. (Honestly, my mother was SO delighted to see the little bear on the table!) This special coffee creamer  a distinct flavor, and together with a pot of Jacobs coffee, makes you feel like you are at Oma's. Plus the little bottles are adorable, so you don't have to transfer it to a pitcher (unless you really like things matching). Different fat contents-  3%, 8% and 12% (I chose 8%) are available.
Bärenmarke Extra Light CreamerGermanShop24
BärenMarke 8% creamerGermanShop24
Bärenmarket 12% CreamerGermanShop24
Ricola Tea
You may be familiar with the Alphorn Ricola commercials for cough drops…. RIIIIII Cola! But did you know that they also make a delicious instant herbal tea (including ribwort, marshmallow, yarrow, peppermint, thyme, sage, lady's mantle, elderberry, primrose and horehound). Just add a heaping spoonful of this crystals to hot water, and you have a flavorful mug of lightly sweetened tea that soothes the spirit and the throat. I know that there are hundreds of German teas to choose from, but THIS is the one that's always in my mother's pantry. (She used to fill a suitcase when she visited Germany… now, happily, we can get it from GermanShop24) Plus, it really does taste good!
Ricola Swiss Herbal TeaGermanShop24
Vital + Fit Bread
Healthy, hearty, tasty and SLICED. Vital + Fit bread by Harry makes a flavorful base for any Butterbrot. We add a few slices in the breadbasket every morning, and again when we serve Abendbrot. The flavor isn't sweet or overly salty, so you can eat it with Aufschnitt or Jam… and it's straight up wonderful with good German butter. You CAN eat healthy without depriving yourself. This Rye bread is LOADED with Flax and Sunflower seeds. Harry Bread comes from Germany, and is baked without preservatives, so it needs to be finished up in 2-3 beds for the best texture. (I find that you can freeze half airtight, and pull it out when you need it. Let it thaw in the bag).
Harry Vital Fit BreadGermanShop24
Dickman's Schoko
Mini Dickmann's Schoko Strolche (or Schokoküsse) are bite sized puffs of sweet goodness. The box comes with three flavors of chocolate… white, dark, and milk. And honestly, I'm just going to have to keep eating until I decide which ones I like the best (so far, it's all of them). When you get them, you will see that the folks at German Shop 24 wrapped the box in an inch of bubble wrap to keep these delicate treats safe. You might have a few broken or cracked ones because they get jostled, not because they got crushed. No matter! Just eat those cracked ones fast… and put the others out to share. Schokoküsse are described as chocolate covered marshmallow, but really, it's a Swiss Buttercream. The filling is light, smooth and creamy, like a fluffy meringue. The filling sits on a waffle, and is covered in a thin layer of chocolate. My mom kept going back for "just one more". And so did everyone else… You can also order larger ones, but I like the minis. Because they are just sealed in a cardboard container, and not in plastic, you must eat these right away, or they will go stale. (This really isn't a hardship)
Dickmann's Schoko Strolche 24 minisGermanShop24
Dickmann's 10 MINI Schoko StrolcheGermanShop24
SUPER Dickmann's 9 PackGermanShop24
Maggi Currywurst Sauce
Since I haven't been able to get to Germany in over a year, I was missing Currywurst. Yes, I have a bottle of the Curry Ketchup in the fridge… no… it's not the same as pouring warm curry sauce over slices of bratwurst and pommes. This Maggi Currywurst Sauce mix comes together quickly (just add water and heat). GermanShop 24 doesn't carry Wurst, but they do have a selection of curry sauce. This one from Maggi tastes nice. It's not spicy, but it is flavorful. This simple to make packet turns a basic Sausage and Fries meal into a fun and delicious dinner that will remind you of the corner Imbiss in Berlin.
Maggi Fix & Fresh Currywurst SauceGermanShop24
November 2020
PAPRIKA CHIPS and Tempos! November's box was a nod to Fall. Curling up with a good book, a cup of warm tea, and a snack… and runny noses from cold. Also a quick fix snack lunch for the kid. And, I got to dust off my bread baking skills with an easy bread mix. All in all… there's a  lot to like here.
In the Box
Multigrain Bread Mix
Honestly, when I saw this bread mix, and read the instructions on the back "just add water", I was BEYOND skeptical. A risen loaf of bread? From a mix? WHOLE GRAIN? But I followed the instructions… and it WORKED. Honestly. I started by making the small loaf, which uses just half of the mix. (You could also make a large loaf with all of the mix, or Brötchen, which will be my next experiment). Just add water, mix and knead for 10 minutes. I used my stand mixer. The first rise didn't give me me much hope… the second rise looked much better… and when it came from the oven, MAGIC! Best of all, it tastes really good too (German multigrain bread is so much nicer… it's not sweet) I'm sorry I ever doubted.
Bake in a pan or free-form (like I did). Each packet has 1000 gr of mixture…. making 2 750 gr loaves or a BIG loaf (or a few Brötchen). You still have to knead and let rise.
Multigrain Bread mixGermanshop 24
Paprika Chips and Holunder Soda
I do love Lorenz Paprika Chips... crispy, lightly spiced, salty, crunchy… mmmmmm. When I am in Germany, I always grab bags to enjoy while traveling. Luckily, German Shop 24 sells them… and they arrive safely without a lot of breakage. Perfect for curling up with a book… or to eat with my lunch.

And of course, a not-too-sweet Holunder drink to go with it. I seldom drink soda in the US (too sweet!) but the German Bionade soda line is absolutely delicious! This box had a 0.5L bottle of Holunder (Elderberry) Soda, and it was perfect. And the bottle had enough to share.
Lorenz Crunchips PaprikaGermanshop 24
Elderberry SodaGermanshop 24
Tempo Tucher
Who gets excited about Tissues? I DO! Tempos might just be the perfect paper tissue. They are thick enough to hold up to the most dramatic nose-blows! But they are also soft enough to dry tears. And they are a good napkin for picnics. The packets are the perfect size for purses and pockets (speaking of pockets… when you accidentally wash them in a pair of jeans, they don't come all apart!). I generally take them when I travel (you never know when a tissue need will come up during travels)…


The 15 Pack is a great deal! But the 30 Pack is even BETTER
Tempo 15 packGermanshop 24
Tempo 30 PackGermanshop 24
Heart Warming Tea and Tea Sugar
Chilly evenings call for warm sweet drinks. Milford Herz-Erwärmer Tee is just the thing for anyone who loves a warming cup of tea with seasonal flavors. This fruit tea smells of cookies, maybe a little like Marzipan? And has the flavors of gingerbread and maybe a bit of chocolate? Add a spoonful of Weißer Teezucker (white Tea Sugar) to bring it up to the perfect sweetness. This Tea sugar is much smaller than Kluntjes, or rock candy sugar, and it dissolves nicely into tea.

&
Milford Herz ErwärmerGermanshop 24
White Tea SugarGermanshop 24
Cheese and Herbs Pasta Snack 
My youngest is home at the moment doing online school, and she sort of sets her own meal schedule during the day (we all have dinner together). She's never been a sandwich eater, but cooking elaborate meals between classes won't work either. This quick Pasta Snack was a hit with her. It's one of those "just add boiling water and stir" things…. but the flavor is decent. Is this something I'd want to eat every day? Probably not… is it a good quickie lunch for the kid who wants something warm with noodles? Yes!  And  they  would  be great for camping (or maybe dorm food)?

Knorr makes a few different flavors
Knorr Pasta Snack – Cheese and HerbGermanshop 24
Pasta Snack Broccoli CheeseGermanshop 24
Pasta Snack- Mushroom CheeseGermanshop 24
October 2020
Who doesn't love finding a box of goodies on their doorstep? October's box had a few surprises, and a few old favorites. We even got to do some baking (I'm apologizing in advance for not being a fabulous decorator…). This month's biggest surprise, seeing my American guy go back for a second bowl of Grießkößchen Suppe AND Knusperbrot with Radish. But it was no surprise when daughter number 2 took the Balisto package to her room…
Let's Open the box!
At first glance, I thought this was a box of cookies. Nope… it's a Baking Mix with almost everything you need to make delicious little Amerikaner cookies! Couple things to note, it says "only bake 10 minutes", which is true, but you do need time to mix and glaze the cookies… so figure about 25 to 30 minutes from start to finish. I was able to bake 12 cookie sized cookies (maybe they weren't as mini as they should have been). No one minded. They were delicious. My daughter was cruising the kitchen when they came out of the oven, because the wonderful smell of baking filled the house. 

You get a powdered glaze mix (just add water… ) and a chocolate glaze (just melt). I'm not a great decorator, but looks aren't everything. These are really good.
Order the Ruf Mini Amerikaner Mix HERE
Breakfast buffets in Germany always come with a variety of juices… and my absolute favorite is Hohes C Breakfast Juice. It's sweet, but not too sweet… and a bit tart. (Honestly, you don't taste the carrot, it's citrus juice!) Drinking a glass makes me feel better about that extra schmear of butter on my Brötchen. And although it SAYS Breakfast, it is perfectly legitimate to drink it as a mid-day pick me up. Plus it has loads of Vitamin C and Beta Carotene to get you through the darkness of winter.

Order Hohes C Breakfast Juice HERE
I'm not crazy about peanuts, but these little snacks are flavorful and crunchy… In fact, they may be one of those perfect bar snacks to serve alongside a beer or glass of wine. The label says spicy, but I get more of a seasoned salt with a smoky flavor. (But not as overwhelming as a smoked nut). I put some out one evening while we were playing a board game, and now the package here is long gone. My guy (who LOVES peanuts) can't get enough!

At 92 calories each, Balisto Bars are a reasonable indulgence. A package comes with 9 bars (so, almost 2 weeks of dessert for your lunch bag). The bars are whole grain, but honestly, I had to look 3 times to verify that… the cookie part tastes like shortbread. I was happy to get the yogurt and berry variety, so there was a bit of creaminess, with a little sour bite from the fruit. All covered up with milk chocolate. To me, it tasted a bit like a Twix bar, but not so sweet. Sadly, I only got one, my kid took the rest to her room to munch while doing homework (she promises to make them last more than one day…)
Also available is a  Grain Mix (without Fruit) and a Muesli with Hazelnut Cream (yum)

Click here to order Balisto Bars
Grießklößchen Suppe (Semolina Dumpling Soup)
I was happily surprised to see my guy go back for seconds of Grießklößchen soup. This soup is flavorful chicken broth with lots of seasonings… and tiny semolina dumplings. It's the kind of thing my Oma always made us, but it's way out of his wheelhouse. Honestly, it's quite good (even without Oma's secrets) and easy to make. We enjoyed it for lunch with a piece of bread, and it was enough. You could also enjoy it as a starter for a Sunday meal. The packets are reasonably priced, and each makes enough for 4 servings.

Cook the soup for the full 10 minutes to insure that the dumplings are fully cooked! You can see it has lots of seasonings and bits of vegetable. It's light but filling!

Click to Order Grießklößchen Suppe Here
Kartoffel Steinpilz Suppe (Potato Mushroom Soup)
You all must think my pantry is LOADED with dried soup packets… and you wouldn't be far wrong. My Oma always served a soup before a big meal, my mother often served soups for lunch … or when she didn't feel like cooking. And me? I'm sometimes in a hurry in the evening, and don't feel super hungry (or like cooking). A soup fills the holes ( and acts as a delay while waiting for a main dish to finish up). This Potato Mushroom soup is exactly right for a Fall meal. With some bread and butter it makes a meal, but it's also a great starter. (And, it's SMOOOOTH… you can serve it in a mug at a potluck!). I doubt most people would guess this one came from a packet. One green envelope makes 2 good sized servings.

Click to order Potato and Mushroom soup here
Leicht & Cross Knusperbrot (Light and Crispy Crispbread)
I grew up with Crispbread on the table as an option, but it was always a hearty Ryecrisp. This Knusperbrot is light as air, and super crunchy! (It's also loaded with Vitamin B, which is apparently essential…) I didn't taste the vitamins, I just got a mild rye flavor. For someone (like me) who is trying (hard) to watch their figure, it's nice to have a bread option that isn't bland or too "wholegrainy". (The crisp tricks your mouth into thinking you are having a snack). I can not emphasize how LIGHT this bread is. Not fragile.. just puffed. We ate it with a schmear of "light" cream cheese topped with Tomatoes and Radishes (and chives). I did not miss the meat. Next up, with jam!

Click to Order Leicht und Cross Knusperbrot here
September 2020
It's already September? This month's box had delicious hints of Fall in it! My daughter was visiting when it arrived, and she got VERY excited about what we found in the box (and managed to eat most of the Kinder Cards before I got to taste them!). And she also helped me put together an unboxing video… so you can see how your products from GermanShop24 come safely packaged!
Mini-Knoedel gefült mit Frischkäse und Kräutern
These mini Cheese and Herb filled Dumplings were a wonderful surprise.  I cooked them up with the serving suggestion on the back, and it was a perfect amount as a simple vegetarian meal for two people….just add a side salad. (And if you have a  "it's not a meal unless there is meat" person in your home… add some sausage). These were easy to make, and quite delicious.
Click here to order
Pfirsich Tee- Peach Tea
This instant Peach Tea tastes good Iced or Hot (although, I can honestly say I prefer the iced version). Just add a few spoons full of the instant tea to water, and stir it up. It dissolves fairly well even in cool water. Like most German Drinks, it's not horribly sweet, but the peach flavor definitely shines through. You can make it by the glass or the pitcher. How good is it?  If I make a pitcher of the tea in the morning, by evening my people have drunk it all up!
Click here to order
Erdnussflips / Peanut Puffs
Peanut Puffs? Think Cheese Puffs… but with a Peanut Flavor. And it turns out that Tech Guy can't get enough of them. (I'm not a big fan of peanut, but he was happy to eat them all himself). These are the perfect snack with a beer on the patio. Light and crunchy. They arrived wrapped carefully, so the contents of the bag were fresh and not smashed up. If you love Peanut… these will be your new addiction.
Click here to order
Haribo Pico-Balla
I love Haribo… who doesn't? Pico-Balla have an interesting flavor and texture combination. It's like a gummi rope was filled with two other flavors, then sliced into little pea sized bites. Eat them one by one, eat them by the handful. My son helped himself to most of the bag before I could even get at them myself! They make a nice treat while I'm working… not too sweet… and one by one you can play the "what flavor is that" game. And, since they are soccer (Fußball) themed… you can enjoy them while watching a game!
Click here to order
Kinder Cards
In the US, people are more familiar with Kinder Riegel… or maybe Kinder Eggs… but Kinder has a huge line-up of delicious milky chocolate treats. When I first saw the Cards, I thought they were sheets of chocolate that goes on toast or a Brötchen at breakfast (yes, that's a thing). They are actually a flat waffle covered Kinder chocolate bar. Inside the crunchy cookie exterior are layers of chocolate and milky filling. So good. Well… the one bite I had was good… my daughter claimed the rest, and inhaled them. You get 2 per packet… and 5 packets in a box.
Click here to order
KürbisCreme Suppe/ Pumpkin Soup
Pumpkin soup in Germany? YES! Pumpkin soup is actually quite popular in the Fall. But making it from scratch can be some work. This packet mix of Kürbiscreme Suppe was ready in less than 10 minutes. I served it with a few chives and some heavy cream. The soup is light, and the pumpkin flavor is not overwhelming (I was worried, because sometimes pumpkin can be a strong flavor). This is a perfect starter soup… or a nice simple meal soup with some bread and cheese or Aufschnitt.
Florena Hand Cream
German Hand creams are the best, and with all the hand washing we are doing these days, they are ESSENTIAL.  I always bring them home with me, but I was quickly running out! Now I don't have to worry. I had never tried Florena before, but I really like it. It's thick and rich, but it rubs in well without leaving my hands greasy. The smell is subtle, which I really like. Going in to Fall, I know my hands will take a beating in the cool dry air, and all the WASHING! This cream is perfect! And it's really nice to know that German Shop 24 has a huge selection of personal products and creams to choose from.
August 2020
The August box had a few delightful surprises! My favorite was the Ingredients and Recipe for a Schüttelkuchen (which is already up on the website). But the Ringli are super addictive. And the Fanta had me singing a nonsense song my cousin and I made up years ago….
This is the Schüttelkuchen I made from some of the ingredients. Find the Recipe Here
I made it using these ingredients from the box
Torten/Bisquitboden, Sahnesteif, Paradies Creme
My mother generally kept a Tortenboden/Bisquitboden handy in her pantry. Yes, they are fairly easy to make, but they are great to have on hand for a last minute WOW dessert. Fill with fruit… pudding… or in this case a delicious mixture of Paradies Creme and Mandarins.
Paradies Creme is a great filler for a Cake Base, but it's also absolutely delicious on its own as a Nachtisch (Dessert). GermanShop24 carries different flavors like chocolate and lemon (I love them ALL)
And everyone who bakes German Tortes KNOWS that Sahnesteif will keep your Whipped Cream from going all soft and melty. There is no really good exchange for it here… but it's inexpensive, so buy a few extra packs, and store it for when you need it.
Kuchenmeister Vienna Cake Base

Paradise Creme Vanilla

Sahnesteif

Fanta
I am not a soda drinker… BUT… I make exceptions for German sodas like Fanta. They aren't so sweet! The taste is refreshing and orangy. Plus drinking German Fanta reminds me of my cousin Heide. We would drink it on Oma's patio out of Senf glasses, laughing and talking. (AND! you can use it to make a Radler, just add beer!) Yes, you can get Fanta in the US, but it's NOT German Fanta… taste it, and you will know the difference.
Bautz'ner Senf
Speaking of Mustard Jars (did everyone else have a mom who collected the glasses for drinking?). The Bautz'ner Mittelscharf Seft was EXACTLY perfect for my Wurst at lunch. Because, face it, only German mustard tastes right on a German Sausage. The Mittelscharf is the one I like (I don't like the ones so strong they clear your sinus). German Shop 24 does sell a lot of other German Mustards… sweet, with horseradish and sharp.
Pfifferling Cremesuppe / Chantrelle Cream Soup
I can't just have a sausage for lunch… and a nice Pfifferling Cremesuppe filled me up perfectly. I really like having a few of these packets of soup around. Yes, I can make soup, but sometimes I don't need a big pot, or I don't want to spend the time. These soups are a nice starter, or an addition to a simple meal of bread and sausage. German Shop 24 has 7 different kinds of mushroom soup! One for every day of the week!
Kaiserschmarrn Austrian Pancakes
Ask Tech Guy what his favorite in this packet was, he will say without hesitation, the Kaiserschmarrn. These were so easy to make. Just add water, mix and put in the pan with some butter. So easy, so delicious! (I'm getting more for our camping kit). Plus, unlike regular pancakes, these scrambled pancakes look great even when they get messed up a bit. Dust with powdered sugar, then STEP BACK, because the hoards will descend!
It's been warm here in California, so we've had some quiet evenings on the patio with a glass of wine and nibbles. The Funny Frisch Ringli are perfect for this, and wildly addictive! It says they are Paprika flavored (like 80% of German crunchy snacks) but they have a smokey almost bacon-like flavor. All I know is that we were fighting over the last one.
Click here to order Ringli
Ok, I admit the picture makes them look a little messy, but it was HOT, and the chocolate melted a bit. That didn't change the fact that the Soft Cakes with Rote Grütze taste amazing. They are surprisingly soft, with a tasty vanilla cake (a bit like a Madeline). The dark chocolate compliments the tart berry filling. It's kind of like those jelly candies with chocolate coating? but not as firm. All I know is that Tech Guy wiped out an entire tube in one day (luckily it comes with 2).
Those of you who know me (and who have driven around with me) know that I always have hard candies in the center console of my car. And right now, as warm as it is, these Gletscher Eis taste extra good. The flavor is a surprise… it's not mint, it's more citrus. Like lemon and menthol? Whatever it is, it's refreshing. And since they are individually wrapped, they won't melt and stick together. The bag is good sized, and you get enough for a couple of car pool trips.
Now see what German Shop 24 sent me in Previous Months….
July 2020

My July review box arrived, and I was intrigued…. I didn't request any items (just told them to surprise me) and I was very happy with what came. But honestly, how can you not be excited about a box of German foods?
What German Girl DOESN'T love a good German bread. And the Mehrkorn Brot (Multigrain Bread) was a perfect. Flavorful and fresh tasting. I really love that this multigrain bread wasn't sweet (as happens all too often with whole grain breads in the US). I had some with my breakfast with jam, and some at lunch with a slice of Schinken. You will find this, and other German breads from Harry, like wheat, rye, raisin and so many more, on the German Shop 24 site.
Click to order Harry 1688 Multigrain Bread
Fruhstucks-Gelee

I admit, I was a little bit confused when I saw the Johannisbeer Fruhstück's Gelee, I thought it was a little pot of something like a  yogurt or gelatin? (I need to get out more). Turns out, this jelly is delightful on bread (eaten like a Jelly) or mixed with Yogurt (like a compote). It ended up being one of my favorite parts of the box! I really love Rote Johannisbeeren (red currants). The Gelee comes in a little plastic pot with a re-closeable lid. You can share it at the table all in one go… or put the rest back in the refrigerator for later.
Almdudler

When I opened the box, my first thought was OH! Apfelschorle! But… Alpendudler is something MUCH different. And it's sooo good! Alpendudler is a carbonated herbal beverage from Austria. (We played pass the bottle in our house… I thought it was citrusy, my daughter tasted floral, and Tech Guy got ginger). Whatever the secret herbs are, they make a delicious and refreshing drink.

The supermodels were busy this week, so Tech Guy stepped in to do the Beach photo shoot. Funny-Frisch Jumpys are cute little crackers… not like those gold fish ones (even though they are about the same size and color) these Kangaroos are puffs of crunch with that wonderful paprika flavor like the chips. The model said that they reminded him of "airy doritos, but not as strong". And they are perfect for taking along on a day-hike!

Gelee Bananen

The Berggold Gelle Bananen tasted JUST LIKE ripe bananas dipped in chocolate! (wonder if they have a green banana version…?). I had them open by the computer for tasting, and everyone who walked by grabbed one… and then came back for another. Bonus, they are vegan, the gelatin is made from Agar, so no worries for vegetarians.
Eier-Muschel Suppe

We ate a LOT of soup in my house when I was growing up. (It's cheap, healthy and filling) And I still like to have packets of soups that I can cook up fast to round out a simple meal of Brot and Aufschnitt. This Scalloped Noodle soup has a meaty flavor, and has herbs and bits of vegetable floating in the clear broth. These easy Maggi soups are exactly what you need in your pantry to make a simple lunch special… or to add a starter to a Sunday Dinner.
Happiness Dr Oetker Bourbon-Vanilla Pudding

I saved the best for last… Bourbon-Vanilla Pudding with Chocolate Chips! It's sweet, but not cloying, light, and smooth. A dessert that takes me back to my childhood when we always had Nachtisch. One packet makes 3 dishes about this size (I think you are supposed to make 4, and make them smaller, but we are 3). The pudding is incredibly easy to make… just add the powder to cold milk, and whip it up in the mixer (or use Oma's hand mixer). There are other flavors available too, so try them all.
June 2020
My first box arrived at the beginning of June, and I was THRILLED with the selection! Brötchen, Knusper Puff Reis, Käse Spätzle, Lauch Cremesuppe, Jäger Soße, Baumkuchen Spitze and CHIPS!!
Plus a little packet of  Gummi Bears … that was just too small to share.
German potato chips just taste different, and (to me) they have a crunchier texture. Whenever I'm in Germany, I always buy a few bags of the Ungarisch (Hungarian) or Paprika chips to nibble on. The problem is, they don't travel well in a suitcase. The bag I got from German Shop 24 arrived in perfect condition. The chips weren't crushed or smashed. They were fresh… and they were gone in a day. People who are looking for a BBQ flavored chip are going to be a bit dissappointed, because the flavor isn't that overwhelming. They are perfect as a snack with a beer on the patio (or while typing up reviews)
The universal lament of Germans here in America is the lack of Brötchen. German Shop 24 carries a number of different Brötchen that you finish baking at home (including Regular Brötchen, Fitness Brötchen , Raisin Brötchen, and Rye Brötchen) . The flavor of these Bauern Brötchen is just delicious. They have a nice crust, and soft chewy inside. You can eat them just with butter!
I requested this packet of Leek Cream Soup because it comes attached to a memory. My Oma would make Lauch Cremesuppe and serve it before a big meal on Sunday…. or sometimes on a cool evening with Abend Brot. Because I loved the flavor so much, she would send boxes of packets to me. I love that it cooks up quick, tastes delicious, and makes a simple meal of Bread and Aufschnitt more filling and warm. Sadly, I lost my source when my Oma died. I still shopped for packets in Germany, but it's SOOOO much more convenient to have a source here.

Käse Spätzle has often been called the German answer to Macaroni and Cheese. But… it's not quite the same, is it? This simple packet mix from Maggi makes a Cheese Spätzle that comes together in about 25 minutes (it takes some cooking down), and tastes delicious. The onions give a nice flavor, but there aren't chunks. Even the kid who grew up on Kraft Macaroni and cheese gave it the thumbs up. The packet says 2 portions… we split it as a side dish between three of us. I imagine if I gave the whole thing to my kid, she would have eatten it all herself. Serve as a side, or on it's own with a salad.
Instant Jäger Soße- Hunter Sauce

Short cuts in the kitchen are such a HUGE help these days when everyone is so busy. Packets like this Instant Jäger Soße mean that you can whip up a delicious gravy for your Schnitzel or Frikadellen and have it on the table satisfying your hungry family in no time! It even has dried Mushroom bits for authentic flavor and texture.
Baumkuchen is a specialty cake, and it's  not something you can make at home. Layers of batter are added to a roller and baked until you have 21 layers. It requires a special oven, and a lot of patience. Fortunately, you can buy a whole Baumkuchen during the holiday season from German Shop 24, and for the rest of the year, you can get these amazing and addictive Baumkuchen Spitzen. Once I opened the box, they vanished. The only one who wasn't crazy about these was the kid, because they had Rum flavoring. You can also get Irish Creme or plain. Read my longer review of Baumkuchen here–> Baumkuchen

At first glance, Fruchtiger Puffreis looks like American Breakfast Cereal… but it's not. It's an addictive crunchy snack with lots of flavor, and very few calories. As a child, I had them in my little play store (they came in tiny boxes), and I love them memory attached. When I poured some in a bowl for Tech Guy he was wildly confused… but then they were gone, munched down FAST! These have a citrussy bite, a bit sweet, a bit tart. The kid isn't sure if she likes them (she thought I was feeding her something Asian!). I think these would be great for little kids or people walking down memory lane.
German Shopping is Easy with German Shop 24!
Find more great products Here
Until next time…. Happy Shopping!