German Plum Sheet Cake Recipe for Everyday
Germans are seasonal eaters, and when a thing is in season, you will see it everywhere! From Restaurant Menus to Cafes to my Tante Anne's Kaffeklatsch. It works perfectly… you spend a whole year craving something, then when it comes, you eat and eat, preserve, and enjoy. (Think white Asparagus) Then you get to wait again (while enjoying the next thing). Like all seasonal foods in Germany, there are a many ways to make a German Plum Cake. One way is to bake a round one  Plum Streusel Cake.(You will find that recipe here) But for everyday, I like to make this German Plum Sheet cake recipe topped with Pearl Sugar. The sheet cake is a great grab-and-go snack for after school or a mid-afternoon treat. And it packs nicely into a picnic basket or lunch box. It's a cake you can eat with your hands (if you are the type to eat cake with your hands).
German Plum Sheet Cake Recipe
I call this a sheet cake, but actually it's made in a 9×13 pan (like the one you use for brownies). You could double it if you want to make something bigger (just keep an eye on the bake time). This shape and size is nice for taking along to gatherings. You can slice it at home, or slice to the size you like when you arrive. Serve the slices on a plate with whipped cream, or hand a child a slice on a napkin as they run past you.
And there's more! You can substitute apricot slices or peach slices for the plums!
Usually I sprinkle the cake with Hagel Zucker... Pearl Sugar… for a sweet crunch on top.  You can add Streusel… (I love Streusel, but I feel like I'm going to be admitted into some sort of addiction program if I keep using it…).But I included a streusel recipe below, just in case. Enjoy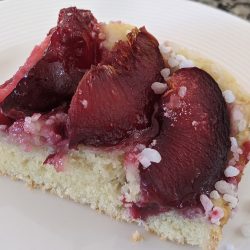 German Plum Sheet Cake Recipe
Ingredients
1

cup

Butter

1

cup

Sugar

1

tsp.

grated lemon zest

3

Eggs

2 3/4

Cup

Unbleached Flour

2

tsp

Baking Powder

2

Pounds

Firm Plums

Italian Prune Plums are Best, but others work in a pinch

optional- 1 small Package Vanilla Pudding

3-4

Tbl. Pearl Sugar
Instructions
Preheat the oven to 350 degrees Fahrenheit

Grease a rectangular 9 by 13 inch Cake Pan

Slice and Pit the Plums... set them aside... if the plums are BIG... you can cut them into fourths, otherwise go with halves.

In a mixing bowl, cream the butter and sugar until light and fluffy... about 5 minutes.

Add the grated Lemon Zest... beat, and scrape down the sides.

Add the eggs one at a time... beat and scrape between eggs.

Add the Baking Powder to the Flour in a mixing bowl, then slowly (unless you really want to wear it) add the flour mix to the butter mixture.

Scrape down..

When mixed (you don't need to overmix) spread the batter into the pan. Now... this can be a bit fiddly. I found it easiest to start with a spatula, then I rub my hands the residue on the butter wrapper... and press the dough to the corners.

(Optional- Sprinkle the dough with a teaspoon of Vanilla Pudding Powder. This is best if your plums are REALLY JUICY...it absorbs some of the extra liquid)

Shingle the Plums onto the batter... (then sprinkle them with a few more teaspoons of Vanilla Pudding Powder, if you want to)

Sprinkle with some of the Pearl Sugar (or a teaspoon of regular sugar) to sweeten the plums if you want)

Bake for 35- 40 minutes... should be beginning to brown at edges... will rise up and around plums.

Take from oven ... sprinkle with a few Tablespoons of Pearl Sugar

Let cool on Cooling Rack

When Cool... sprinkle on a few more spoonfuls of Pearl Sugar.

Cut and eat.

This cake is WONDERFUL with a schlag of Sahne... that's a scoop of Whipped Cream!
Notes
Italian Prune Plums are the best for a German Plum Cake. Problem is, you don't always find them in the stores. I will use regular plums (or Pluots) that aren't too squischy soft. They may not please a purist, but it works for my family.
Note! This cake tastes even better the next day! Store it covered, in the refrigerator.
Like the Recipe? Find more in my Easy German Cookbook!
Looking for more easy German Recipes? Try my Easy German Cookbook! It's packed with 80 traditional recipes made simple for the American Kitchen.
Order from Amazon… or order a signed copy from my online shop.
Easy German Cookbook: 80 Classic Recipes Made Simple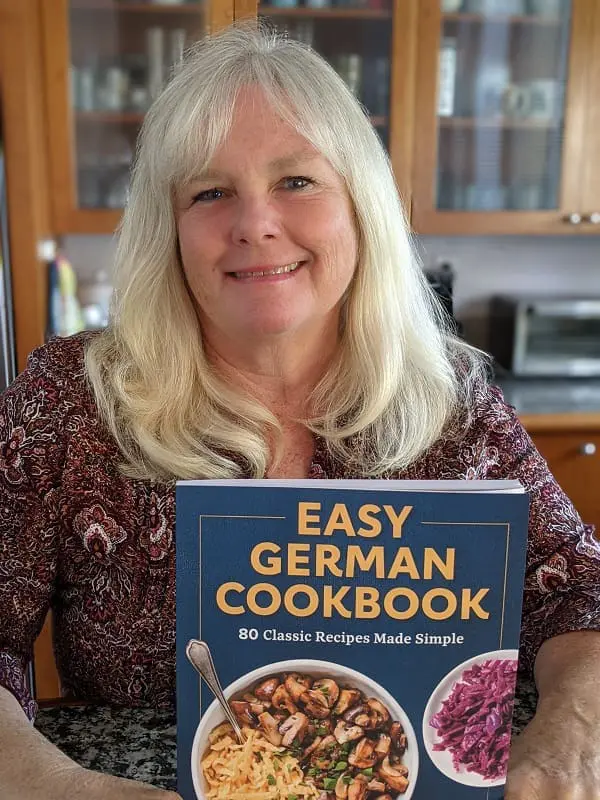 Easy German Cookbook SIGNEDGermanGirl Shop
Looking for Hagel Zucker/ Pearl Sugar?
Lars' Own Swedish Pearl Sugar – 10 oz – 2 pk

Step By Step Plum Sheet Cake Photos
Spread the Batter in the Cake Pan
It's a little tricky… butter your hands to make it work
Sprinkle with a few Tablespoons of Vanilla Pudding if you like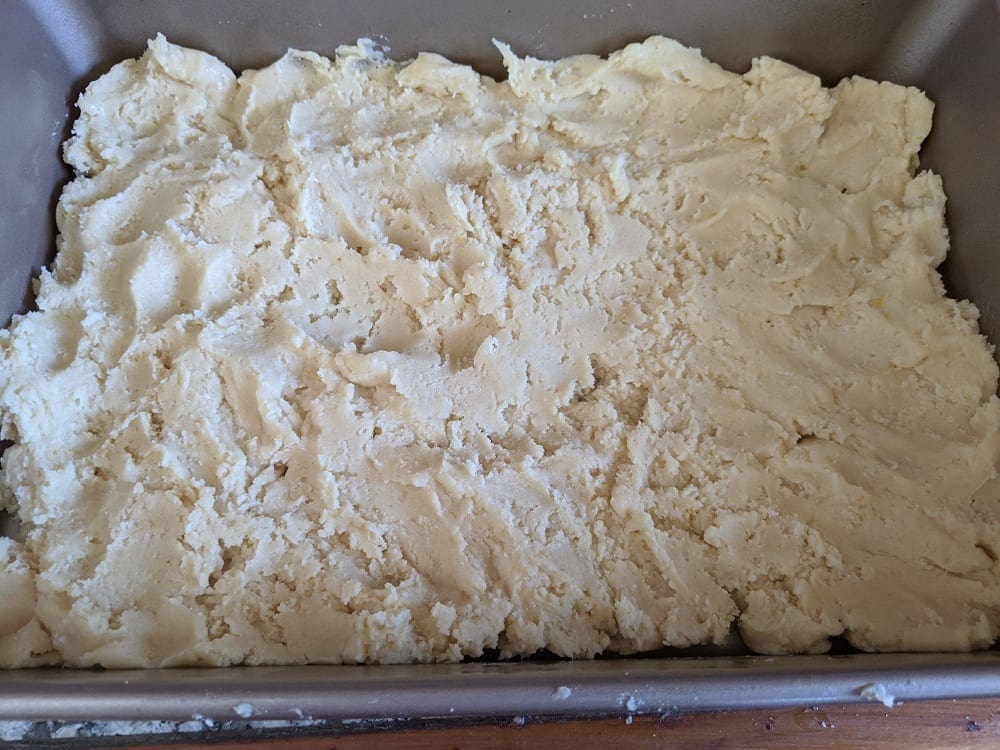 Plums….A Slice of Summer
Italian Prune Plums are Great for this Cake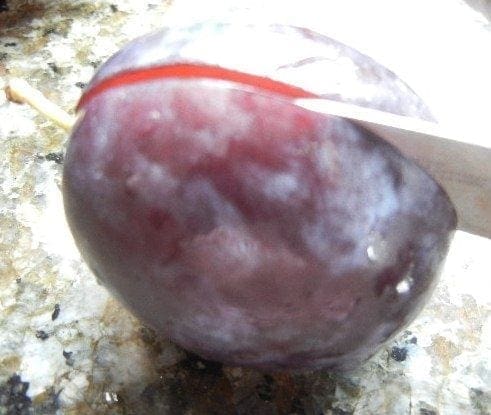 Slice the Plums in Half (or Quarters if they are BIG)
Pit them
I Didn't Have Italian Plums this time… But these  Pluots were DELICIOUS!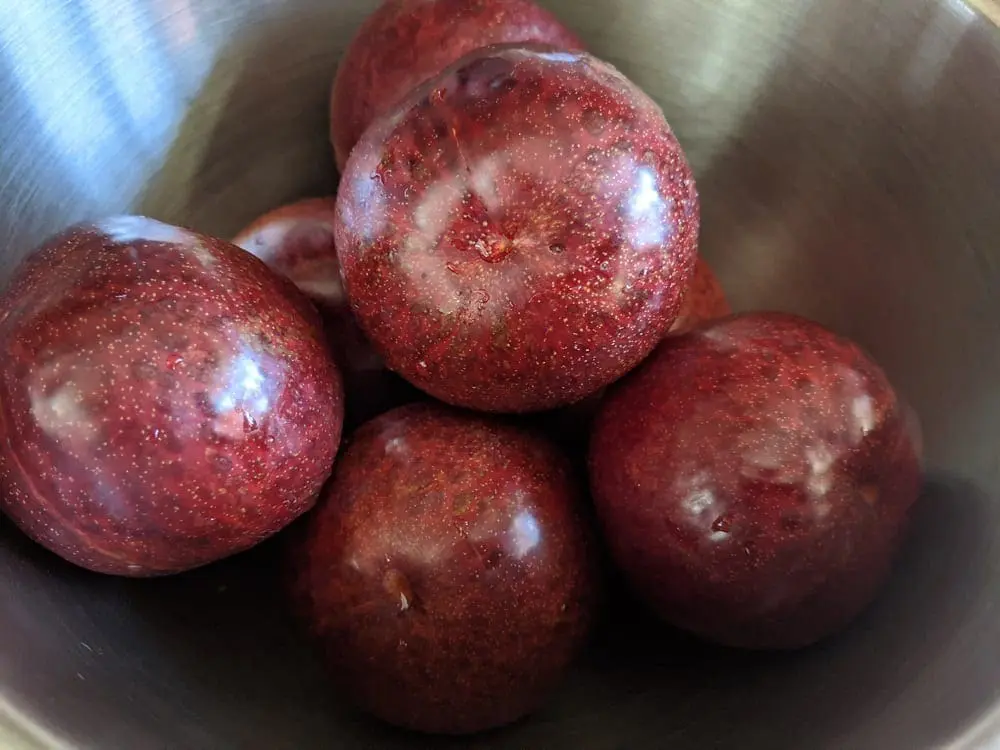 Shingle the Plum Halves over the Cake Batter
You can Overlap them a Bit
Or you can cut them in Wedges, and it looks like this…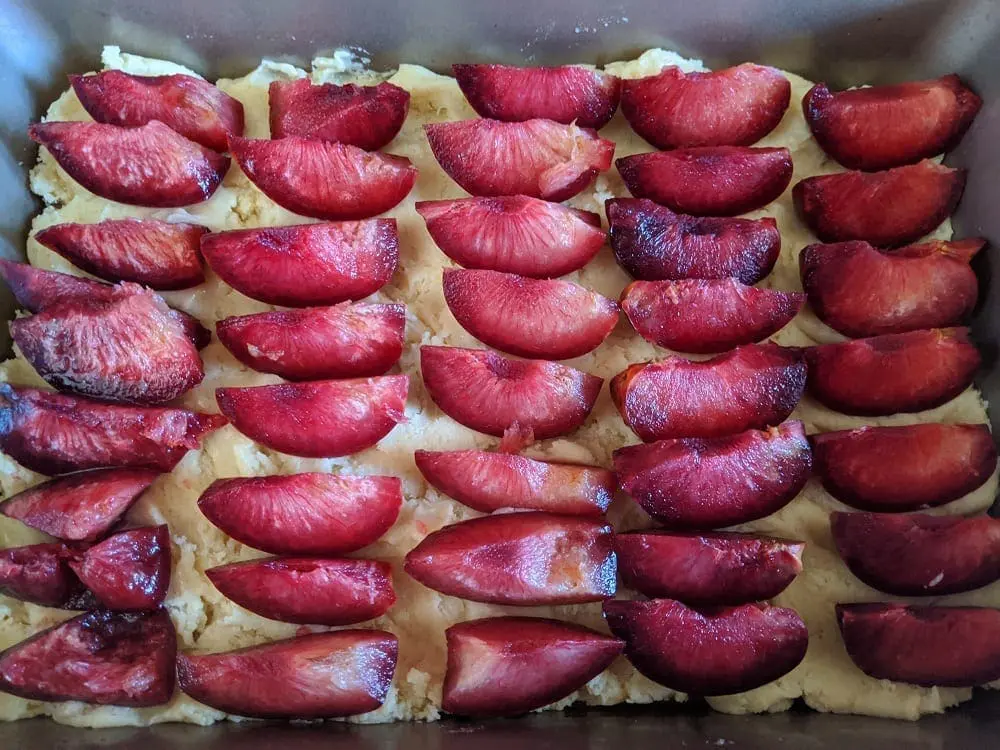 Sprinkle the Plums with A few Tablespoons of Vanilla Pudding if needed
Bake… 
then Sprinkle with Pearl Sugar
Cut pieces as big as you want … EAT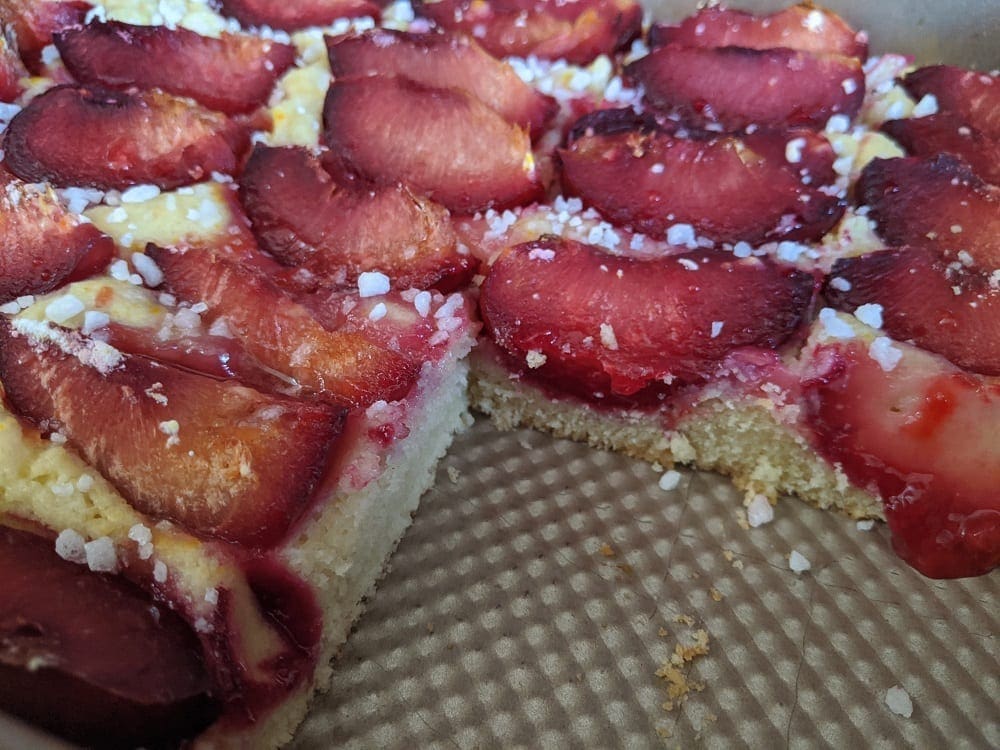 This cake is delicious out of the oven, but to me, tastes even better the next day.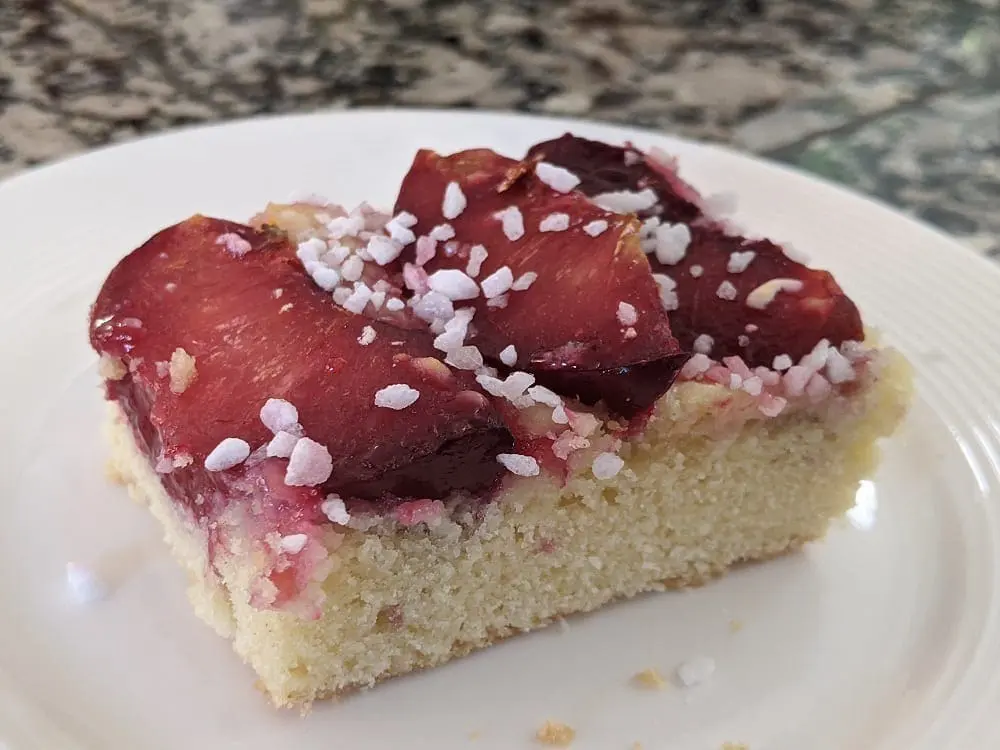 Streusel Recipe
Makes enough for 2 cakes if you go light. You can freeze it if you don't use it all… then throw it on anything you bake!
1/2 cup Butter
1/2 cup Sugar
1 cup Flour
Mix the Streusel
Cut the butter into small cubes.
Put the flour and sugar into a bowl… drop in the butter cubes… rub the butter and flour mix with your fingers until it looks like crumbs. When you put the streusel on cake or muffins… squeeze it a bit in your fist to get a bigger crumb.