How to make a German Plum Cake Zwetschgenkuchen (with Streusel!)
Seems like whenever you are invited to coffee in a German household in Summertime, you will find a German Plum Cake on the table. Such a wonderful summertime dessert… a bit tart, a bit sweet, delicious to eat… nice enough for a Sunday Coffee… but easy enough for every day.
It's even Yummy for Breakfast…
So… I'm walking through Costco on my bi-monthly stock-up-on-fruit trip… and I spotted Italian Prune Plums, which are excellent for German Plum Cake. They are super flavorful, a bit tart, firm, and bake up really nice. Perfect. I tossed them in my cart, went home, and started baking Pflaumenkuchen.
The cake I baked…. didn't even last the day.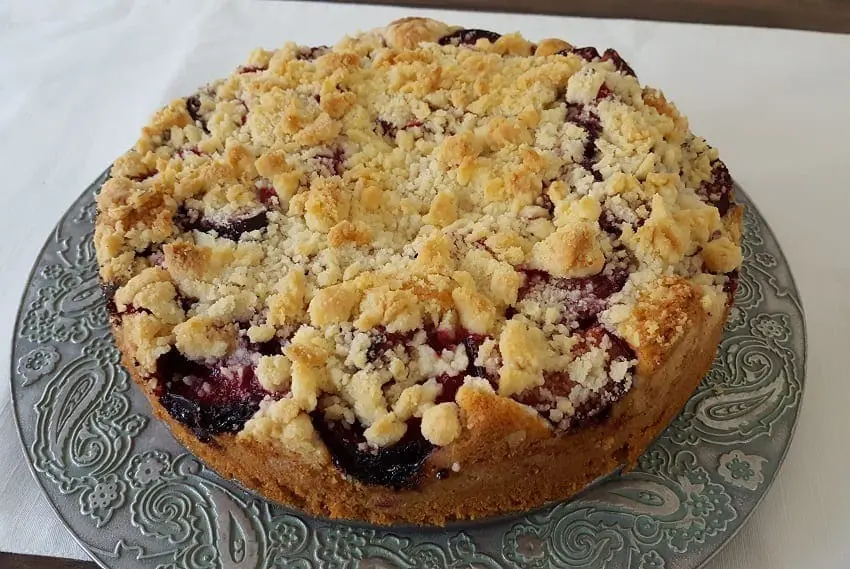 Italian Prune Plums (Zwetschen) OR???
I love to use Italian Plums, because they are not overly juicy. HOWEVER, it can be tricky to find them sometimes. (They are longer than round… and are sometimes labeled "prune plums". IF YOU CAN'T FIND THEM- You can use other plums… but it's better to use plums that feel firm, otherwise you can end up with a big mess while cutting them up. You can substitute any stone fruit like peaches or apricots… even frozen or canned! I've also made this cake with blueberries (just substitute 2 pounds of berries for 2 pounds of plums) it works fine.
If you use other plums (or juicy peaches) it's a good idea to sprinkle some vanilla pudding powder over the base before topping with fruit. WHY? Because the vanilla pudding powder will absorb some of the extra juice and prevent a soggy bottom.
German Plum Streusel Cake Recipe -Pflaumenkuchen mit Streusel
Now… there are a few ways to make a German Plum Cake. My favorite is a round Plum Streusel Cake. Streusel is one of my favorite foods. I can't tell you how often I got my fingers smacked by my mother for picking streusel off the top of her cakes. On the plum cake, the streusel is a crunchy sweet contrast to the tart soft plums. You can also bake a Plum Sheet cake without Streusel. Here's the recipe-> Plum Cake
German Plum Cake Zwetschgenkuchen
Ingredients
Cake:
1/2

cup

Butter

1/2

cup

Sugar

1

tsp.

grated lemon Peel

2

Eggs

1 1/2

Cup

Unbleached Flour

1

tsp

Baking Powder

2

Pounds

Firm Plums

1

small Package Vanilla Pudding
Streusel:
Streusel Recipe

Makes enough for 2 cakes. (I freeze the extra. You can use this Streusel recipe on everything but salad....so when I'm making muffins, I sprinkle some on.

Ingredients

1/2

cup

Butter

1/2

cup

Sugar

1

cup

Flour
Instructions
Preheat the oven to 350 degrees Fahrenheit

Grease a 9 in round Springform Pan

Slice and Pit the Plums... set them aside... if the plums are BIG... you can cut them into fourths, otherwise go with halves.

In a mixing bowl, cream the butter and sugar until light and fluffy... about 5 minutes.

Add the grated Lemon Peel... beat, and scrape down the sides.

Add the eggs one at a time. Beat and scrape between eggs.

Add the Baking Powder to the Flour in a mixing bowl, then slowly (unless you really want to wear it) add the flour mix to the butter mixture.

Scrape down.. and mix again

When mixed (you don't need to overmix) spread the batter into the prepared pan. Now... this can be a bit fiddly. I found it easiest to start with a spatula, then I rub my hands with the residue on the butter wrapper and press the dough to the edges.

Sprinkle the dough with a few teaspoons of Vanilla Pudding Powder.

Shingle the Plums onto the batter... then sprinkle them with a few more teaspoons of Vanilla Pudding Powder.

Mix the Streusel

Cut the butter into small cubes.

Put the flour and sugar into a bowl... drop in the butter cubes... rub the butter and flour mix with your fingers until it looks like crumbs. When you put the streusel on cake or muffins... squeeze it a bit in your fist to get a bigger crumb.

Bake

Bake for 50 -55 minutes... the streusel should be browning.

Take from oven ...

Let cool on Cooling Rack
Notes
Quick note about the Vanilla Pudding Powder. This trick comes from my Oma, and it's used to soak up extra liquid that might come from the plums (instead of cornstarch... the Vanilla Pudding Powder tastes better). Obviously, she used German Pudding Powder, but the American kind will work too. (Cook or instant) Just a few spoonfuls will do the trick.
Find more great German Recipes in my Easy German Cookbook!
80 Classic German Recipes, written for the American Kitchen.
Easy German Cookbook: 80 Classic Recipes Made Simple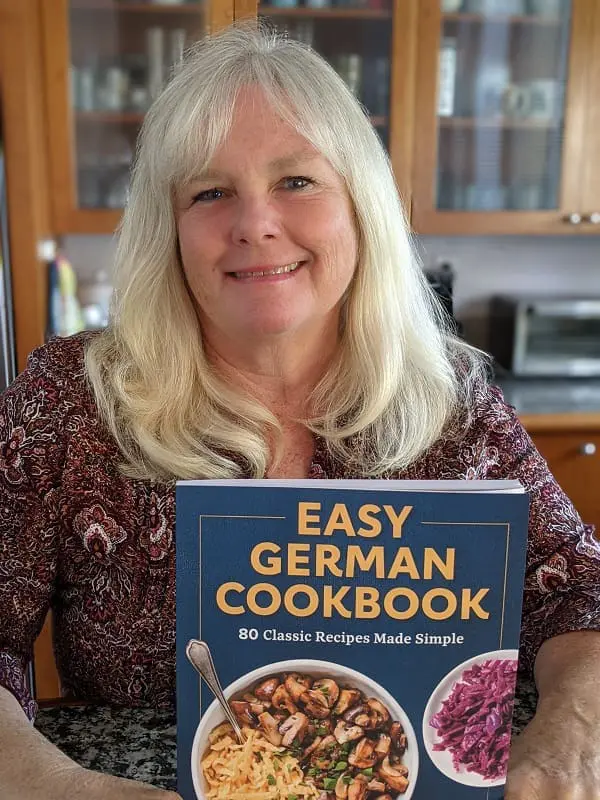 Easy German Cookbook SIGNEDGermanGirl Shop
Step By Step Plum Streusel Cake Photos
Spread the batter to the edge of the Springform pan.
Sprinkle the batter with a little vanilla pudding powder
 Shingle the plums in circles around the cake batter. I find that if you start on the edges it comes out more even.. then sprinkle the plums with a bit of vanilla pudding powder.
You don't want LOTS.. just a sprinkle.
(but I still always end up starting in the middle. )
Squeeze the streusel dough a bit in your fist as you sprinkle it over the cake to get some larger crumbs.
The cake is done when the streusel is nicely browned.
Give it a little shake to see if there is any wobble left in the middle (if so, put it back in the oven for a while longer).

You can sprinkle a bit of Powdered Sugar over the cake just before serving.

Serve with a Schlag of Whipped Cream. In Germany, whipped cream is typically not sweetened,
but I will leave that up to your taste.
More Traditional German Cake Recipes HERE–> Kaffee and Kuchen