Oktoberfest in Germany! A Wedding Celebration, and lots of Beer
Munich, Germany is the home of the ORIGINAL Oktoberfest. The fabulous Festival seeming takes over the city in late September , and just around that time we get these images of a Lederhosen wearing, Beer guzzling, Pretzel eating Man, with his Lusty dirndl wearing Fraulein. This image is only partially true, and doesn't tell the whole story.  Oktoberfest is so much more than just a Beer Fest! It's a party that's been going on for over 200 years!
What IS Oktoberfest in Germany? And why is it celebrated? And who celebrates?
What IS Oktoberfest in Germany?
It may sound odd, but not all Germans celebrate Oktoberfest. You see, Oktoberfest is a Bavarian Tradition. And just like not all Americans are Texans … not all Germans are Bavarians.
But since most everyone likes beer and pretzels, and generally people love a good party,  the world has embraced Oktoberfest.
So, how did Oktoberfest get started? It all goes back to a wedding….
Oktoberfest History
The original Oktoberfest was a wedding celebration for King Ludwig I and his bride, Princess Therese of Saxe-Hildburghause on Oct. 12, 1810. King Ludwig I considered himself Man of the People, so it was only natural that he invite everyone to celebrate. All citizens of Munich were invited to the party  on the Theresenwiese (Thesese Meadow).
There were horse races, and beer and wine tastings to mark the event. The next year, the horse races and celebrations were repeated to in homage to the king and queen, and a tradition was started. Within a few years, carnival attractions were added, and the city took over the management of the event.
And because Germans are nothing, if not practical, it was also decided to move Oktoberfest back into September, to take advantage of better weather.
In 2023, Oktoberfest begins on September 16th!
King Ludwig I and his bride, Princess Therese of Saxe-Hildburghause
Oktoberfest Got HUGE!
Every year the Oktoberfest Celebrations grow. In 2019 over 6,300,000 people attended!   (Post-Covid, in 2022, attendance reached 5.7 million) And believe it or not, that number is down from the record setting 8,500,000 people who showed up in 1985. Still, despite these numbers, Oktoberfest is a safe festival for everyone. The Wiesn' even has family days every Tuesday with special prices on rides and snacks.
In fact, the biggest crimes are, trying to steal a Beer Mug from a Bierzelt (they will come down hard on you for that… ) and drunk driving an e-scooter (can you say bye-bye to your license?)
Around the world, Oktoberfest developed a reputation as a beer festival, but it's much more than that. Yes, there are beer tents, but Oktoberfest is meant to be a festival for everyone with Carnival games and rides, Music, and delicious food.  It's a time of celebration!
Except for years of War, Hyperinflation or Cholera, Oktoberfest has been celebrated every year since then. 2020 & 2021 were the 25th & 26th time that Oktoberfest was cancelled.
What is it like to attend Oktoberfest?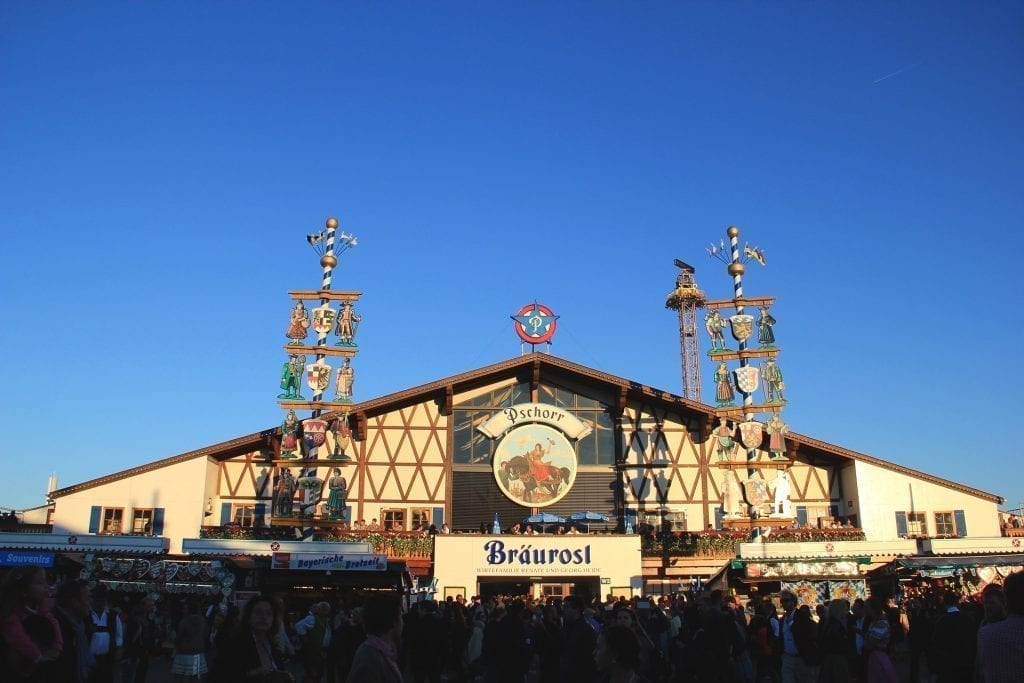 Hacker-Pschorr Bier Tent
What is it like to Attend the Munich Oktoberfest?
What is it really LIKE? Well….in a country that really loves its Festivals, the 16 day festival is THE largest in Germany!
Well, over the 16 days at Oktoberfest you can enjoy parades, beer, Tracht, beer, food, beer, music, beer, carnival rides and beer.
But it's not just beer….
The festivities open with a parade of of Wisen' Landlords. At noon sharp (German's are punctual, after all) the Mayor of Munich taps the first keg in the Schottenhamel Tent, and declares  "O'zapft is!" (it's tapped!). And the drinking can officially begin! (The Schottenhamel tent dates back to 1867, and is the oldest tent on the Wiesn').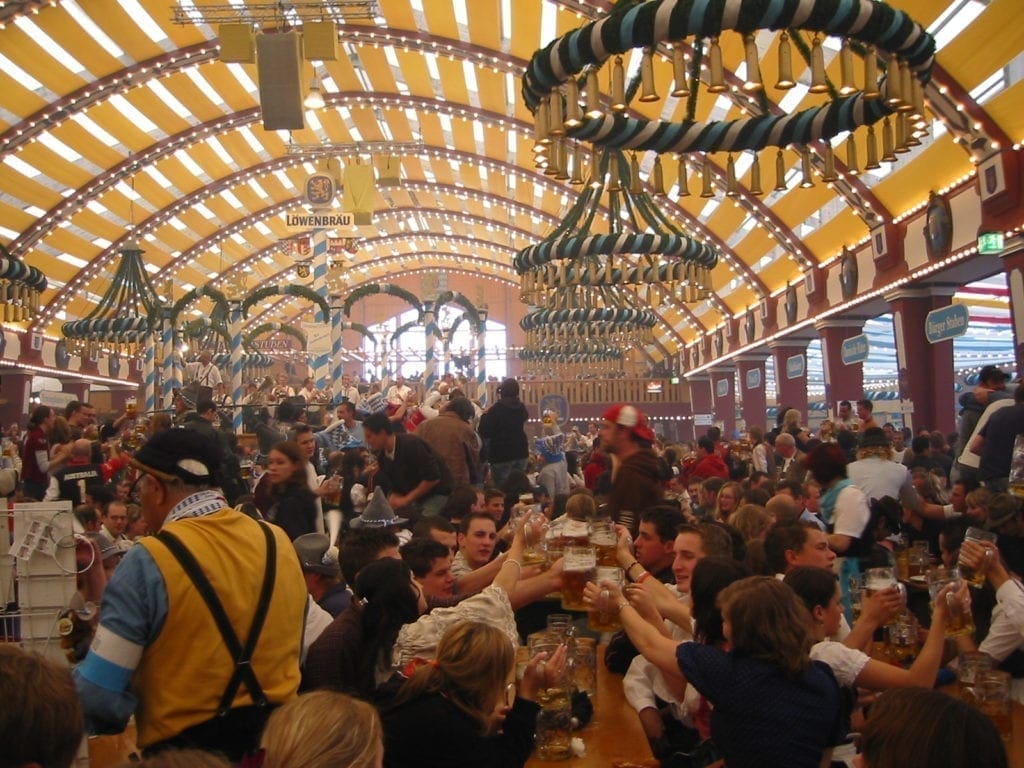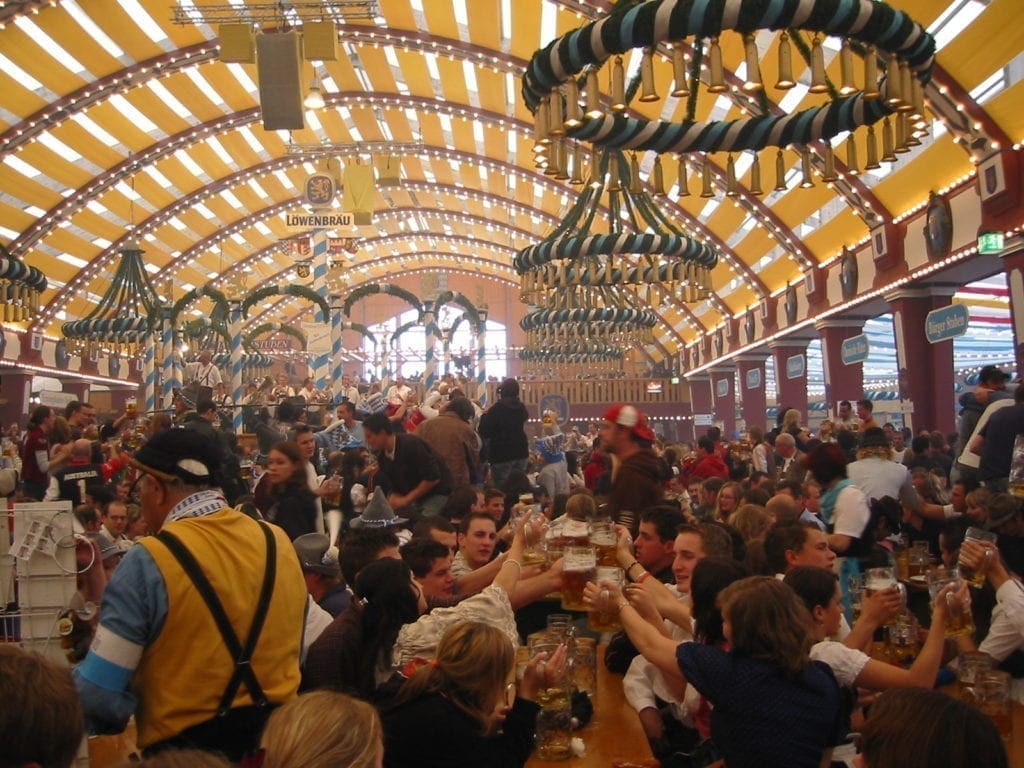 There are 14 main tents on the Oktoberfest Wiesn' (and a number of smaller ones). Each has it's own personality. Some are more traditional, some more raucous, but each holds between 5,000 and 11,000 people. During the week, the tents open at 10,  and you should be in line on time to get in to one of the tents. When they hit capacity… you can't get in. Reservations can only be made for entire tables, and you pay in advance (see more about that here). And don't be shy about sharing tables. You will be packed in with strangers. But after the first , Maß it will be like you've known each other for years
Each tent has a stage, and music will play. Don't go looking for a dance floor! You are welcome to sway and sing at your table. (And special note… despite what you might have seen, no one gets to dance on the table! First of all, it's unsanitary, second… it will get you escorted OUT).
Ordering
The server will come to your table for the order. Be ready! And be sure to order food as well as beer. Oktoberfest Beer generally comes stronger than you may expect (and in LARGE quantities). Have your money ready…and a TIP. The system at Oktoberfest is different from a regular restaurant. The Servers work as independent contractors… they buy the beer from the tent, and sell it to you. The money they earn comes primarily from tips. And since they are schlepping beer 13 hours a day, be kind. (Do the math… each Maß weighs about 4 pounds… they will carry 10 or more at a time).
Not a beer drinker? That's ok! The tents also serve soft drinks… and there are tents with wine. (Might I suggest a Radler? It's beer mixed with lemon soda… refreshing, a little sweet, and less likely to wipe you out if you aren't a drinker).
Astonishingly, in 2019 over 7,3 million liters of beer were served (I try to visualize that amount, and fail). What makes this even more exceptional, is that the only beer served is beer brewed within the city limits of Munich who follow the Reinheitsgebot rules (beer purity laws). Despite the free flowing beer, which isn't really free…. a liter will set you back over 12 Euros, there aren't many fights or problems. Most people just pass out (which reminds me… don't lie down on any hills! Some people have tummy upset from overindulgence. Yuck).
Carnival Time!
Just looking for some old-fashioned rides? The Fun Zone has it all! A Ferris Wheel, a Ghost Ride, Giant Spinning Swings (may I suggest being mindful of how much you drink before hopping on?). And everyone's old favorite the Devil's wheel!
What to Wear to Oktoberfest
While it may seem fun or silly to buy an Oktoberfest COSTUME (ie. wench girl or polyester "lederhosen" guy). DON'T even THINK about wearing one to the real Oktoberfest Tents… in fact, you might want to reconsider putting those things on at any time (well, maybe Halloween). Just don't. A Dirndl or authentic Lederhosen may seem pricey, but they never go out of fashion, and can be worn for years (and passed down).
Oktoberfest in America
Here in America, we have taken the Oktoberfest idea and run with it. Food, fun and dancing… the perfect way to celebrate an early fall afternoon! My family comes from the North and East… so, we are not Bavarians….but I would be enjoying my WeissWurst , Pretzel and Bier (actually, a Radler for me) at our local German Restaurant.
"O'zapft is!"
Still want to Learn MORE About Oktoberfest?
Oktoberfest History, Oktoberfest Guides, and Oktoberfest Recipes
The Ultimate Guide to Oktoberfest: Munich Germany Travel Guide

Oktoberfest Munich: The Ultimate Guide To The Biggest Folk Festival In The World