What is the Oktoberfest in Germany? How did it get Started? And how is it Celebrated?





Munich is the home of Oktoberfest. The Festival starts in late September(in 2019, on September 21) and just around that time we get these images of a Lederhosen wearing, Beer guzzling, Pretzel eating Man, with his Lusty dirndl wearing Fraulein. This image is only partially true, and doesn't tell the whole story.  So, what IS the Oktoberfest in Germany? And why is it celebrated? And who celebrates?
What IS the Oktoberfest in Germany?
It may sound odd, but not all Germans celebrate Oktoberfest. You see, Oktoberfest is a Bavarian Tradition. And just like not all Americans are Cowboys … not all Germans are Bavarians.
But since most everyone likes beer and pretzels, the world has embraced Oktoberfest. (The world has yet to embrace Lederhosen…. I'm taking this as a good sign that the world is mostly on the right track) (KIDDING!!)
So, how did Oktoberfest get started? It all goes back to a wedding….
Oktoberfest History
The original Oktoberfest was a wedding celebration for King Ludwig I and his bride, Princess Therese of Saxe-Hildburghause on Oct. 12, 1810.  Citizens of Munich were invited to celebrate on the Theresenwiese (Thesese Meadow). There were horse races, and beer and wine tastings to mark the event. The next year, the horse races and celebrations were repeated to in homage to the king and queen, and a tradition was started. Within a few years, carnival attractions were added, and the city took over the management of the event. And because Germans are nothing, if not practical, it was also decided to move Oktoberfest back into September, to take advantage of better weather.
Every year the Oktoberfest Celebrations grow, and although many people think it's all about the beer, the truth it, Oktoberfest is meant to be a festival for everyone with Carnival games and rides, as well as beer tents.
Except for years of War or Cholera, Oktoberfest has been celebrated every year since then.
How is the Oktoberfest in Munich?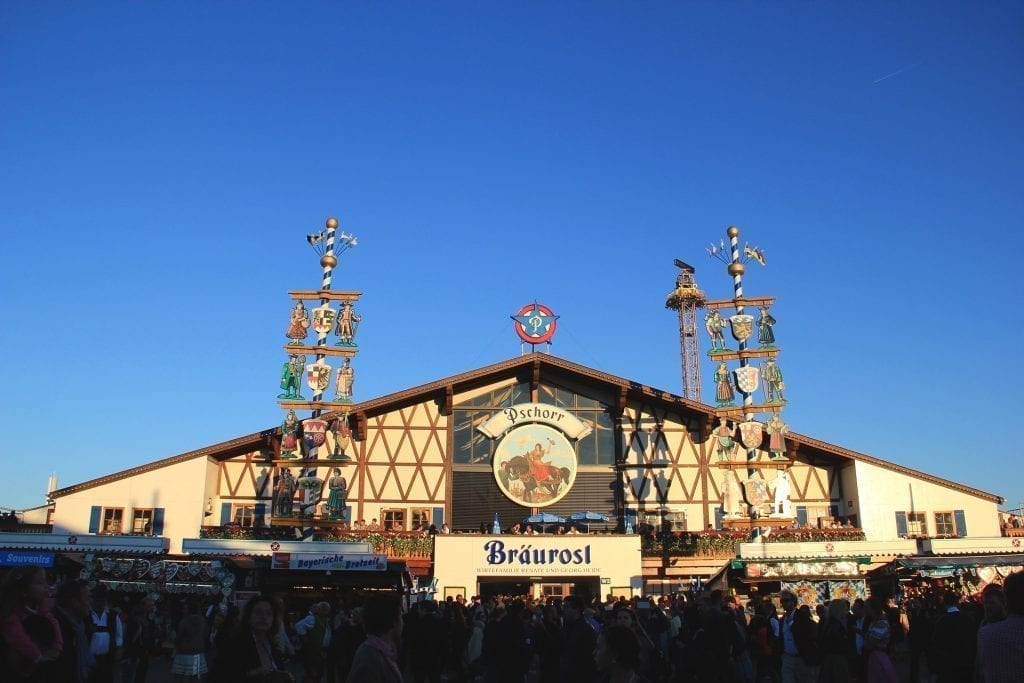 People ask, "How is the Oktoberfest in Munich?" Well….The 16 day festival is THE largest in Germany…. over 6.5 million people come to celebrate in the Beer Tents and fair ground. The festivities open with 12 gun salute and the tapping of the first keg, "O'zapft is!" (it's tapped!). There are parades, beer, costumes, beer, food, beer, music, beer, carnival rides and beer.
Astonishingly, in 2013 over 6 million liters of beer were served (I try to visualize that amount, and fail).What makes this even more exceptional, is that the only beer served is beer brewed within the city limits of Munich who follow the Reinheitsgebot rules (beer purity laws). Despite the free flowing beer (which isn't really free…. a liter will set you back over 10 Euros), Oktoberfest is family friendly, and loaded with rides and amusements for children.
Learn more about Oktoberfest Beer here–> Oktoberfest Beer
What to Wear to Oktoberfest
While it may seem fun or silly to buy an Oktoberfest COSTUME (ie. wench girl or polyester "lederhosen" guy). DON'T even THINK about wearing one to the real Oktoberfest Tents… in fact, you might want to reconsider putting those things on at any time (well, maybe Halloween). Just don't. A real Dirndl or authentic Lederhosen may seem pricey, but they never go out of fashion, and can be worn for years (and passed down).
Oktoberfest Trips and Tours
You can still make it to Oktoberfest… check out these tours that even get you a spot in a Biertent!


Small-Group Munich City and Oktoberfest Tour Including Reserved Oktoberfest Tent Table
from: Viator

7-Day Munich Oktoberfest and Best of Bavaria Overnight Package
from: Viator

All Inclusive Oktoberfest Tour and Table Reservation at a Major Tent
from: Viator
Oktoberfest in America
Here in America, we have taken the Oktoberfest idea and run with it. A quick search of our Events page will find a local Oktoberfest festival for you and your family to enjoy. Food, fun and dancing… the perfect way to celebrate an early fall afternoon! My family comes from the North and East… so, we are not Bavarians….but I will be enjoying my WeissWurst , Pretzel and Bier (actually, a Radler for me) at our local German Restaurant, the Speisekammer (and a few other places… the celebration does go on for a few weeks!)…. and I'm sure I will be doing some dancing!
Find Oktoberfest on our Events Page HERE—>Events Page
Check back from time to time… more Oktoberfest events are being added all the time!
"O'zapft is!"
Still want to Learn MORE About Oktoberfest?
Oktoberfest History, Oktoberfest Guides, and Oktoberfest Recipes
Oktoberfest Cookbook

The Ultimate Guide to Oktoberfest: Munich Germany Travel Guide

Oktoberfest Munich: The Ultimate Guide To The Biggest Folk Festival In The World

Meet Me in Munich: A Beer Lover's Guide to Oktoberfest

D' Wies'n und ihre Brauereien / The Wies'n and Its Breweries (Die Reihe Archivbilder)

Oktoberfest at Home!
Can't Make it to Munich? Why not host your own Oktoberfest party? Find some great Oktoberfest Party tips here—> Oktoberfest Party at Home